How culture audits can help determine the health of your company culture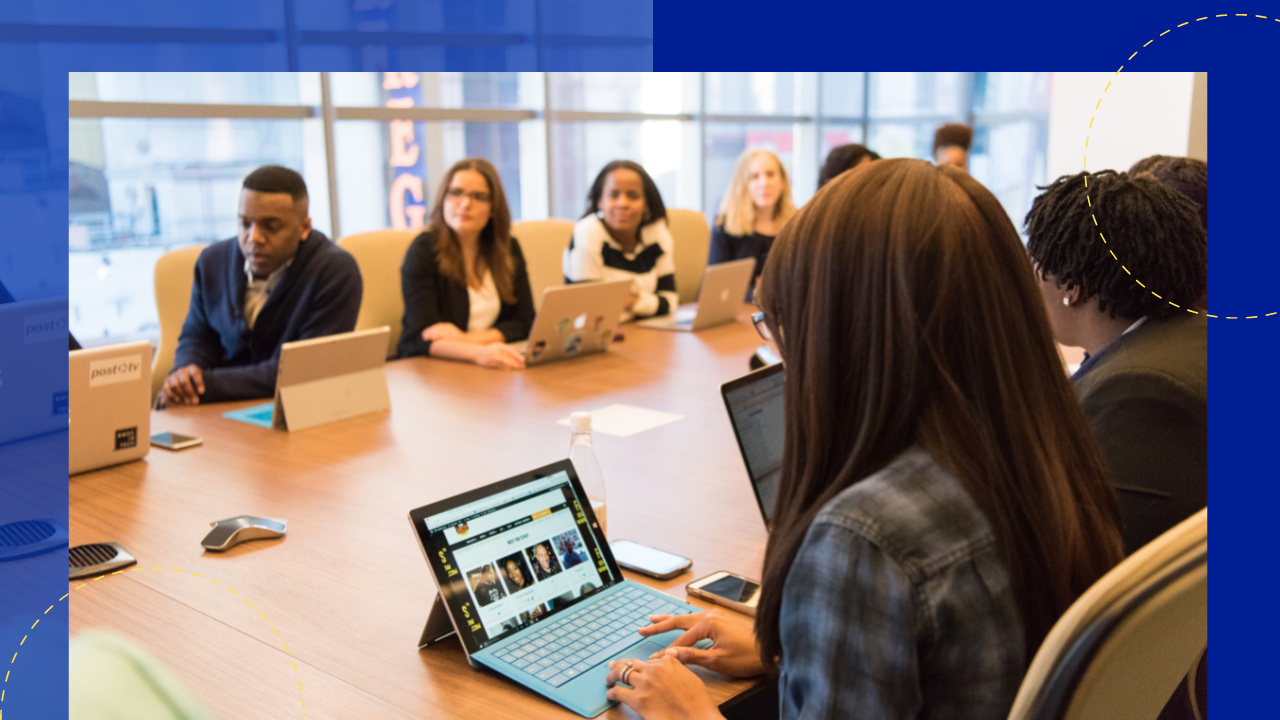 How culture audits can help determine the health of your company culture
Culture is the way of life of a group of people at a particular time and place. It encompasses the customs, behaviors, beliefs, and values that represent the community. In the workplace, culture is the company's personality, the defining feature of an organization's shared identity. 
Company culture can also determine the success or failure of a company. That is why it is necessary to ensure a good and healthy organizational culture, and one can do so with culture audits. 
What is a culture audit? 
A culture audit studies an organization's methods and behaviors to see if they are acceptable to its employees, customers, and more. Cultural auditing helps determine the culture existing within a company. 
A culture audit is a structured process that analyzes a company's culture, history, and identity to assess its current operating environment. 
Regularly undertaking this process can be a valuable tool for organizations to find opportunities to improve performance, drive growth, and encourage employee commitment and involvement. 
To better comprehend culture audit, companies must understand the relationship between culture and conduct, that culture is the underlying driver of conduct, and conduct is the manifestation of culture. 
Hence, a culture audit includes observing how management's approach toward employees influences their behaviors and conduct.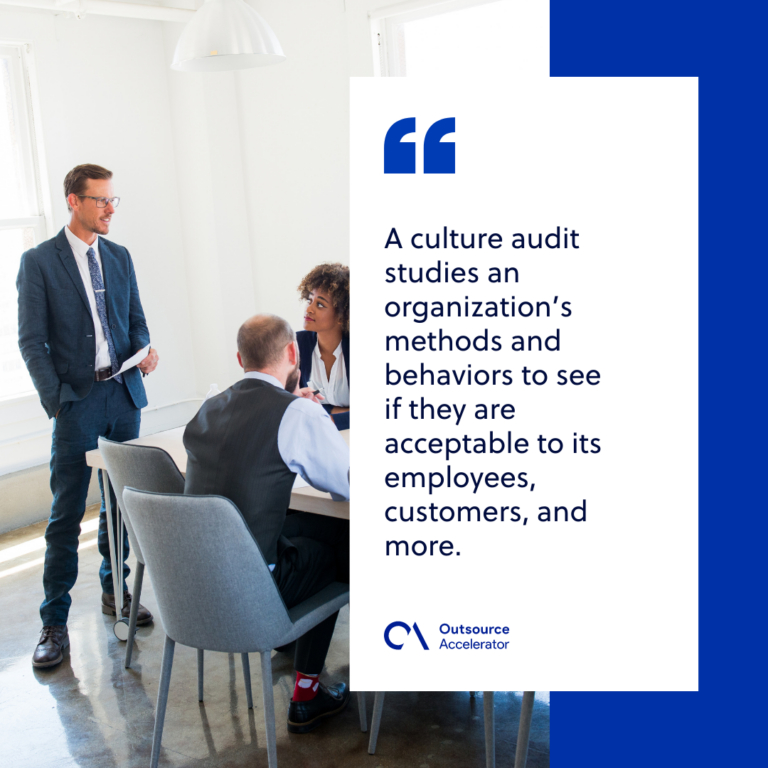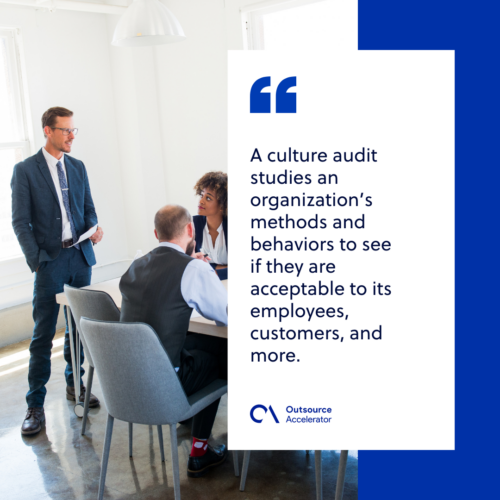 Components of the culture audit
A culture audit examines the organization's subjective values and the operational environment from the perspective of the employees and merchants. 
While the definition of company culture may vary from one organization to another, it usually includes the following elements: 
Leadership styles 

Communication styles 

Corporate's mission and vision

Employee values and behaviors

Company policies and procedures 

Rewards and incentives programs

Company history, legacy, and identity 
When companies decide to conduct a culture audit, they must consider the challenges, such as potential bias, since the audit department is under the same culture as the one, it will audit. 
However, with an organized approach and objectivity, organizations can find a culture audit reliable for assessing workplace conditions. 
How to assess company culture using a culture audit?
To provide a comprehensive and objective evaluation of the company culture, it is crucial to consider these three main aspects:
Assessment
The first step in doing a culture audit involves reviewing policies, procedures, and documentation to help define goals and set standards for the organization. Performing the assessment stage of a culture audit includes an internal and external assessment. 
Communication is essential in assessing company culture and is the basis for internal and external assessment in a culture audit. 
Internal assessment
This is the organization's assessment of its inner culture. By reviewing internal documents like emails, one can observe how employees relate to one another. Are they collaborating or competing? Is there a harmonious workplace relationship? 
The language and tone employees and management use are also critical in this assessment. These aspects could reflect the health of the workplace culture. 
External assessment
This is the assessment of the organization's external culture. The working question for this assessment is how the organization is viewed from an external perspective. 
By examining the company's brand or public identity, the organization can identify its workplace culture and understand its projection and presentation. 
Organizations can use surveys, customer and document reviews, and interviews or focus group discussions involving staff and stakeholders to conduct the assessment stage of a culture audit. 
Analysis
The second step in a culture audit is analyzing the information gathered in the assessment stage. The analysis process can be challenging due to the overwhelming internal and external data and observations, so it's best to organize and structure all information before reporting. 
Remember to balance the positive and negative views when preparing and conducting reports to prevent bias. Anonymity must also be followed strictly, especially for individual feedback, to avoid possible conflicts between the employees and management. 
Observe also if the people in the organization share the same understanding of the company culture and if it is practiced accordingly. 
Identifying issues and concerns in the workplace is also vital in the analysis stage. Analyze them as comprehensively as possible by organizing them through themes. This way, the reports can be more structured, especially in preparation for the last stage. 
Recommendations  
The last step in conducting a culture audit is where recommendations for improvement in company culture come in after careful assessment and analysis of all the information. 
Like in every audit or report, one does not simply lay out all the issues without providing recommendations to address the concerns.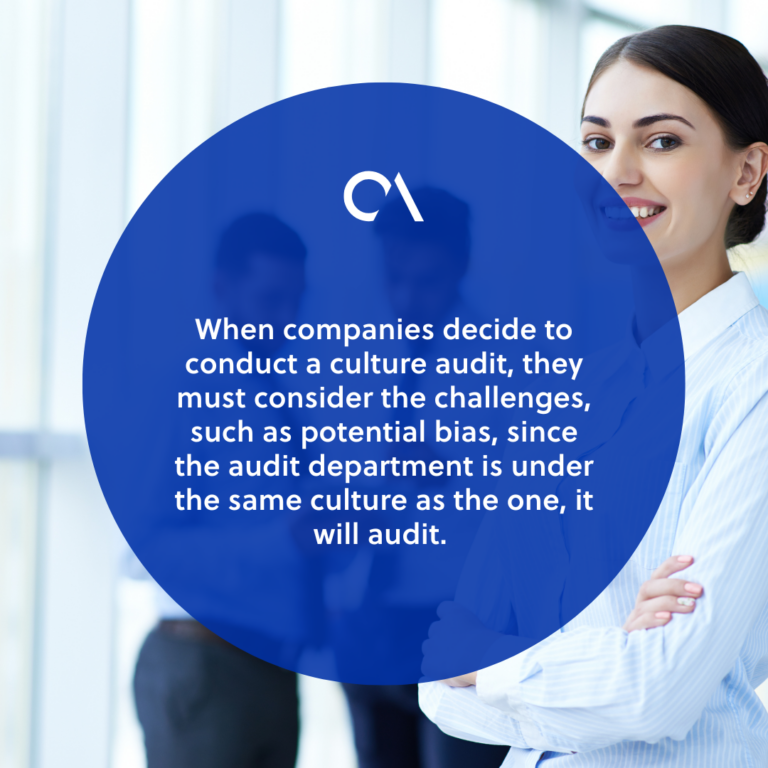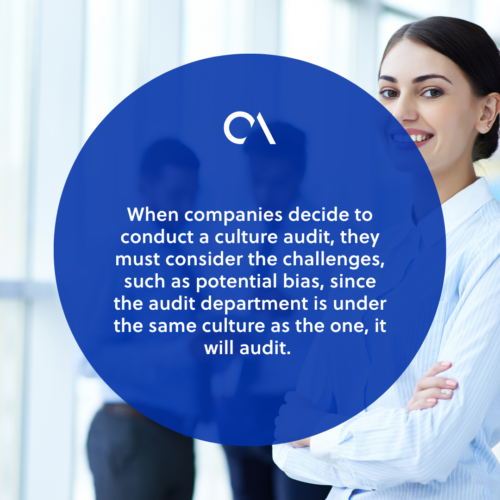 Why is a culture audit important? 
Since company culture is believed to be a factor in success, the importance of a culture audit lies in the organization's care for its employees and overall goals as a reputable company. 
A study on how corporate culture drives performance growth suggests that companies with a culture that enhances performance saw a staggering 756% income growth compared to companies without a culture, which only had a 1% net income growth in the same period. 
A culture audit can assist organizations in developing and maintaining a solid culture. Companies that regularly undergo culture audits can maximize their returns on investment, whether it be in their employees, suppliers, or customers. 
The following are other things a culture audit can accomplish:
Assess the effectiveness of the organization 
Culture audits can help companies assess the effectiveness of their working environment. It can also help companies define their culture and evaluate its improvements. Companies can reflect on whether their values and norms produce employee and customer satisfaction. 
A culture audit can also assess the current state of the company's values and norms and any gaps between actual business practices and how they should be.
Identify threats and opportunities in company culture 
A culture audit also helps organizations identify threats and opportunities to devise corrective measures before problems worsen. 
By doing so, companies can improve performance by pinpointing issues like employee dissatisfaction, miscommunication between management and employees, and other hidden problems that may have been overlooked. 
Foster a stronger workplace culture
A culture audit can strengthen the organizational culture by connecting with the company's culture, such as communication and behavior between coworkers, and creating initiatives to boost employee engagement and internal communications. 
A stronger workplace culture can maintain and even increase talent retention. Employees who feel they are working for a company with a poor or negative culture may seek other opportunities outside the organization. 
With a culture audit, companies can assess their employee satisfaction rate and apply necessary measures before they resign. 
Increase workplace inclusivity 
Company culture may be invisible to some employees, so they might need help pinpointing and voicing their concerns when they notice cultural issues. With a culture audit, employees have a chance to express their views by providing an open and safe space for feedback and dialogue. 
Culture audits serve a variety of functions beneficial to businesses. It allows employers to take a step back and reflect on the indicators of the organization's health.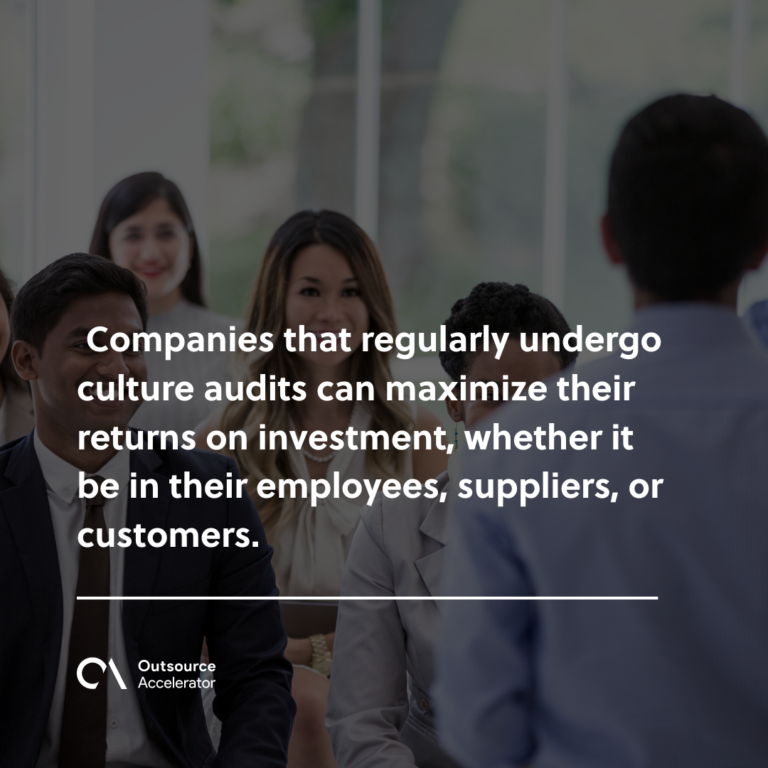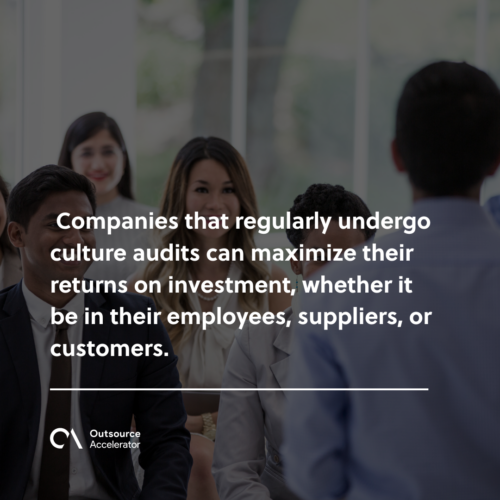 How does a culture audit determine the health of workplace culture? 
A cultural audit can present a birds-eye view of the health of workplace culture since company culture is the integration of employees' and executives' life experiences. 
Company culture can make or break an organization, so employers invest in measures to have a positive workplace culture. If the workplace culture is positive, the same can go for the business itself. 
When employees are delighted with the workplace culture, it can be a driving force to increase productivity, leading to good sales or accomplishing business targets. 
But if a company has a poor workplace culture, it can lead to staff turnover, absenteeism, or overall underperformance. When employees are unproductive, sales may suffer, reducing the likelihood of meeting objectives. 
However, positive and negative outcomes in the workplace culture still depend on the organization's settings and conditions. That is why doing a culture audit is like diagnosing the company's culture to see where your organization is compared to a sound working environment.