Manage your project budget better with cost engineers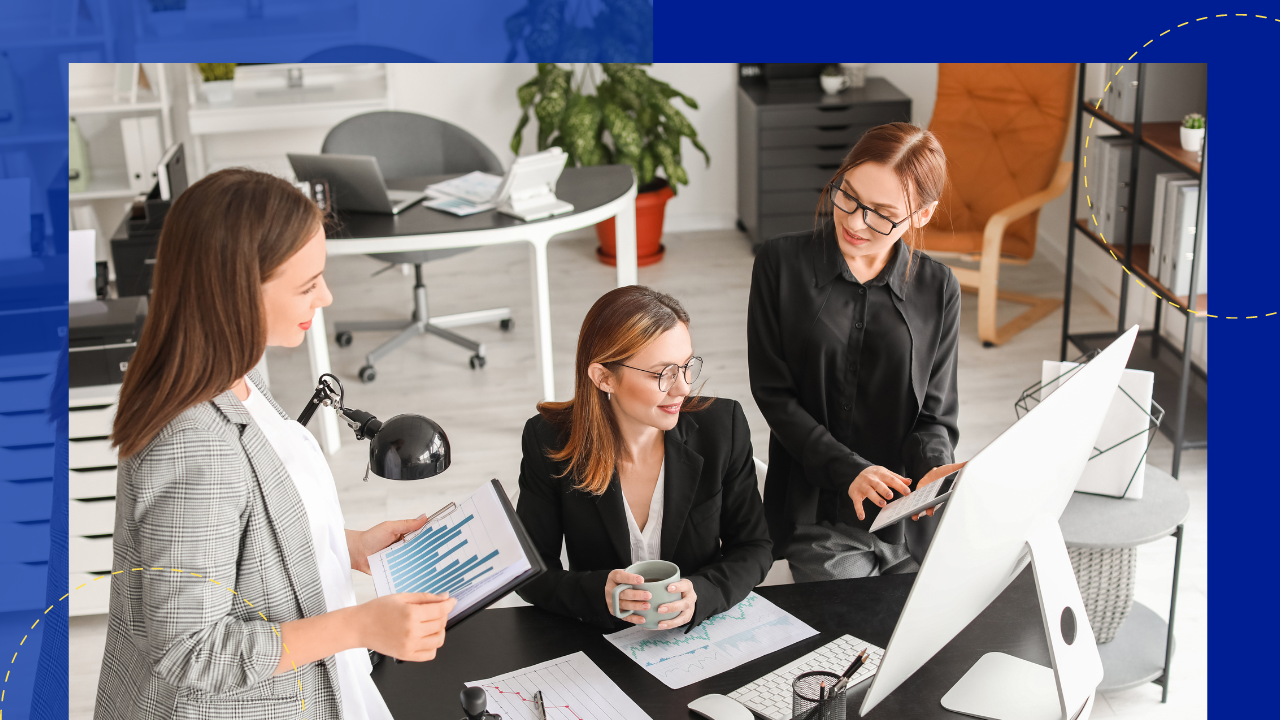 Managing a project is a critical aspect of any business operation. Apart from the timeline and client expectations, a firm must know how to budget resources to avoid overspending and financial challenges.
Cost engineering is the practice of managing costs throughout an entire program, from its projection to actual budget control and management. Companies rely on the expertise of cost engineers to make this happen. 
Sourcefit takes you to the responsibilities of a cost engineer and why you should offshore.
What is a cost engineer?
A cost engineer is an expert specializing in analyzing and managing project costs. Cost engineers deeply understand various risk and cost estimation techniques and how to apply them to their projects.
They work closely with project managers to develop accurate cost forecasts, evaluate risks, and propose cost-effective alternatives. Their main goal is to ensure that projects are completed within the allocated budget while maintaining quality standards.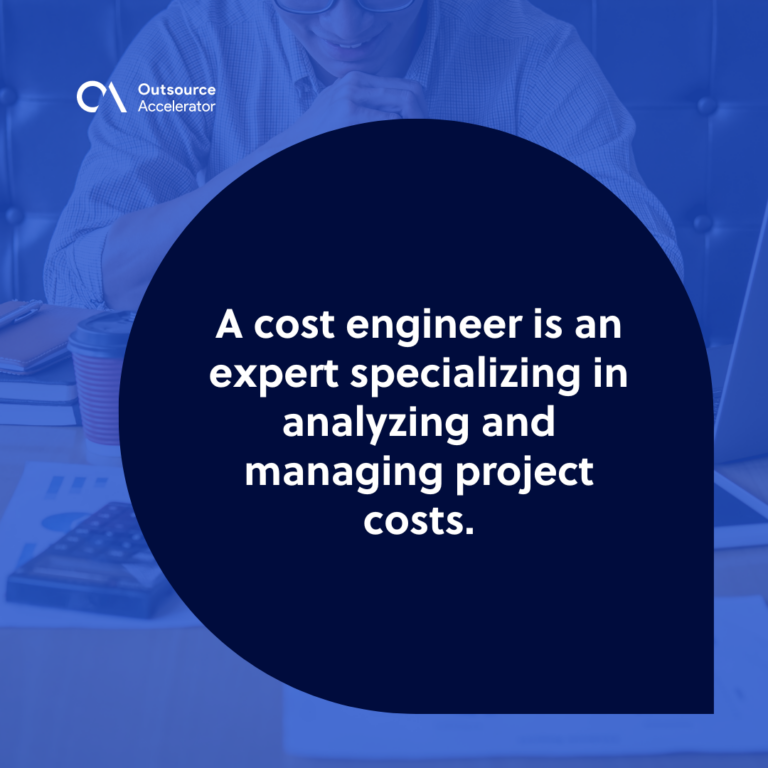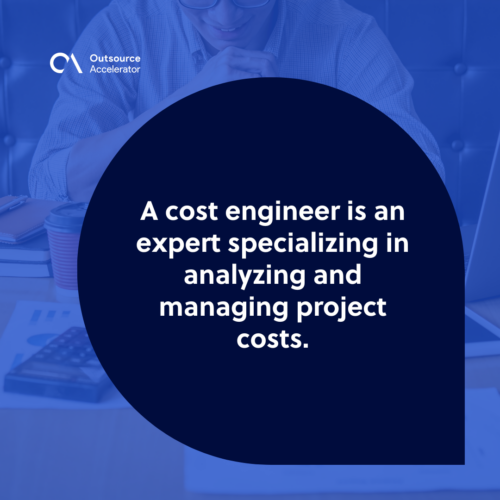 While more common in construction projects, cost engineers can work in these industries:
Manufacturing

Aerospace

Defense

Energy



Duties of a cost engineer
A cost engineer's main duty can be simplified into three categories: 
Measure

. Cost engineers gather information from previous projects and current resources to manage them better for the present one.

Control

. It is now up to cost engineers to control these resources according to their allocation. At the same time, they track and prevent deviations and delays from happening to utilize these resources better.

Improve

. A cost engineer takes time to learn from previous mistakes and improve ways depending on the trends, culture change, and other factors that arise.
Further specific responsibilities can vary depending on the specific project and industry. Some of these common responsibilities include:
Collaborating with project managers and stakeholders to develop cost-control strategies

Provide

quantity estimates

for a project

Assessing project risks and providing financial forecasts

Analyzing and comparing bids from contractors

Evaluating the financial impact of changes in the project scope
Advantages of hiring a cost engineer in your operations
Hiring a cost engineer for your operations can bring several benefits to your business:
Cost optimization
Cost engineers know how to optimize costs in a project, whether in construction, IT, or other fields. They can identify potential cost-saving opportunities and suggest alternative approaches without compromising quality.
By leveraging their knowledge, you can reduce unnecessary expenses and maximize the value you receive from your investments.
Enhanced project budgeting
Accurate project budgeting is essential for successful project execution.
A cost engineer has the skills to analyze costs and provide reliable estimates. With cost engineers' expertise, you can develop realistic budgets that enable effective resource allocation and mitigate financial risks.
Risk mitigation
Cost engineers are experts in conducting budget risk assessments for a certain project. Identifying these risks and implementing effective mitigation strategies help ensure that projects stay on track and within budget.
Improved decision-making
Cost engineers provide valuable insights that support informed decision-making. Their expertise allows them to evaluate multiple scenarios and assess the financial implications of different options.
With their input, you can make well-informed decisions that align with your project goals and budget constraints.
Compliance with industry standards
Cost engineers have in-depth knowledge of industry standards and regulations related to project cost management.
Hiring a cost engineer ensures that your projects adhere to the required financial guidelines, minimizing non-compliance risk.
Challenges of hiring a cost engineer in-house
While the benefits of hiring a cost engineer are evident, there are challenges associated with in-house hiring. 
These challenges include:
Limited talent pool
Finding qualified cost engineers locally can be challenging nowadays. According to the Bureau of Labor Statistics, cost engineers and estimators are declining in the US, with around 18,500 openings available this 2023.
Higher costs
In-house cost engineers come with significant expenses such as salaries, benefits, and training. Job site Indeed lists that a cost engineer earns an average salary of US$88,328 per year.
Recruitment and retention
Hiring and retaining skilled cost engineers can be time-consuming and competitive. 
It may require a thorough recruitment process and attractive compensation packages since many applicants go with more established companies for this role.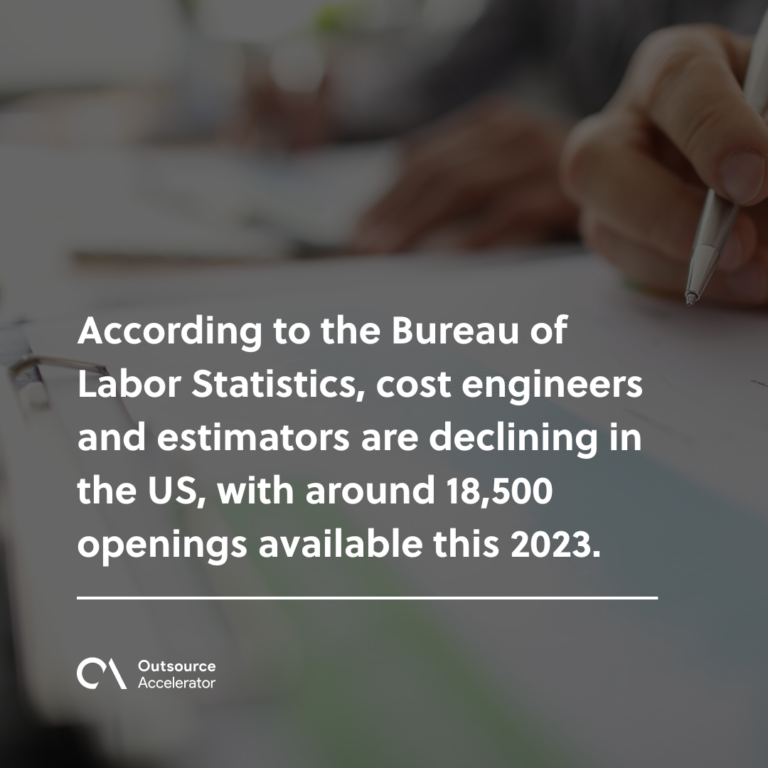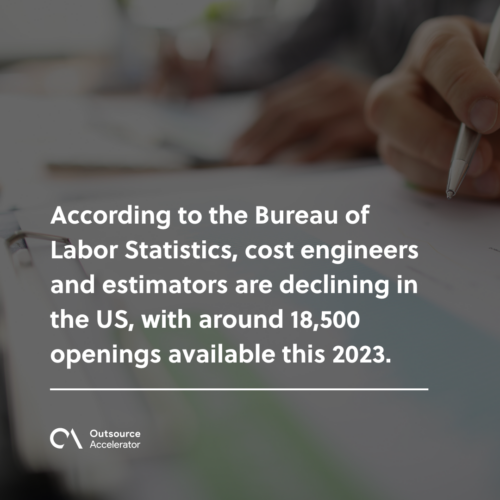 How Sourcefit can help you hire cost engineers offshore
Sourcefit offers offshore cost engineers and other engineering process services as a solution to limitations in local hiring.
The firm specializes in offshore staff augmentation. Leveraging its expertise in building teams, Sourcefit can help you find the perfect cost engineer tailored to your project requirements.
With Sourcefit, you can mitigate the challenges associated with talent scarcity and high costs. By outsourcing your engineering functions, you can save time and resources while ensuring access to top-tier talent.
Visit Sourcefit's website at sourcefit.com to learn more about its offshore solutions.