Contract vs. Direct hire: Which option fits your business best?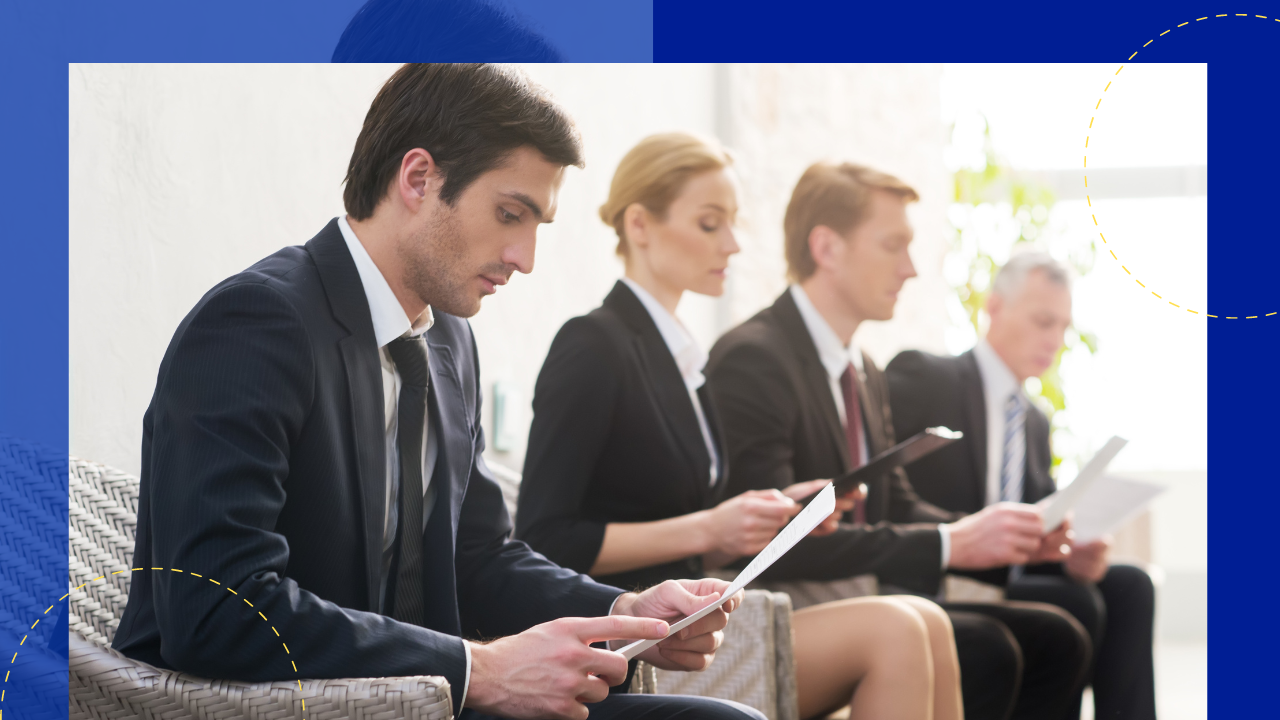 Several options are available when recruiting new hires for a business. The Contract vs. Direct hire processes are two of the most prominent ones.
Both have their advantages and drawbacks. Which route you could take ultimately depends on the specific needs and goals of the organization.
This article will explore the key differences between Contract vs. Direct hire. We'll examine each option's pros and cons and provide tips for a smooth staffing process.
Contract vs. Direct hire: Understanding the difference
Before diving into the pros and cons of each recruitment process, it's essential to understand what contract vs. direct hire means.
Contract-to-hire definition
Contract-to-hire (C2H) recruitment is where an employee is initially hired on a temporary or contractual basis. It is usually until the completion of a particular project or for a set period of time.
Under C2H, the worker has the possibility of being converted to a permanent employee after a predetermined period. It provides a trial period for both the employer and the candidate to assess the fit.
Recently, there has been a rise in the conversion of hiring contractors compared to full-time professionals. Robert Half reported that 64% of managers turned to recruiting more C2Hs.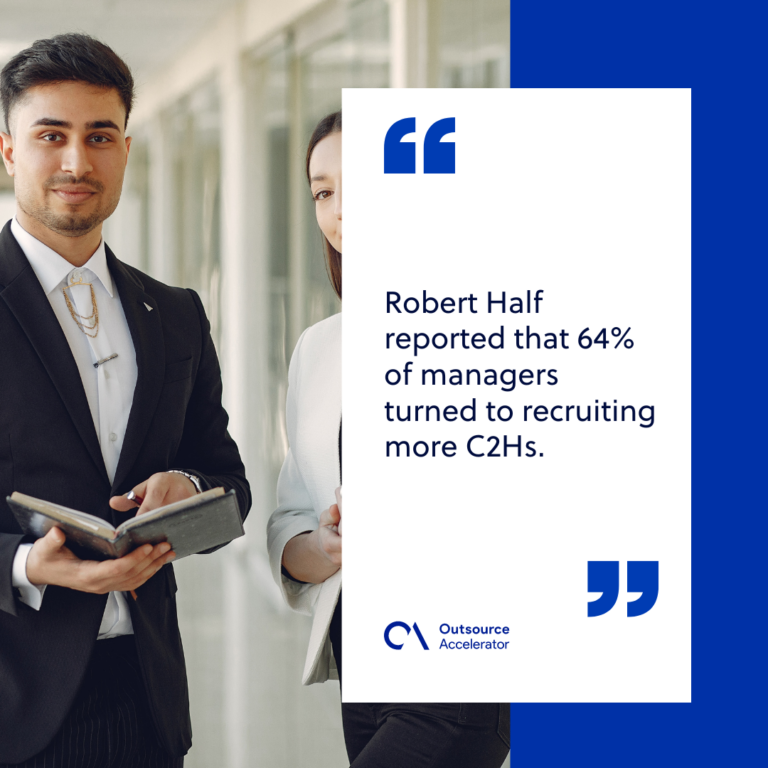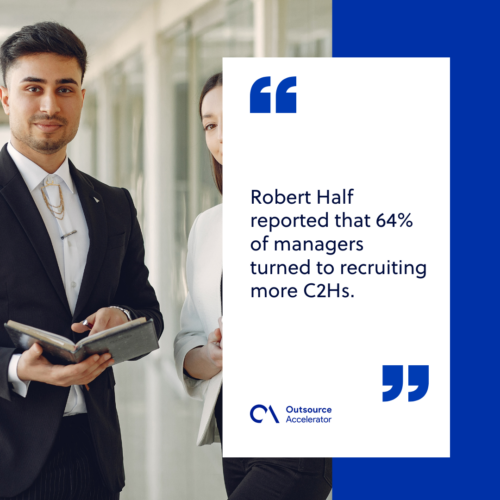 Direct hire definition
On the other hand, direct hire recruitment means hiring an employee for a permanent position within the organization. There's no interim contract phase, and the worker becomes a full-fledged, long-term member of the company from day one.
Direct hires are eligible for employee benefits such as retirement plans, health insurance coverage, and paid time off.
Contract vs. Direct hire: Pros and cons of each recruitment process
Let's take a closer look at the pros and cons of the Contract vs. Direct hire processes.
Contract-to-hire advantages
Here are reasons why C2H can be beneficial:
More strategic hiring process
C2H recruitment allows an organization to assess whether a candidate is an excellent fit before making a permanent hiring decision.
This means the company can save itself from a bad hire, which can bring cost and productivity losses.
Allows for immense adaptability
Contract-to-hire recruitment provides a flexible staffing solution, allowing a firm to hire quickly to cater to its business needs.
Adding temporary staff also lets the company to scale its operations quickly. This makes it an excellent option for organizations with seasonal or project-based hiring needs.
Cuts down expenses
Contract-to-hire recruitment can save organizations money, as they don't have to invest in expensive onboarding processes or training until a candidate proves they are an efficient fit.
Contract-to-hire disadvantages
Conversely, contract recruitment can present a few challenges:

Uncertainty for the employee
While C2H provides an opportunity for the employee to transition into a permanent role, there is no guarantee that the organization will offer it to them once the contract ends.
This can lead to uncertainty for the worker, making it challenging to plan long-term career development.
Moreover, highly skilled candidates may be less inclined to consider contract positions due to perceived instability.
Benefits and leave policies
Contract hires are not eligible for health insurance, retirement plans, and paid time off benefits. This may discourage some highly qualified candidates and reduce their interest in taking contract positions.
Potential conflicts with direct-hire employees
Contractors may feel excluded from the company's culture and events, making them feel disconnected from the team.
This separation can cause conflicts with direct hire employees, impacting productivity and morale.
Direct hire advantages
Now, let's delve into the benefits of direct hire recruitment:
Employee benefits and perks
Direct hire recruitment gives employees access to benefits and perks. This demonstrates that the organization values each employee's well-being, enhancing employee loyalty and retention.
Long-term stability
One of the most significant advantages of direct hiring is its stability and long-term employment. 
Candidates hired on a full-time basis can plan long-term career development within the organization and feel more secure in their role. Direct hiring could contribute to lower employee turnover as well.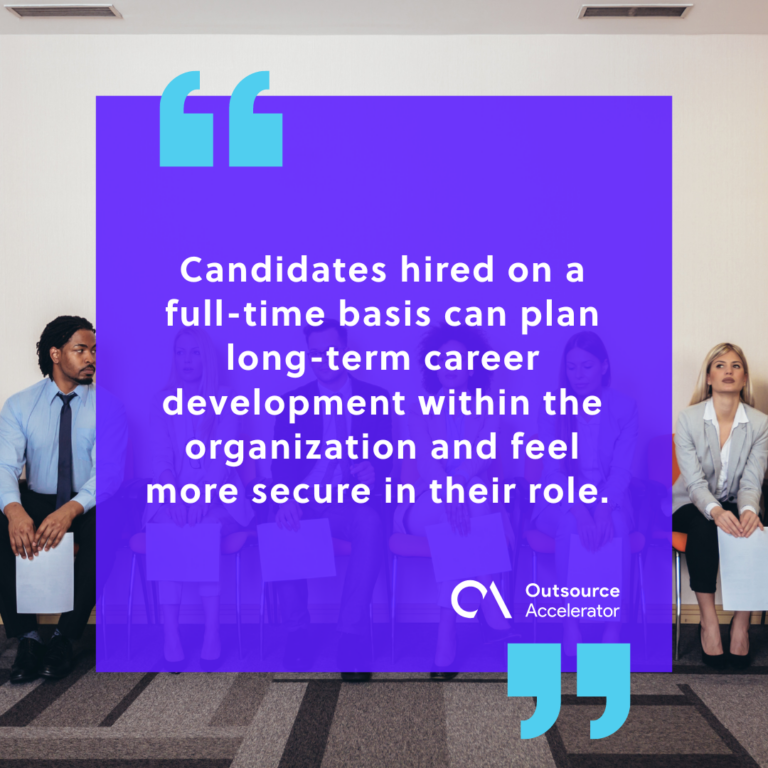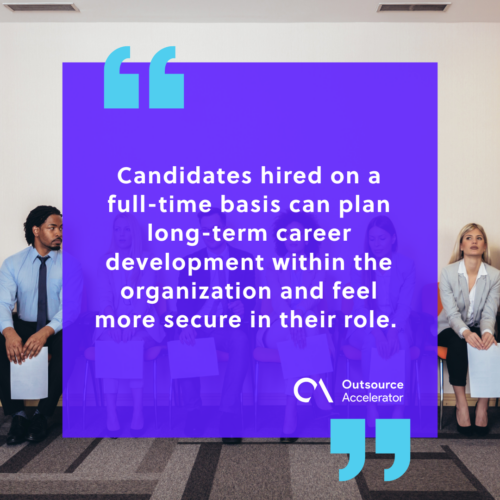 Immediate integration
Direct hires are fully integrated into the organization, which allows them to connect with the team and their peers immediately. This can lead to better productivity, collaboration, and communication.
Direct hire disadvantages
Meanwhile, direct hiring also presents some disadvantages:
Longer hiring process
Direct hiring requires a larger investment in recruitment and onboarding, which can be time-consuming. It could also mean the organization may have to spend more on training, which can impact the budget.
According to the Society of Human Resource Management (SHRM), the average time-to-fill takes around 30 days.
Less flexibility
Hiring directly means committing to a long-term investment in the worker's employment and compensation. This can limit a company's flexibility in scaling up or down and changing business models.
Risks of hiring mistakes
Hiring mistakes can be costly for organizations. As direct hires have to be a long-term investment, hiring mistakes could burden the organization's resources and can bring productivity losses and decreased morale.
Contract vs. Direct hire: Compensation and salary comparisons
When choosing between Contract vs. Direct hire, compensation and salary expectations should be considered.
Contract employees are typically paid hourly or fixed-term wages and don't receive benefits. Some contractors may negotiate their compensation and earn higher wages than direct hires in similar roles.
Direct hire employees receive benefits and perks, and their salary is negotiated at the time of hire. The organization invests in a direct employee long-term, providing opportunities to negotiate for salary increases, promotions, and bonuses.
Contract vs. Direct hire: Job security and stability
Regarding Contract vs. Direct hire's job security, the second is obviously the steadier option.
Direct hires have the highest job security since they join the company as permanent employees with long-term, stable employment.
Permanent workers also enjoy the protection of certain laws that guard them from being terminated for unjustified reasons.
Meanwhile, C2H employees' job security is subject to the terms of their contracts. This can be affected by changes in organizational needs or the project's completion.
Contract vs. Direct hire: Work-life balance and flexibility
Work-life balance can also differ between Contract vs. Direct hire staff.
Direct hires usually have the opportunity to work a regular schedule with specific work hours each day. This can give permanent employees a certain routine that can help them better plan life outside of work.
However, contractors usually have a more flexible schedule. This allows them to balance their work with family or personal commitments.
Contract vs. Direct hire: Career growth and development opportunities
In regards to career growth and development between Contract vs. Direct hire, the latter has more opportunities.
Direct hires have access to regular performance evaluations, training programs, promotions, and career planning discussions.
Contract workers may have limited career growth opportunities since their employment can have a sunset clause. Organizations invest in them less, so they are unlikely to be promoted to leadership roles.
Nevertheless, companies looking for exceptional employees should consider investing in these opportunities.
A Lorman survey showed that 76% of young workers believe professional development is one of the most important aspects of company culture.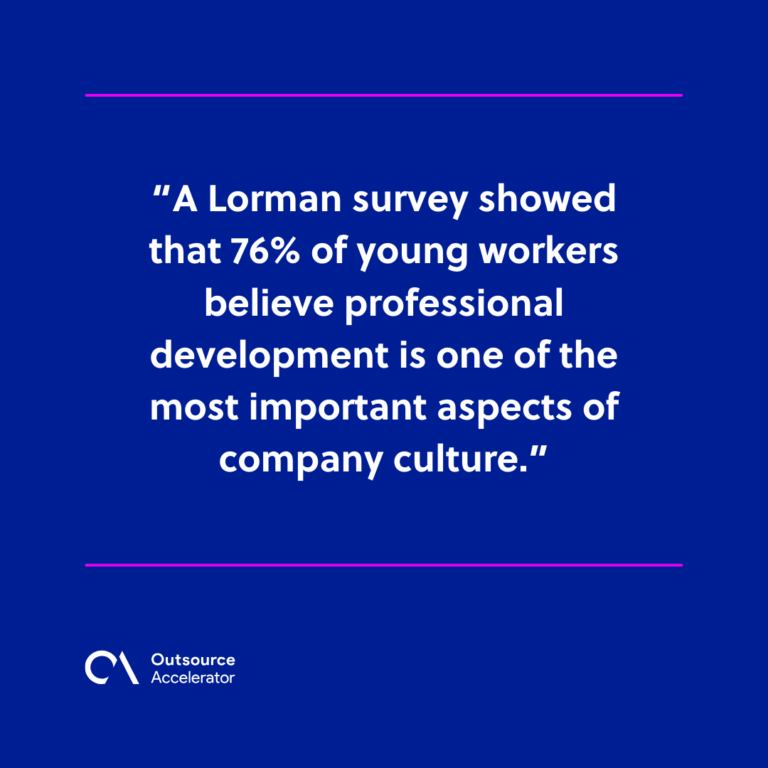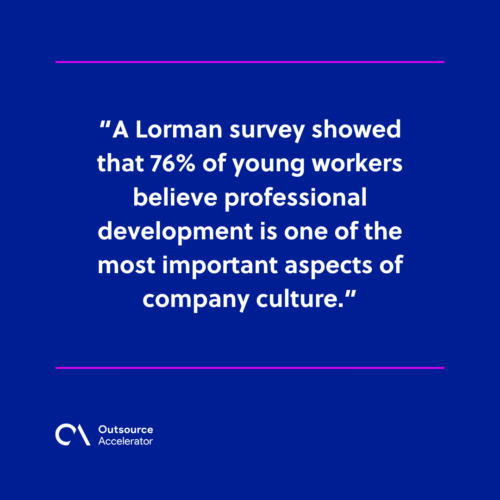 Contract vs. Direct hire: Strategies for a smooth staffing process
Both Contract vs. Direct hire staffing processes require some degree of planning and strategy to ensure successful recruitment. Here are some helpful recommendations to get you started:

Tips for successful contract-to-hire staffing
Consider these best practices when employing a C2H recruitment strategy:
Define the job requirements

. Clearly define the project's job requirements, timelines, and expectations to ensure candidates understand the role and responsibilities.

Create a clear contract

. Write a clear and well-defined contract outlining the position's details. Indicate how and when or if the employee will transition to a permanent position.

Provide opportunities for integration

. Host events or opportunities for contract employees to interact with other employees.

Have clear communication

. Have established modes of communication to ensure that a contractor's time during their employment is efficient and productive.

Provide onboarding support

. Give adequate onboarding support to help contractors quickly integrate into the company and understand its culture, processes, and systems. This will contribute to their productivity and promote a positive work experience.

Offer regular feedback

. Provide feedback to contract employees throughout their tenure, helping them improve and align with company goals.

Establish performance metrics

. Set measurable

performance metrics

to evaluate a candidate's suitability for a permanent role.
Tips for successful direct hire staffing
If you choose to hire directly, take note of these tips for a smoother recruitment process:
Create a strong employer brand

. Build a strong employer brand that promotes the organization's culture and values to attract top talent.

Streamline hiring processes

. Create streamlined recruiting processes that are efficient, effective, and maintain communication with candidates.

Provide growth opportunities

. Offer professional growth and development opportunities to retain employees invested in long-term organizational success.

Give thorough assessments

. Invest in a comprehensive hiring process, including skills assessments, cultural fit evaluations, and reference checks.

Offer competitive compensation

. Offer assertive salary packages and benefits to attract skilled talent.

Conduct an employee orientation program

. Develop a well-structured employee orientation program to welcome and integrate new hires effectively. 

Invest in mentoring and support

. Assign a mentor or

buddy

to new hires to help them acclimate to the organization. These people can help provide guidance and support during the new employee's initial period. 
The choice between Contract vs. Direct hire depends on your company's unique needs, project requirements, and long-term goals.
Both recruitment strategies have their place in the modern workforce. They offer some level of flexibility, stability, and the potential for lasting success.
By understanding each approach's nuances and aligning them with business objectives, you can make informed staffing decisions that drive your organization forward.