How to become a successful contact center professional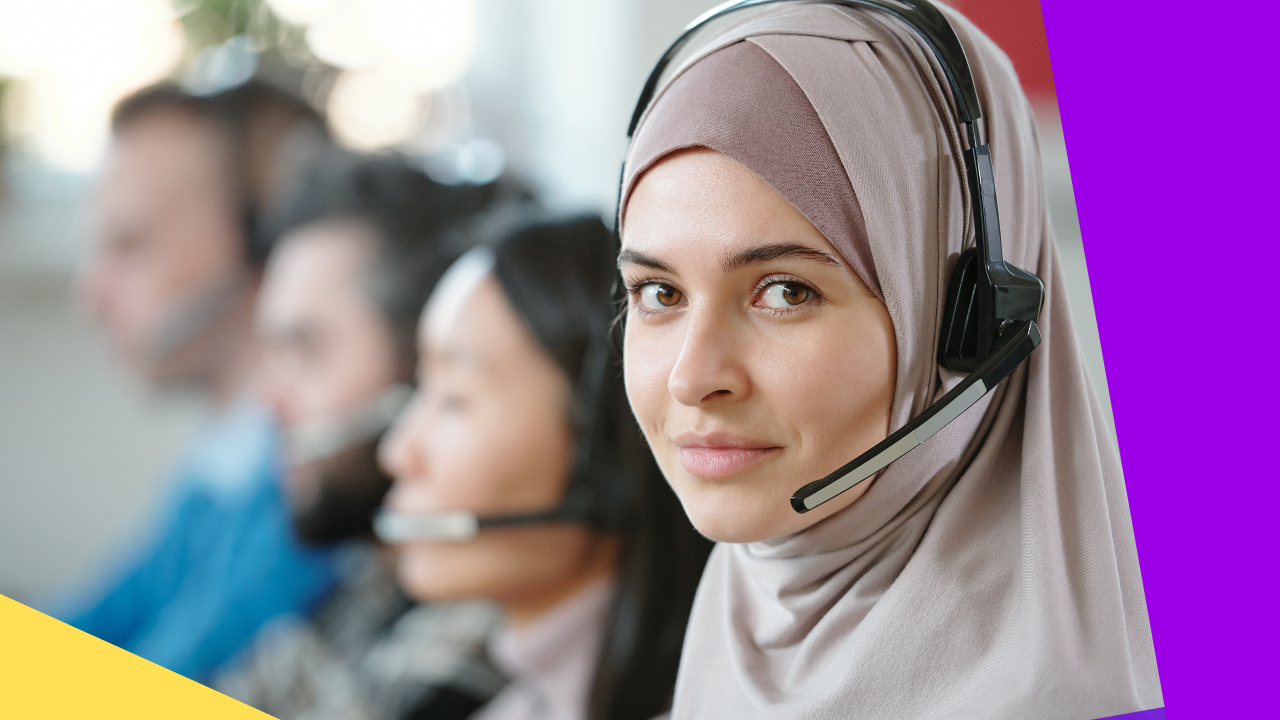 A contact center serves as the central point of contact between a business and its customers. It is one of the most essential parts of a business unit as it is where organizations directly communicate with their customers. With that being said, a contact center will not function without efficient contact center professionals. These people are who we usually know as contact center representatives or agents. 
A lot of people tend to use the terms contact center and call center interchangeably. However, it is important to know the difference between the two.
While both offer customer service, a call center only handles inbound and outbound calls. A contact center, on the other hand, utilizes various communication channels for its services. Contact center representatives are the experts in offering customers an excellent service experience. 
What is a contact center professional?
Contact center professionals are customer service and sales experts. They cater to customers' needs through phone calls, live chats, email, SMS text, and also support tickets sent through the web.
Contact center representatives' roles may vary from handling customer inquiries, resolving complaints, bill payments, order processing, technical support, and more. A typical day for a contact center agent is handling large volumes of customer inquiries a day.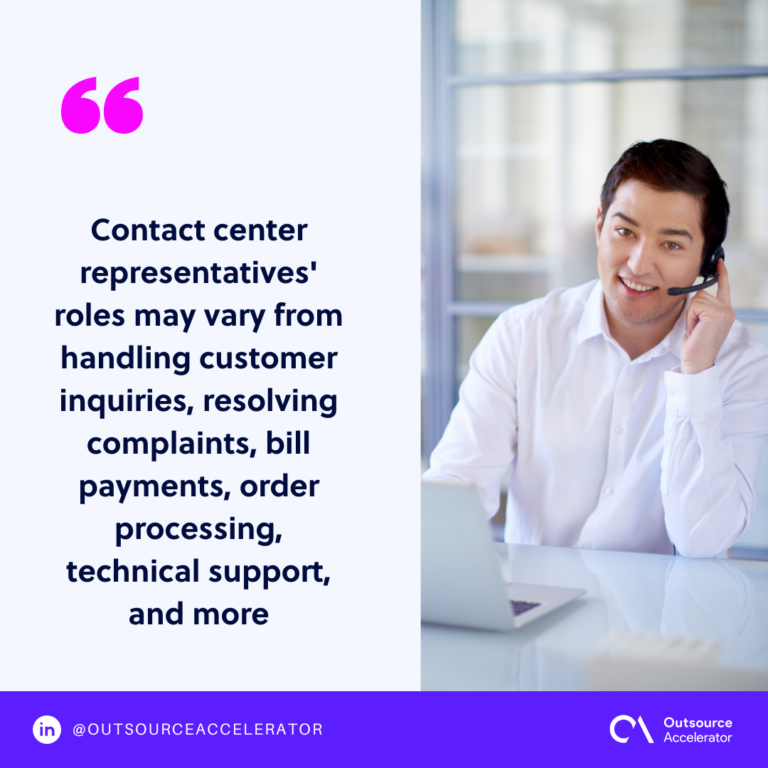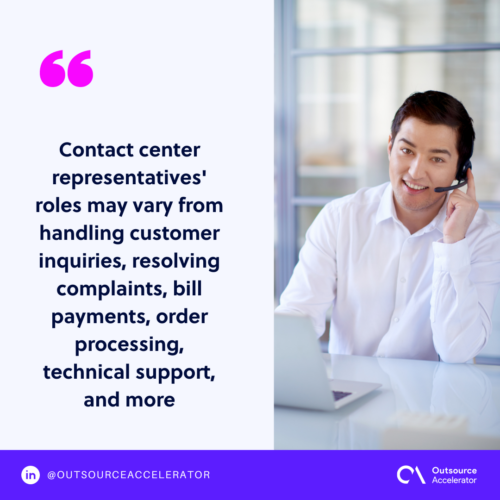 Five required skills to become a successful contact center professional
Working in the customer service field can be a pretty demanding job. For those people who are aspiring to become a contact center professional, here are the top five skills that are needed to excel in this role:
Strong interpersonal skills
The goal is always to be able to offer excellent customer service experience. Aside from fulfilling what the people need, contact center agents should also create good rapport with the customers. Strong interpersonal skills help agents build a positive relationship with the customers. 
Technical skills
Part of the role as a contact center professional is to record customer engagement. This is why most companies hire people that can type fast and accurately.
Being tech-savvy is a must in applying for this role. Contact centers utilize Customer Relation Management (CRM) in their operational systems to make it easier for agents to perform their jobs effectively. More so, having the right technical skills helps agents to solve certain technical problems on their own, without the help of other people. 
Effective listening and comprehension skills 
Contact center representatives should not just listen to customers, they should also understand what they want and need. Agents need excellent listening and comprehension skills in order to provide the right solutions to their customers. Being able to understand what the customer needs is the first step to offering correct assistance.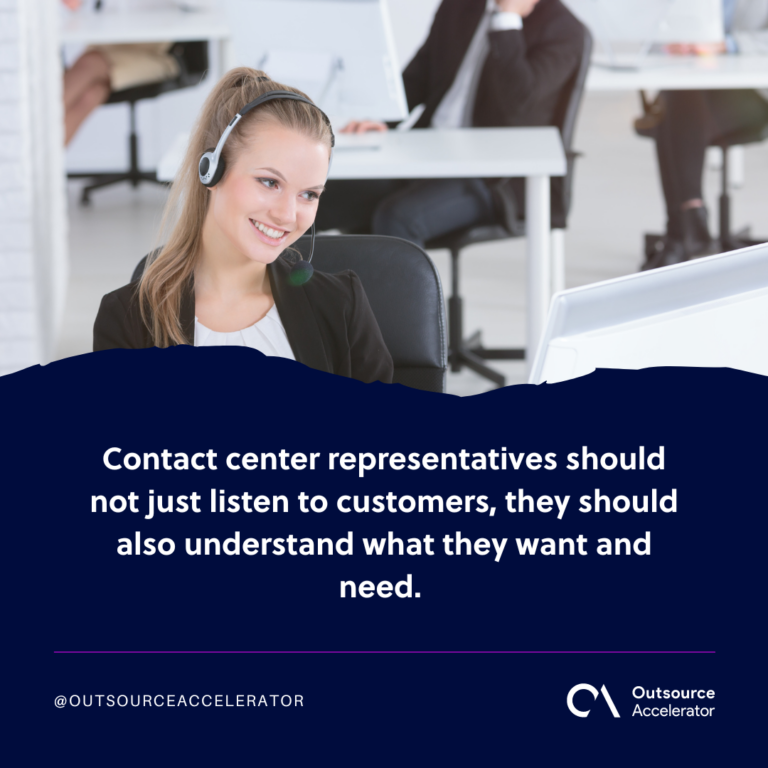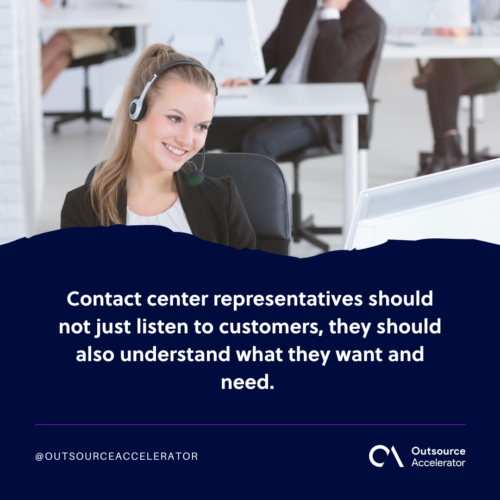 Organizational skills 
Contact centers have omni channel platforms for their services. Agents typically have various tasks aligned in their day-to-day operations. Being well organized helps them to efficiently navigate through different tools or communication channels when engaging with customers. 
In addition, efficient organizational skills allows professionals to offer customer service and support in a timely manner.  
Multitasking
Multitasking is unavoidable when working at a contact center. On an average day, a contact center professional may be tasked with over 30 to 50 leads or tickets. Other companies may also require a specific quota for customer calls or tickets in a day.
Managing volumes of different assigned tasks can be overwhelming. One minute an agent can be handling a sales call, next thing it can be for customer support.  
A lot of the skills required for a contact center representative role can be developed through time. More so, contact center providers have their staff undergo various sets of training to improve and nurture these skills. 
Tips to become a successful contact center professional
Contact center agents serve as front liners in terms of customer service. This type of job has a very demanding role, depending on the nature of the company. This role tends to be repetitive, depending on the type of customer engagement. 
To be a successful contact center professional, you have to be flexible. Flexibility will help you to easily switch from one task to another.
Aside from the busy and challenging nature of this role, irate customers are also unavoidable. This is why you have to be extra patient and resilient in handling difficult situations.
Remember that contact center agents are able to accept feedback, learn from their mistakes and improve on their shortcomings.