Constructive discharge: Definition, legal requirements, and scenarios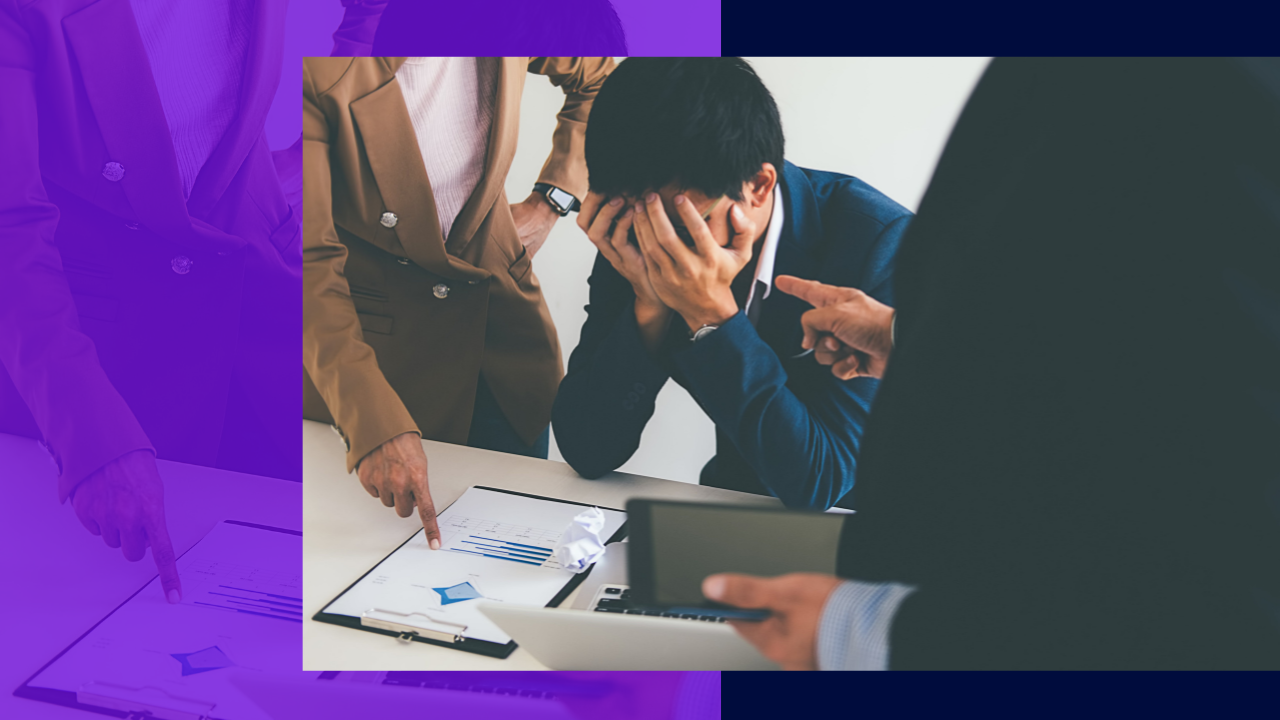 Constructive discharge cases have become increasingly prevalent in the modern workplace. It highlights the importance of understanding the legal requirements and scenarios that may lead to such claims.
Employers must recognize that their actions, or lack thereof, can profoundly affect employee morale, job satisfaction, and overall working environment.
Businesses and workers can better navigate their respective roles by gaining insight into this type of dismissal. This creates a workplace environment that prioritizes fairness, respect, and compliance with employment laws.
This article explores the concept of constructive discharge, the legal elements necessary to establish a claim, and the various scenarios that may cause it.
What is constructive discharge?
Constructive discharge occurs when a company deliberately creates an exceedingly unbearable or hostile work environment, pressuring an employee to resign.
Although no explicit termination takes place, the worker is essentially forced to quit due to the adverse conditions imposed by the employer.
Certain legal requirements must be met to establish a constructive discharge claim. These are discussed in the next section.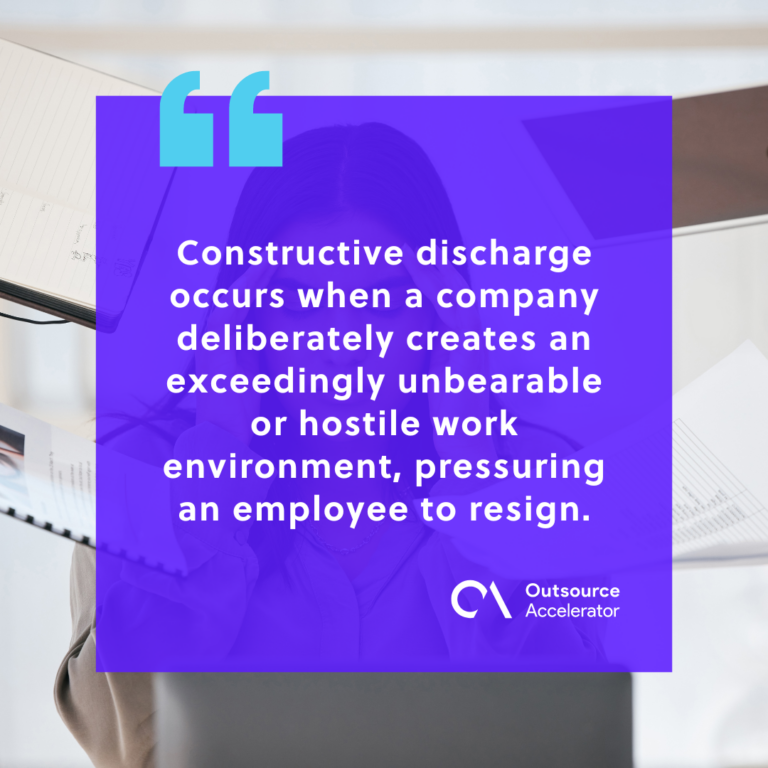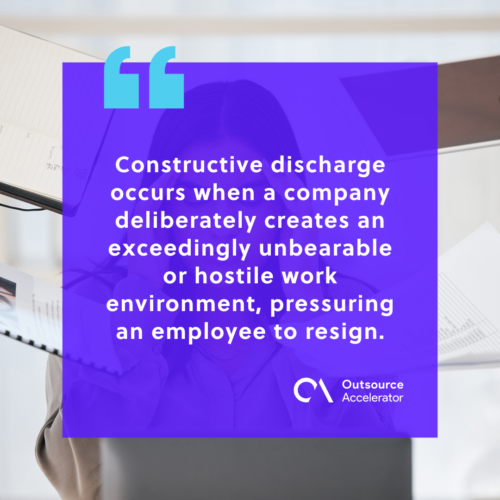 Legal requirements for constructive discharge
For employees to successfully claim constructive discharge, they need to demonstrate the following legal elements:
Intolerable working conditions
The staff must prove that the working conditions were so intolerable that a reasonable person in the same situation would find it impossible to continue working.
Examples of such conditions may include harassment, discrimination, retaliation, unsafe work conditions, or a significant demotion without reasonable cause.
Employer's knowledge
Before the employees' resignation, it must be shown that the employer was made aware of the intolerable conditions they worked in but didn't take any action.
If it turns out that the company was unaware of the issues or if it took prompt action to address them, the claim may not hold.
No reasonable alternatives
Workers must demonstrate that they exhausted all reasonable alternatives to resignation.
These include reporting the issues to higher authorities, seeking assistance from human resources, and attempting to resolve the problem through internal channels.
Causation
Employees must establish a direct link between the intolerable conditions and their decision to resign. They must prove that the employer's actions or negligence forced them to quit.
Scenarios that may lead to constructive discharge claims
There are several scenarios in the workplace that could potentially lead to constructive discharge claims. 
Listed below are some of them:
Discrimination
Employees may face a hostile work environment where they experience severe and pervasive harassment, discrimination, or bullying. These may be based on their race, gender, religion, age, or other characteristics.
Retaliation
A worker may report illegal practices or file a complaint against the employer. If they face adverse actions or retaliation because of these activities, they may consider quitting.
Drastic changes in working conditions
Another scenario that can lead to constructive discharge claims is significant and unfavorable changes in working conditions.
These include changes to an employee's job responsibilities, working hours, compensation, or benefits, without any justifiable reason.
These may cause undue hardship or make the working conditions intolerable.
Excessive workload and unreasonable expectations
A company may consistently impose an excessive workload or set unreasonable performance expectations on employees.
In this case, an unmanageable and stressful work environment is created, which may force the worker to quit.
Changes in terms of employment
Another possible reason for constructive discharge is significant changes to the terms of employment. 
Changes may include reducing pay, benefits, or job responsibilities without employees' consent. These can negatively impact the employee's financial status and job satisfaction, prompting them to resign.
Unsafe working conditions
Employees have the right to work in a safe environment where they are free from hazards that may cause physical harm or serious health risks.
If an employer neglects to address safety concerns and creates hazardous working conditions, the employee may resign out of fear for their well-being.
Breach of employment contract
Another scenario that may lead to a justified constructive discharge claim is a breach of the employment contract.
This may entail the lack of payment of agreed-upon compensation, benefits, or other contractual obligations within a certain period of time.
Intentional isolation or ostracism
Deliberate isolation or ostracism by their colleagues or superiors can negatively impact the employees' mental well-being. This can ultimately result in their resignation.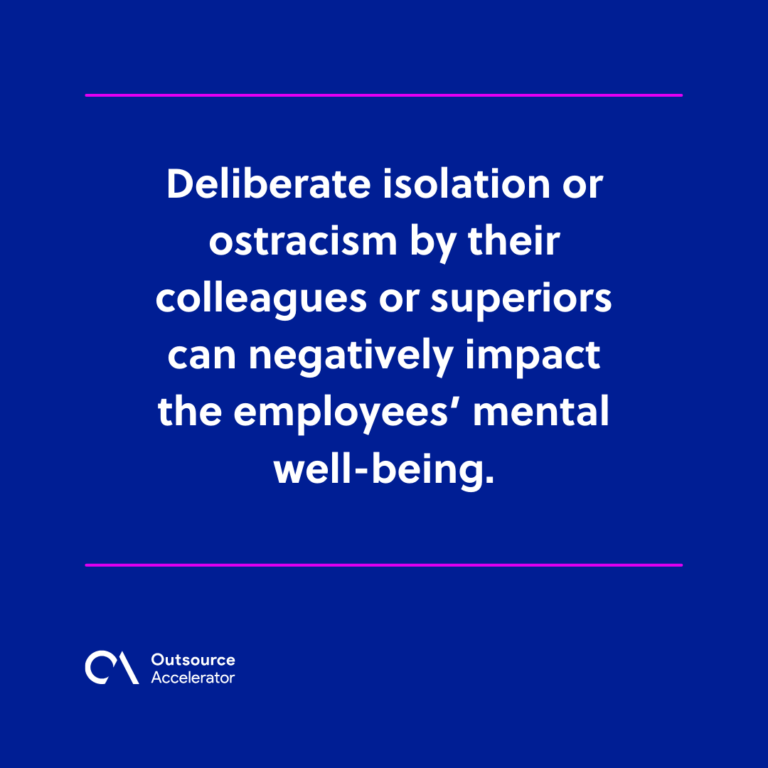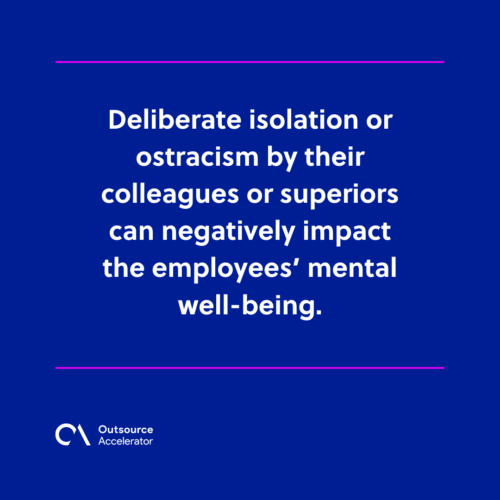 How to prevent constructive discharge claims
Here's how businesses can avoid constructive discharge claims:
Set clear rules and regulations

. Companies must establish and communicate clear policies and procedures related to harassment, discrimination, retaliation, and working conditions.

Provide regular training

. Employees and managers must undergo training regarding the abovementioned topics, including respectful workplace behavior and the company's commitment to a harassment-free environment.

Foster open communication

. There should be open communication between workers and their superiors. This creates a safe space for employees to express their concerns without fear of retaliation.

Make informed decisions

. Businesses must review major personnel decisions. These include demotions, transfers, or changes in job responsibilities. Do this to ensure these changes are justified and based on valid business reasons.
Finally, your organization must take all complaints seriously.
Conduct thorough investigations promptly, address any issues found, and take appropriate actions to correct them and prevent such events from being repeated in the future.
All of these strategies contribute to a better work environment for your employees.
Besides that, it provides your company with the underlying benefit of not suffering from constructive discharge claims.