Accounting and finance tasks to delegate to your cloud staff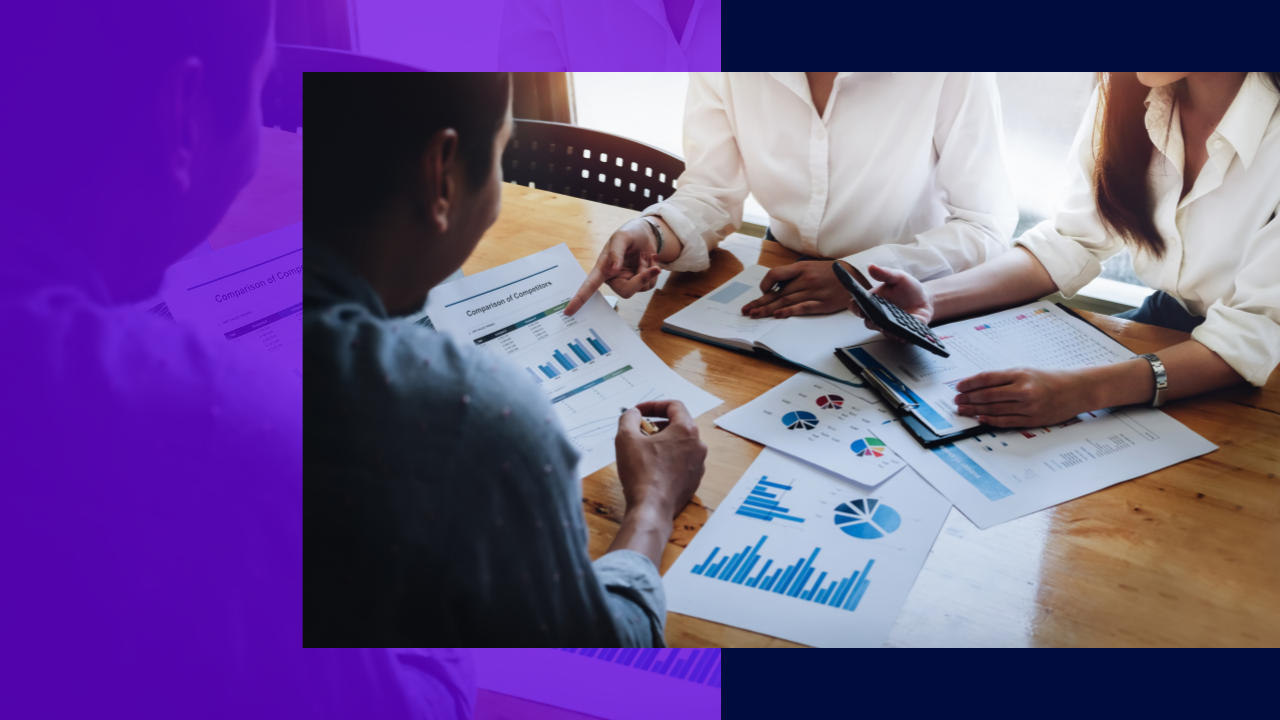 Accounting and finance services are integral parts of every business. This department allows companies to track their latest funds and make well-thought financial decisions based on facts and figures. 
For these reasons, several organizations choose to rely on cloud staffing firms for their accounting functions. 
If the company does not have an expert in managing money, handling taxes, or tracking cash flow, it's worth the investment to hire an external team to help control the company's finances.
What is a cloud staff?
Originated by outsourcing company Cloudstaff Modern Workforce, the term 'cloud staff' or 'cloud staffing' refers to turn-key offshore teams. They are remote employees that are working away from the traditional model of an office environment. 
Through cloud staffing, companies can hire skilled workers who could finish tasks anywhere at their preferred schedule. Businesses can also access offshore talents from different locations across the world. 
Most service providers offer a wide range of various jobs — from customer support, manufacturing, to back-office, among others — ensuring that companies can maintain their productivity in any tasks needed in the organization.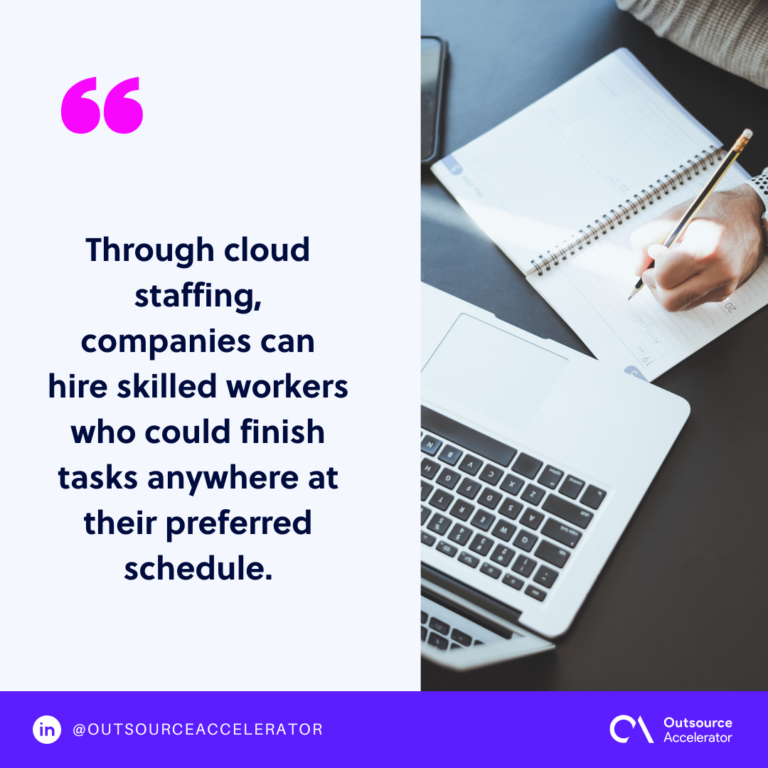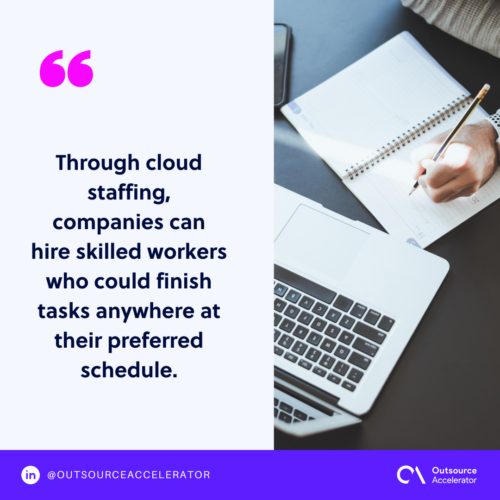 Benefits of cloud staffing your accounting and finance functions
In this day and age, it is nearly impossible to efficiently oversee every team within a company without outside help. 
While you might be hesitant to pay for accounting and finance cloud staffers, doing so can help you gain a lot of benefits.
Aside from avoiding errors, an offshore accounting and finance staff could provide you with the following benefits:
Access to the latest accounting tech that will keep your data secured, backed up, and readily available

Analyze data and trends to offer expert recommendations.

Gain a team of professionals within your business

Save on labor and operational costs

More time to manage and develop your business
Five F&A functions to hand over to a cloud staff
Accounting and finance cover a wide range of tasks in an organization. To know the ones that you could delegate to an offshore team, we listed some of them below.
Bookkeeping
Bookkeeping is a continuous and repetitive activity that can consume much of your team's time. Hiring a cloud staff to perform this function will free your in-house staff and allow them to do more complex tasks.
Additionally, they can keep your records accurate and updated to eliminate errors, mistakes, omissions, and oversights in your financial documents.
Tax filing
Successful tax preparation includes the careful calculation, preparation, filling, and submission of payments to the appropriate government entities.
A specialized staffing firm helps its clients stay compliant with the changing financial and tax regulations within any state or country. They assist in avoiding penalties and maximizing tax benefits by following present tax laws. 
Financial planning 
An accounting and finance cloud staff can organize financial plans and in-depth evaluations of your organization's financial position. 
With their assistance, you can draw up cash flow projections for next week, next quarter, and even the next year. This service lets you forecast the changes that need to be made and when.
Valuable insights like these can determine your company's most valuable clients, overall profitability, and the amount of money to invest in your growth plan. It also helps your company learn how to minimize expenses.
Payroll processing
Just like bookkeeping services, payroll processing is repetitive and can take much of your accounting and finance resources. By recruiting a cloud staff to do this task, you can ensure that your employees get paid accurately and on time. 
With an external team to oversee this process, you can reduce the risk of any liabilities related to payroll mistakes or errors in income tax returns. 
They can also provide you access to the best software and technology to make your payroll functions more efficient and reliable.
Drafting financial reports
Preparing financial documents and reports for external and internal use requires the expertise of accounting and finance professionals. 
A cloud staffing firm ensures the employment of top industry talents in your organization. With them on hand, you can have accurate financial reports about your performance.
They can also give timely advice in addressing cash flow problems and avoiding any future financial issues in your organization.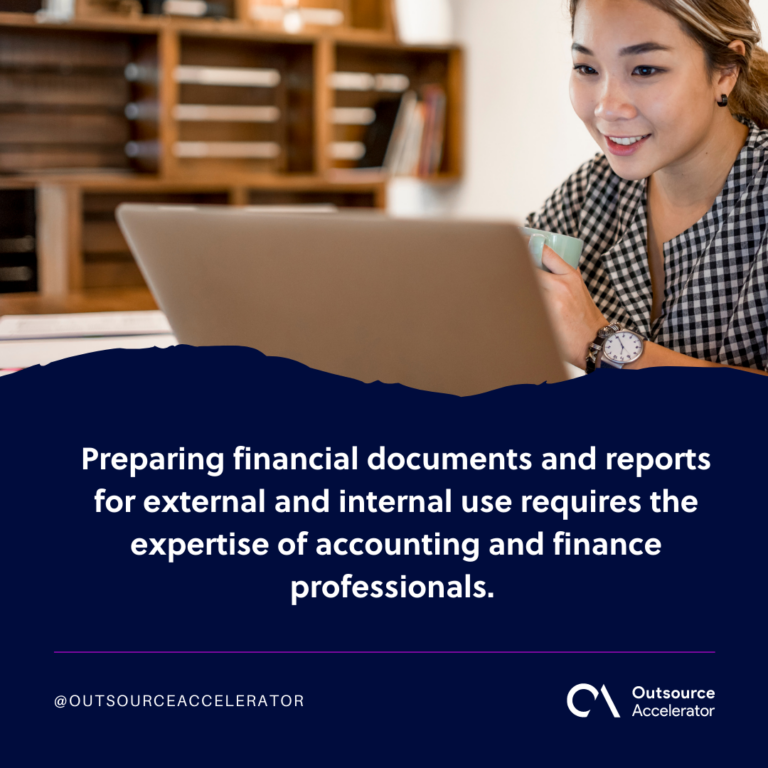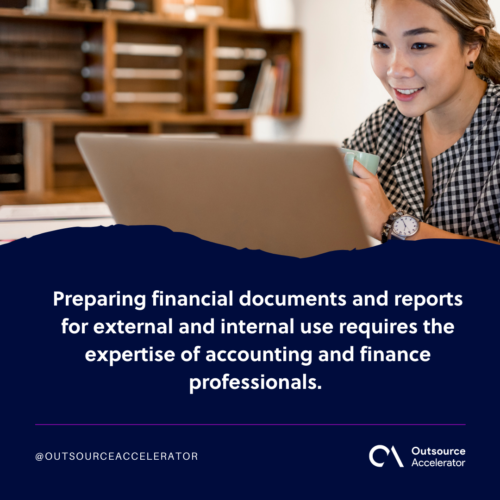 Streamline your finance and accounting process with Cloudstaff
Now that you know why and what you should outsource, it's time to choose the right accounting and finance partner for your company. Ultimately, you need to find a firm that can work with your team and your business' needs. 
Cloudstaff Modern Workforce can help your accounting and finance services become more streamlined, agile, and profitable. 
Their team of senior accountants has specialized knowledge of US, UK, and Australian tax laws, helping you stay compliant wherever your business is based. 
With over a decade of experience working within the industry, Cloudstaff understands the needs of various companies and can deliver the processes needed to achieve great results.
Explore Cloudstaff's other outsourcing services through their website now.