Discover the benefits of cloud call centers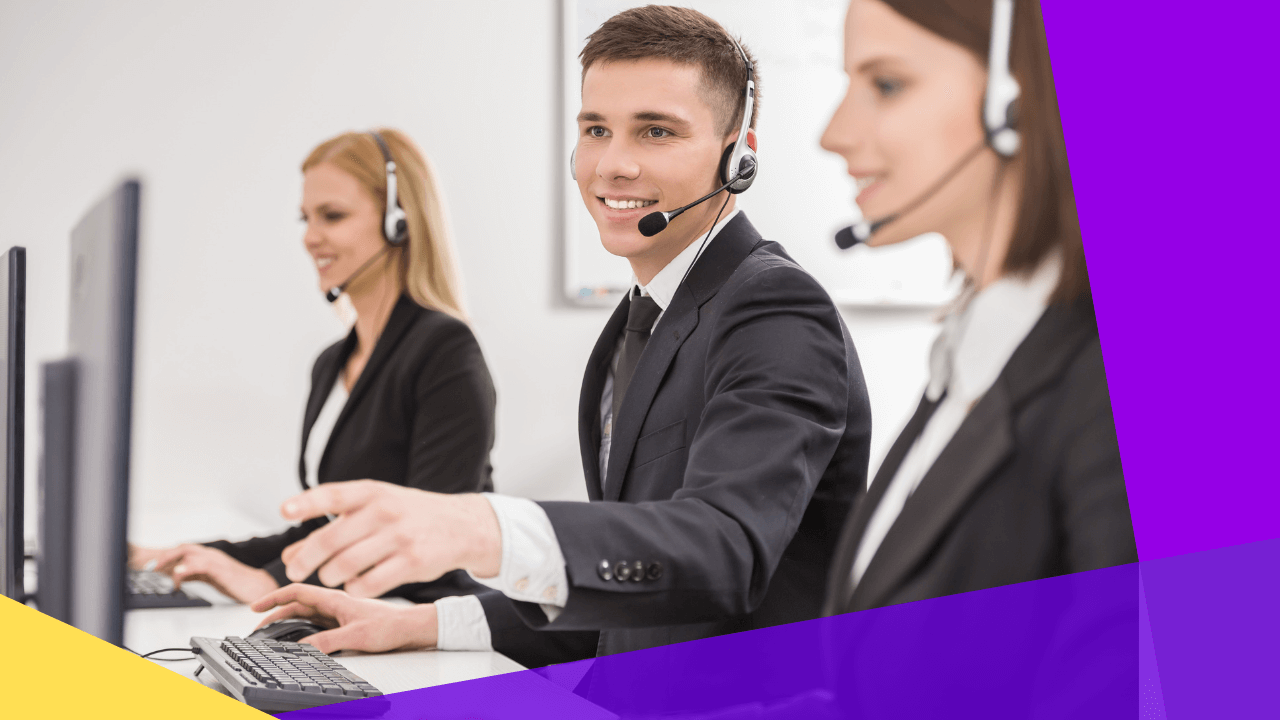 Discover the benefits of cloud call centers
Businesses may keep track of each client request with the help of a cloud call center system. It also helps boost agent efficiency as they add more support channels.
If you want to enhance your customer experience on a single, integrated platform, you might want to consider engaging with cloud call centers.
What are cloud call centers?
A cloud contact center is a communication hub that makes use of call center technologies in the cloud. All inbound and outgoing customer communications, including voice, email, SMS, social media, and the web, are handled online.
Cloud call centers are not connected to a particular server or physical location, unlike on-premise systems or hosted contact centers. Instead, teams may access these systems from anywhere.
Cloud call centers often incorporate the interactive voice response (IVR) system and the automated call distributor (ACD) system as their basic technologies. It may also include additional features, including workforce management and analytics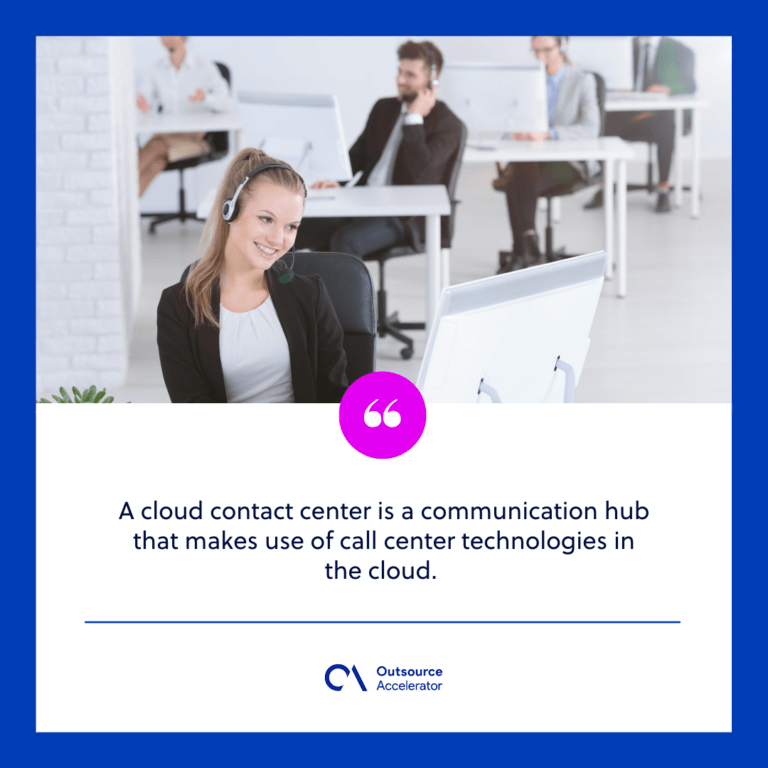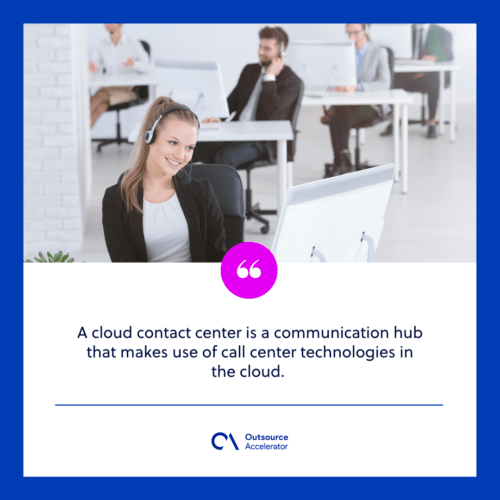 How does a cloud call center work?
All client communications, including incoming and outgoing calls, chatbots, social media posts, and video calls made over a fast internet connection, are handled by a cloud contact center. The equipment, maintenance, and technical setup are all taken care of by call center providers.
With cloud call centers, you do not need to buy, install, and manage telecom hardware like an on-premises call center does. Instead, Voice over Internet Protocol (VoIP) technology is used for calls and messages.
A cloud call center software links to additional channels, such as social media or email, and seamlessly integrates them. Each interaction establishes a connection with a customer and then designates the appropriate agent to receive incoming communications to prevent conflicts.
Your customer relationship management (CRM) software can be integrated with a cloud call center. This is done to maintain all communication data synchronized throughout your company. The greatest way to offer a seamless consumer experience across all channels is with this method.
You only need to supply your staff with workstations, headsets, and an internet connection since the call center runs purely online. Standard hardware can be utilized with cloud-based call centers, but your current desktops and mobile devices also work just as well.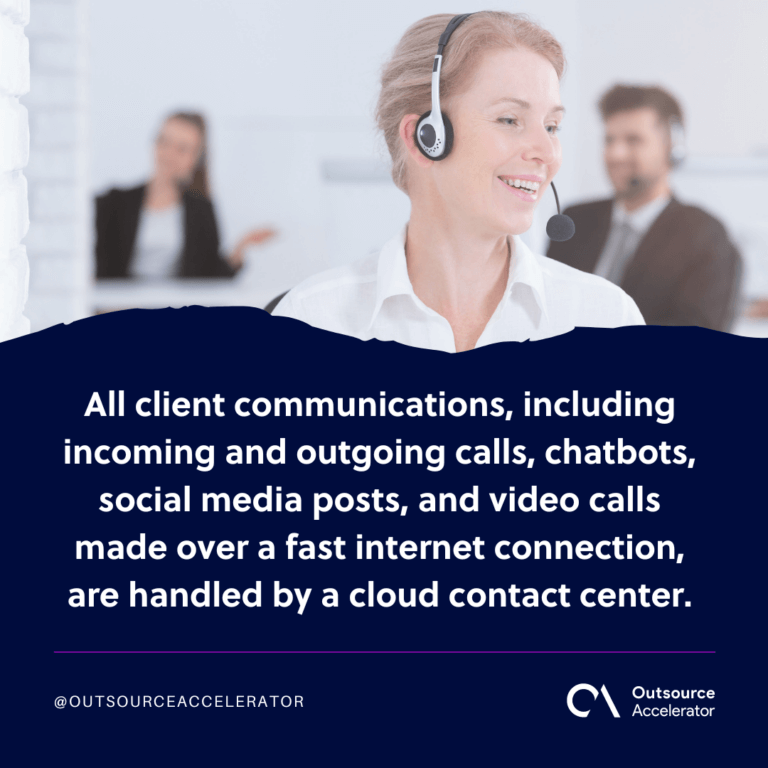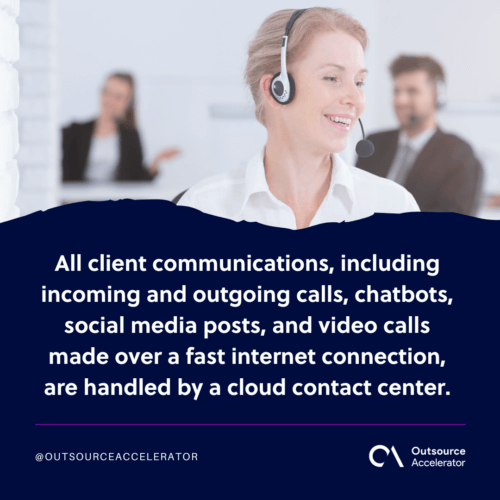 The benefits of using a cloud call center
Cloud solutions are a wonderful option for firms trying to optimize their customer service procedures as effectively as possible. Here are some major advantages of cloud call centers that every business should take into account.
1. Lowered expenses
As opposed to on-premise systems which typically demand considerable up-front expenses, cloud solutions have far lower upfront costs.
Call centers may reduce expenses by employing a pay-as-you-go consumption model. This comes with testing the solution first with a free trial through hosted cloud solutions that can be enhanced affordably.
2. Increased agent adaptability
While cloud call centers are quick to set up, they also give agents more flexibility. The system enables companies to staff agents from nearly anywhere in the world. It also offers round-the-clock customer care by providing data and processing capabilities on demand.
Hosted solutions give businesses greater flexibility and maximum productivity. They make this possible by allowing agents operating in various contact centers or other locations to collaborate successfully.
3. Enhanced agent effectiveness
When engaging in cloud call centers, agents benefit from greater flexibility in their working environments. They can handle consumer data across numerous channels using an easy-to-use interface, which also aids in more accurate case resolution. 
Features like ACD, IVR, and prioritized callbacks also ensure that consumers are connected to the most knowledgeable agents for the best possible customer service.
4. Improved scalability
Cloud call centers' on-demand nature enables actual scalability for businesses as required. Call centers may hire more agents as necessary to meet demand when case volumes are higher than usual. This makes scaling infinitely possible.
5. Improved security
Improved security is a huge advantage of cloud call centers. Compared to on-premise call centers, cloud call centers often have superior disaster recovery capabilities. 
On-premise solutions are typically not well-equipped to handle outages caused by natural disasters, and business operation is affected.
Cloud-based solutions, on the other hand, provide for uninterrupted operational functioning. They make this possible by letting agents contact customers using mobile devices when connectivity is disrupted.
6. Excellent customer service
Excellent customer service is a natural outcome when businesses are able to staff excellent people 24/7. Customers will notice and value your company's efficiency if it successfully addresses their problems and saves them time.
Also, agents feel more empowered when they can work in a variety of settings that maximize their productivity. There are several benefits for both consumers and businesses from cloud call centers. When it comes to providing the best customer service possible, the sky is the limit with cloud call centers.
Choosing the right cloud call center for you
Keep in mind to always examine the provider's status updates as you consider the cloud call center technology to be engaged in your business.
Additionally, you need to track resolution rates for all accounts, teams, and people. Make sure that most users can access and understand this data.
In terms of remote work, make sure team managers can simply move around. See to it that they can track the success of their teams in real-time and assist anyone who needs it.
For seamless integration across the company, look into a cloud call center's relationships with unified communications. You can boost company continuity by moving your communications to the cloud.
Choose a call center solution that can change to meet changing business requirements and consumer expectations. You can never go wrong with finding the right contact solution for your company if you put your staff and customer experience first.