Defining the chief product officer (CPO) role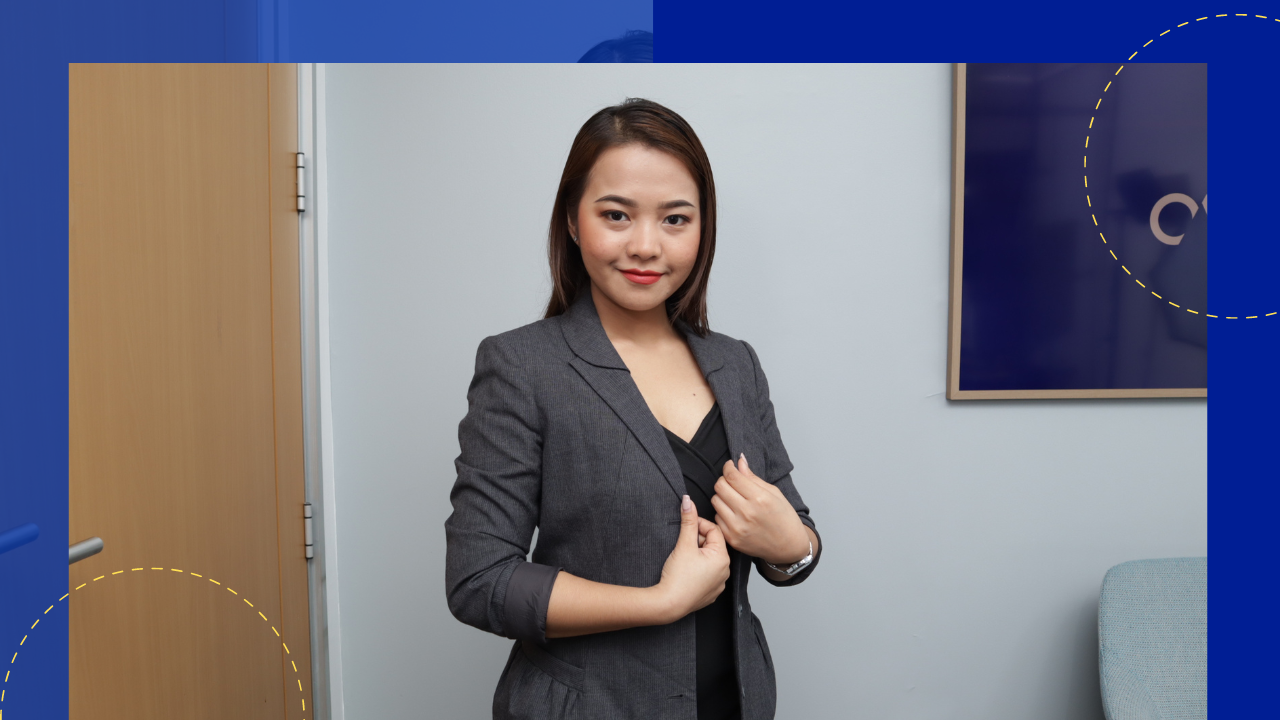 How we perceive products continues to change as we live in a world that's getting more digital and online. In this rapidly evolving business landscape, customers have more product options, are aware of existing improved features, and hold dynamic needs and wants.
Businesses must keep up to meet customer expectations and stand out from the competition — that's where a good product development team comes in. Leading that team is the Chief Product Officer (CPO). 
In this article, we'll define the CPO role and discuss what it entails.
Who is a chief product officer?
A Chief Product Officer (CPO) is a senior executive who heads the product department and oversees the entire product lifecycle — from ideation to launch and beyond. CPOs lead a company's product strategy, development, and management. 
As the driving force behind product development, the chief product officer collaborates with cross-functional teams, ensuring the successful execution of product strategies. 
These strategies are driven by the CPO's understanding and translation of market insights and customer needs.
Responsibilities of a chief product officer
The chief product officer has a number of responsibilities that make the role distinct from other executive roles and similar positions:
Develops and implements product strategies
The chief product officer conducts comprehensive market research to identify customer needs and competitive trends. This information is used to formulate a product strategy that aligns with the organization's goals. 
The CPO comes up with strategic roadmaps, prioritizes feature development, and sets clear objectives for the product team.
Leads product development and management
CPOs oversee the product development process, from conception to release, making strategic decisions and providing guidance at every stage. 
Part of this leadership role is measuring and analyzing product performance and making informed decisions to improve products. They are also in charge of managing product portfolios and have the power to decide on product retirements and replacements.
Additionally, the CPO manages product budgets and timelines to ensure quality products are delivered smoothly and successfully. They also check if products comply with regulatory and legal requirements.
Drives innovation and competitive advantage
The chief product officer identifies emerging trends and technologies so the firm can keep up or stay ahead in today's competitive market.
It fosters a culture of creativity and experimentation within the company, encouraging the team to push boundaries and develop innovative solutions. By doing so, the business attains a competitive edge and delivers products that exceed customer expectations.
Collaborates with other teams
Collaboration is crucial for chief product officers because they need to work closely with engineering, design, marketing, and other departments. They ensure the successful execution of the product strategy. 
Maintains relationships with stakeholders
The chief product officer connects with customers, partners, and vendors. CPOs substantiate how successful products are and see if there's any room for improvement.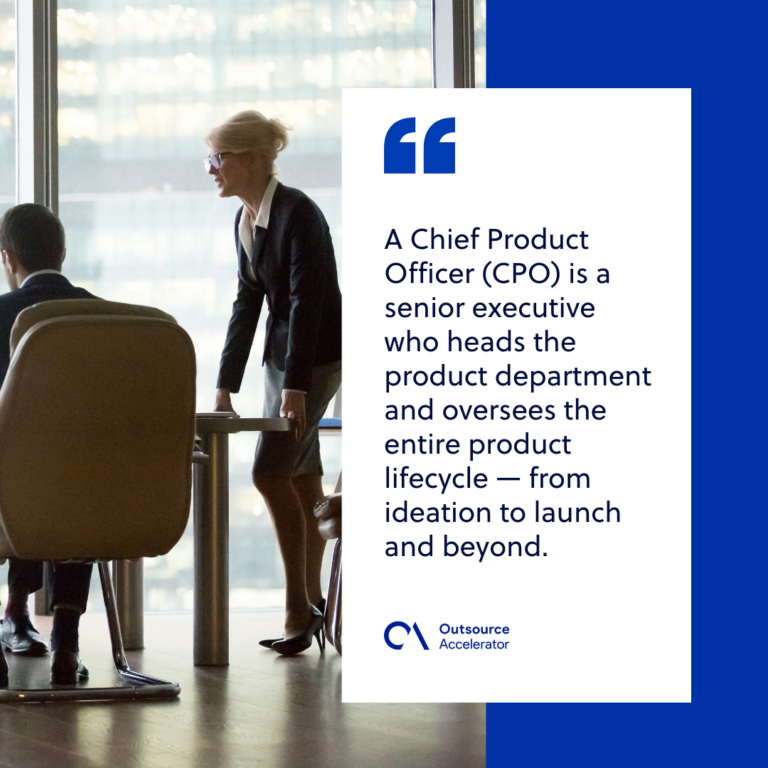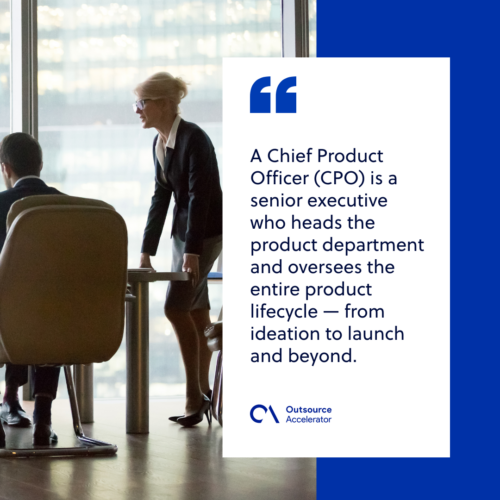 Key skills of a chief product officer
An effective and successful chief product officer combines technical, business, and leadership skills. 
Some of the key skills and qualities found in a CPO are:
Strong business acumen
A chief product officer must possess a deep understanding of business dynamics. This enables them to make informed decisions that align with the business's overall strategy and drive revenue growth.
A CPO should be conscious of market trends, financial implications, and customer behavior. 
Excellent leadership and communication skills
Chief product officers must have the ability to inspire and motivate cross-functional teams to work towards a common vision. 
Effective communication skills is vital to ensure proper business orientation, foster collaboration, and convey the product strategy to those involved internally and externally.
Further, CPOs should be experts in buyer personas, able to understand customer needs and behaviors and make decisions that secure customer activation, conversion, and retention.
Possesses technical knowledge
Though they don't need to be a technical expert, a chief product officer should have a solid understanding of technology and the product development process. 
Possessing technical knowledge facilitates effective collaboration with engineering teams. It enables CPOs to make informed decisions on product feasibility and technical constraints.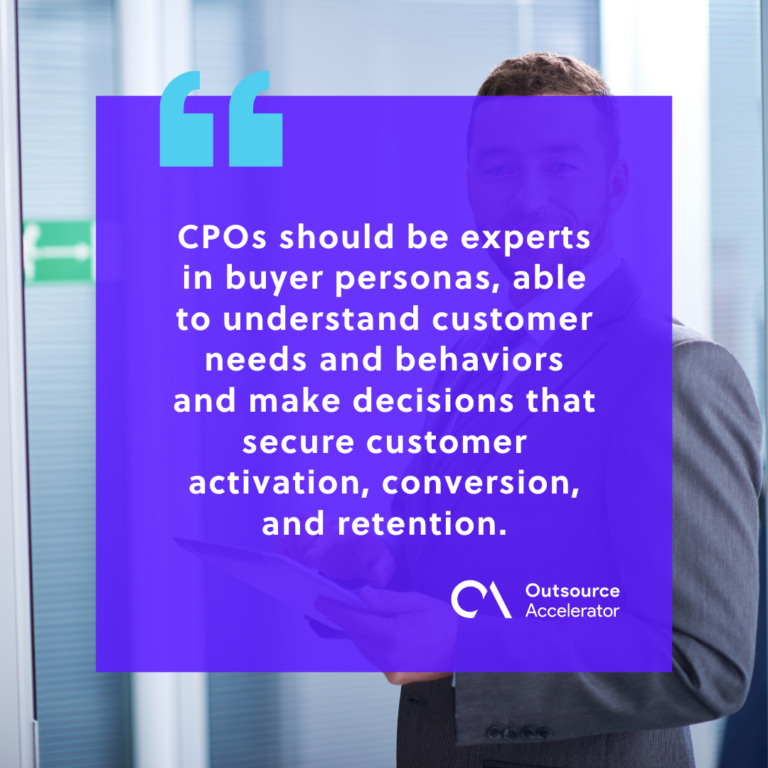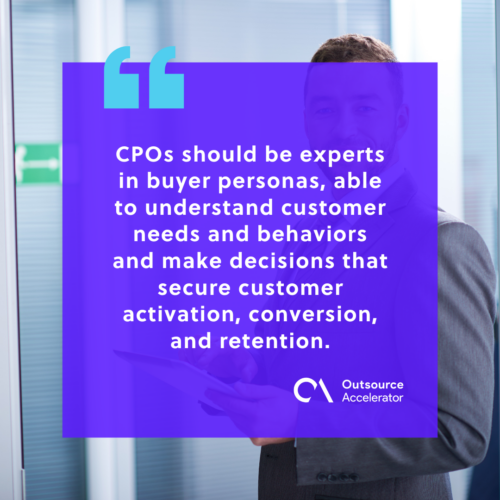 Why organizations need a chief product officer
A chief product officer is essential because they make sure a company's products are oriented with overall goals and objectives. 
Additionally, having a CPO will raise the chances of products meeting customer needs and expectations in a competitive market.
Here are some more reasons why organizations need a chief product officer:
Strategic product vision
A chief product officer brings a holistic and strategic view to product development so that other executive roles and teams can focus more on their own responsibilities. The CPO ensures that products have a clear purpose and can address gaps in the market.
Streamlined product development
A chief product officer allows the product development process to be more streamlined and efficient. This results in more timely product releases, increased quality, and enhanced customer satisfaction.
Market and competitive insight
CPOs introduce specific and deep market knowledge and competitive insight into the company. Their expertise helps the business identify untapped opportunities, develop differentiated products, and maintain a competitive edge in the market.
What a successful chief product officer looks like
A successful chief product officer is a visionary leader who inspires and motivates teams to deliver innovative products. CPOs have a/are:
Customer-centric mindset
Chief product officers know that customers should be at the forefront of every decision they and their teams make. They understand gathering customer feedback and conducting market research is valuable in driving product innovation and improvement.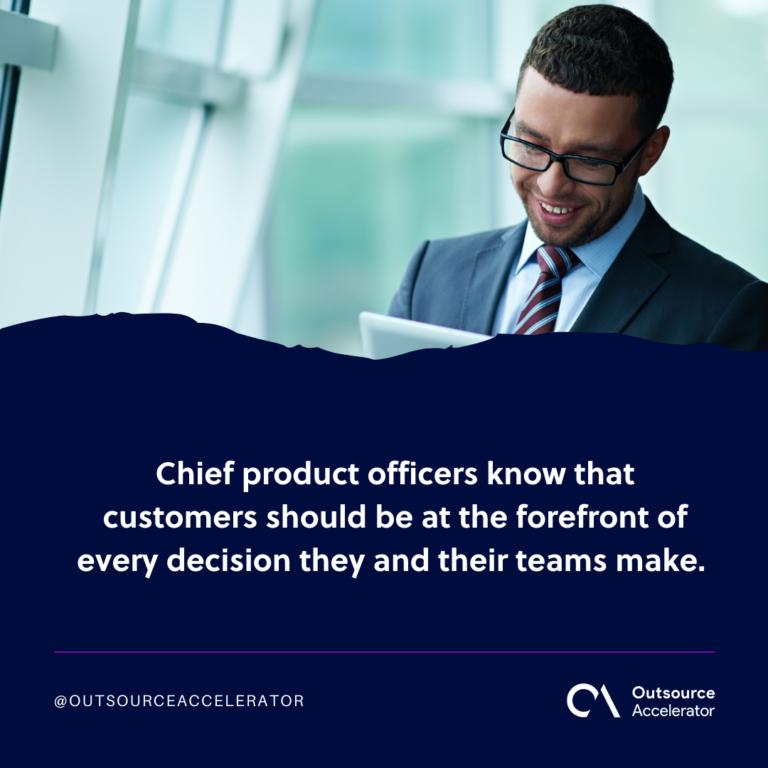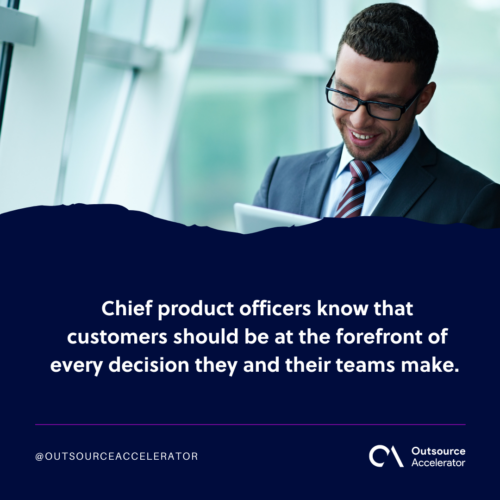 Adaptive and innovative
Changing market conditions and emerging technologies make it difficult for any business to stand out and stay ahead. CPOs have the ability to detect new opportunities so products remain unique from the competition. 
Collaborative and influential
An effective CPO excels at building relationships and fostering partnerships, whether it's with other teams in a firm, customers, vendors, and the like. 
A CPO's ability to influence and inspire others is crucial in rallying support for the product vision and securing buy-in from key stakeholders.
Ultimately, the chief product officer is critical in any organization that makes and introduces products. 
If a business wants to thrive in the current unpredictable market landscape, having a CPO will lessen those concerns. These professionals significantly impact the company's growth and success with expertise and innovation.