Your 10-step checklist for hiring employees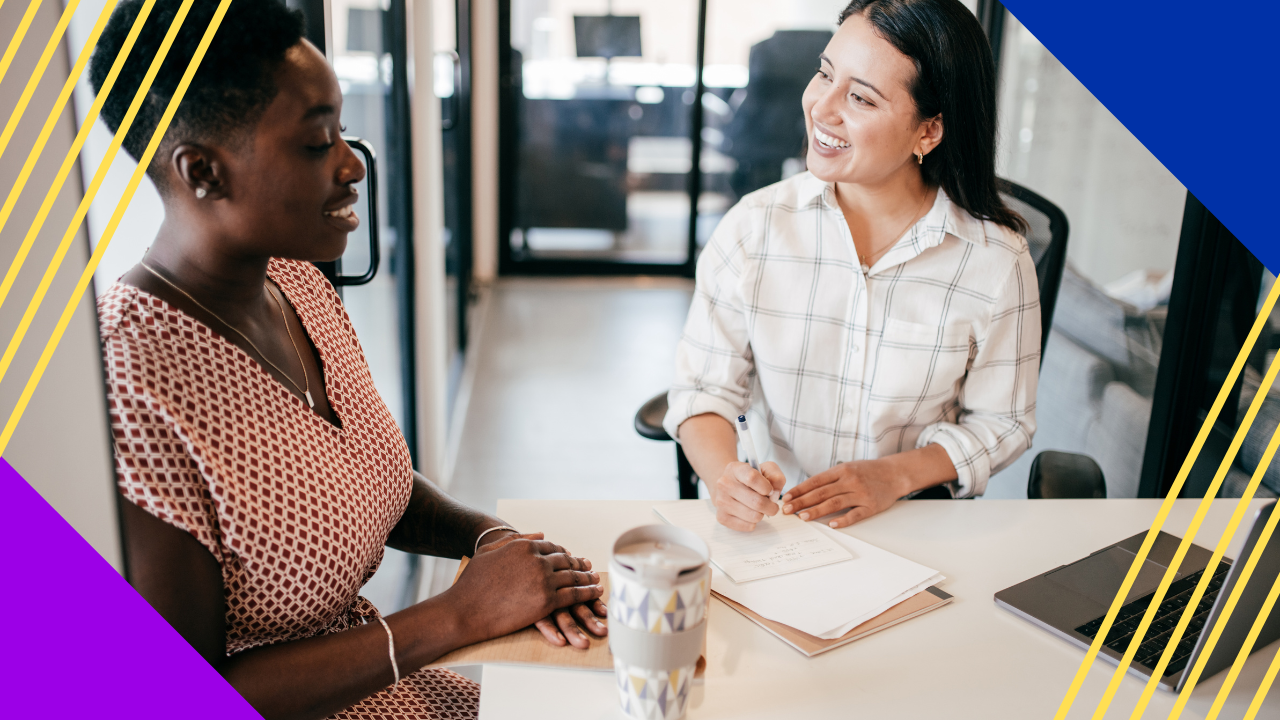 Hiring the right employees contributes to the success and growth of any organization. While a bad hire can't be inevitable at some point, having consistent bad hires can broadly impact your company in terms of wasted resources.
A well-structured and efficient hiring process ensures you attract top talent, select the most qualified candidates, and integrate them seamlessly into your team.
Read more about the 10-step checklist to streamline your hiring process and increase the likelihood of successful employee recruitment.
Importance of an efficient hiring process
An efficient hiring process benefits your organization in different ways, such as the following:
Time and resources

. An efficient hiring process saves time and resources by minimizing the chances of making poor hiring decisions.

Candidate experience

. A well-structured hiring process ensures a positive candidate experience, from communicating with applicants to employee onboarding.

Employee retention

. Your hiring process plays a crucial role in

employee retention

. By evaluating candidates' skills, qualifications, and cultural fit, you can select individuals well-suited to the role and aligned with the company's values and goals.

Company culture

. Efficient hiring processes contribute to the development of a positive company culture. This helps you promote diversity and inclusion with your employees and promote collaboration easier.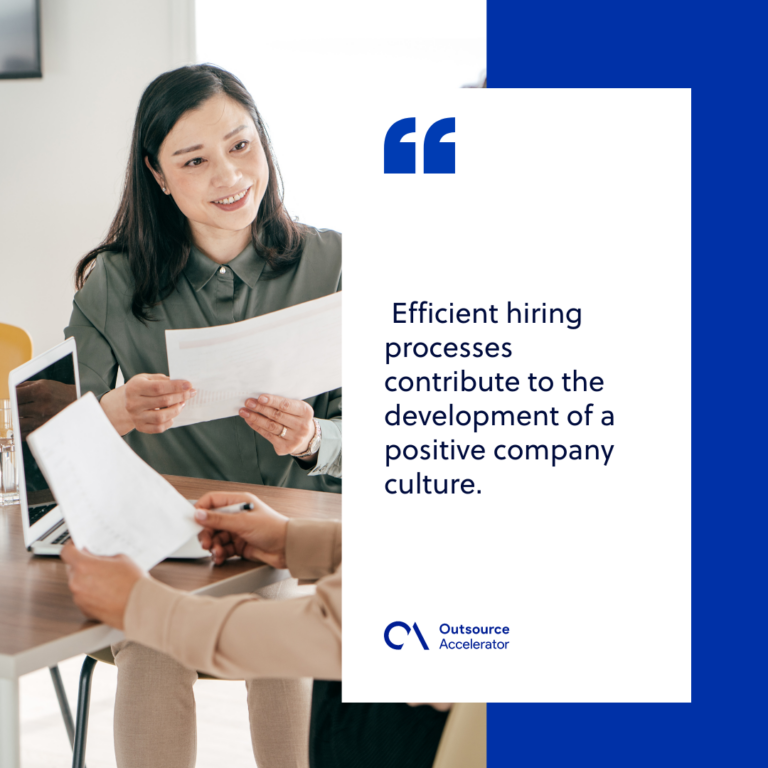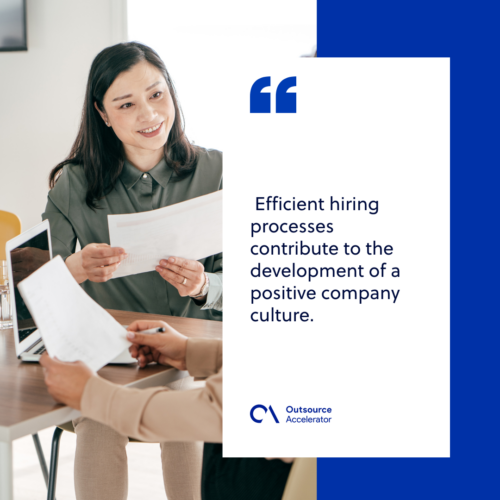 10-step checklist for hiring employees
Here is a checklist you can use to hire employees effectively:
Step 1: Define your requirements
Clearly define the job requirements before proceeding with your hiring process. Determine the specific skills, qualifications, and experience necessary for the role.
This helps you create a focused and targeted job search, attracting candidates who meet your organization's needs.
Step 2: Develop a compelling job description
Once you've defined the role responsibilities and requirements, you can craft a compelling job description that accurately reflects them.
A well-written job description helps attract suitable candidates and provides a foundation for evaluating them during selection.
Step 3: Create an effective job advertisement
After drafting a well-crafted job description, create an engaging job advertisement. Aside from online job boards, maximize your reach using social media and professional networks for a vast pool of potential candidates.
Tailor your message to highlight the unique aspects of the role and your organization, attracting individuals who align with your mission and values.
Step 4: Implement a thorough screening process
Develop a screening process to assess the qualifications of applicants efficiently. 
Consider using pre-employment assessments or skills tests to evaluate candidates' abilities in a specific area relevant to the role. This helps you narrow down the candidate pool and identify those best suited for further consideration.
Step 5: Conduct comprehensive interviews
Interviews are a critical component of the hiring process. Prepare a list of interview questions that explore candidates' experience, problem-solving skills, and cultural fit.
Conduct phone and in-person interviews to gain deeper insights into your applicants. Consistency in the interview process is essential to ensure a fair evaluation of all candidates.
Step 6: Evaluate candidates' skills and qualifications
Assess candidates' skills and qualifications based on the job requirements. Use a scoring system or evaluation rubric to compare candidates and rank their suitability for the role objectively.
Consider conducting practical tests or exercises that simulate real-world scenarios to gauge their abilities and problem-solving capabilities.
Step 7: Conduct background checks
Contact the references provided by the top candidates to gather insights into their past performance, work ethic, and character.
Additionally, conduct thorough background checks, including employment history verification and criminal record checks, to ensure the information provided is accurate and trustworthy.
Conducting background checks helps mitigate potential risks and confirms the candidates' suitability for the position.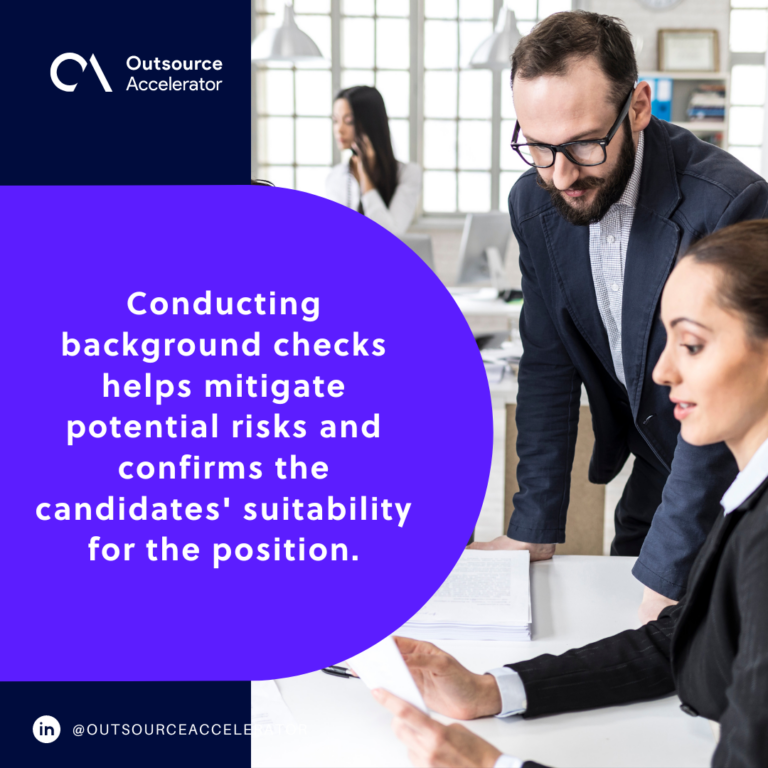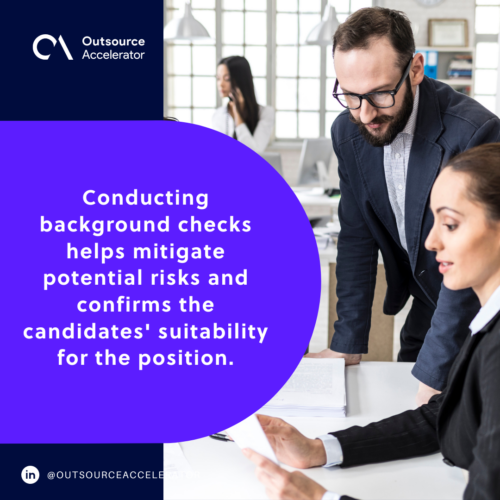 Step 8: Assess cultural fit and team compatibility
Assessing cultural fit is crucial for creating a harmonious and productive work environment. Evaluate how well candidates align with your organization's values, vision, and work culture. 
Additionally, consider conducting team-based interviews or involving key team members in the selection process to assess the compatibility between the candidate and the existing team.
Step 9: Make the job offer
Once you have identified the ideal candidate, extend a job offer promptly and professionally. Communicate the terms of employment, including compensation, benefits, and any other relevant details.
Maintain communication to address any questions or concerns the candidate may have.
Step 10: Onboard and integrate the new employee
Effective onboarding is vital to ensure a smooth transition for new employees.
Provide them with a comprehensive orientation, including an introduction to company policies, procedures, and organizational structure. Assign a mentor or buddy to help them integrate into the team and provide ongoing support during their adjustment stage.
Ensuring successful employee recruitment
A well-executed hiring process will contribute to the long-term success of your organization by building a solid and capable workforce.
Following this 10-step checklist can enhance your hiring process and increase the chances of successful employee recruitment.
Remember to continuously review and improve your hiring practices to adapt to changing needs and attract the best talent in the industry.