20 best-performing call center scripting software in 2024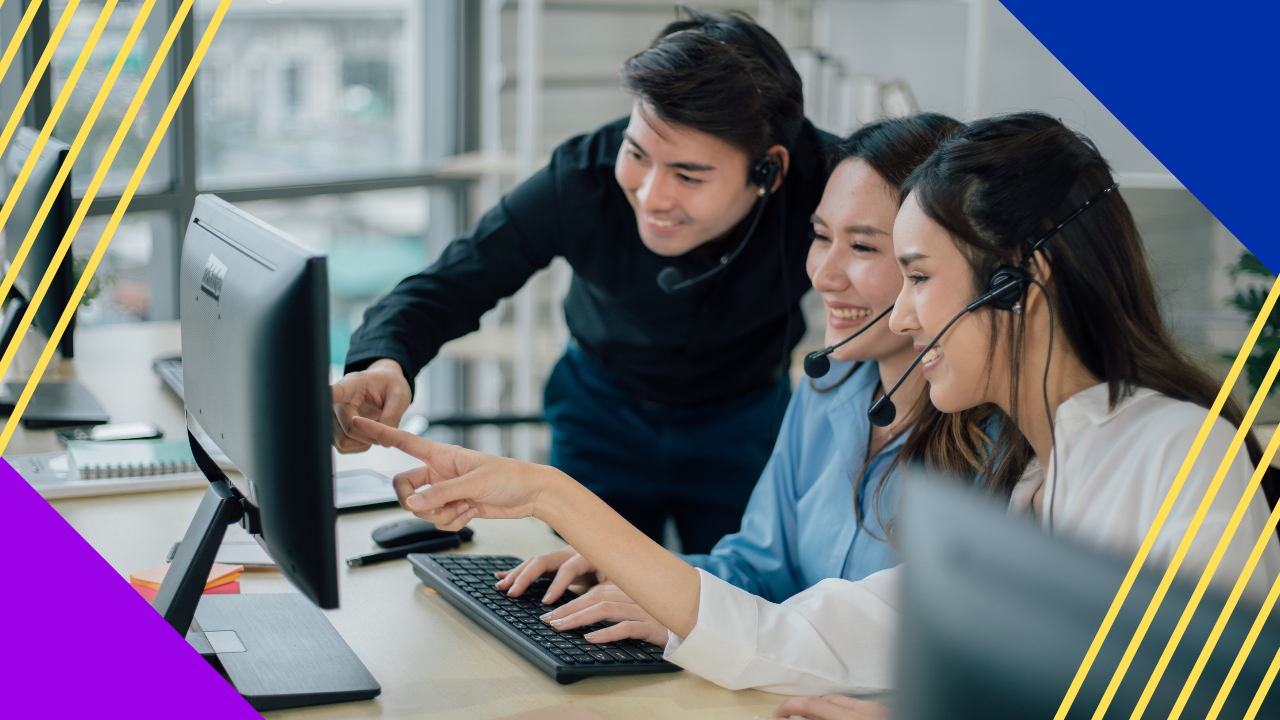 List of call center scripting software
Call center industry requires excellent customer service practices and dedicated people with good communication skills.
As a result, most call center companies conduct training, coaching, and monitoring to equip agents with proper knowledge and expertise. The idea that agents are frontlines that represent a company throughout the customer journey is a vital consideration. 
It led many companies to invest in call center scripting software. This scripting tool helps agents in addressing concerns accurately and promptly.
This article highlights 20 of the top call center scripting software businesses can invest in. 
What is a call center scripting software?
Since answering with confidence and knowledge gives customers a good impression over a call, a good scripting guide can be an excellent practice.
Call center scripting software is a tool that provides written prompts to call center agents, serving as guides in addressing client queries and concerns. Prompts are typically based on frequently asked questions, answers, and statements.  
This type of software provides convenience to companies as it is highly scalable and customizable.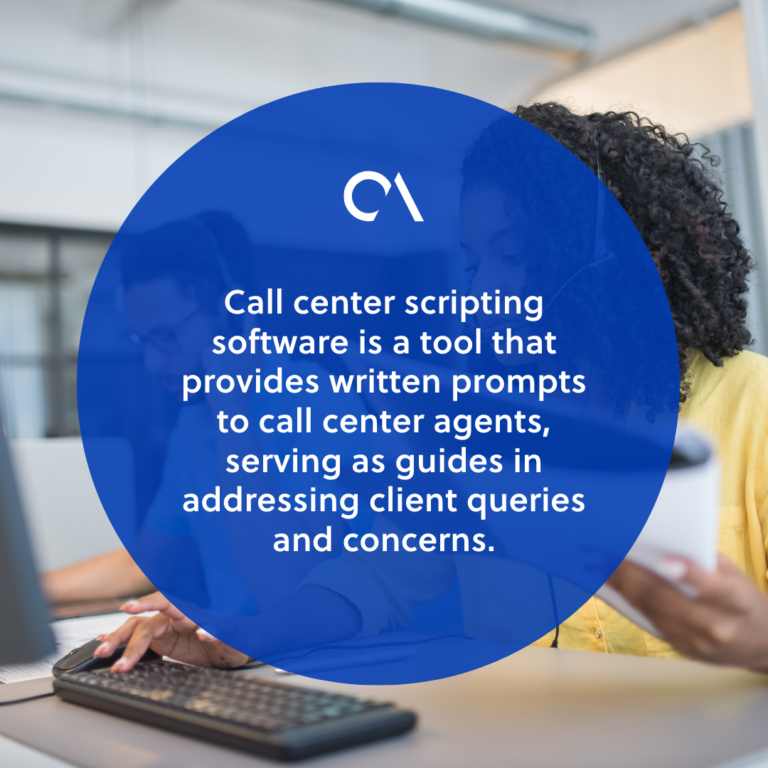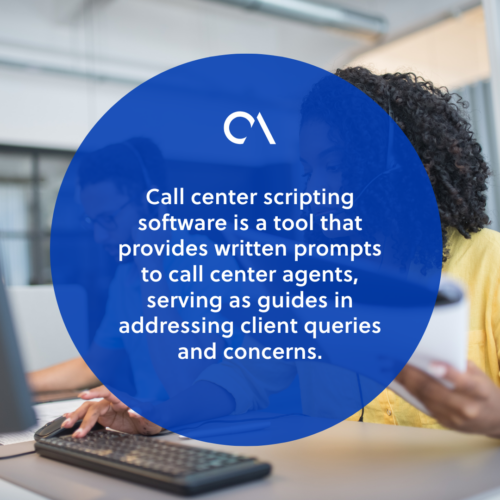 Because of technological advancements, businesses can now install call center scripting software using on-premise local servers or the cloud. 
On-premise local servers require infrastructure installation that directly connects to each agent's stations, and the cloud may be in the form of Software-as-a-Service (SaaS). It is a software application designed as a stand-alone tool for call center platforms.
Advantages of using a call center scripting software
Companies that utilize a call center scripting software can take advantage of the following: 
Upscale performance metrics and success indicator
With scripting software, agents can speed up performance in answering calls through various call center metrics. It can improve customer journeys by addressing calls with an average time and tier-one resolution. 
Through call records and agent navigation history in the scripting software, data information is translated to analytics and interpreted as part of the component of the success indicator.
Speed up onboarding and agent training
New agents, including remote workers, can easily adapt to the needed skills and requirements through a call center scripting software's predesign and customized solutions. Scripts can also be used to fast-track the onboarding process of new hires.
Regulatory observance and customer experience
Call center scripting software assure additional measures guiding agents in discussing sensitive information with clients. It is a good selling point for the finance, healthcare, insurance, and travel industries.
Conducting calls within prescribed guidelines also ensures good conversation and consistent customer experience that will reflect the readiness of a call center company.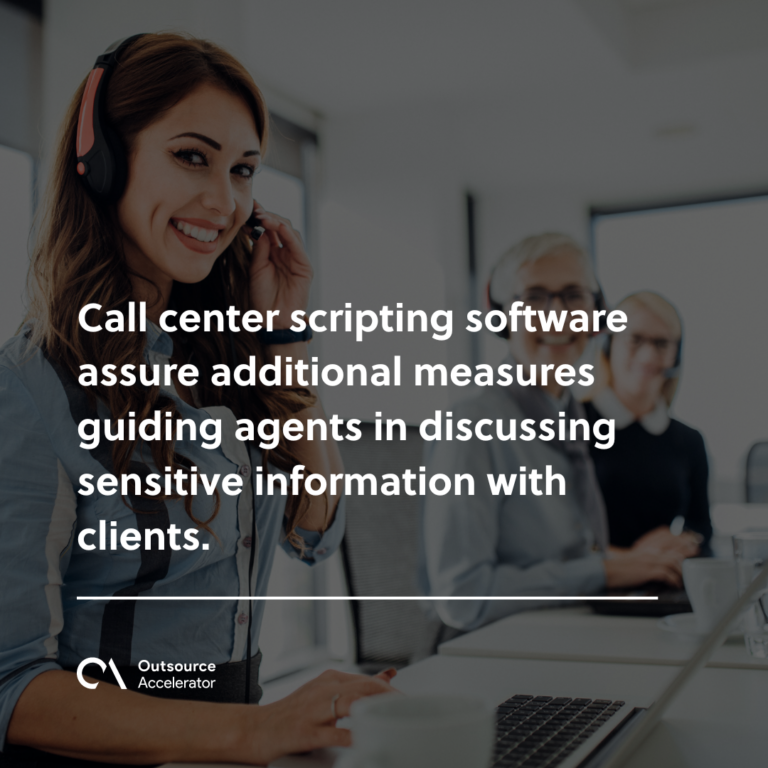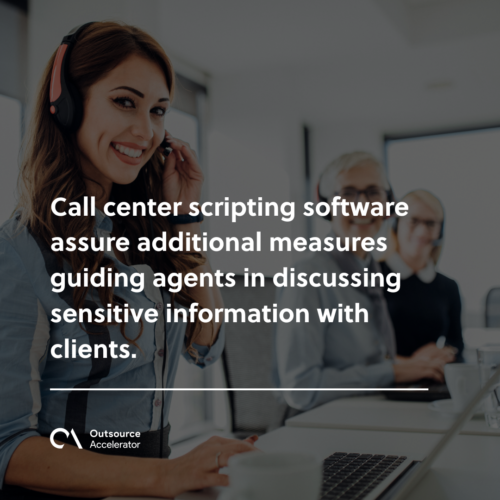 20 best call center scripting software in 2024
There is a significant increase in the use of scripting software in the call center industry today. Here's the list of best call center scripting software in 2024:
Nextiva is known to be user friendly and is capable of handling large scale inbound and outbound calls. The call center scripting software provides unique communication channels on the following:
Voice and video call recording 

Collaboration 

SMS and chat messaging 

Surveys
It also has key features, including interactive voice response (IVR), automatic call routing, and call queuing. Users can track customer-agent conversation flows and interactions. 
Nextvita has over 100,000 customers with over 1 billion conversations per year.
CloudTalk services over 2,400 call centers and is a trusted partner to top businesses, including DHL, Mercedes-Benz, and Revolut. The software utilizes cloud technology, providing businesses with enhanced security that allows virtual call center operations globally. 
The platform is comprehensive, with an impressive dashboard. It has a smart IVR feature that connects calls to assigned agents automatically. 
Cloudtalk will let you choose your language preferences, and it gives you the ability to map out your customer's overall experience.
8×8 allows a company to communicate using a single platform that can perform the following:
Skill-based call routing

Web and queued callback 

IVR

Inbound chat and email 

Social channel contact solutions
8×8 also provides real-time analytics and reports that define customer journeys across all channels. It easily integrates with customer relationship management (CRM) platforms, including Salesforce and Microsoft Dynamics.
Freshworks is a cloud-based call center solution servicing over 6,000 businesses as partners. It helps many inbound sales agents and support teams with its unique features, which include the following: 
Custom greetings and ringtones

Advanced queues and blind transfers

Advanced call metrics and call monitoring

Abandoned call metrics and custom agent status

Omnichannel routing and agent activity reports 
Established in 1990, Genesys has become a well-known software solution in the industry. It has more than 2,700 client organizations in over 80 countries.
Genesys has a handy interface that makes it easy to use. Some of its key features include:  
Native or third-party AI chatbots

Predictive routing and call whispering

Call barging and screen recording

Platform APIs
Team leaders can also supervise in-progress conversations and integrate with hundreds of applications, including Salesforce.
CrazyCall is a leading solution for sales teams with features including call monitoring and transfer, auto-dialing, click to call, and call back widget. The software is also capable of performing lead generation and real-time reports.
It also allows users to choose services from over 60 countries, making it easier to reach more target leads. 
With CrazyCall, companies can monitor their teams' progress with live call listening and dashboards. It can also use call recordings to validate conversations' quality.

RingCentral Contact Center has a wide-range selection of applications and pre-built integrations. With its contact center solutions, companies connect systems to CRM, enterprise resource planning (ERP), or marketing automation software. 
RingCentral has various quality features like call queueing, workforce management tools, and intelligent routing. It also has administrative and management features, including call recording, surveys, and analytics. 
Talkdesk's contact center software is one of its best-selling product solutions. The software has the capacity to perform an end-to-end customer experience solution. 
Some of its best features include:
Outbound dialer and customer self-service

Omnichannel support and call recording

AI virtual assistant

Reporting and analytics,

Integrations with Salesforce, Slack, Microsoft Teams, and Xoom
More than 1,800 businesses like IBM, Peloton and Dropbox have partnered with Talkdesk using its call center software. 
Five9 is one of the pioneers in the call center scripting software market. It offers a cloud-based call center solution with features like:
Auto-dialing/predictive dialing

Outbound and inbound calls

Omnichannel communication via email, chat, mobile, and social media

CRM options and integration

DNC list compliance
While Five9 has some limitations for more robust collaboration features, it is a powerful solution for call handling. It is a proud partner of more than 2,000 client customers worldwide. 
Zendesk Talk is built directly into the ticketing system for Zendesk Support. This software solution allows firms to have full access to customer history with extra features like automatic ticket creation and call recording. 
Zendesk Talk is created to avoid unproductive tasks while enhancing the support process. Some of its key features includes the following:
Custom greetings

Local and toll-free numbers

Browser-based calls and call blocking

Conference calling and group routing

Advanced analytics and real-time dashboard
Avaya UCaaS, formerly Avaya Aura Contact Center, is a cloud-based and on-premise call center solution for various industries. The software provides a performance management module that captures, analyzes, and stores customer interactions. 
It allows users to offer more personal interactions to regular callers using excellent outreach algorithms and workflow. The algorithm assists agents in using inbound and outreach capabilities to sell, cross-sell and upsell products to callers. 
3CLogic is a top-performing cloud contact center platform elevating enterprise communications for employees and clients. The solution provides complex and scalable speech-enabled offerings for leading CRMs, including ServiceNow, Salesforce, SAP, and MS Dynamics. 
It has deployments to over five continents and serves around 2000 clients worldwide. 3CLogic encourages digital transformation by improving customer experience (CX), operational effectiveness and reporting insights, and speech analytics.
Bright Pattern is a cloud-based contact center software solution innovating businesses. It offers multichannel services, including inbound and outbound voice, email, chat, and social media. 
Big Pattern scales from 5 to 10,000 skillful agents and drives CRM integrations to assist with customer support. 
Teams can access customer information from any web browser. With skill-based call routing, they can promptly address customer needs by sending reports.
DialedIn, formerly known as ChaseData, offers a cloud-based, standalone call center capability with a built-in customer service support solution. It is designed to cater to outbound, inbound, and blended call center teams.
Dialing capabilities include auto, predictive, preview, and progressive dialing. The automatic call distribution ensures proper call routing based on specific rules regarding language preference, skill set, and training.
VanillaSoft is a cloud-based sales management solution that joins features for CRM, lead generation, and telemarketing, which helps sales teams in businesses conduct daily operations.
The company uses a queue-based sorting system that also administers lead generation and nurturing solutions, helping users to monitor sales and secure new business opportunities. 
It offers applications for lead tracking, email marketing, appointment setting, and call recordings. 
NICE CXone is cloud-based call center software that transforms businesses to showcase the quality of leads and lessen the cost of client interaction. It offers various call routing features like IVR, CTI and ACD. 
The system includes workforce optimization capabilities such as e-learning, hiring and workforce management. It comprises many features needed to process inbound support services and helps businesses manage multiple channels, such as:
Inbound and outbound voice calls

Email and voicemail

Chat and social media management
Microsoft Dynamics 365 is a cloud-based CRM software for small, medium, and enterprise organizations focusing on Sales, field, and customer service. It is backed with integrations of Microsoft and other Office 365 offerings like Teams, Outlook, Excel & Word.
The Microsoft Dynamics 365 ecosystem has a wide range of services that clients can choose from, including: 
Lead and opportunity management

Marketing and field service

Internet of Things (IoT) and customer service

Project service automation
The PIMS Dialer is a flexible and scalable cloud-based application offering dialer and PBX solutions built-in for any business vertical.
Automated scripts are digitally translated for agents to handle information for outbound and inbound calls. It can handle unlimited calls using alternate numbers and schedule an automated call back for specific agents.
Mitel is a hybrid contact center solution that innovates businesses of industries such as hospitality, healthcare, government, education and service providers. The solution is accessible through web browsers and offers a desktop client to the users.
Mitel also offers Microsoft Lync-based contact centers, which combine IVR, automatic call distributor (ACD), reporting, monitoring and forecasting. It also provides MiContact Center Live, which allows users to access the solution via internet browsers. 
Vonage Contact Center ranks has a 4.9/5 rating in Salesforce AppExchange review. It delivers competitive solutions integrating into routing, reporting, and customer experience for Service Cloud and Sales Cloud users. 
Voice and Salesforce digital channels are consistently blended to deliver an excellent customer experience on various channels while reducing administrative complexity. 
Service excellence is delivered to the overall cycle, from pre-sales, onboarding, adoption, and value realization.