Guaranteed metrics for accurate call center calculations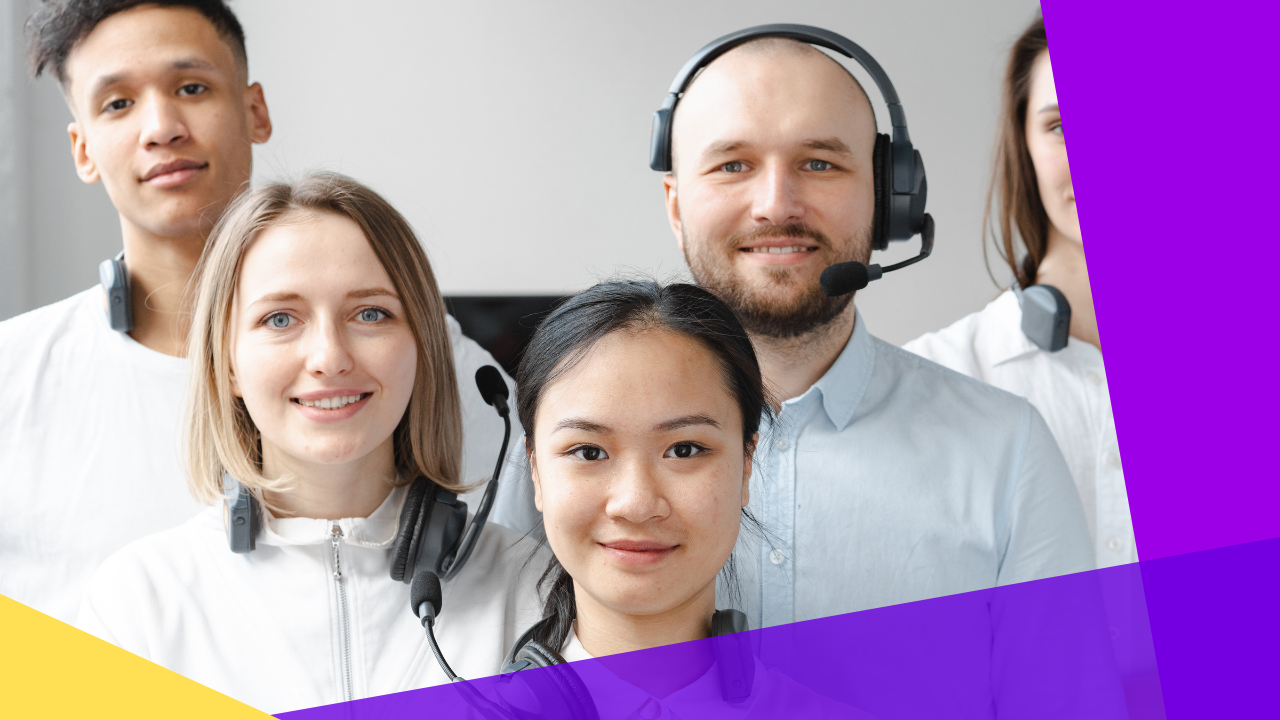 Guaranteed metrics for accurate call center calculations
Gauging performance is a staple in any industry. From measuring the effectiveness of services down to optimizing processes, these are important to ensure quality is achieved.
The challenge lies in the consistency of the staff to deliver and meet these standards. With various roadblocks and process bottlenecks, managers need help meeting these metrics.
This dilemma is a daily reality in call center companies. With higher client expectations, stringent industry standards, and enormous quotas, managers must ensure that all processes are within acceptable thresholds. 
With years of continuous improvement, call center calculations have been developed to accurately measure the performance of agents and business units. 
What are call center calculations?
Call center calculations have various formulae and metrics. There are various important metrics that provide and create value for the industry. 
The evolution of these metrics is natural, given the innovations and scaling capabilities of the call center industry. As new technologies and services emerge, so is how they are measured.   
The main definitive characteristic of call center calculations is that they are quantified. It is easier for the business to see whether its performance is acceptable, poor, or improved dramatically.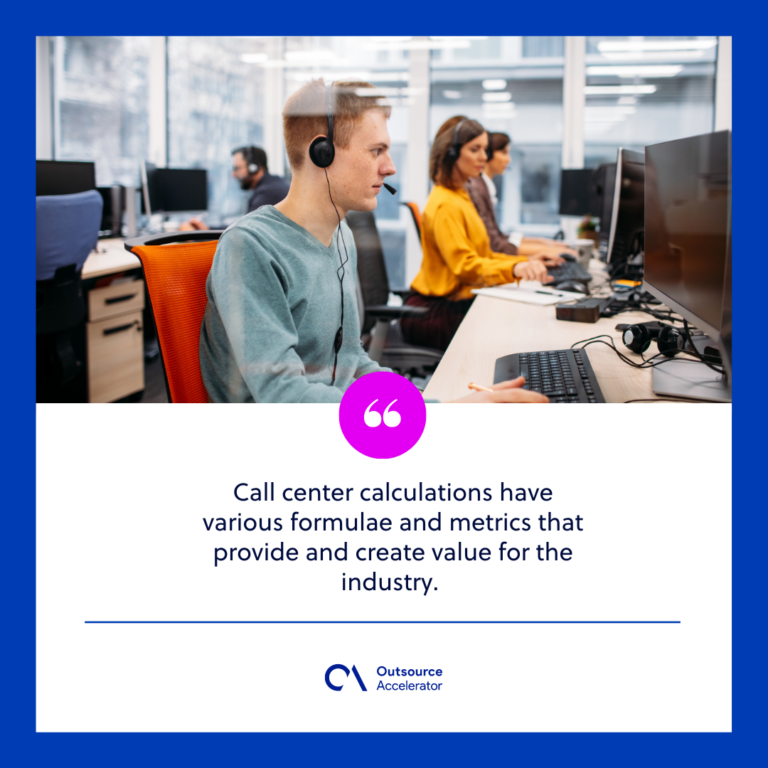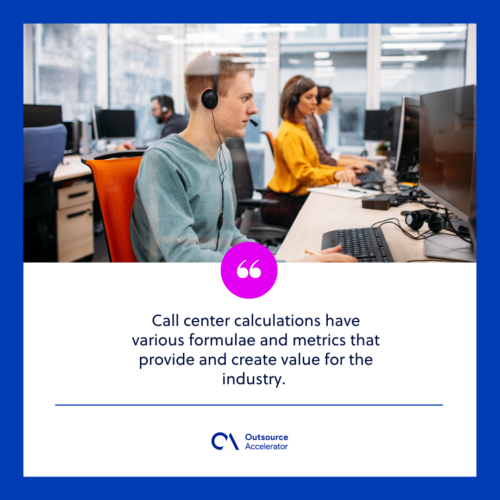 Advantages of accurate call center calculations
Call center calculations play a huge role in companies' overall performance and longevity. Accurate call center calculations lead to the following benefits:
Staying competitive 
Call center roles are the most outsourced services from large enterprises and small to medium companies. These services include inbound and outbound calls, including back-office operations. 
Over the years, various call center companies have emerged, offering the same set of services. Some have even provided additional services, including AI integration and data analytics. 
This has made the competition in the industry more cutthroat and challenging since more companies are competing with limited clients. 
Measuring the right metrics lets call centers to determine which areas they need to improve to remain on top of the game. 
Customer satisfaction
Securing a client is one thing but ensuring that they stay and remain happy with the current services is quite another. This goes beyond standard spiels of formalities and long hours of negotiations.
Quality services at a reasonable rate are the formula that makes clients loyal. Consequently, satisfied customers are good brand ambassadors. 
No resources are invested in putting a good word for the company. With the customers' experience alone, they will promote their trusted call center providers.
Basis of incentives 
Call center calculations have two important functions. From the company's perspective, it is used to measure the capability and effectiveness of its agents and the efficacy of its system. 
On the other hand, on the side of the agents, it is used as a benchmark for the eligible incentives and rewards agents can get. It motivates the agents to perform well to get the incentives they want.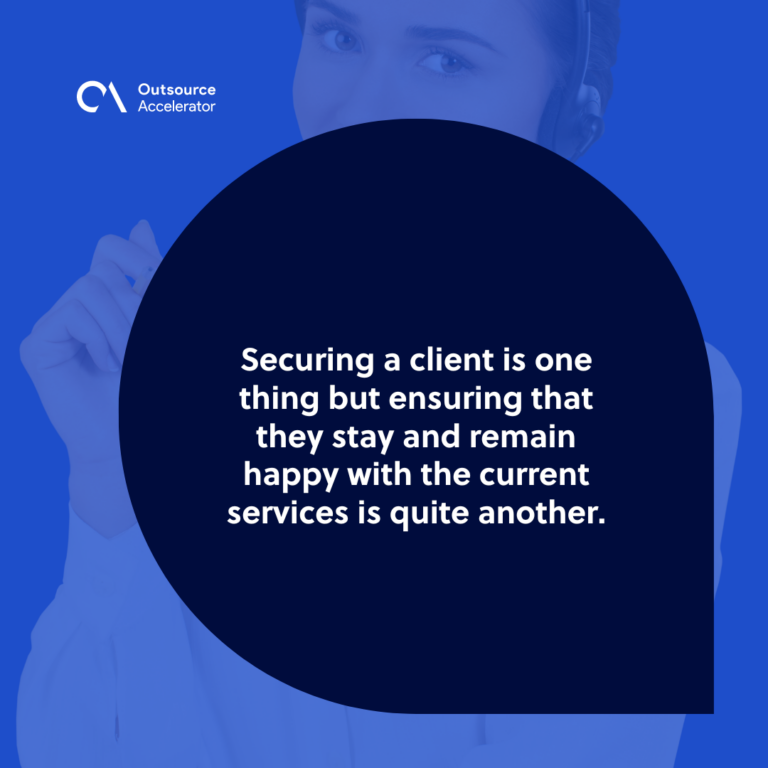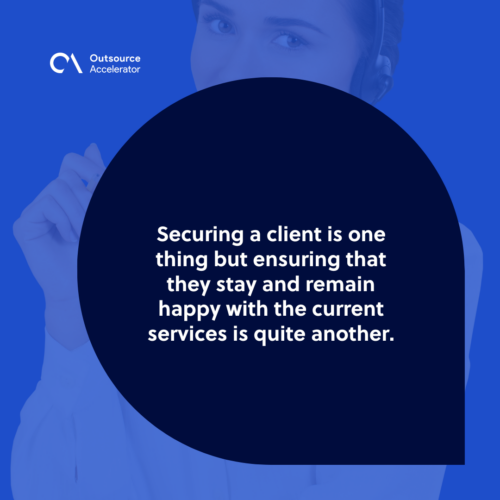 What is measured in call center calculations? 
Here we have some of the metrics involved in call center calculations: 
Average handling time

– measured by seconds, it evaluates the length of time each call was closed by the agent. 

Minimum service level

– measured in percentage, it measures the minimum number of service calls required to be addressed in a specified timeframe.

Service level interval

– measured in seconds, it is the company standard set for each service call. 

Average patience time

– measured in seconds, it is the average time for calls to be considered abandoned. 

Max abandonment rate

– measured in percentage, it is the maximum number of calls callers can abandon.

Max average speed of answer

– measured in seconds, it is average time callers can wait in the service queue. 
Call center calculations best practices.
Call center calculations aim to derive the most accurate productivity percentage of agents and business units. Doing so is important to do strategic practices that ultimately help arrive at the desired threshold. 
Below are important call center calculations and best practices: 
Be stringent in monitoring
There are a lot of monitoring mechanisms in place to help evaluate the overall performance of agents and the entire department. Technology and in-person monitoring are efficient since they will give the best evaluation and counter-checking.
Use industry-wide accepted criteria
The industry always innovates its metrics to ensure the accuracy and appropriateness of the metrics to the service. Stay updated on these innovations, as they will help provide better results that satisfy clients. 
Learn from others
Others would have had a similar experience in the industry. Providing continuous seminars and training programs will help widen the agents' knowledge and skills while learning from their colleagues. 
Optimize performance 
While call center calculations help make the necessary adjustments in the company operations. 
Take active steps in changing areas that are proven to be ineffective. Adapt measures that promote proactiveness in the agents. Sending them to refresher courses or training will be a good response too. 
In other situations, department meetings or huddles will be beneficial in getting feedback from everyone and collectively thinking of ideas to improve the lapses.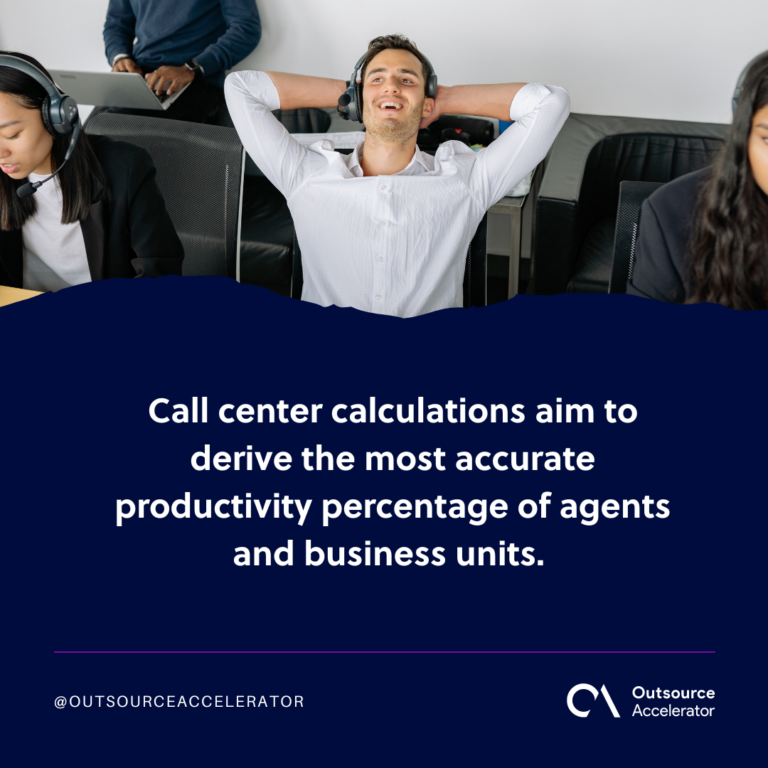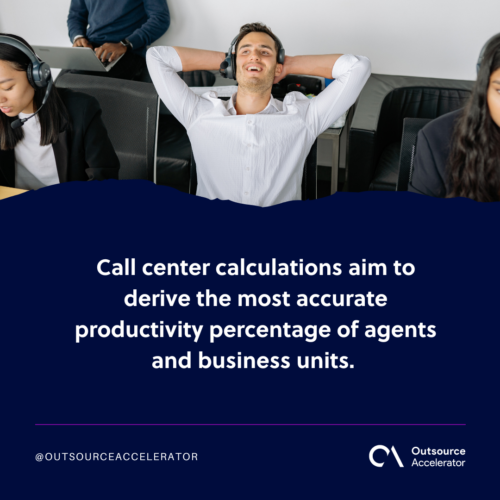 Why measure call center calculations?
Various call center businesses and third-party services providers have sprouted since the boom of outsourcing services. 
With the industry heading to even more heights in the coming years, businesses are looking for responsive and quality call centers to partner with. Firms will opt for outsourcing companies that can provide the quality services and solutions they need for their businesses to scale. 
Call center calculations ensure that the level of service is within or exceeding the threshold of excellence. It also serves as a demarcating factor between quality and lip service providers. 
To better understand call center calculations and other business operations, we at Outsource Accelerator help companies find the best partner for their business needs.
Schedule a 20-minute appointment with us to help you get started!