Brand compliance: 6 ways to do it correctly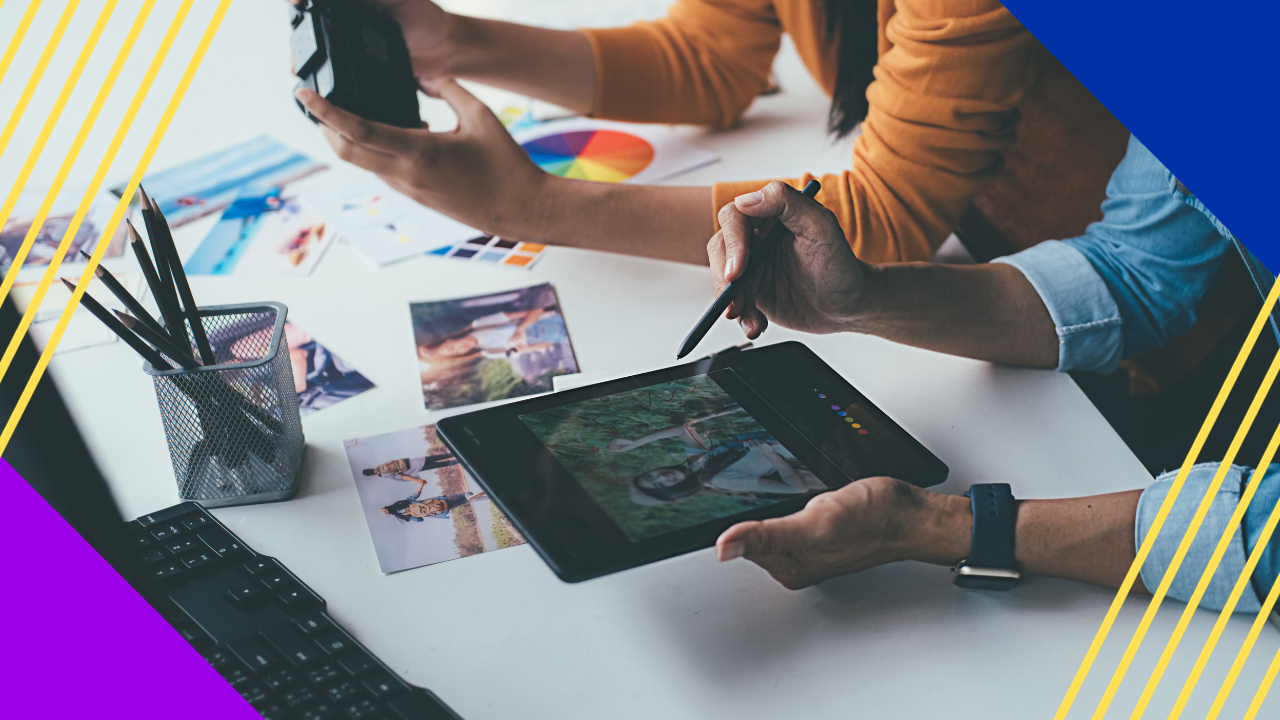 Consistency in branding's reliability is essential in establishing and retaining customer trust.
When a brand's messaging, visual elements, and values remain consistent across all touchpoints, it assures customers they can expect quality and reliability from its offerings. Trust leads to customer loyalty, increased retention, and positive word-of-mouth.
But to do this, companies must do proper brand compliance.
The consequences can be detrimental for companies not complying with brand standards. Inconsistencies in branding erode trust and weaken the brand image.
When customers encounter varying messages, design elements, or quality across different interactions with the brand, confusion and doubt can set in.
This inconsistency can drive customers away. They may perceive the company as unprofessional or unreliable, resulting in lost revenue and market share.
What is brand compliance?
Brand compliance is about ensuring your company's brand maintains a uniform and unchanging look and feel across every platform. 
This means keeping the same colors, fonts, logos, and overall design. It also extends to the brand messages you send out. These elements apply to your website, social media, marketing materials, or physical locations.
It's vital to ensure that your brand's voice, values, and the promises you make to customers stay the same everywhere.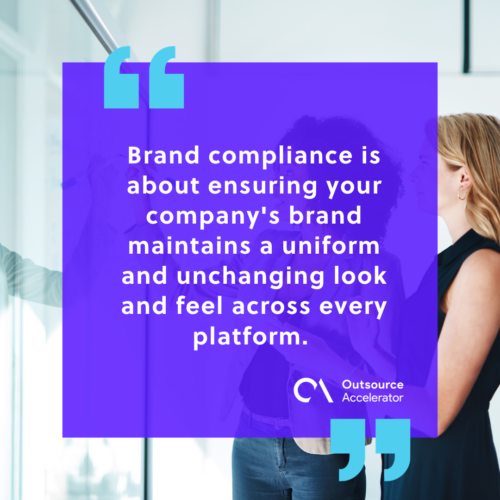 Importance of brand compliance
Brand compliance is a fundamental trust-building factor and holds immense importance for businesses seeking to establish a strong and reputable brand image.
It ensures that all channels use the company's visual and messaging elements uniformly. These channels include marketing materials, advertisements, websites, or even internal communications.
Brand consistency builds customers' trust and recognition by associating specific colors, logos, and messages with the company. It is important because it helps customers easily recognize and trust your brand. 
Brand compliance also safeguards against potential legal issues, as adhering to trademark and copyright regulations is imperative.
Moreover, it enhances the efficiency of marketing efforts, eliminating the need to create individual, one-off materials each time, thus saving time and resources.
6 ways to ensure brand compliance
Here are the six ways you can ensure successful brand compliance:
1. Develop brand guidelines
Creating comprehensive brand guidelines is the foundational element of brand compliance. 
These guidelines serve as a detailed blueprint that defines your brand's identity and sets the standards for its representation.
Drafting these guidelines should include the following:
Mission and vision

– Your brand guidelines should articulate your brand's purpose and long-term goals. This provides a clear direction for your brand's overall identity.

Voice and tone

– Defining the

voice and tone of a brand

in communications is crucial. This sets the messaging style across all touchpoints, whether formal, friendly, or informative.

Visual elements

– Brand guidelines should include specifications for visual elements such as logos, color palettes, and fonts.

Usage rules

– Clearly outline how each visual and textual element should be used. For example, specify the minimum size of your logo, approved color combinations, and font usage in different contexts.
2. Train your team on brand standards
Educating your team on brand standards is one of the critical steps in achieving brand compliance. Employee training is essential for instilling a deep appreciation of your organization's brand's values, voice, and visual elements.
When everyone in your organization understands and follows the brand guidelines, your brand's representation remains consistent across various channels and materials.
Training your team on brand standards is an investment in maintaining your brand's integrity and reputation.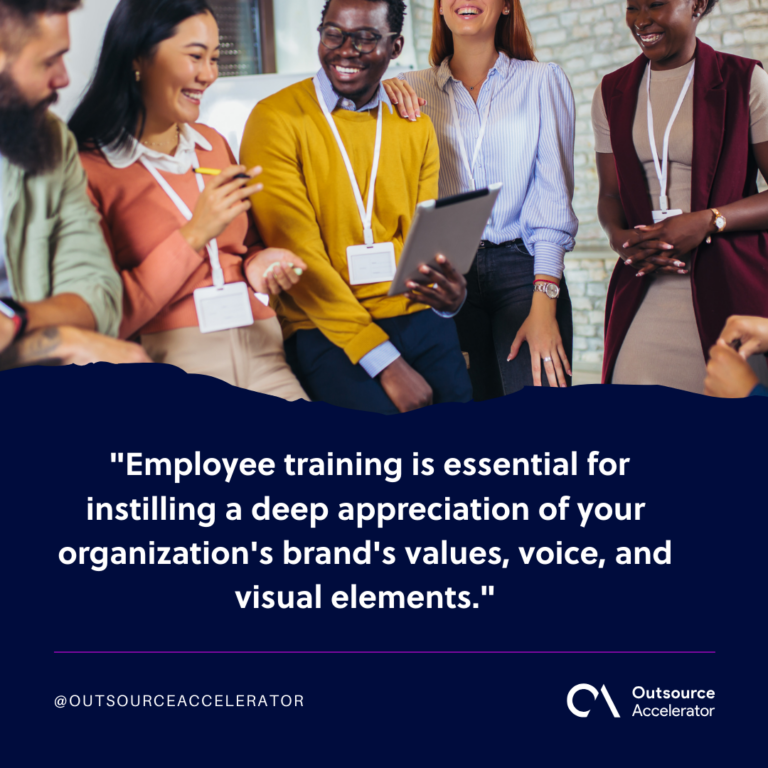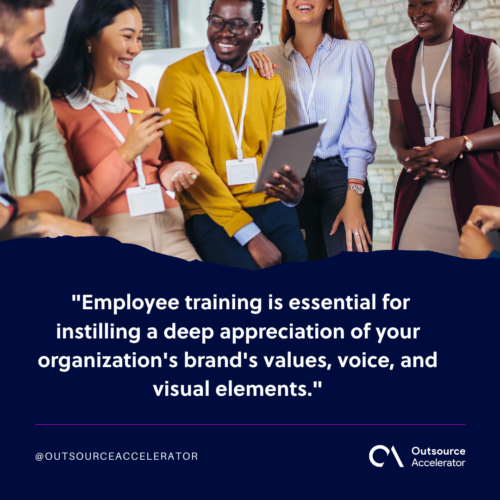 3. Monitor and enforce compliance
Ensuring brand compliance is not a one-time task but an ongoing commitment. Regular reviews are critical to identifying any deviations from your established brand guidelines.
These deviations could range from inconsistencies in your brand colors and fonts to variations in the brand's voice or messaging.
Enforcement of brand compliance is equally vital. It involves taking corrective actions when deviations are identified. This may include providing guidance and feedback to team members or external partners responsible for brand-related materials.
4. Use brand management tools
Brand management tools have become indispensable for maintaining brand compliance. These software and tools offer an efficient and organized way to centralize your brand assets.
Moreover, brand management tools are a central hub where your team can easily access approved logos, brand colors, fonts, and other design elements.
This centralized access prevents team members from using outdated or incorrect versions of brand assets, a common source of compliance issues.
5. Conduct regular brand audits
To maintain brand compliance, conducting regular brand audits is essential. This involves a systematic and comprehensive review of all your brand-related elements and materials.
These audits typically encompass various aspects, including the review of:
Marketing materials

Website content

Social media presence

Other touchpoints where your brand interacts with your audience
The goal is to ensure your brand is represented consistently, aligning with your established guidelines.
6. Adapt to changing market conditions
Lastly, adaptation is key to brand survival and success.
While brand consistency is vital, remaining flexible and responsive to changing market conditions, emerging trends, and shifting customer preferences is equally important.
Staying relevant requires a willingness to adjust your brand strategy, even if it means modifying certain brand identity elements. Adapting to changing market conditions ensures your brand remains appealing and resonates with your target audience.
It also allows you to capitalize on emerging opportunities and maintain a competitive edge while preserving your brand's core values and essence.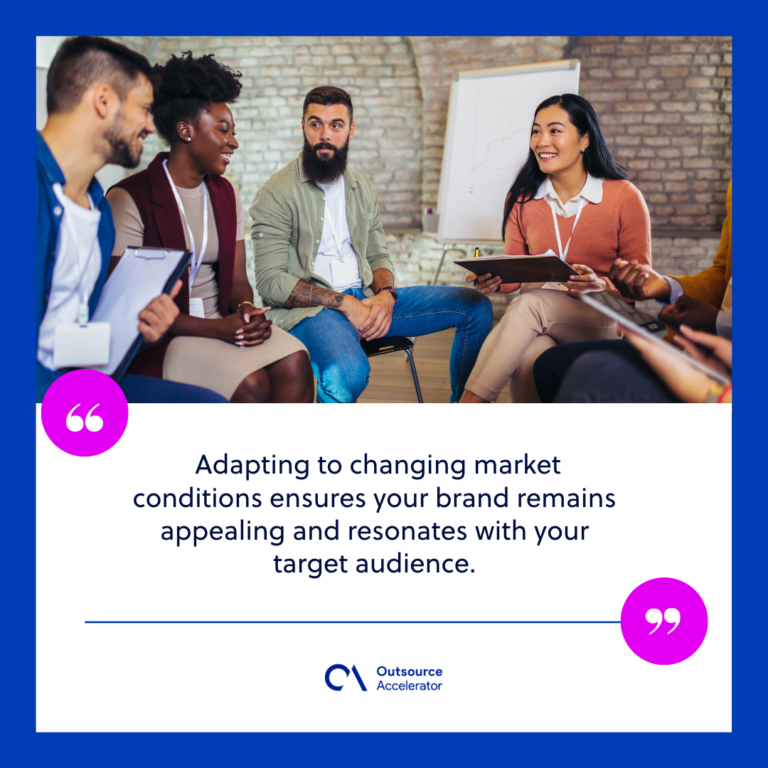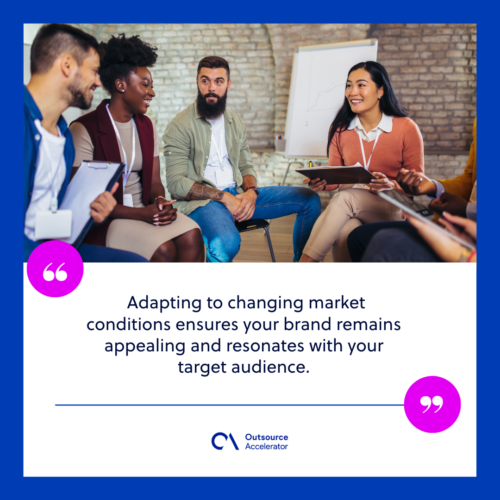 Brand compliance ensures consistency across all touchpoints
Brand compliance is not a one-time task but an ongoing effort to ensure your brand remains consistent and powerful.
Following these six strategies, you can uphold your brand's integrity, foster trust, and build a strong and enduring brand image across all touchpoints.