Importance of BPO marketing for your business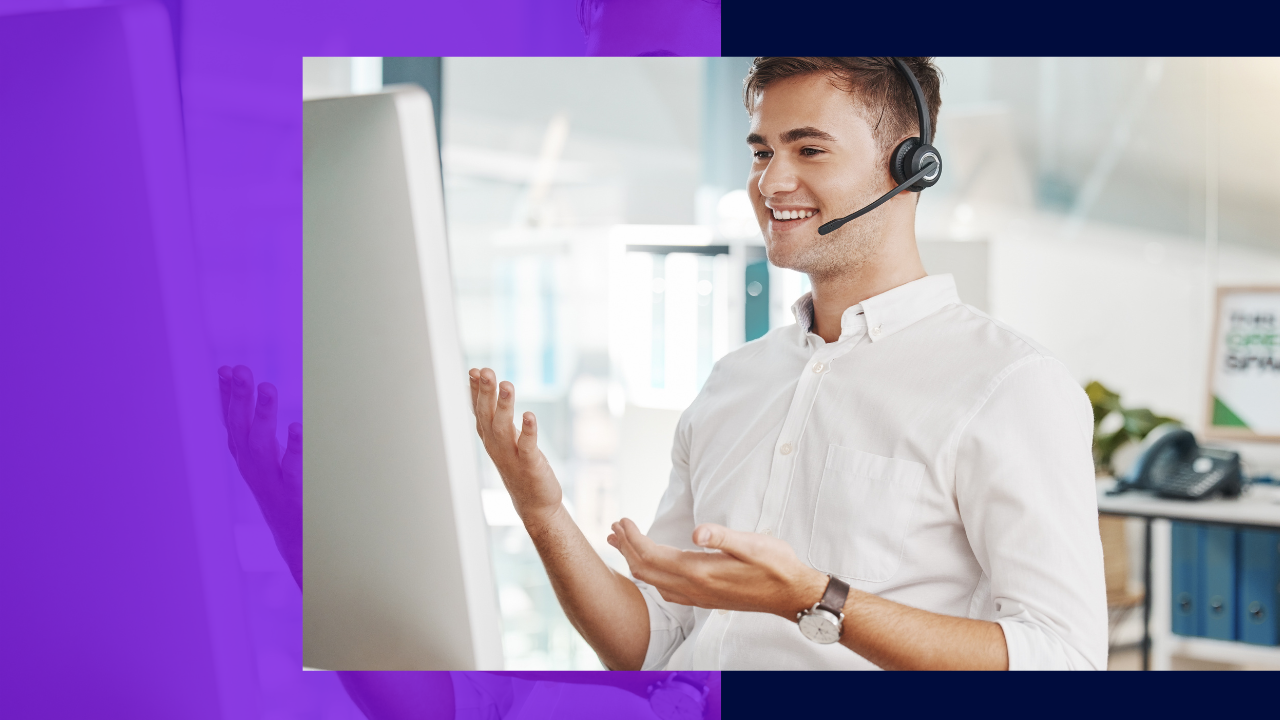 If there is one facet that can help your business succeed in this highly competitive environment, it is marketing.
Leaders must attend to so many parts of a business that it often leads to a decline in marketing quality. Not to mention, it takes a lot of time, money, and resources to implement.
However, BPO marketing firms help you save on these costs by providing specialized services and campaigns that drive attention to your business.
This article explores the effectiveness of BPO marketing and why it is a must for your brand.
What is BPO marketing?
BPO marketing is the process of delegating marketing-related tasks to third-party providers. These external companies are composed of professionals who specialize in different areas of marketing.
BPO marketing companies let you focus on your company's core competencies while leaving the experts to take care of advertising, analytics, or marketing strategies.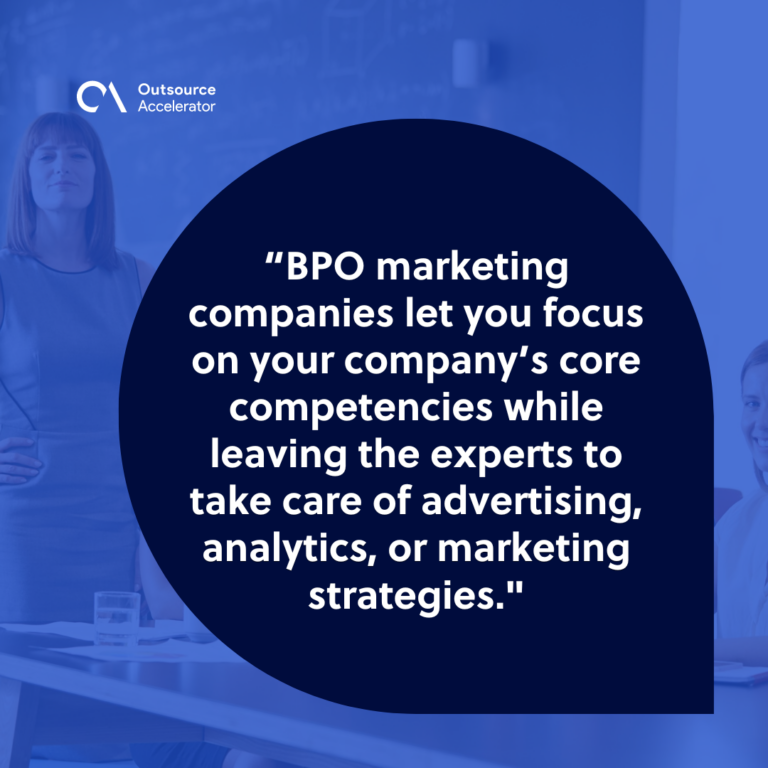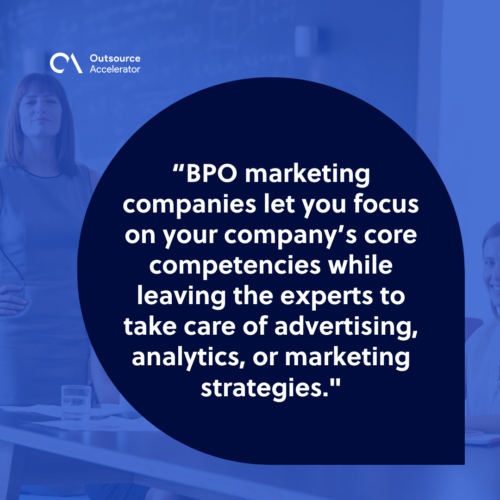 BPO marketing teams vs. In-house marketing teams
Most companies come with their own marketing teams, so you might wonder why you need to outsource to another company.
In-house marketing teams are already present in the company and have full-time access to all the materials needed, making communication and collaboration a lot easier.
While outsourced teams have to be briefed on what kind of brand a company has, in-house teams already know the company, allowing their goals and values to align.
However, in-house teams may lack in certain areas or may not have specific skills that are important for marketing.
Another disadvantage of in-house teams is they come with higher costs, such as recruitment, training, salaries, and benefits.
This is one area where outsourcing a marketing team is the better option, as there are fewer overhead costs. 
An outsourced marketing team also usually has in-depth knowledge and expertise in various sectors. A wider skill set and more experience in any field lead to more effective marketing campaigns, which is crucial for any business.
Sourcefit exemplifies an outsourcing service provider with a knack for assembling specialized marketing teams with diverse skill sets, ensuring impactful marketing strategies for businesses.
Benefits of BPO marketing
Outsourcing your marketing needs to an external company provides many benefits. Here are some ways it can help you succeed:
Reduced costs
The main advantage of outsourced marketing is the reduced costs that come with it. You only have to pay for the specific services you require.
In-house teams have a lot of overhead costs, like salary, benefits, or office space, which is on top of the actual marketing-related expenses.
Working with experts
BPO marketing firms have more experience and knowledge in this field, meaning they can provide effective solutions and campaigns for your company.
These experts know the ins and outs of marketing and are familiar with the little nuances that can make a big difference.
Even if your brand is quite niche, a reliable outsourcing company has the necessary expertise to market your company in a way that gets people to turn toward it.
Scalability
Market conditions fluctuate daily, requiring your business to work around these changes and develop new strategies.
Working with an outsourcing partner allows you to scale up or down depending on the conditions, giving your business a lot of flexibility to stay afloat.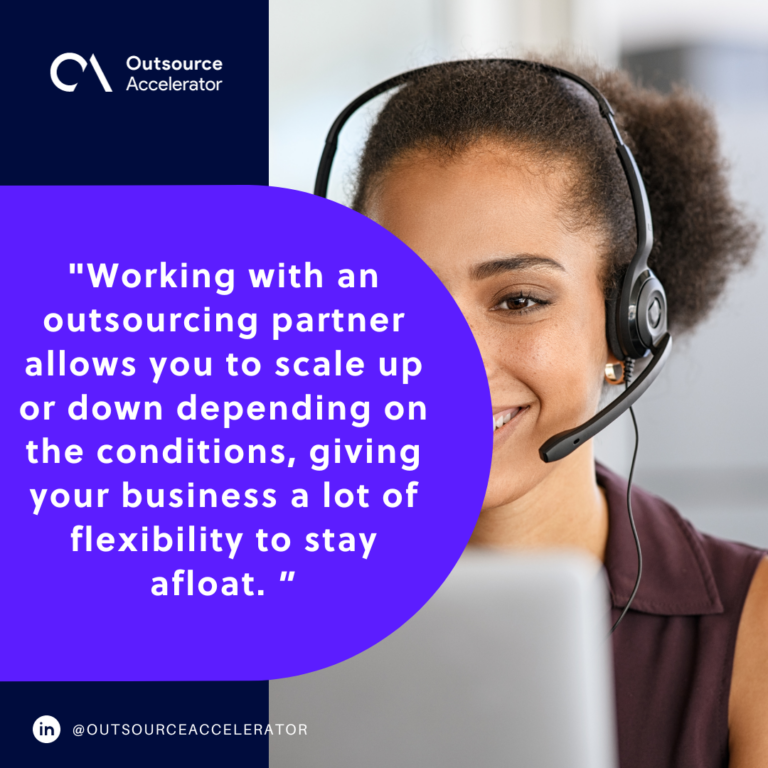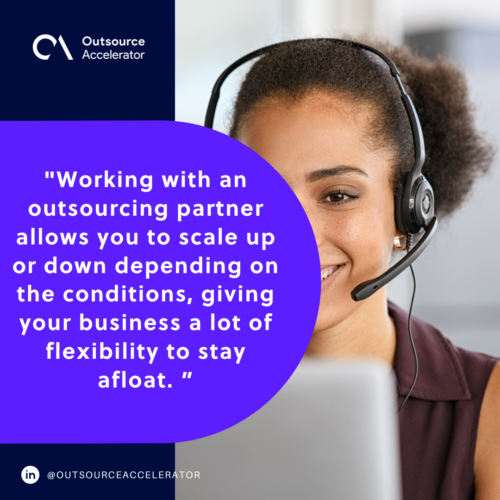 Focus on core competencies
As mentioned earlier, company leaders have a lot of responsibilities that marketing is not always given as much importance.
By having an outsourced team of expert marketers to do the heavy lifting for you, you can allocate more time and attention on other facets of the business. 
You can focus more of your time and effort on certain administrative tasks or managing clients.
Types of BPO marketing services you can outsource
Outsourced marketing is not limited to advertising through traditional means. You can outsource a wide variety of services that will reach audiences in several ways.
Digital marketing
With several businesses migrating to digital platforms, outsourced teams help improve your online presence through digital marketing.
They can help bring you to the forefront of the search engines using SEO techniques or creating content that highlights your company's brand.
Analytics and research
A good marketing team has a firm grasp of marketing trends and analytics in order to learn about their competition and customers.
Outsourced marketers can help you make sense of these analytics and gain insights on how you can implement new, innovative marketing strategies.
Social media marketing
A thriving business has a strong social media presence, which is one of the most effective ways of connecting with an audience.
Your outsourced marketing partner can help you establish your social media presence, especially if you are a small business with a small following.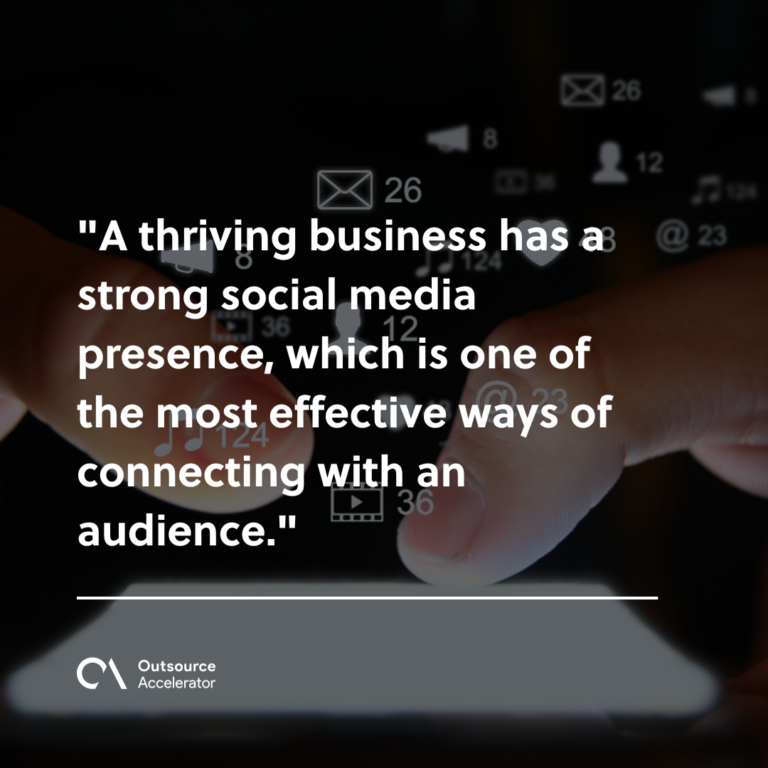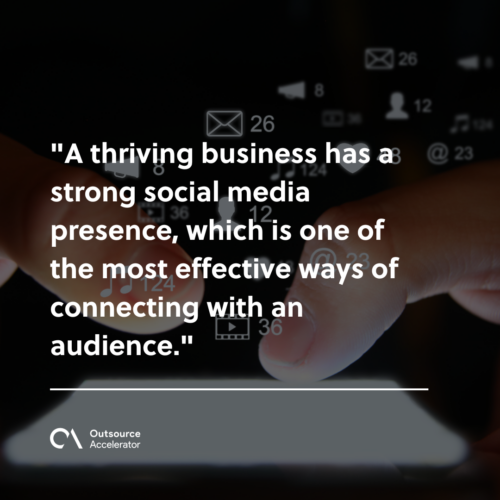 Finding the right BPO marketing company
Marketing is a long, resource-heavy process that some businesses do not have the time or money for.
Outsourcing your marketing needs to a BPO firm is a perfect, cost-effective solution. You can rely on a team of marketing professionals to handle your marketing operations and take your business to new heights.