Benefits of outsource technical support to the telecommunications industry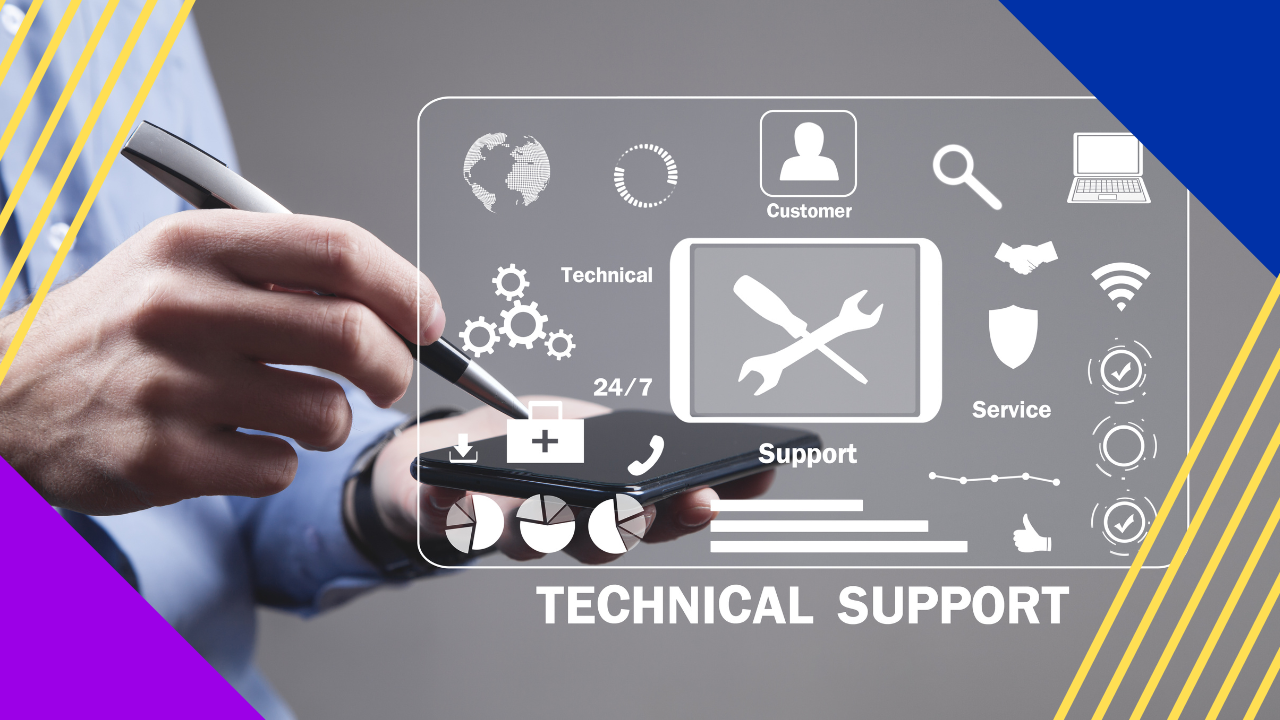 Benefits of outsource technical support to the telecommunications industry
Outsourcing in its modern avatar is a significant driver of innovation in the telecommunications industry. It is a proven way to provide additional assistance to customers through an array of services.
The new dynamics of the industry call for real-time action as the competition is at blurring the divide between the telecom operators and digital content firms. Outsourcing is a strategic exercise with multiple benefits across the value chain.
By partnering with reliable BPO firms like SixEleven, businesses gain a head start over their competitors through various outsourcing benefits, such as cost reductions and improved productivity.
Why should telco companies outsource technical support?
Customers will always remain at the core of any business and in the technology-oriented sector like telecom, and customer satisfaction is the primary determinant of the success of your business. With the massive growth rate, IT outsourcing is the best tactical option to exercise. Let us find out more about it.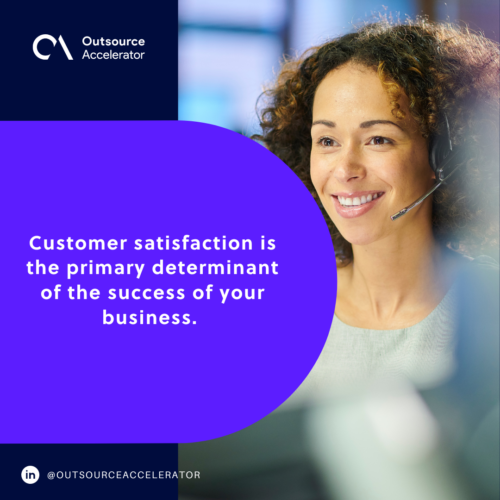 Work with experienced professionals with technical aptitude and proficiency
When you outsource technical support, you take advantage of automatic inclusion of professionals in your team. These are the kind of professionals who understand technology and its implementation in the best possible manner. They have the expertise and experience. Moreover, they are apt enough to forecast industry trends. It aids you in becoming an organization that is future-ready.
Take advantage of a more established help desk system and the best help desk software to use
IT helpdesk software lets you resolve tech-related issues faster, which increases efficiency in your operations.
Keeps track of all tickets and automatically prioritize urgent and critical requests
It organizes information and streamlines the workflow for you. You get rid of all the manual processes.  An effective and efficient help desk software distinguishes among the different priority levels and automatically ensures the execution of urgent tasks.
Help desk software helps you identify bottlenecks through advanced reports
It is efficient enough to recognize the roadblocks in the workflow and suggest probable solutions for the same. The various work reports generated by the software are sufficient to take proactive measures.
Simplifying overall client experience and reducing any delay in responding to queries
The best part of helpdesk outsourcing is that the customer journey is seamlessly easy and satisfying in all aspects. Delays are averted in every process.
Easily monitor resolution
Problems do arise, and resolution is the best way forward. You can watch the problem resolution at every stage and suggest improvements if any. It is the best way to keep track of the situation.
Provides an insight that aids in decision making and improving collaboration among various departments
Your IT helpdesk analyst team provides you the tools and information which make your decision-making process swift and flawless.  It creates a collaborative work culture among the different departments of your organization.
Why consider IT outsourcing and help desk outsourcing?
Your business relies heavily on technology. It means that you need to fix problems quickly. IT outsourcing that takes advantage of a helpdesk software will provide you with the support processes required for the same.  It improves the response time and enhances support during peak hours and outside of regular working hours.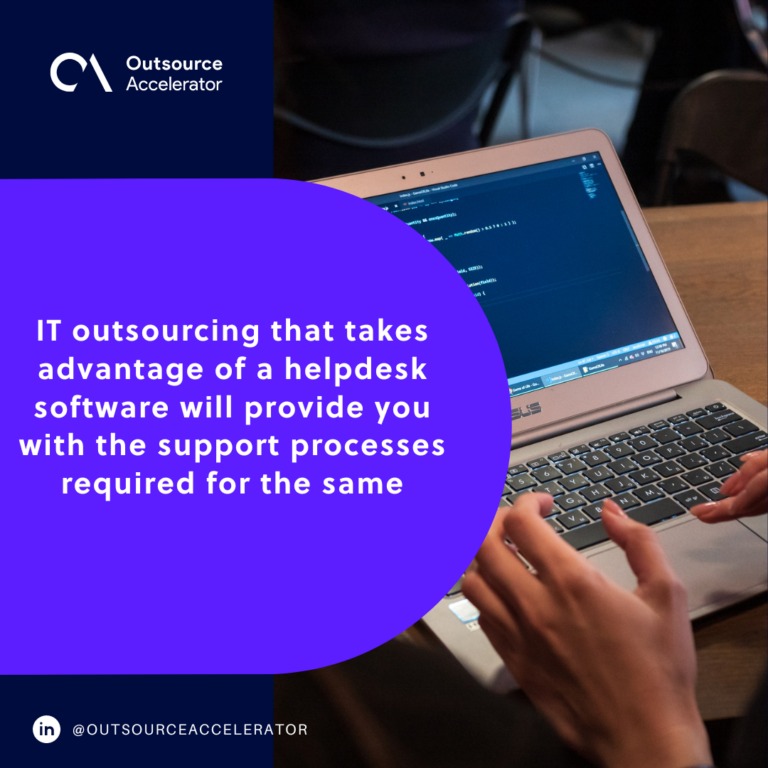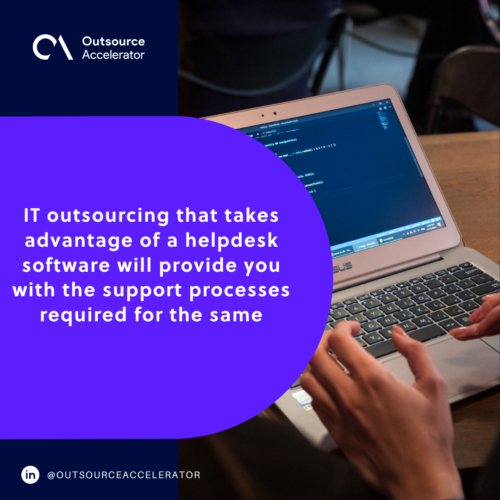 No need to recruit your customer service and technical staff
Technical support and helpdesk outsourcing ensures that you get the best of customer care and technical staff without bearing any extra costs.  While neither does need to worry about recruiting fresh talent for the same nor do, the increasing overheads may bother you. The expert professionals you get are available to do it all for you and your customers.
Work with professional customer and tech support teams
When you outsource technical support, a higher degree of professionalism supplements your work processes. These professional teams are highly competent and experienced enough to manage and avert any problematic situation.
Flexible and scalable solutions that grow and adapt to your business needs
Your business environment is dynamic; so is your organization and its business needs. IT and helpdesk outsourcing solutions have in-built flexibility and robustness. It offers easy customization and lets you scale its reach as per your growing business requirements.
Cost savings in the long run
One of the most significant direct as well indirect benefits is the cost-saving aspect. Your business can save a considerable amount of money by adopting this way of working. In-house support team involves different costs that may increase with time. A fixed cost involved in IT and helpdesk outsourcing saves money and improves performance, which is essential in long-term business operations.