The baby boomer work ethic: Traits and comparisons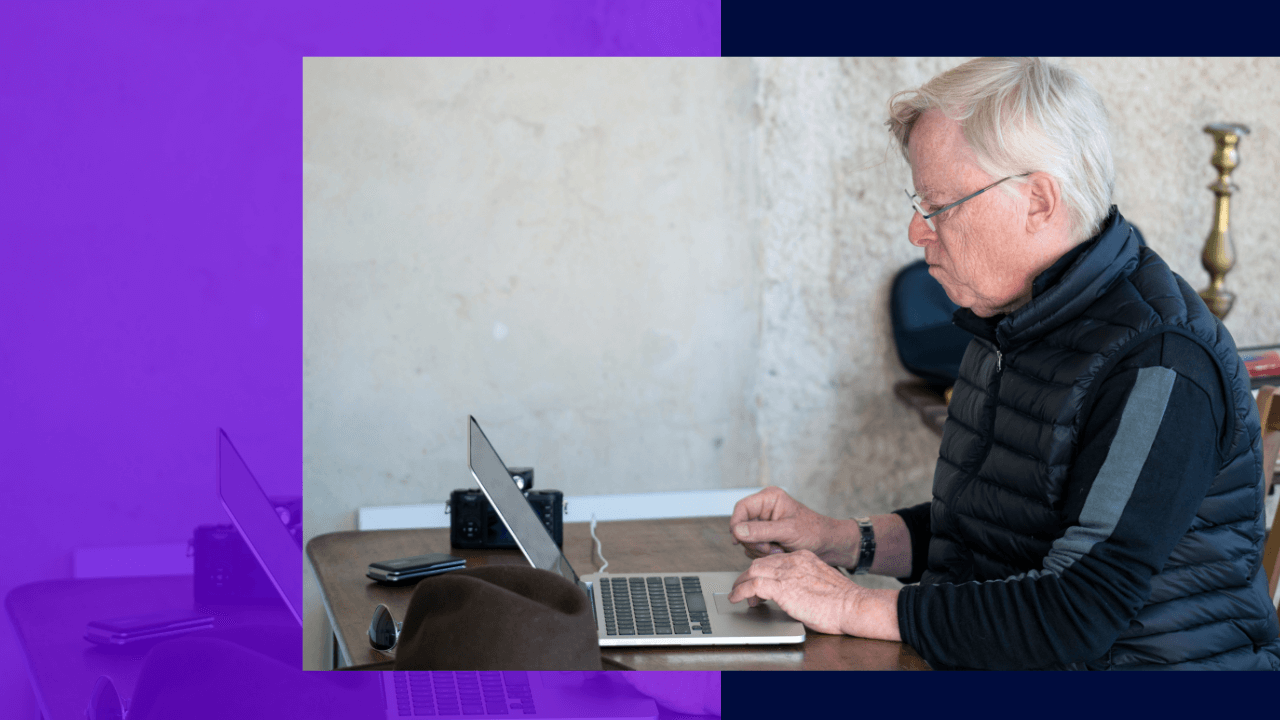 The modern workplace has been heavily influenced by the "baby boomer" generation. Since the end of World War II, they have dominated industries, establishing their work ethic and culture.
After working for over 50 years, most baby boomers are now retiring. Events like the pandemic only accelerated this. 
Still, many won't go easy, and with the expected influx of younger employees, it's worth knowing how well the baby boomer work ethic mixes with others. 
Baby boomers in the workplace: Who are the baby boomers?
The "baby boomers" denote the demographic cohort born after World War II. The term "baby boomers" refers to the post-war population bulge. 
The birth period is between 1946 and 1964, meaning most baby boomers are now of retirement age. 
Baby boomers were raised by parents that lived through the Great Depression. This experience resulted in the baby boomer generation being taught to think more about the future than their immediate needs. 
The baby boomer generation is considered one of the most influential ones in history, with an enormous impact[1] on the workplace. They were the first to enter the job market after the war, with many working since they were teenagers or young adults. 
Therefore, the baby boomer work ethic has defined much of how workplaces are run.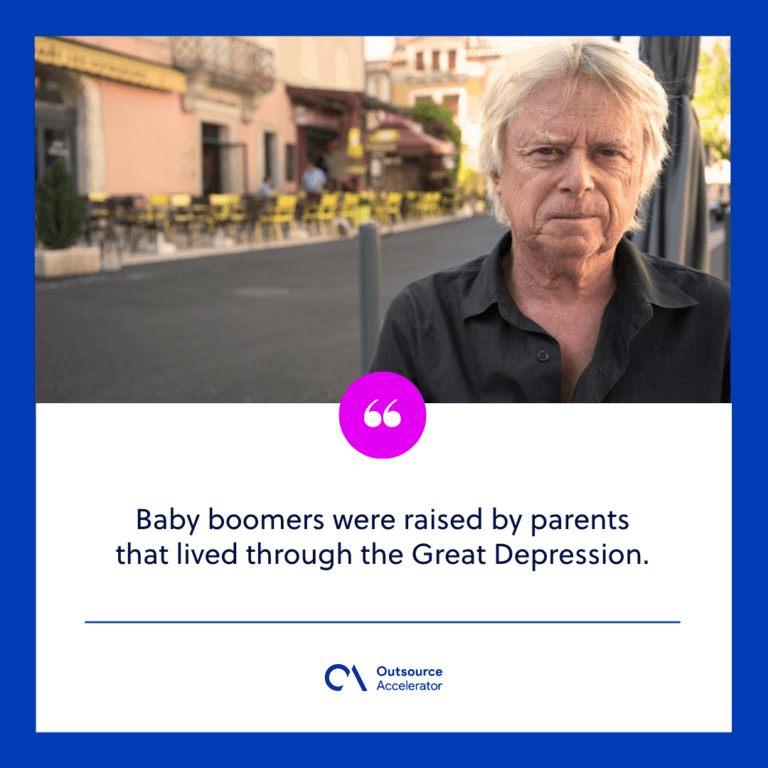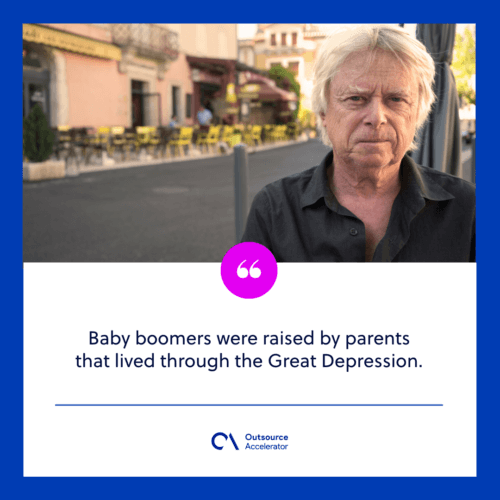 The baby boomer work ethic: Defining their common characteristics
Here are common characteristics of the baby boomer work ethic you may encounter:
Baby boomers are work-centric 
World War II and the aftereffects of the Great Depression[2] shaped much of the baby boomer work ethic and view on money. 
Baby boomers grew up with a general motto: "Work hard and you'll get ahead." Simply working hard will earn them success. This mentality resulted in the baby boomer work ethic of spending much of their time on their job and less time on personal relationships. 
Baby boomers value workplace visibility 
A large part of the baby boomer work ethic is workplace visibility. This means they like to be recognized for their work or moved up in their organization. This trait plays into how work-centric baby boomers are. 
If you have any baby boomers as employees, take note of their need for frequent feedback, especially if it's positive. An incentive program would also help them be motivated. 
Baby boomers equate authority with experience
Baby boomers have been in the workplace for decades, and many consider themselves experts in their fields. This baby boomer work ethic believes that the longer someone has been around, the more valuable they are perceived to be. 
It can cause problems when baby boomers are put into teams with younger employees. Baby boomers will generally feel their decisions should carry more weight because they have worked longer. 
This work ethic ties into their belief that hard work leads to higher positions. Managers with baby boomer employees need to balance this need for respect with their need for control. 
Baby boomers are competitive
Baby boomers are competitive in the sense that they are driven by the desire to succeed and the fear of failure. This baby boomer work ethic has helped them get where they are today. 
Their competitive nature stems from the behavior of many baby boomers to make work such a central part of their lives.

Baby boomers can be independent
Baby boomer work ethic tends to favor working independently rather than in a team. This has been attributed to their generation's desire for independence, especially considering many have had to work from a young age. 
As a manager, you may need to mediate teamwork between baby boomers and younger employees. 
Baby boomers are goal-oriented
Baby boomers are goal-oriented, wanting to know what their employer is looking for and how they can achieve those goals. 
Baby boomer work ethic values achievement and success over personal satisfaction or fulfillment. Extrinsic rewards like money, promotions, and praise from their supervisors matter more than intrinsic rewards like autonomy or job security. 
This attitude can cause conflict with their younger counterparts, who focus more on the latter.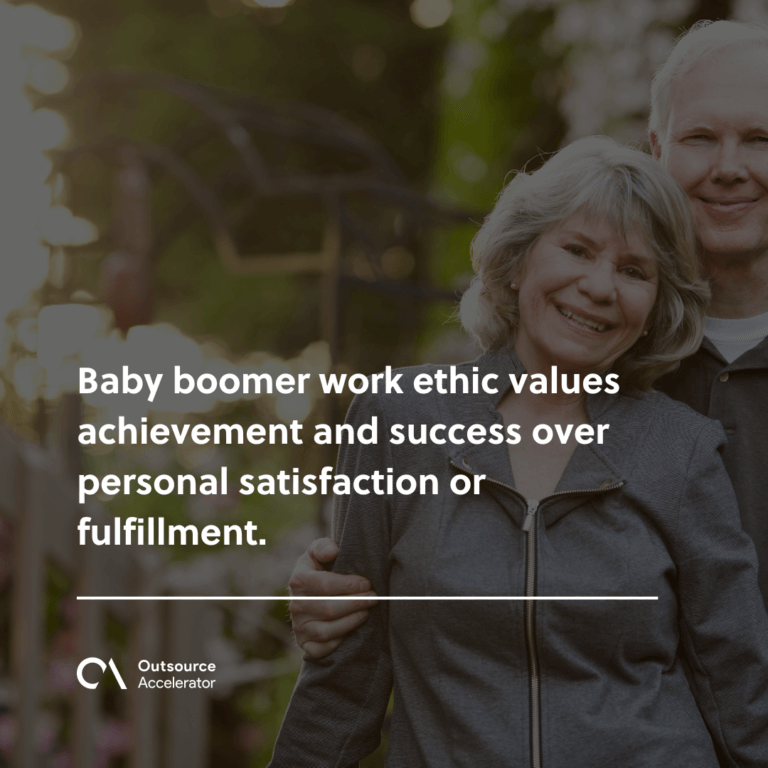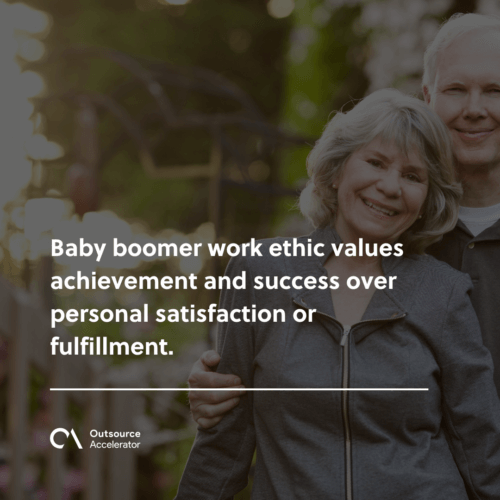 Baby boomers have good decision-making skills
Baby boomers have been making decisions for years, so they know how to make good ones quickly. This skill is great when you need tasks done promptly and efficiently and can help guide younger workers.
This baby boomer work ethic is a product of their longevity in the workforce. They have a strong sense of self-worth and confidence in their abilities, especially compared to previous generations. 
But that doesn't mean they aren't cautious. Having lived through wars and economic depression, baby boomers can often look at all sides before deciding on the appropriate course of action.
Baby boomers are loyal 
Baby boomers tend to stick with one company throughout their careers – often because they don't want to start over after years of working. 
A study on employee tenure shows that baby boomers have better than average job tenure and are more likely to stay with their current employers than earlier generations. For workers aged 55 and older, median tenure topped out at almost ten years. 
Baby boomers are optimistic
The baby boomer work ethic is optimistic. The generation is entrepreneurial, confident, committed to their jobs, and contains a lot of experience. 
Baby boomers generally have a good outlook for their future. A recent study found that 53% of baby boomers are consistently more confident about their retirement savings than younger generations.  
Comparing the baby boomer work ethic 
Now let's take a quick look at a comparison of the baby boomer work ethic with the generations that followed: 
Baby boomers vs. Gen X
Generation X is the demographic cohort immediately following the baby boomers. Most experts pin the birth years as between the early 1960s to the early 1980s. 
Generation X has often been called the "neglected middle child" of American society, coming between the influential baby boomers and the newer millennials. 
Compared to the baby boomer work ethic, Generation X is known for distrusting authority, cynicism about social institutions, and resistance to imposed conformity.  
This doesn't mean that they're bad workers. In fact, Generation X's work ethic is about being efficient and hardworking. They are willing to compromise on traditional workplace aspects to make the job more enjoyable and flexible. 
Generation X is the generation raised by the baby boomers, and they have retained their parents' strong work ethic and entrepreneurial spirit. 
Baby boomers vs. Millennials
Millennials, or Generation Y, are those born in the 1980s and 1990s who became adults in the new millennium. The term was conceived by authors William Strauss and Neil Howe in 1987.
In contrast to previous generations, millennials have been described as having a weaker work ethic (which of course is far from the truth). Generation X is noted as having higher expectations than their parents, while millennials are said to have lower expectations and are more likely to accept temporary jobs.  
However, compared to the baby boomer work ethic of independence, the millennial work ethic is all about being a team player. 
Millennials are very collaborative and passionate about pursuing work they can feel good about, not just jobs they can tolerate until retirement. Finding a job also means finding the right fit with the workplace that aligns with personal values and interests.
Also contrasting the baby boomer work ethic is millennials' greater reliance on technology. This may lead to expectations that their coworkers are easy to reach, responsive, and accessible at all times.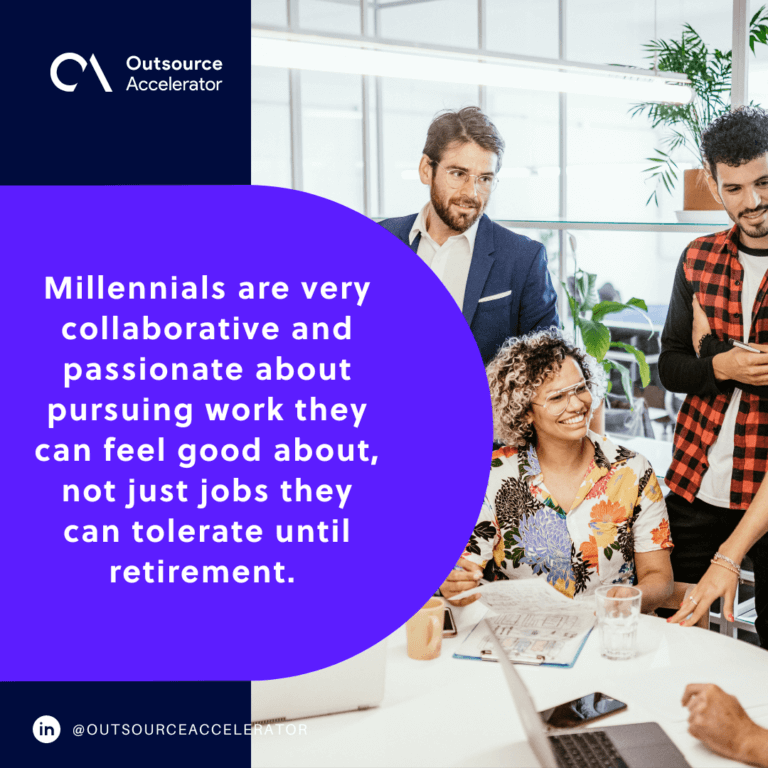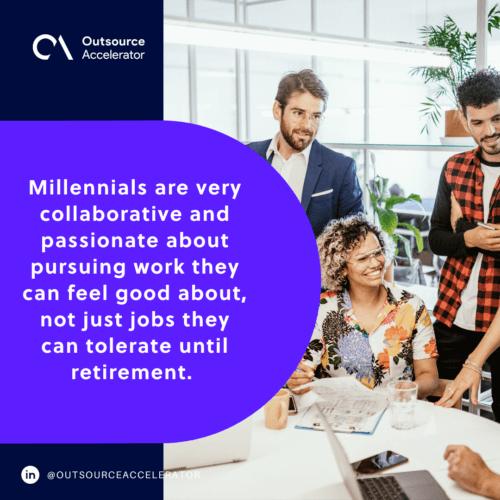 Baby boomers vs. Gen Z
Generation Z follows millennials. 
The Gen Z work ethic heavily reflects the current economic climate. Many have seen their parents struggle in the job market, witnessing firsthand that hard work doesn't always pay off. 
This has resulted in Gen Z members strongly evaluating job choices and not just taking any work to survive. Their work ethic is about being authentic and part of a mission-driven company.  
Almost in complete opposition to the baby boomer work ethic, Gen Z values social responsibility, especially regarding sustainability and environmentalism. 
A significant number of baby boomers are still working. If you want harmony and efficiency in your workplace, it's best to learn how to balance the baby boomer work ethic within your company culture. 
References: