Why Australia is outsourcing to the Philippines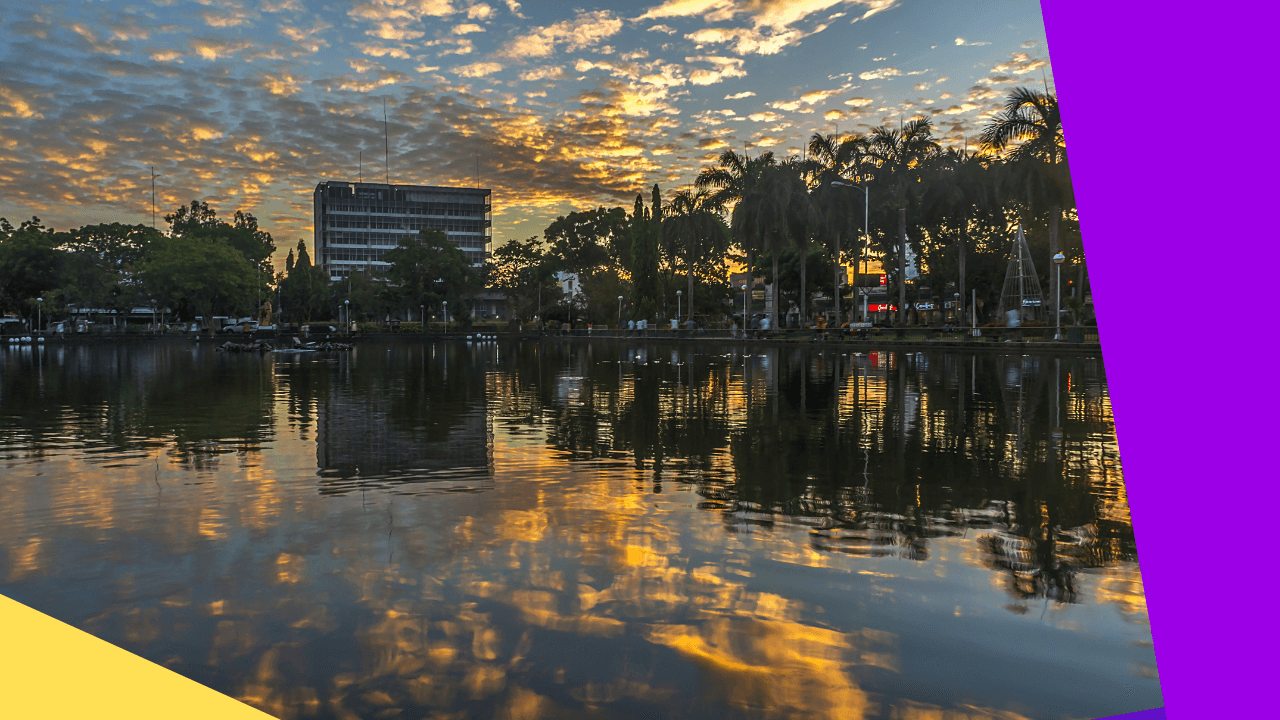 Why Australia is outsourcing to the Philippines
The Philippines has emerged as a premier business outsourcing destination in the global arena. Located at the heart of eastern and western geographies, the island country is an entry point into Asia and a land of great opportunities.
Several companies all over the world, especially Australian firms, have been seeking to outsource their processes to the Philippines. If you're wondering why companies outsource to the Philippines, we're here to give you an overview.
Factors to consider when you outsource to the Philippines
Here's a look at why Australian firms should keep the Philippines on their radar when planning their offshore outsourcing strategies.
No cultural barriers
Cross-cultural communication problems tend to arise in an outsourcing arrangement, especially in an 'east meets west' scenario. While there are no questions about the provider's technical proficiency, there could be reservations about the impact of language and cultural differences on communications.

Of course, English language proficiency is critical to effective collaboration, but voice processes also demand a familiar local or at least an easily understandable English accent. Though providers invest in accent training, challenges in comprehension tend to creep in. 

The good thing is English, and Tagalog (Filipino) are the official languages of the Philippines. Locals speak fluent English with a neutral accent. Having been a Spanish and an American colony in the past, various facets of western culture are assimilated into the culture of the Philippines. 

Filipinos are also regarded as being friendly and outgoing, with the ability to adapt easily to the customs of other countries. Their flexible mindset, hospitable nature, and resilience support easy collaboration and hassle-free communication.

While you cannot paint an entire race with a broad brush, culturally, Filipinos can be said to be compatible with free-spirited and relaxed yet achievement-oriented Australians.

Building a good rapport is a key component of a healthy client-provider relationship. Language and cultural compatibility go a long way in deterring miscommunication, arguments, and animosity within or between teams. 

Managers don't have to invest too much time in maintaining effective, professional, and respectful communication between in-house teams and outsourced workers and focus on the technical and creative aspects of the project.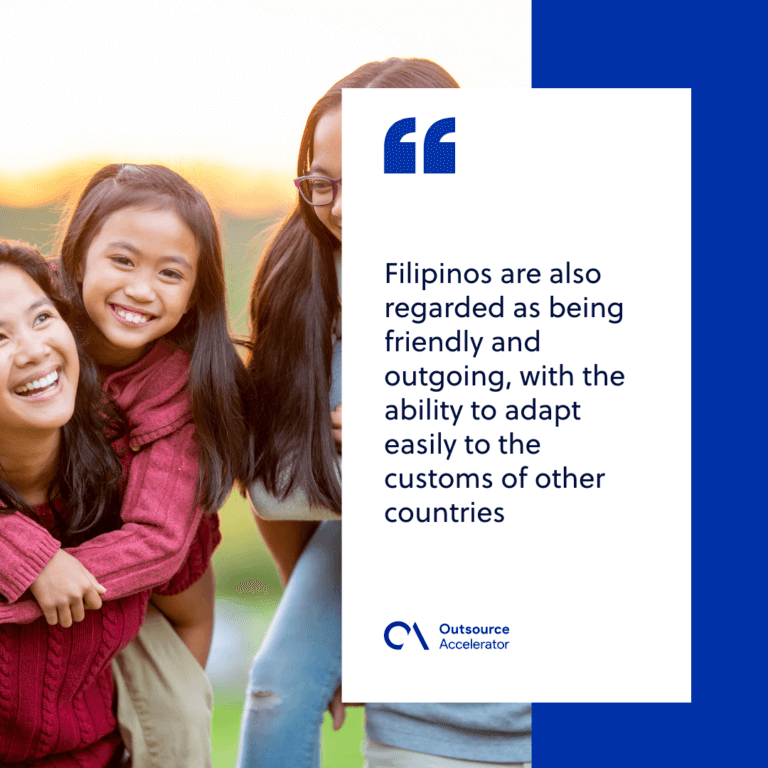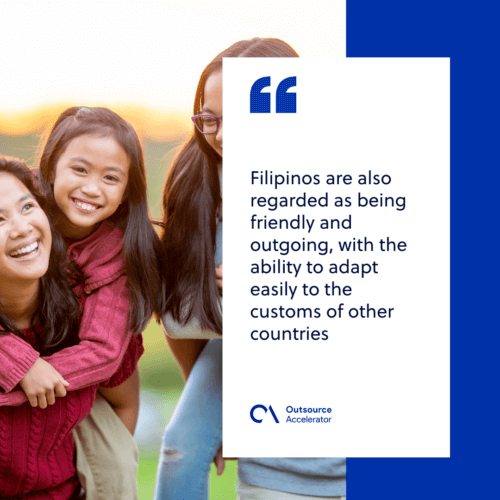 A small time difference
Australia is three hours ahead of the Philippines, which means the client and offshore teams can collaborate conveniently without either one having to commit to late-night or early-morning shifts. 
This time advantage assumes even more importance for time-sensitive projects where team members need to communicate closely or sign off on tasks or milestones without delay. When the time difference exceeds five hours, adjustments will be necessary by one or both teams to ensure that performance or project deadline is not affected. 
Firms outsourcing to the Philippines should have no problem keeping communication lines responsive. It is also worth mentioning that the total flight duration from Australia to the Philippines is less than 6.5 hours.
Considerable time can be saved on face-to-face/in-person training, meetings, or other critical interactions. 
Outsourcing to the Philippines can avoid the logistical issues that crop up at the time of planning long-haul flights and enjoy the flexibility to balance their personal and professional lives. 
Shorter travel distances also translate into minimal jet lag for the busy manager who needs to make multiple trips a month on mission-critical projects.
Skilled labor
The education rate in the Philippines currently stands at 95.9%. According to the Commission on Higher Education, the country has over 2300 institutions of higher education, of which 71% are in the private sector, and the rest are distributed in the public sector or as state or local level colleges and universities.
Available statistics suggest that total post-secondary enrollments exceed 3 million and have increased year-on-year.
As discussed earlier, Filipinos are fluent in English, an advantage they gain early on at their institutions of learning. English and Filipino are taught from the first grade with an emphasis on oral fluency. 
From grades 4 and 6, they are introduced as languages of instruction, and from grade 6 onwards, all subjects are taught only in these languages. The government's education and skill enhancement initiatives have also supported the literacy rate. 
The K-12 basic education program, for instance, is aimed at producing holistically developed learners with 21st century skills, which set the grounding for higher education and mid-tier skills development, and makes them employment- or entrepreneurship-ready. 
This initiative is an indicator to potential employers about the skill and employability of Filipinos and the competitive nature of the Philippine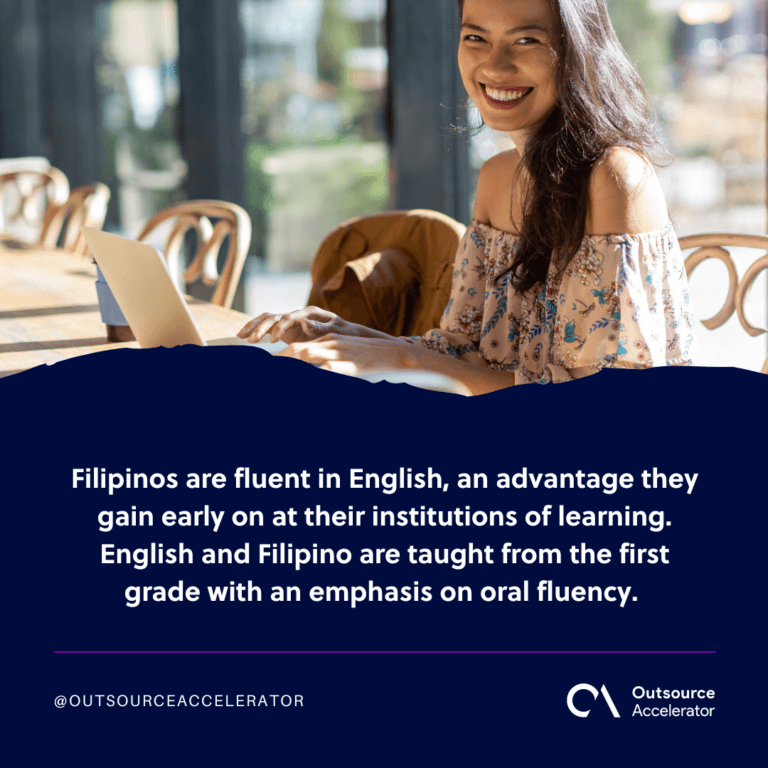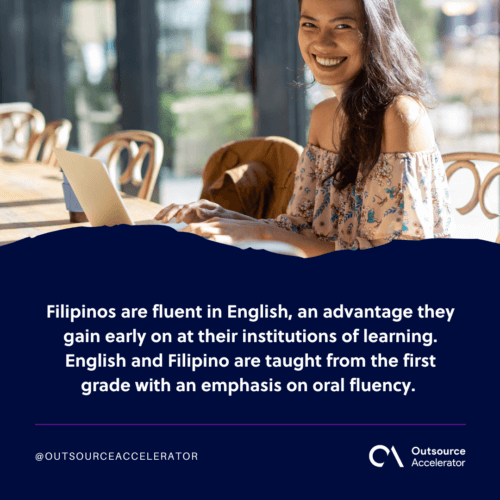 labor market.
For Australian firms looking to outsource, the Philippines is a hotbed of skilled talent, and as availability increases, so will talent competitiveness, allowing firms to choose the best remote staff for the job more easily.
Employment rate
IT-BPO has been an important contributor to the country's economy for many years now, contributing over $20 billion. 
The IT & Business Process Association of the Philippines (IBPAP) has vowed to invest in training current and potential workers in information technology and business process outsourcing (IT-BPO).
BPO is a major employment sector intended to not just further develop but also boost the workforce by over 1.3 million.
Cost competitiveness
As far as labor costs are concerned, the Philippines is the most competitive in ASEAN. According to Willis Towers Watson's 2015-2016 Global 50 Remuneration Planning Report, the country's low labor costs make it a more attractive destination than mainland China.
The difference in labor costs is especially evident in professional occupations and at the middle management levels, where the average base salaries lag in every other ASEAN country. The average base salary for professionals in China is up to 2.2 times higher than their counterparts.
Wages in Hong Kong, Taiwan, and South Korea—traditionally low-cost labor markets, have spiked upward over the years. A parallel trend has been the fall in labor availability, which has seen foreign firms seek out greener pastures.
The Philippines, on the other hand, has benefited from this development.
To get an idea about the costs of outsourcing to the Philippines, consider a call-center outsourcing scenario. Costs are usually based on the hourly rate, the number of full-time employees billed transactional compensation, and performance-linked compensation. 
Across all these wage determinants, the Philippines offers a cost advantage versus the same for a worker performing the same tasks sitting in his/her Melbourne or Sydney. 
Australian outsourcing statistics say that Australian firms would cost $20/hour along with benefits while outsourcing to the Philippines would only range from as low as $5-$8 per hour to up to $15/hour.
Reports indicate that – on the lower end – Filipino workers earn between Php 51.52 – Php174.52 per hour ($1.12 – $3.81); overtime pay can be Php29.11 – Php206.08 (0.64 cents – $4.50). These numbers will vary based on experience level. 
As with any offshore outsourcing contract, firms can negotiate lower prices when they outsource to the Philippines.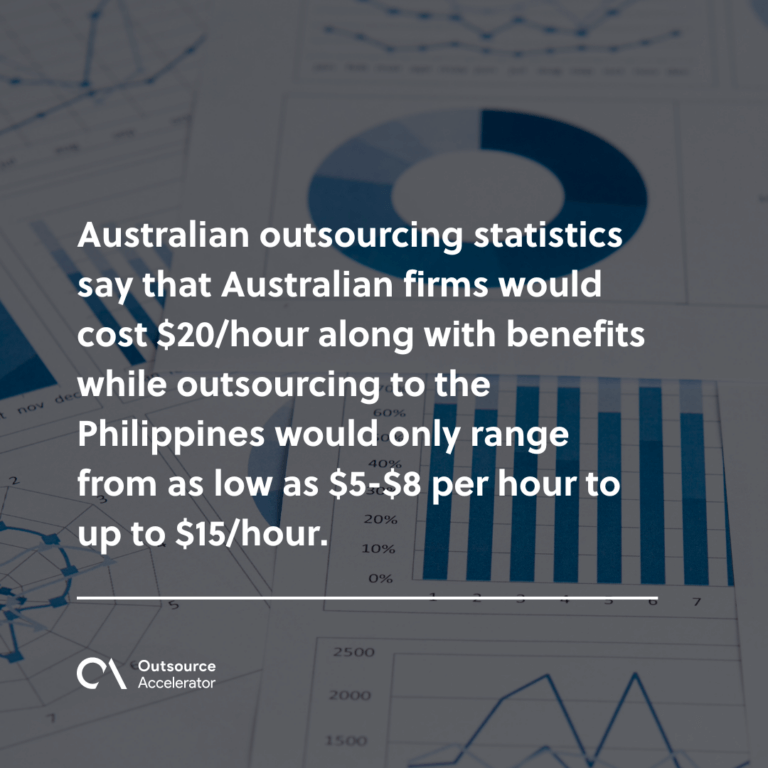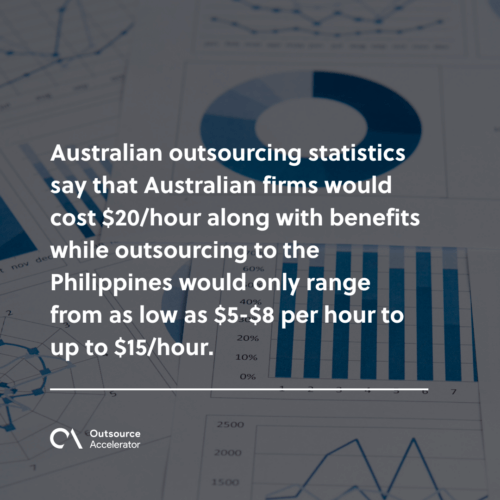 Improving ICT infrastructure and skills
According to financial services group Nomura, in the infrastructure quality stakes, the Philippines ranks 95th out of 138 countries. While this is not very impressive, it has climbed up in rank over the years, signaling an improvement in ICT infrastructure.
The Filipino population is technology savvy. In fact, a report by the International Telecommunication Union found that 36.69% of the population is using the internet, and 26.91 households have internet access. 
The Philippines also has the highest levels of online brand engagement and social media usage in the world. These trends can be observed across all income levels. 
A digitally savvy population is always welcome by employers in any industry in today's technology-rich business environment. Digital adoption and engagement at an early age among the employable population helps them become job-ready and cuts down on the need to familiarize them with the technology. 
The built-in tech competency is also a major draw for firms to hire outsourcing to the Philippines. Government and industry groups have also invested in technical training programs, such as video game programming, 3D animation and web design, to improve the overall tech equity of educated workers. 
Additionally, top outsourcing companies – particularly those located in Special Economic Zones – have benefited from tax breaks, allowing them to invest more flexibly in IT infrastructure and skill-building.
Given the digital penetration and adoption, it can be reasonably expected that the Filipino workforce will continue updating its technology. This includes cloud computing, business intelligence (BI), data analytics, fin tech, and enterprise application development. 
Along with lesser-skilled professions, companies can also outsource freelance workers and start-ups with specialized expertise and credentials.
Australian outsourcing statistics
IBISWorld shares their latest Australian outsourcing statistics for the year 2021. It disclosed that the Australian BPO sector is expected to fall by 1.2% in 2019-20 and decline a further 2.0% in 2020-21, to reach $37.8 billion. 
With COVID-19 restrictions, businesses are tightening their outsourcing expenditures, resulting in some businesses switching to cheaper providers overseas. The pandemic evidently constrains the sector's profit margins.
Due to these restrictions, BPO firms are likely to offer price reductions to retain clients, and businesses are expected to retain positive over the year, supporting industry growth. 
The reasons we've mentioned above are just some of the many reasons why Australian firms choose to outsource to the Philippines.
This is the perfect opportunity for companies to outsource the roles and activities that they need. Outsourcing would not only support the industry's revenue growth, but this is a great way to address your operational needs as a business.