10 best animation software for beginners and pros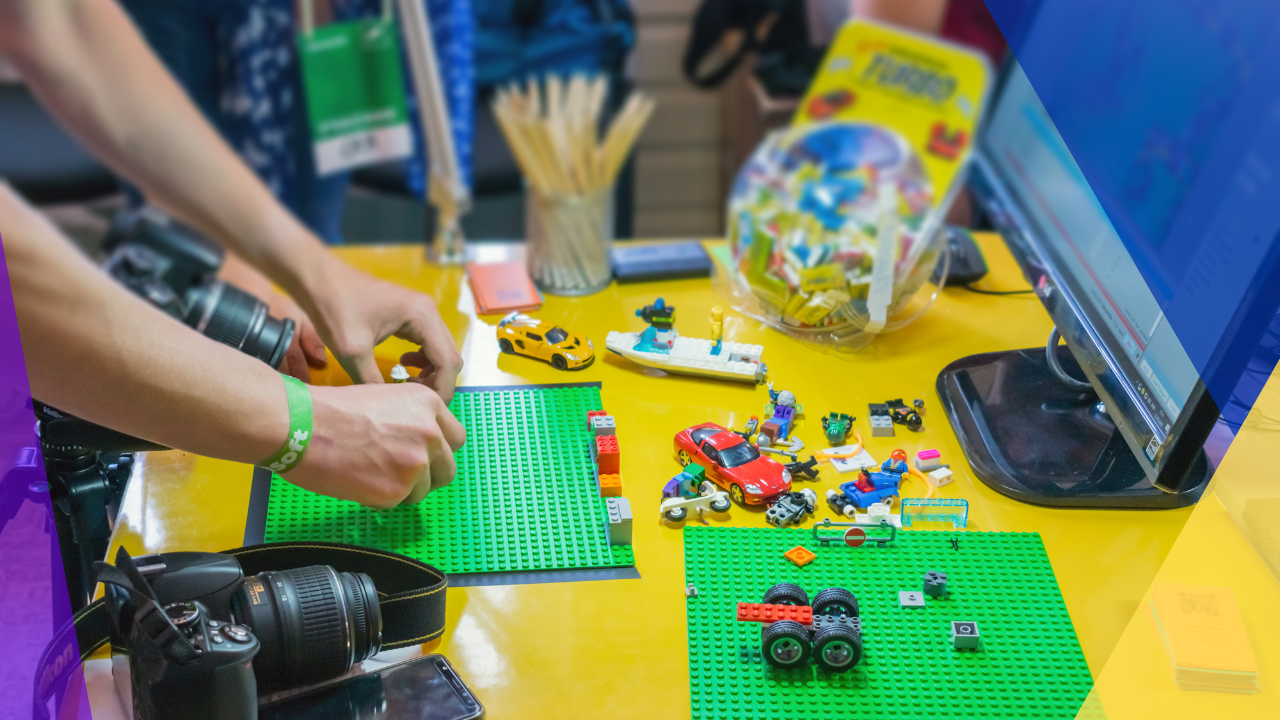 List of best animation software to try in 2024
Animation is a powerful medium used to tell stories and for artists to express themselves.
The best animation software and tools are the ones that bring your creativity to life, even down to the tiniest details. Whether you are a beginner or a pro, the right software will help bring your animations to the next level.
Below are some of the best animation software programs to bring your animation projects to life and get your company's name out there.
What is animation software?
Animation software is used to answer all your animation needs. These software programs equip you with all the tools necessary to create simple or complex animation projects from scratch.
These software programs allow 2D drawing, 3D modeling, character design, editing, and rendering. 
Animation software tools are widely used in television, films, advertisements, and presentations, giving you a wide range of applications to explore and bring your team's creativity to perfection.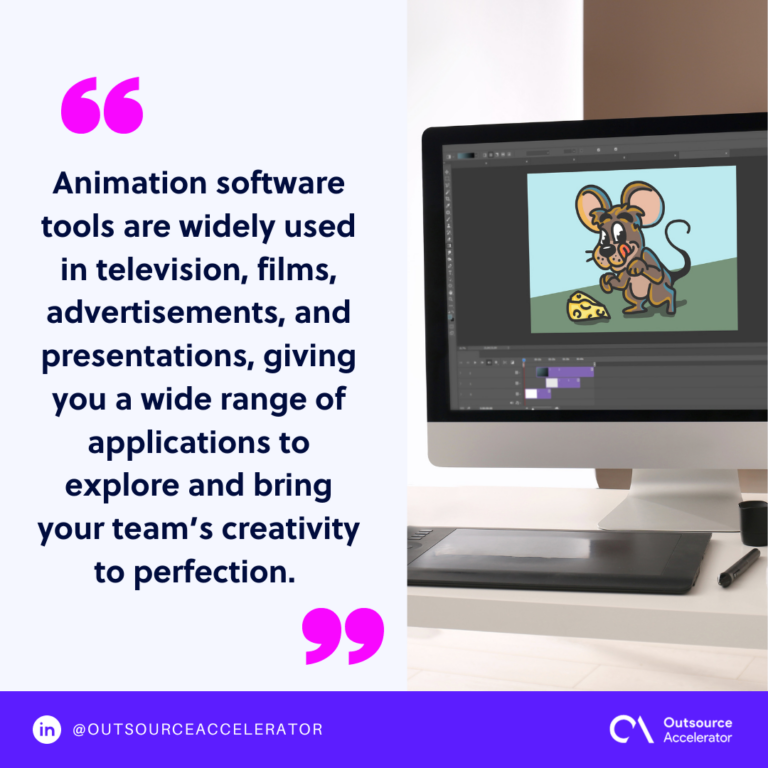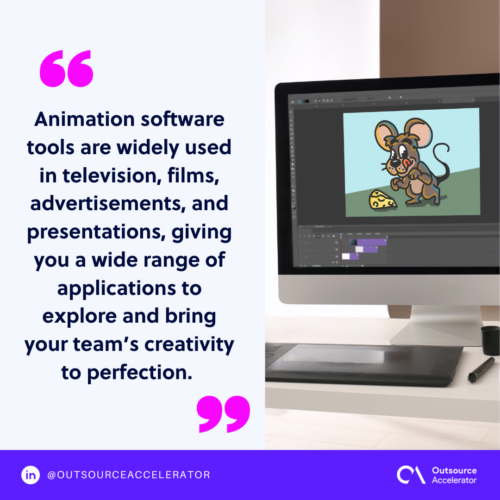 Top 10 animation software to use in 2024
Listed below are ten highly recommended animation software programs for beginners, professionals, or outsourced animators. Choose the one that suits your needs best.
Adobe Animate is a user-friendly software where you can improve your skills and control over your animation.
It is the perfect starting point for beginners and new animation enthusiasts who want to polish the basics before moving on to more advanced programs.
It is suitable for practicing 2D animation tricks as it comes with pre-installed elements, such as characters, backgrounds, and motion tools. 
Blender is a free, open-source 3D software that more professional animators use. Despite its advanced features, it is still a powerhouse program that animators of all levels can use to create films and sculpt models.
This tool is for anyone who wants to take their skills up a notch and create more professional and refined animations.
What makes Blender stand out from other programs is that it is community-driven. Contributors such as fellow artists and software developers have created their own plugins to help upgrade the program for others.
Autodesk Maya is another 3D animation software program that is ideal for all your rendering and modeling needs. Its advanced features allow you to get to the tiniest details to create the most realistic and lifelike animations.
The possibilities are endless with this program as you can design realistic worlds, characters, and visual effects that are professional-standard.
Don't let its intimidating interface intimidate you, as Autodesk offers a tutorial for beginners where you can partake in practice projects to help you get started.

If you are looking to specialize in motion graphics and 3D modeling, Cinema 4D offers an extensive software package where you can create just about anything.
There is also a tutorial for beginners as this program comes with advanced tools that help you create more complex creations.
Several upgrades to this software have made things easier and more convenient for animators. This software is beginner-friendly and makes the animation process intuitive and simple to follow. 
VistaCreate is the tool you need if you are looking to use animation to boost your social media presence. You get a huge library of pre-installed animations and styles that you can include in your ads, posts, stories, and videos.
This software is ideal for digital marketers, influencers, or anyone creating eye-catching visuals to attract their audience.
The best part is you don't even need prior animation experience to use this software as it is super beginner-friendly.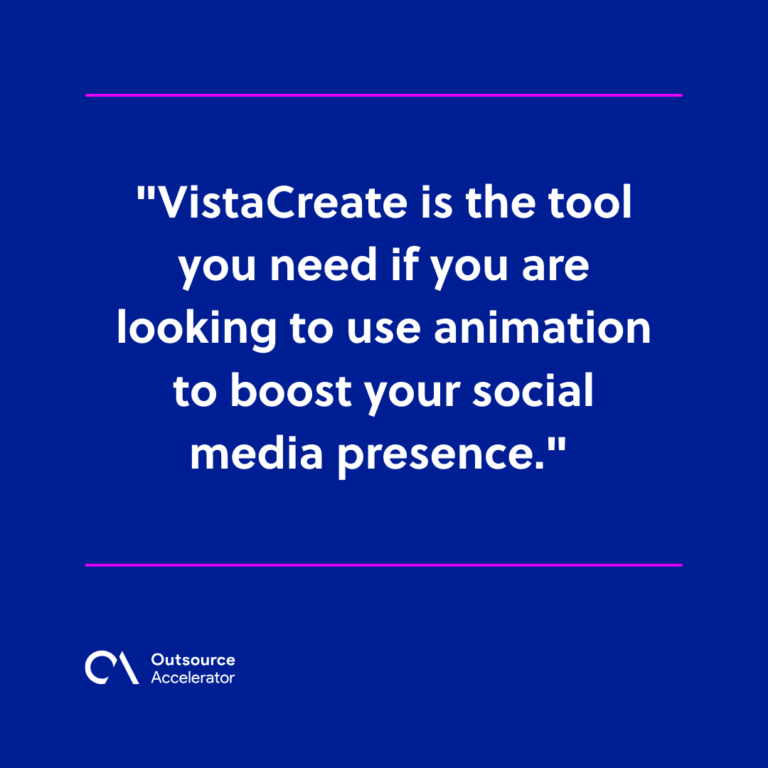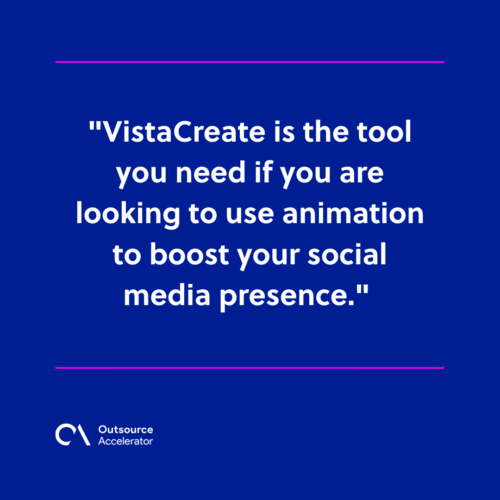 Unity is a great software for all your gaming development needs. This software works great for real-time 3D technology to bring your creations to life.
You can also use the "View mode" and "Game mode" to conveniently preview your game and its elements.
Of course, Unity isn't limited to gaming. Any animator can use this software to create models of any kind, ranging from characters to buildings and vehicles.
Powtoon is a great and convenient tool to have for upgrading your visual and video presentations and infographics.
It comes equipped with premade characters, templates, and animations to incorporate in your next presentation. It is a very beginner-friendly tool to use while also remaining professional to use in the workplace.

If you are looking for a versatile tool, look no further than Houdini. This software powerhouse is capable of all things related to animation, from 3D modeling to rendering and realistic VFX to gaming.
This software provides procedural techniques to its design, making it easier to create more complex things. If you are serious about your craft, you can even craft full-length films with Houdini!
If you are passionate about cartoons and plan on creating your own, Toon Boom Harmony is the perfect software. It specializes in 2D animation where you can draw your own characters or import and export your own.
Despite its learning curve, this tool is behind some of the most popular cartoons, so it makes a great choice for those looking to pursue animation professionally.
Moho is another industry-standard software for creating high-quality 2D animations. Its powerful rigging and Smart Bones feature will make your characters come to life as it focuses on details such as facial expressions and movement.
You can also draw your own characters using the vector drawing tools. You can also enhance your story by adding visual effects and audio recordings.
Things to consider when buying animation software
Animation software programs can be tricky to use, especially for beginners. Deciding which one to use and which fits your needs best may be challenging.
Here are a few factors to consider to help you find the best one:
Pricing
Starting off with a budget, you have to find the right software that fits your financial needs. Some programs are free, while others have a paid version that gives you access to more advanced features.
Assess what features you need and if you would consider paying extra for those. Otherwise, you can settle for that if you can manage with what the free version offers.
Features
Consider what tools and features you will need for your animation project. As mentioned earlier, more features mean you'll have to pay more, so think about what kind of features you'll need. 
For example, if you cannot draw your own characters or templates, some programs come with pre-installed ones. Others have vector drawing tools where you can draw your own elements from scratch.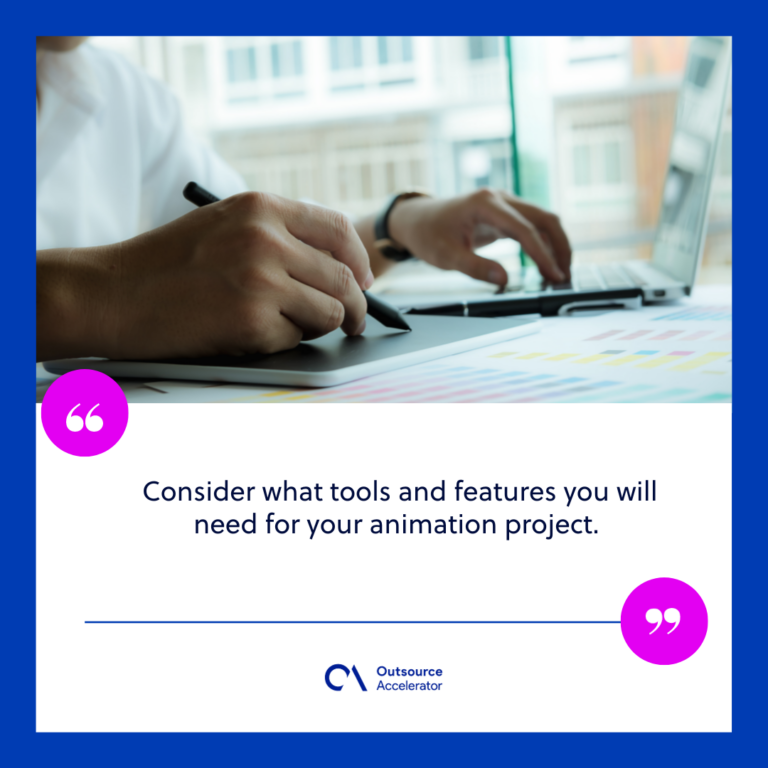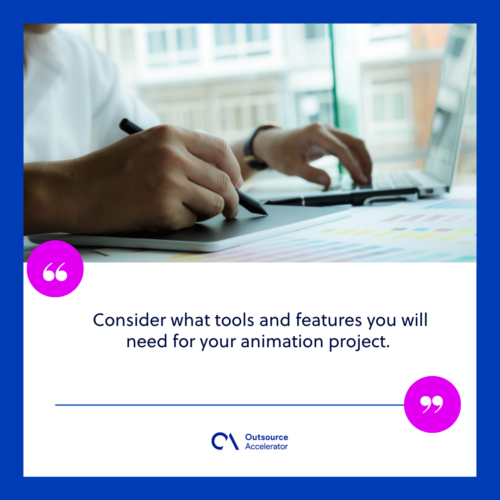 Ease of use
Animation software tools may be intimidating to look at, so it is best to find one that is easy and intuitive to learn, especially if you are a beginner.
Fortunately, most programs come with a tutorial, which will help you navigate through the interface and functions of the software. 
Learning curve
In relation to the ease of use of the program, you want a software that is easy to learn and that has not much of a learning curve.
Naturally, animation software programs for professionals have a steeper learning curve and will require more time to get used to. However, beginners or intermediate animators can still use and manage them. 
Changing the animation industry
Animation isn't an easy medium to master, but it can be learned with the right software in your arsenal. Any of these animation software programs have just what you need to practice and improve your animation skills.