An introduction to AI marketing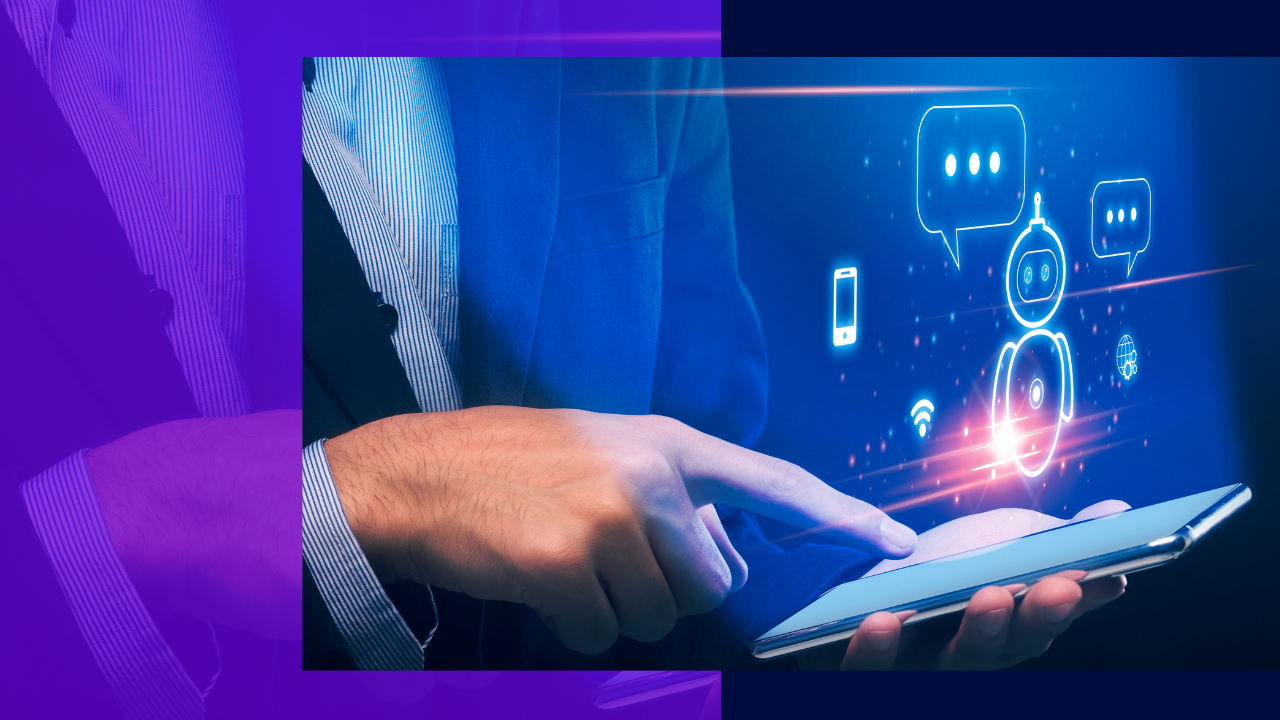 Many organizations and their marketing teams are rapidly embracing artificial intelligence solutions. This is where AI marketing comes into play, as those solutions come in the form of AI-driven marketing platforms.
AI marketing is becoming more prevalent as people spend more time using technology that's progressively advancing at a high rate.
Read on to learn more about what AI marketing entails.
Defining AI marketing
AI marketing, aka artificial intelligence marketing, is the use of AI technology to make marketing decisions and automate and improve related tasks. It provides leverage with its ability to collect and analyze extensive data. 
AI marketing helps companies and businesses better target and personalize their marketing endeavors and make real-time choices to enhance customer experience.
How AI marketing works
AI marketing utilizes AI technologies to optimize and automate marketing tasks based on:
Data collection

–

AI algorithms

are used to accumulate and examine massive amounts of data from various sources. Sources can range from social media, and customer interactions, to website activity.

Data analysis

– following data collection, AI algorithms can quickly analyze it to identify patterns and insights at a rate that would be too difficult and time-consuming for humans.

Customer targeting and personalization

– AI marketing can target specific customer segments and personalize marketing efforts to be more relatable and enticing. 

Cybernation

– AI marketing can leave various marketing tasks to automated tools, and services to increase efficiency and reduce human error. Examples include ad targeting, email campaigns, and social media posting.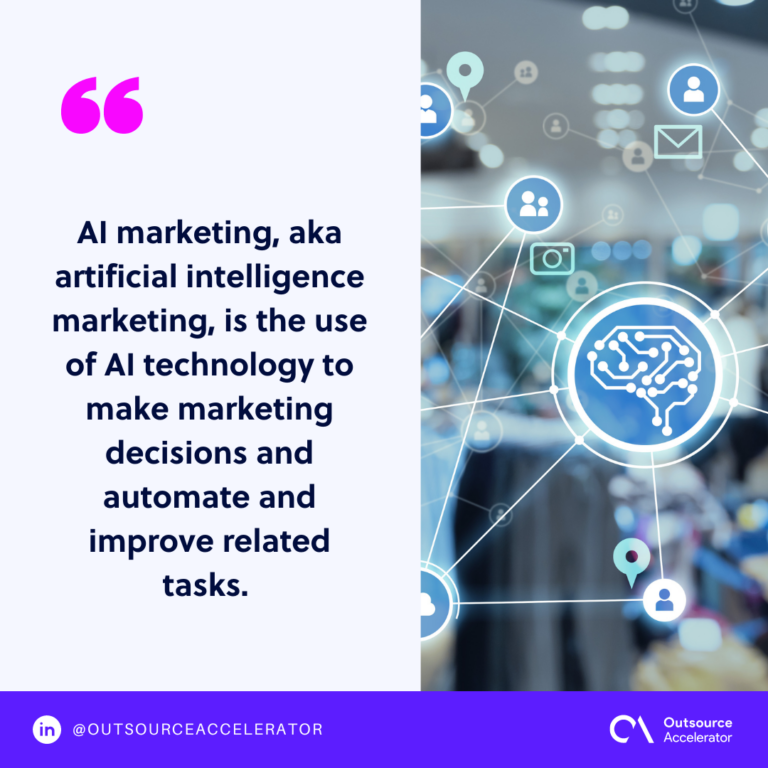 Advantages of AI marketing
Incorporating artificial intelligence into an organization's marketing strategy and programs yields different benefits. 
Below are some of the reasons why using AI marketing can be an asset:
Improved accuracy and efficiency
AI marketing is able to collect and analyze data faster than any human could using AI algorithms. This reduces the risk of human error and can enhance and quicken the decision-making process.
It lets human team members direct their focus on marketing efforts and strategic initiatives informed by, and that will inform AI-enabled programs and campaigns. 
Marketers will no longer need to wait for an end of a campaign to make decisions or changes to improve their strategies. This is because AI marketing gives access to real-time information and analytics, leading to better-informed business decisions and outcomes.
Better customer targeting and personalization
Marketers are assisted by AI-powered tools that acquire and study large amounts of data to gain a deeper understanding of their customers' behaviors, needs, and preferences. 
These specialists can then create highly targeted and personalized campaigns that resonate with audiences at a personal level. 
AI algorithms can also help predict future behavior, preferences, and trends that enable marketers to deliver personalized content at the right time and on the right channels. 
Enhancing personalization leads to increased engagement, customer retention, and higher conversion rates.
Improved competitiveness in the marketplace
As the world gets more and more tech-savvy, not using AI marketing might let a company fall behind competitors.
This type of marketing enables customization, setting businesses apart from their competitors and helping them to build solid relationships with their customers. 
AI can aid companies to stay on top of trends and changes in the industry and consumer behavior, allowing them to adapt marketing strategies accordingly. 
Leveraging the power of AI marketing can improve a firm's competitiveness and lets them position themselves as leaders in their sector.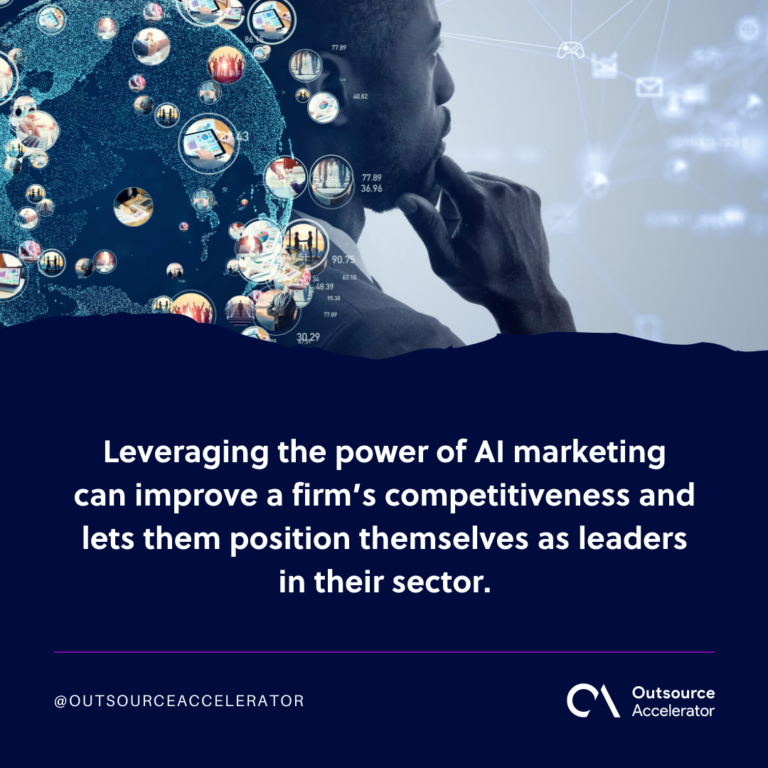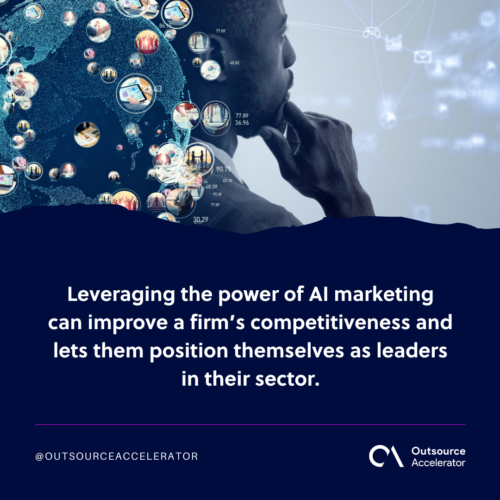 AI marketing challenges and limitations
Like any new technology, AI marketing comes with its own set of setbacks. Challenges and limitations encountered when utilizing AI marketing can include:
Ethical concerns
One of the main concerns associated with AI marketing is its potential for unethical use. 
An example would be when AI algorithms are used to manipulate consumer behavior by targeting vulnerable individuals or exploiting personal information. 
Data privacy is also a prevalent concern as AI marketing requires access to large amounts of personal data, which must be protected and used transparently.
Potential bias in data collection and analysis
When it comes to data collection and analysis, AI marketing has the potential to be biased. 
AI algorithms are trained on the data provided to them. This means algorithms are only as good as the data presented to them. If the data is biased, the AI will give biased results.
For instance, an AI algorithm may not be able to accurately predict the behavior of a diverse population if the dataset it's trained on isn't diverse.
Further, in the event that the information used to prepare an AI calculation is obsolete, the calculation may not be successful in foreseeing current shopper conduct.
Other limitations
Other limitations of AI marketing include when AI algorithms are not perfect and can make mistakes. 
Because AI algorithms are not always transparent, it can be challenging to comprehend how they came to a particular decision.
There's also the risk of relying too much on AI technology, resulting in a lack of human creativity and intuition when coming up with marketing strategies.
AI marketing strategies
Businesses use AI marketing strategies to revolutionize how they reach their target market. 
By using the power of AI, businesses can gain deeper insights into customer behavior and preferences, allowing them to provide a personal touch to their marketing efforts.
Here are some examples of common AI marketing strategies:
Content marketing with AI
AI content marketing leverages AI-powered tools to generate and deliver content with the goal of resonating with a target audience. 
This strategy examines data to determine what types of content are most likely engaging, even using natural language processing to make the content feel more human.
SEO with AI
Using AI with SEO optimizes an organization's website for search engines. This strategy involves determining traffic-driving keywords and phrases that can be integrated into a website.
Machine learning algorithms that use SEO will also improve the accuracy of a site's search engine rankings.
Email marketing with AI
An AI email marketing strategy writes and distributes personalized email campaigns. 
Like the other strategies, AI email marketing analyzes data to determine the most effective content when reaching an audience. 
Social media marketing with AI
AI-powered social media marketing posts social media content that resonates with customers and target markets. 
Similar to AI content marketing, AI social media marketing tries to determine the kinds of content that will effectively engage an audience.
AI social media marketing can let businesses find and communicate with influencers in a specific industry. This strategy can also monitor conversations on social media for potential opportunities or issues.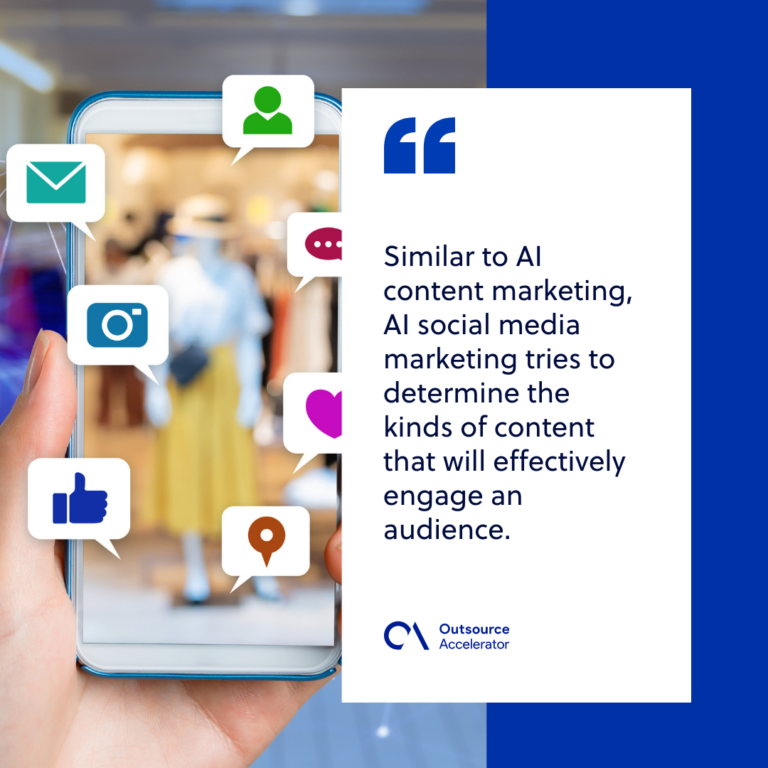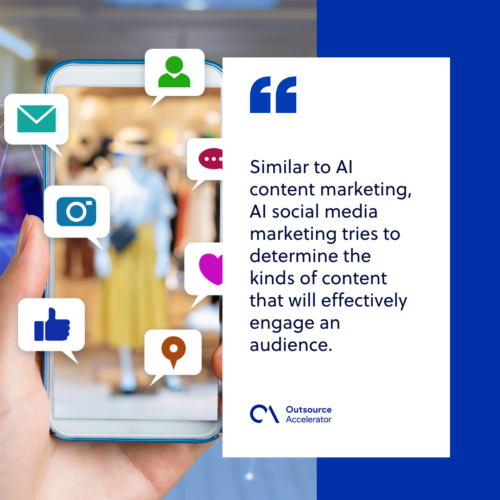 The future of AI marketing
As technological advancements continue to push the boundaries of what's possible, AI marketing's future looks all the more promising. 
AI marketing is poised to become an increasingly important aspect of modern marketing strategies because of its advantageous abilities when it comes to data collection and analysis. 
With the increasing sophistication of AI technology, greater levels of personalization and targeting, and improved accuracy and efficiency are expected.
Along with the evolution of AI marketing, organizations need to consider the issues associated with it and use it responsibly.
Ultimately, AI marketing's future depends on its subsequent development, implementation, and regulation.