5 ways AI helps in talent development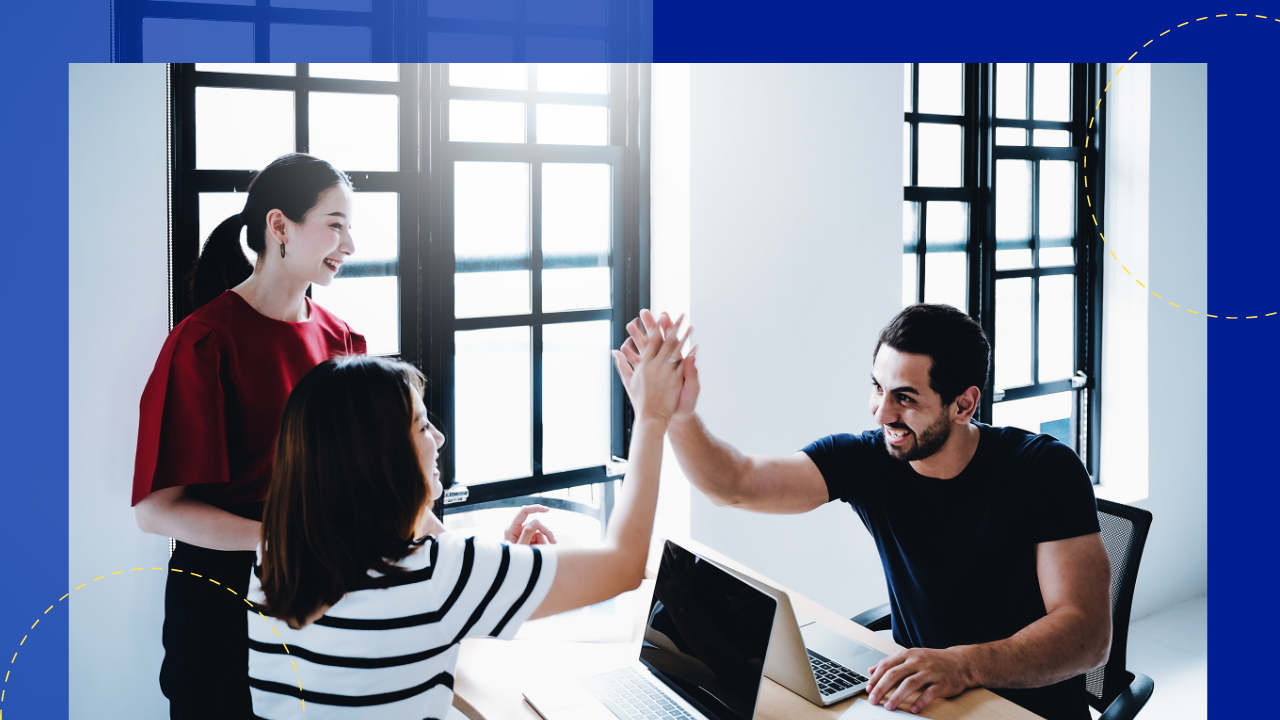 Artificial Intelligence (AI) has changed the ways global businesses operate. It helps improve every process a business partakes, including talent development.
Combatting the threat of wiping away jobs, AI can be used otherwise to strengthen teams and get them productive. More companies use automated tools to equip their employees, measure performance, and provide personalized training programs.
AI-enabled outsourcing is also on the rise as a way to keep up with this advancement, helping small and medium businesses with this transformation. 
There are many advantages AI offers in terms of talent development and staffing. Indu Badlani, CEO of Staffing Expert, discusses these in the 454th episode of the Outsource Accelerator Podcast.
The impact of AI on businesses
The convergence of AI in businesses resulted in a paradigm shift that resonates across sectors. 
According to a study by McKinsey & Company, the use of AI at work reached around 50% to 60% in the past few years.
For businesses, AI has a significant impact on many levels. One of these impacts is on the bottom line. While the skills gap still prevails in global recruitment, AI high-performers can easily hire and match candidates with their desired roles.
This advancement allows businesses to make better decisions, increase productivity, and reduce costs in return.
AI's role in talent development
Indu explained that Staffing Expert aims to "[hire an] AI-empowered, emergent workforce." 
Specifically, they provide teams who "are more comfortable using technology as an extension of their thought process" apart from the right skill sets clients look for when outsourcing.
Indu believes enabling AI in their teams can "aid [in] almost any desired outcomes" of their clients, whether in design or sales.
Apart from this, AI can best help talent development in the following ways.
Skills-based recruitment
One of the models offered by Staffing Expert is recruitment, hiring, and workforce management with support from AI.
Primarily, recruiters now use AI in skills-based recruitment and hiring. Businesses can identify the best candidates for a particular role by parsing data from resumes, cover letters, and social media profiles.
Moreover, AI-enabled recruitment allows companies to tap the usually overlooked and fresh talent pools they have yet to consider.
AI-empowered productivity
Indu added that many AI tools in the market help teams "think out of the box [and] look at all the options [available]." Through these tools, they can overcome the challenges of looking for another angle or other ways to do their work.
This approach further increases employeeengagement and productivity on the team's part.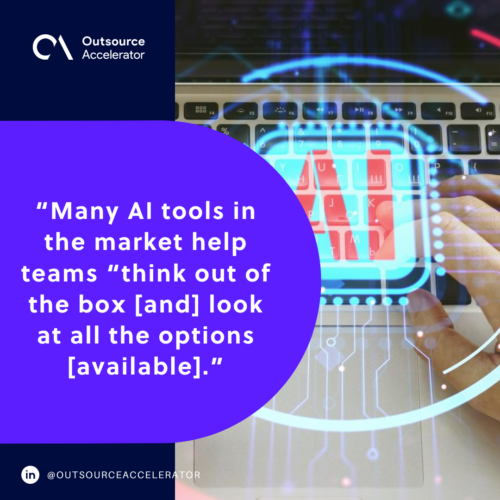 Upskilling and reskilling
AI is critical in upskilling and reskilling employees through personalization and gamification.
AI-enabled platforms can motivate employees to develop new skills. These platforms can track progress, identify areas for improvement, and suggest relevant courses or training programs that can help employees improve their skills.
Global collaboration
Being in the outsourcing sphere for 13 years, Indu emphasizes that successful global collaboration "can drive transformation."
AI is also enabling global collaboration. It aids in coordinating global projects more effectively through online tools. This collaboration enables companies to capture the best talent, regardless of location.
Overall digital transformation
AI is a key component of any digital transformation initiative.
Businesses can become more agile and responsive by automating recruitment and talent development processes. AI can identify trends and patterns in recruitment, hiring, and training employees to prepare them for the future.
Hiring an AI-enabled Filipino workforce with Staffing Expert
Staffing Expert, a US-based company with operations in the Philippines, specializes in AI-enabled outsourcing solutions. They aim to "create a new digital paradigm for outsourcing in an emerging workforce."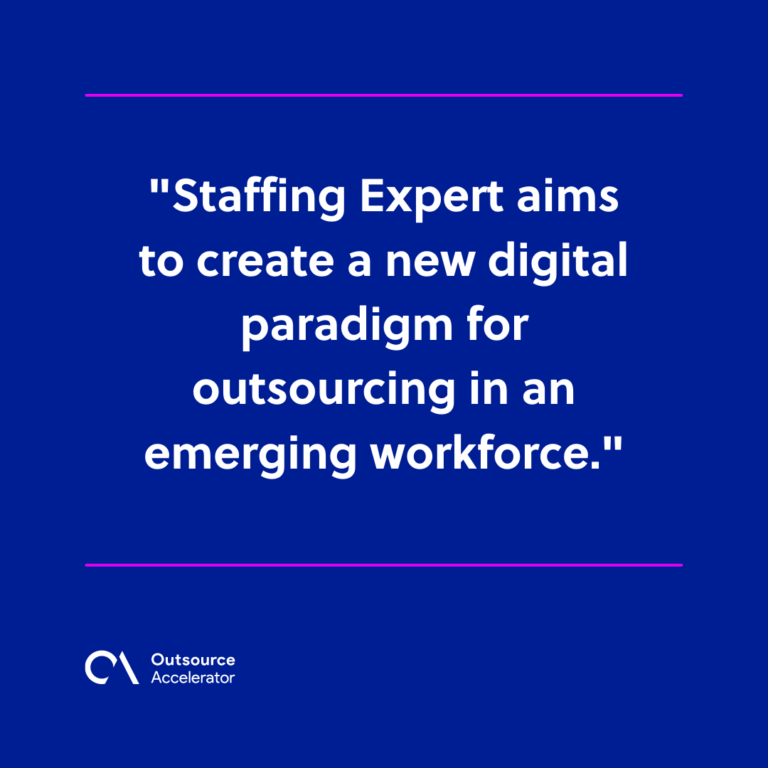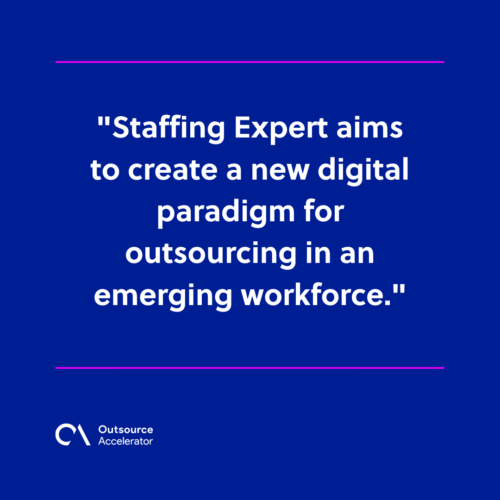 The firm's mission is to create a unique global culture that embraces diversity and inclusion, fostering connections among consumers, clients, and business owners.
Indu explained the qualities that made the Filipino workforce stand out among other countries. She mentioned that the "[Filipino] workforce is hands down… willing to adapt, willing to adjust, open to new opportunities, and open to be reskilled."
This adaptability is coupled with an eagerness to embrace technology and learn how it can support them, including embracing AI at work.
The firm caters to a wide range of clients, initially focusing on smaller startups and medium-sized companies. They are committed to providing the right skill sets and tools for growth.
Visit Staffing Expert's website to get in touch and learn more about their services.