Do AIs result in ethical issues in the business sector?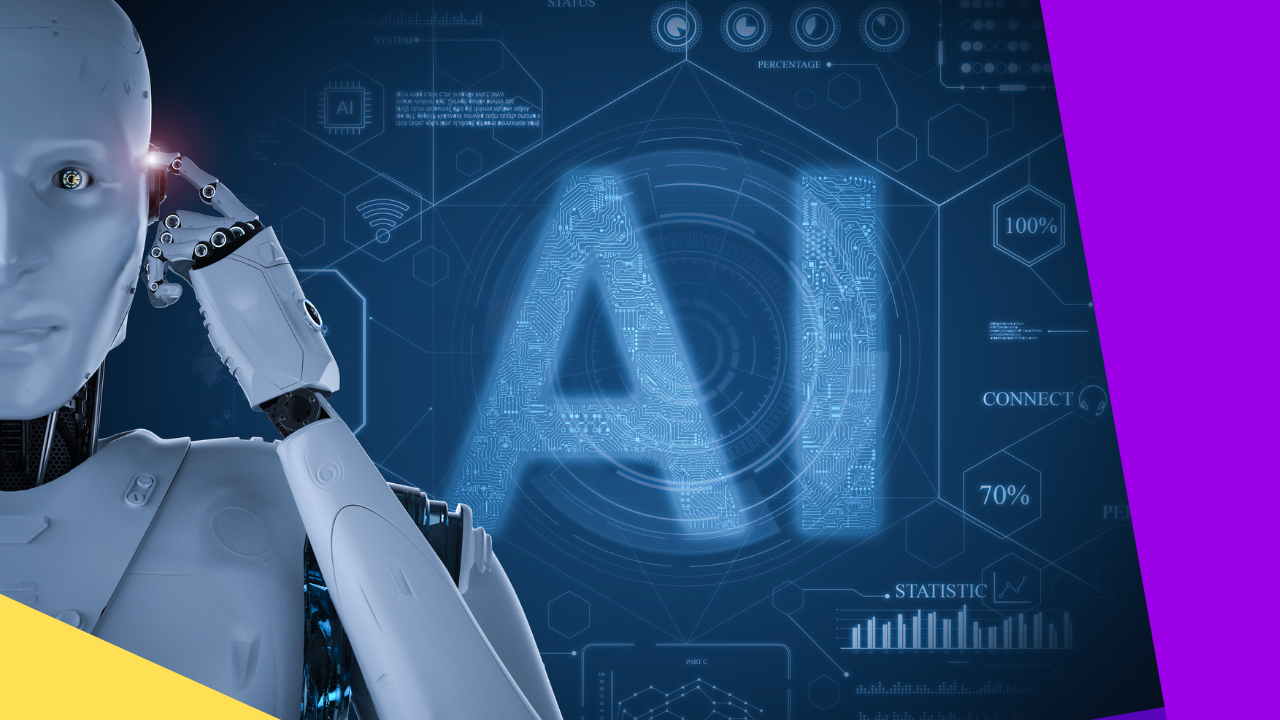 The entire market sector has always been a very competitive field. Mix it with the technological developments of this generation and the competition has become even more aggressive. Businesses always have to adapt to innovations to improve their efficiency and profitability but at the same time lower down their overall costs.
Artificial intelligence (AI) is just one of the greatest breakthroughs in technology that is continuously revolutionizing the market world. However, despite its sustainable perks, AI technology has also been laced with ethical issues regarding certain societal concerns. 
Different uses of artificial intelligence in the business industry
Artificial intelligence opens a lot of opportunities for organizations across different industries. AI technology offers a vast array of uses in nearly every sector.
For this reason, companies like OP360 utilize AI tools to aid in developing the best marketing strategies for their partners.
Part of its roles in different fields are the following:
Marketing  
AI technology can help marketers to effectively target ads to the right audience in the web. Another use of AI in marketing is through the use of chatbots.
Chatbots immediately resolve customer problems. Companies also utilize chatbots to offer specific deals or discounts to each customer based on their browsing history. 
Sales
Artificial intelligence can help organizations to enhance their sales functions through sales forecasting. It also helps in determining future trends by the use of data analytics, specifically through predictive analytics.
A lot of organizations these days are outsourcing their data analytics to experts that specialize in data analytics and AI. Data analytics is helping business leaders these days to make informed decisions for the growth and development of their respective companies. It also helps improve their overall profitability. 
Finance
AIs can reduce the repetitive tasks in a company's finance and accounting sectors. On top of that, it lessens the possibility of committing human errors in the accounting processes.
We have provided a quick overview of how artificial intelligence is being utilized in different industry sectors. Still, the world expects AI technology to progress as time passes and it will continue to be one of the essential parts of a business model.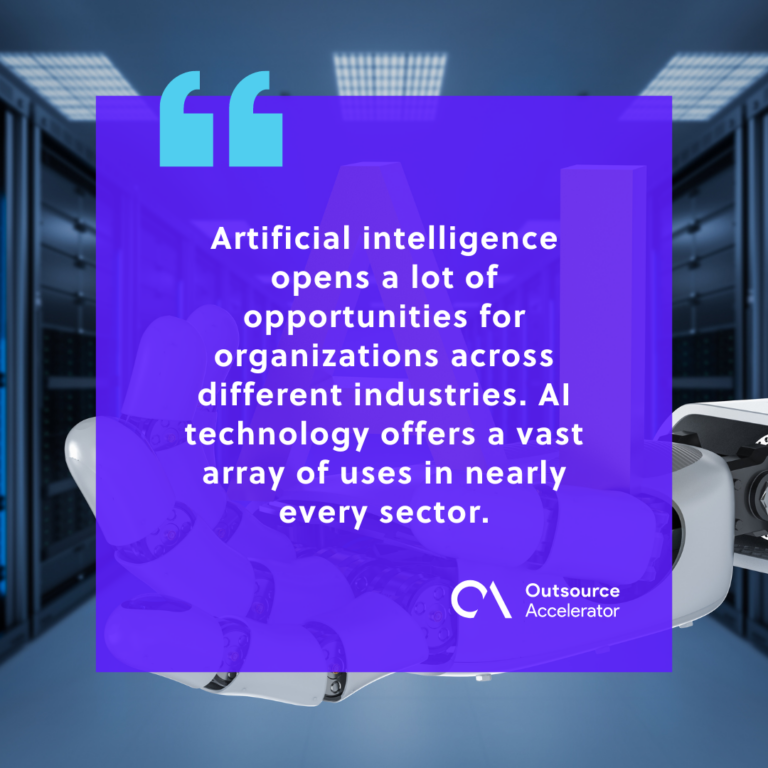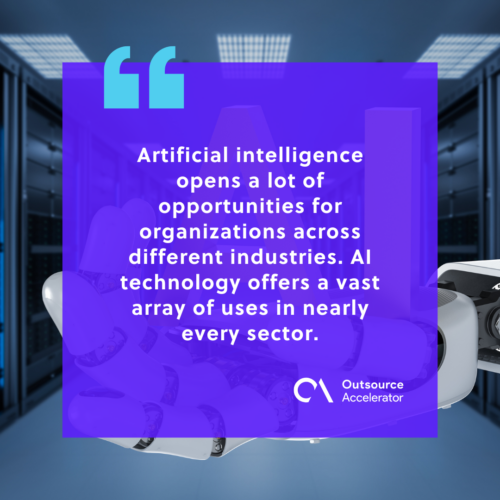 Five AI ethical issues businesses may encounter
The emergence of AI has created various pressing concerns. One of which is becoming superior to human intelligence in the near future.
We have outlined some of the other ethical issues as the market industry fully embraces the use of AI technology:
Job loss
Job loss is perhaps one of the primary ethical concerns that people have to face in the near future. More and more businesses today have been adapting the use of artificial intelligence in their customer service.
While it helps them cater to their customers effectively and real-time, it poses concerns as it might replace the job of customer service representatives in the coming years. The real question is, how far will the cognitive functions of AI be efficient in place of human tasks? 
Wealth inequality
Wealth inequality has something to do with job loss. There is a big difference for companies that hire actual employees compared to those that incorporate AI in their operational functions. Businesses pay their staff wages, taxes, and all other expenses included in their employment. 
On the other hand, AIs don't have taxes to pay, and they don't get paid hourly wages. Therefore, a lot of organizations will be able to keep 100% of these supposed costs. As a result, this will open up the possibility of wealth inequality. The companies that have the means to acquire AI technology, will become even more richer. 
Biases
Facial and voice recognition are some of the better known functions of artificial intelligence that businesses utilize. One of the main concerns in these uses is that they may be susceptible to biases and errors, mainly in the series of data used to create these AI systems.
These AI systems may develop biases with regards to people's ethnicity, gender, religion, and more. Thus, it is vital for people who create these machine learning systems to take in account biases when identifying what data to use. 
AI commits mistakes
AIs can still commit mistakes. Machine learning also takes some time before it becomes fully functional and useful. AIs can be detrimental to businesses if it is created with wrong information, including errors in internal programming.
While it is certain that AIs do commit mistakes, the question now is, do they commit fewer or greater mistakes compared to humans? Will it be better or worse if AIs will make the same mistakes as humans?
Keeping in control over AIs 
Another concern with regards to the development of artificial intelligence is the possibility that it might exceed human intelligence. This is in connection to a certain point in time where technological growth might become uncontrollable and surpass all human intelligence. Other people believe that technological singularity may lead to the end of the human era.  
These ethical issues should serve as our guide to make better decisions in the future with regards to AI development.