10 AI call center software to try in 2024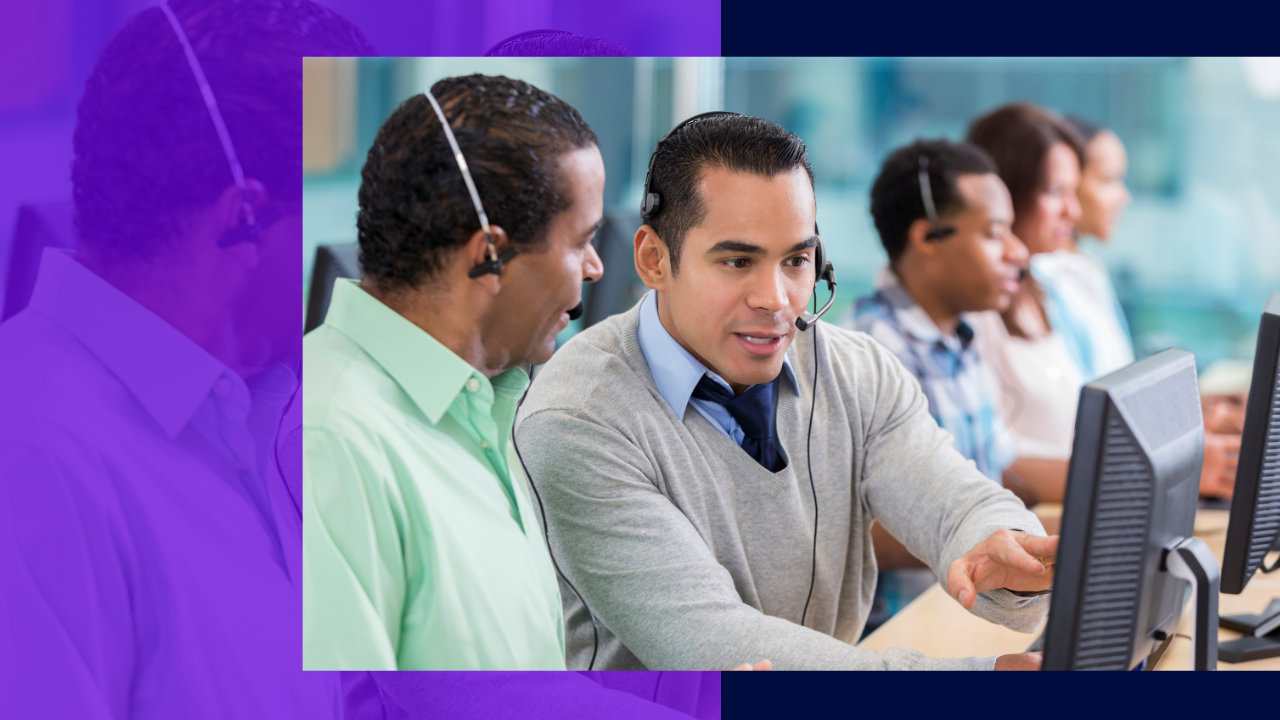 List of AI call center software
Call centers increasingly embrace automation in their systems because as it transforms and optimizes their operations.
AI call center software greatly improves consistency in service delivery, minimizing errors associated with manual processes. This data-driven approach empowers businesses to make informed decisions, adapt strategies, and continually improve customer service operations.
It also enhances efficiency by streamlining routine tasks such as call routing, data entry, and appointment scheduling. This allows human agents to focus on more complex, high-value interactions, ultimately improving productivity.
This article will explore the top ten AI call center software options for your contact center needs in 2024.
Overview of AI call center software
AI call center software leverages machine learning and natural language processing to automate routine tasks, analyze customer data, and facilitate personalized interactions. 
Automation of routine tasks, such as call routing and data entry, allows call center agents to focus on more complex and value-added activities. This increases operational efficiency and reduces the likelihood of errors associated with manual tasks.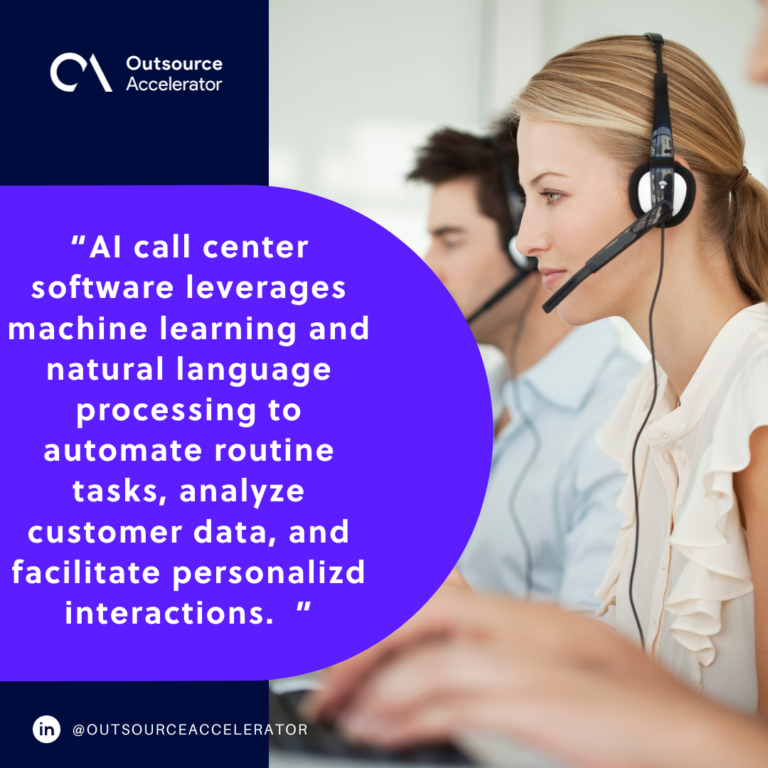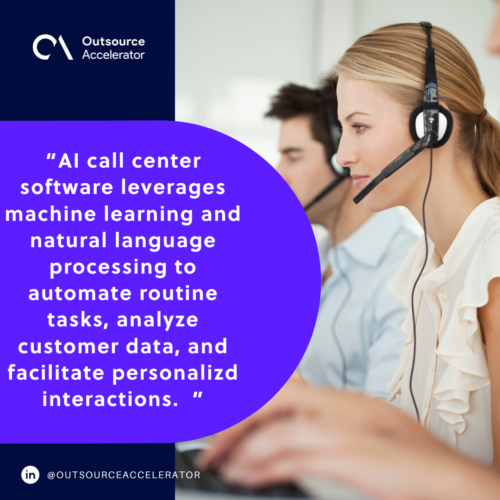 AI call center software provides real-time analytics and insights into customer interactions. It enables businesses to:
Identify trends

Monitor agent performance

Make data-driven decisions
AI call center software helps reduce the workload on human agents, allowing organizations to handle a larger volume of inquiries with the same or fewer resources.
Further, with this software, businesses can save significantly by automating repetitive tasks and optimizing resource allocation. 
10 best AI call center software
In no particular order, let's explore the ten AI call center software options poised to impact your call center business in 2024.
Nextiva's AI call center software is a comprehensive solution that enhances communication and efficiency. The platform incorporates advanced features that enable businesses to gain real-time insights into customer interactions. 
It has a sentiment analysis that allows the system to evaluate customer emotions, providing valuable data for improving service quality. Its speech recognition enhances automation by accurately transcribing and interpreting spoken words, facilitating smoother communication.
The platform's commitment to real-time insights and task automation contributes to a streamlined and responsive call center operation, ultimately improving customer satisfaction.
Five9's is a robust platform that empowers businesses with its capabilities.
One of its crucial features is predictive dialing, which optimizes agent performance by intelligently dialing numbers based on historical data and predictive analytics.

Its NLP enhances the customer experience by allowing the system to understand and respond to natural language queries. This dynamic scripting feature tailors interactions based on customer preferences and historical data, ensuring personalized and efficient service.
Five9's intelligent routing further contributes to a seamless customer journey, directing inquiries to the most skilled agent.

Genesys offers sophisticated AI-driven call center software designed to optimize customer engagement. Its predictive analytics capabilities empower businesses with actionable insights. 
Genesys integrates chatbot technology, allowing for seamless automation and improved customer interaction. The platform's comprehensive suite enables data-driven decision-making by providing real-time customer interactions and agent performance analytics.
Genesys focuses on creating a personalized customer experience through intelligent routing and dynamic scripting.
NICE CXone's AI call center software harnesses the power of machine learning to optimize workforce management and ensure a smooth and efficient customer journey.
The platform goes beyond basic analytics, offering advanced insights contributing to workforce optimization. It provides a unified solution with analytics, automation, and omnichannel capabilities.
One of the key strengths of NICE CXone is its emphasis on delivering a seamless omnichannel experience. Integrating multiple communication channels enables businesses to provide consistent and personalized service across various touchpoints.
This AI call center software's automation features streamline processes, reducing response times and improving overall customer satisfaction. 
CloudTalk emphasizes efficient call management and advanced analytics. It optimizes agent productivity by incorporating smart call routing capabilities, ensuring incoming calls are directed to the most suitable agents.
Its real-time monitoring further enhances operational transparency, allowing supervisors to track call performance and intervene when necessary.
Additionally, CloudTalk provides detailed reporting features, offering insights into:
Call metrics

Agent performance

Customer interactions
This comprehensive approach enables businesses to respond promptly and adeptly to customer inquiries.
CallHippo's AI-powered call center software is designed with a focus on scalability and user-friendly features.
The platform offers a range of functionalities, including:
Call analytics

Virtual phone numbers

Integrations with various tools and platforms
CallHippo's commitment to scalability means businesses can adapt the solution to their evolving needs. This makes it an ideal choice for companies looking to enhance their customer communication capabilities while prioritizing simplicity and adaptability.
LiveAgent's AI-infused call center platform boasts intelligent ticket routing and automation, streamlining customer support operations.
This AI call center software centralizes communication channels and facilitates a unified approach for agents to address customer queries promptly and with personalized attention.
By leveraging AI, LiveAgent enhances the efficiency of ticket management, ensuring that customer issues are directed to the most suitable agents.
Ringover's AI-centric call center software solution prioritizes collaboration and seamless communication. The software incorporates advanced tools for call tracking, analytics, and integrations, empowering businesses to manage calls precisely.
The emphasis on analytics enables organizations to gain valuable insights into call performance and customer interactions, fostering data-driven decision-making.
With a focus on collaboration, Ringover's AI features facilitate efficient internal communication among team members. This contributes to a cohesive and synchronized approach to customer service.
Vonage's AI call center software integrates communication tools with AI-driven insights. 
The platform incorporates advanced features such as sentiment analysis, allowing businesses to gauge customer emotions during interactions. This capability is vital for understanding customer satisfaction and tailoring responses accordingly.
Additionally, Vonage provides robust call recording functionalities, ensuring comprehensive documentation of customer conversations for quality assurance and compliance purposes. 
Dialpad distinguishes itself by prioritizing simplicity and innovation in its design.
The platform harnesses the power of AI for transcription services, converting spoken language into written text and facilitating accurate record-keeping and analysis.
Leveraging sentiment analysis, Dialpad enables businesses to gauge customer moods and tailor responses accordingly, enhancing customer interaction quality.
Real-time coaching is another notable feature of this AI call center software. It provides immediate feedback to agents during calls and fosters continuous improvement. This innovation contributes to improved communication within customer service operations.
Dialpad's commitment to simplicity ensures businesses can seamlessly integrate and leverage these advanced AI features for enhanced efficiency and customer satisfaction.
How to choose the best AI call center software
Selecting the right AI call center software is a crucial decision that can significantly impact the effectiveness of your customer service operations.
Here are key factors to consider when choosing the best AI call center software for your business:
Scalability

– Ensure the AI call center software can scale to accommodate your growing business needs. Scalability is crucial for adapting to changes in call volume and business expansion.

Integration capabilities

– Choose a solution that seamlessly integrates with your existing CRM system and other business tools. This integration ensures a unified and efficient workflow for your call center agents.

Real-time analytics

– Choose a platform that provides detailed insights into customer interactions, agent performance, and overall call center metrics.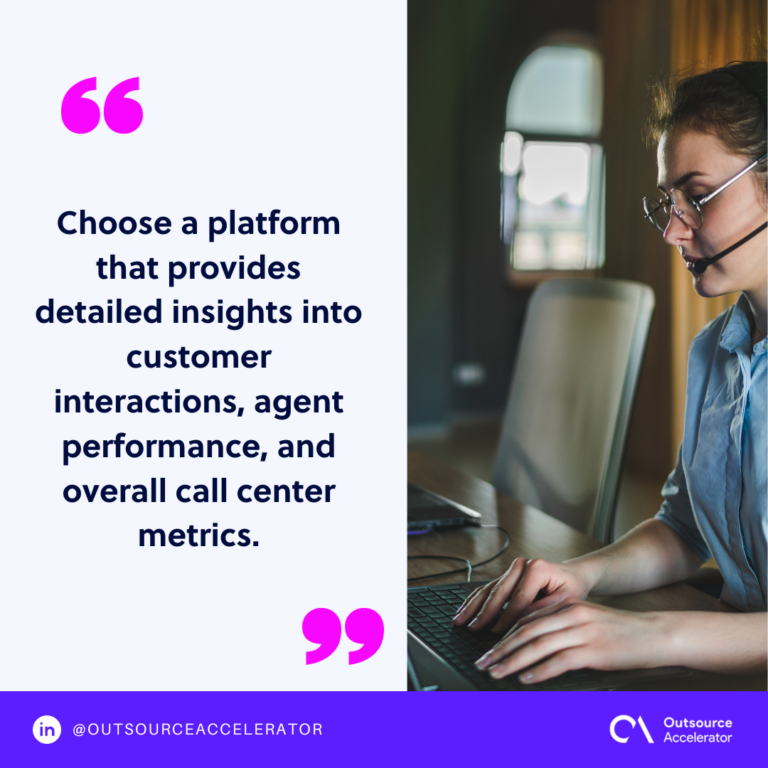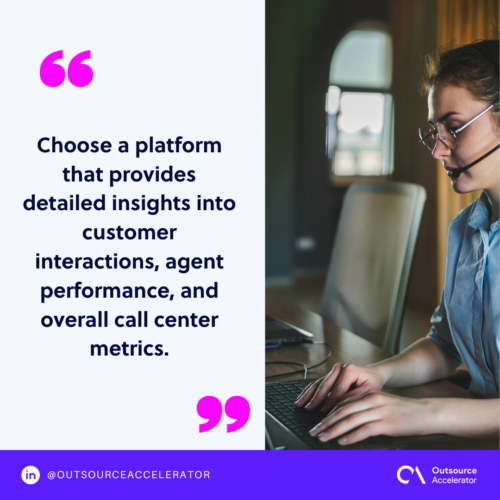 Omnichannel support

– Select a solution that supports omnichannel communication to provide a consistent customer experience.

Customization options

– Your AI call center software must be customizable to meet your preferences and specific contact center requirements.

Training and support

– Consider the training and support provided by the software vendor. A comprehensive onboarding process and ongoing support are essential for ensuring a smooth implementation and addressing any issues that may arise.

Cost consideration

– Understand the pricing model of the AI call center software and ensure it aligns with your budget. Consider both upfront costs and ongoing expenses to make an informed financial decision.

Security and compliance

– Ensure that the AI call center software complies with relevant data protection regulations and provides robust security features to protect sensitive information.

User experience

– An intuitive and user-friendly interface contributes to the overall efficiency of your call center operations and enhances the user experience for your agents.