How to get started with agile transformation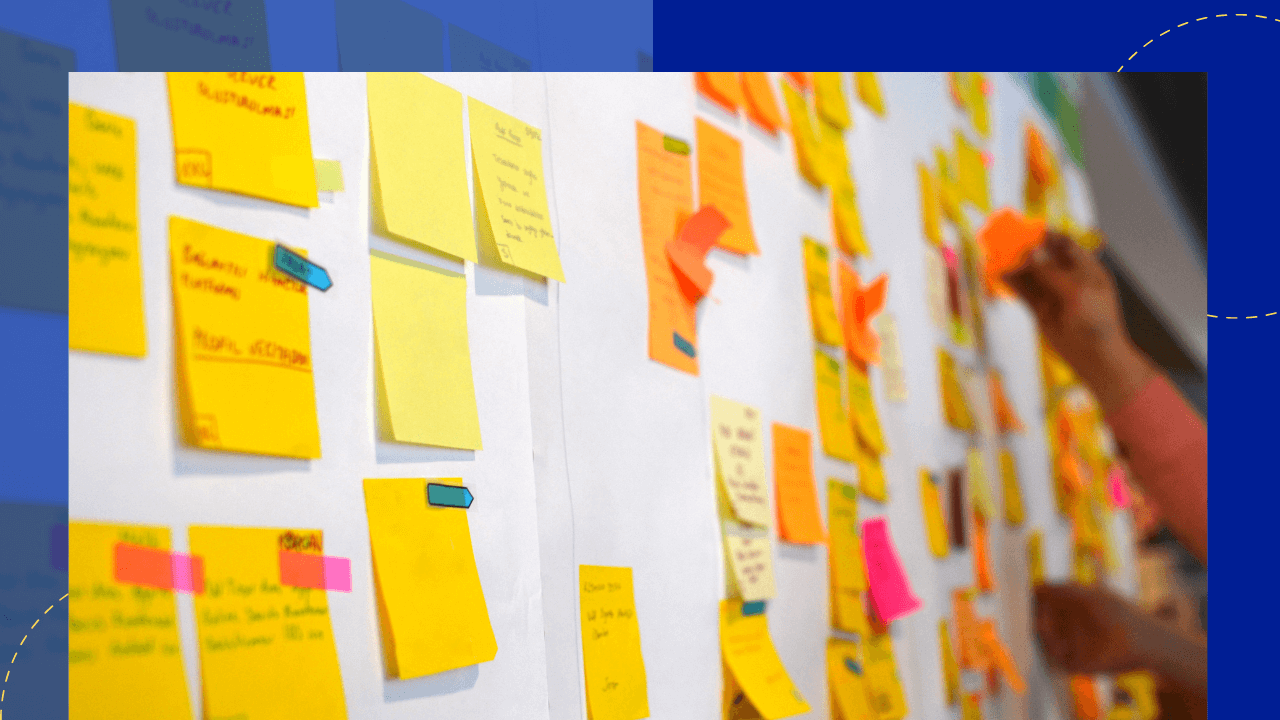 Agile transformation has become a crucial undertaking for many companies.
Becoming an agile organization is a continuous process with different phases. Though, once done right, enterprises have the potential to record great long-term performance, have greater customer centricity, and engage workers better.
This article will explore the concept of agile transformation, its benefits, and the steps to start your transformation journey.
What is agile transformation?
Agile transformation refers to the process of changing a company's nature based on agile principles. This involves an organization's mindset, processes, and culture shift.
This process goes beyond simply adopting agile methodologies in project management. Rather, it requires a holistic change across the firm's structure, from management to employees and their workflows.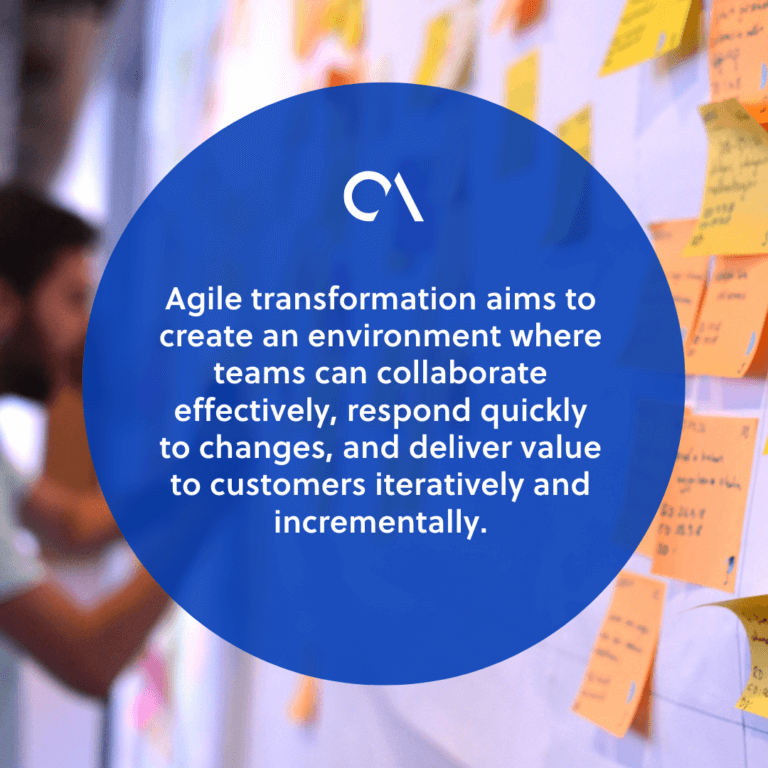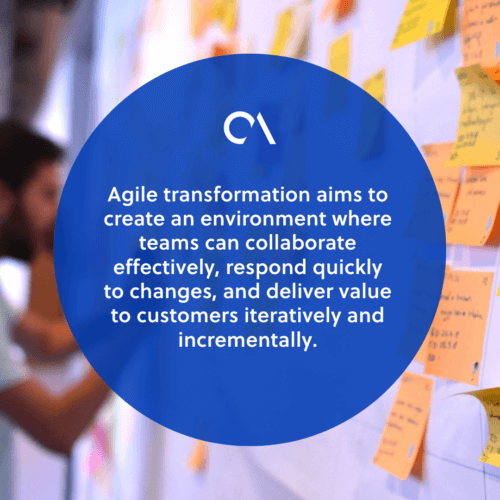 Agile transformation aims to create an environment where teams can collaborate effectively, respond quickly to changes, and deliver value to customers iteratively and incrementally.
It offers a framework that enables firms to become more flexible, collaborative, and responsive–three qualities they need as an agile company. 
Moreover, agile transformation also ensures that any organizational changes will stick.
Agile transformation vs. Agile adoption
While the two approaches are similar, they differ in how change is applied in a specific business.
Agile transformation encompasses a broader organizational change. Meanwhile, agile adoption focuses on implementing agile practices within specific teams or projects.
Agile adoption affects specific processes or workflows a team has. It involves converting to agile methodologies like Scrum or Kanban from other methods to improve how they deliver their outputs.
Meanwhile, agile transformation fosters agility across the entire company. It requires a cultural shift that includes reducing unnecessary bureaucracy and embracing flexibility and innovation.
How does agile transformation benefit your company?
Microsoft is a concrete example of an agile company. Breaking away from its bureaucratic nature, transforming into agile has allowed them to let its employees work freely according to the company vision.
In return, they learned how to delight their customers despite their unexpressed desires.
Agile transformation offers several benefits to organizational success, similar to how Microsoft does it. 
Let's explore some of these benefits:
Cross-team collaboration
Agile transformation promotes cross-team collaboration by breaking down silos and fostering communication among different departments. It encourages teams to work together, share knowledge, and leverage each other's expertise.
Shared company vision
One of the key aspects of agile transformation is the establishment of a shared company vision. By aligning everyone towards a common goal, organizations can ensure that every team and individual understands the strategic objectives and works towards achieving them.
This shared vision empowers teams to make decisions aligned with the company's goals.
Enhanced creativity and innovation
Agile transformation nurtures a culture of experimentation, creativity, and innovation. It encourages teams to take calculated risks, learn from failures, and continuously improve their processes.
By embracing agile principles, businesses allow their teams to adapt to changing market demands and stay ahead of the competition.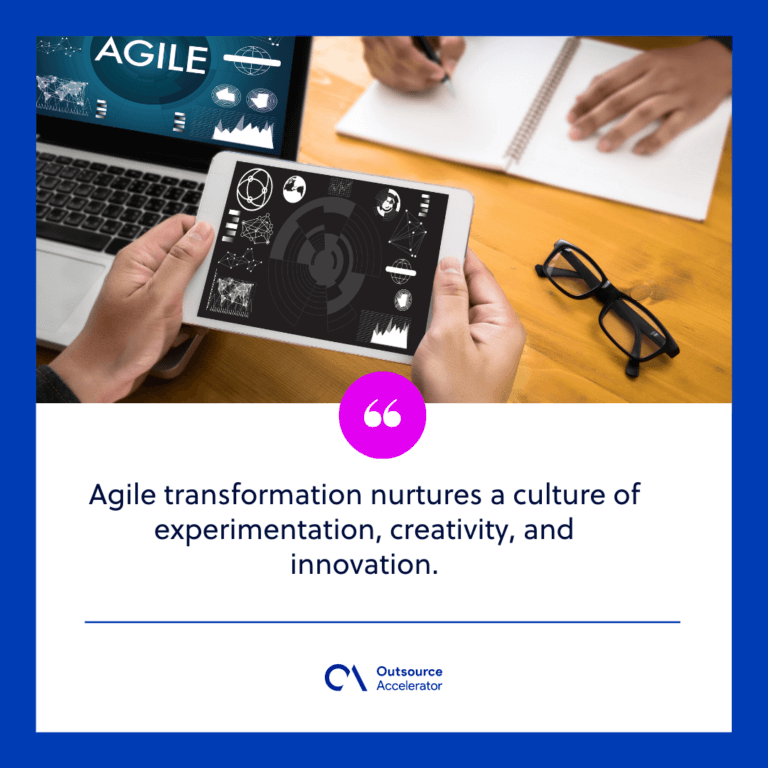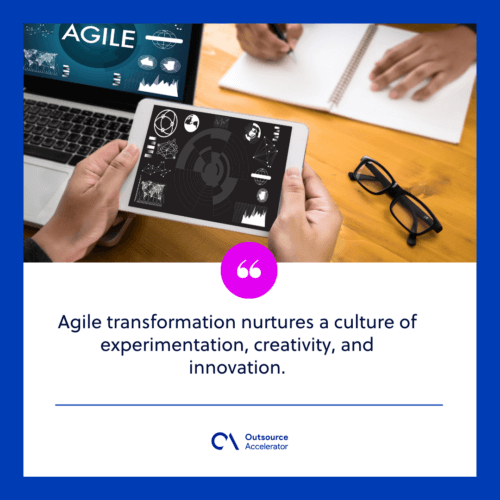 Higher investment returns
The agile transformation has the potential to yield higher investment returns by delivering value to customers faster.
The agile approach enables companies to release features without too much fuss. Instead of a rigid solution, their product can be enhanced by gathering feedback and adjusting their strategies based on market response.
Through this approach, businesses can increase their time-to-market and the likelihood of building products that truly meet customer needs.
5 steps to forming an agile transformation roadmap
To embark on an agile transformation journey, an organization should have a well-defined roadmap that outlines the steps and milestones they achieve.
Here are five steps in forming an agile transformation roadmap.
Step 1: Assess organizational readiness
Before initiating the transformation, assess the organization's readiness for change. Identify the strengths and weaknesses, cultural barriers, and potential risks that may impact the transformation process.
This assessment will provide insights into areas that require attention and help tailor the transformation roadmap accordingly.
Step 2: Define vision and goals
Establish a clear vision for the transformation and define measurable goals that align with the organization's strategic objectives.
Communicate this vision to everyone involved in the organization, ensuring they understand the purpose and outcomes of the transformation. The vision and goals act as guiding principles for the entire transformation journey.
Step 3: Build a cross-functional transformation team
Form a dedicated cross-functional transformation team with members from different departments. This team will drive the transformation, coordinate activities, and foster collaboration across different departments.
It is crucial to hire the right people to form a cross-functional team. Ensure the team has the necessary skills, authority, and resources to lead the transformation effectively.

Step 4: Implement agile practices
Introduce agile practices gradually, starting with pilot projects or teams. This approach allows for experimentation and learning while minimizing disruptions to ongoing operations.
Provide training and coaching to teams to help them understand and adopt agile principles, methodologies, and tools. Encourage teams to embrace iterative development, continuous feedback, and regular retrospectives to drive continuous improvement.
At the same time, it's best to conduct regular Agile maturity assessments to see how well the teams adapt to the method.
Step 5: Scale and sustain the transformation
As the transformation progresses, scale agile practices to other teams and departments. 
Establish communities of practice or centers of excellence to facilitate knowledge sharing and support across the organization.
Continuously monitor and evaluate the transformation's progress, make adjustments as necessary, and celebrate achievements to sustain momentum and engagement.