Global talent, local impact: Transform your accounting operations by outsourcing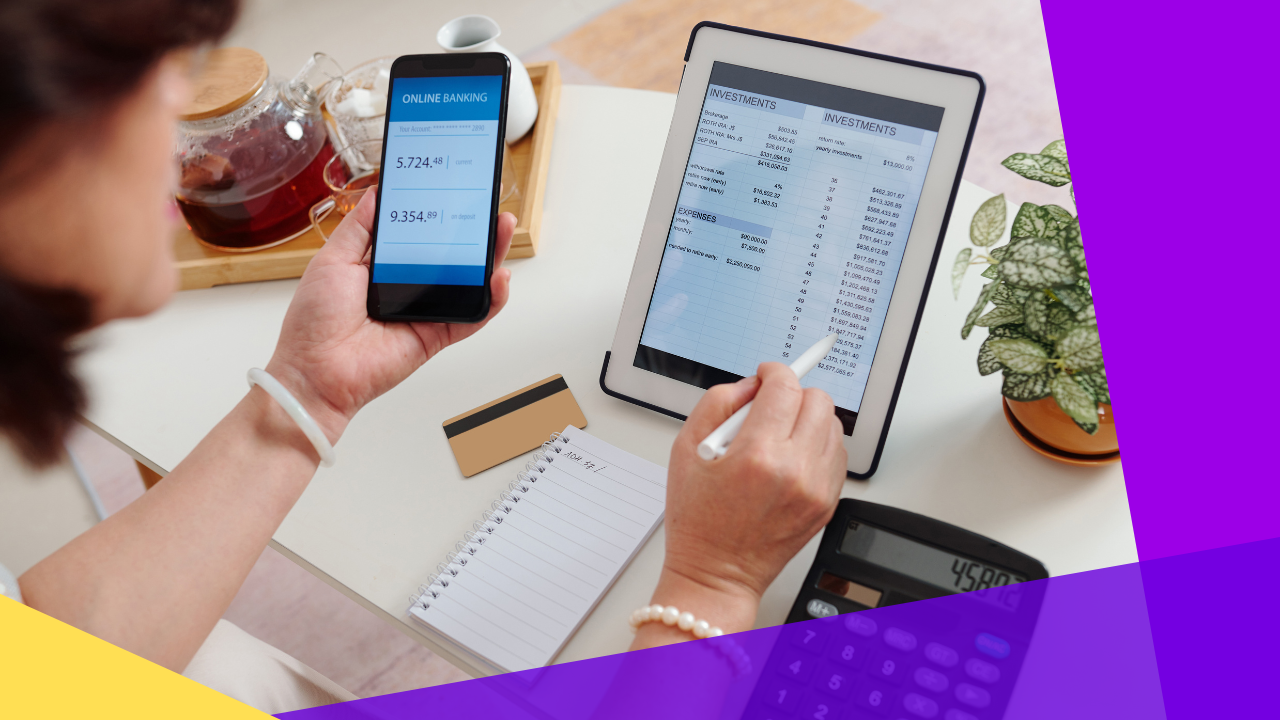 Physical constraints have become less of a challenge in today's business paradigm. Thanks to the rise of globalized labor, companies have a strong toolkit to tap into global talents. 
Aside from established enterprises, small and medium-sized firms can now offshore services to improve their processes. This applies to any business aspect possible, including accounting.
While companies have traditionally handled their accounting needs in-house, accounting outsourcing has been a rising trend for years. This helps them overcome the skills gap they experience from the limited local talent pool.
Moreover, outsourcing their services allows local communities to create jobs and improve their economies.
By partnering with trusted outsourcing providers like Emapta, businesses can leverage global talent to transform their accounting operations and achieve local impact.
How accounting outsourcing evolved
The concept of accounting outsourcing has evolved over the years, driven by the need for businesses to streamline their processes and reduce costs.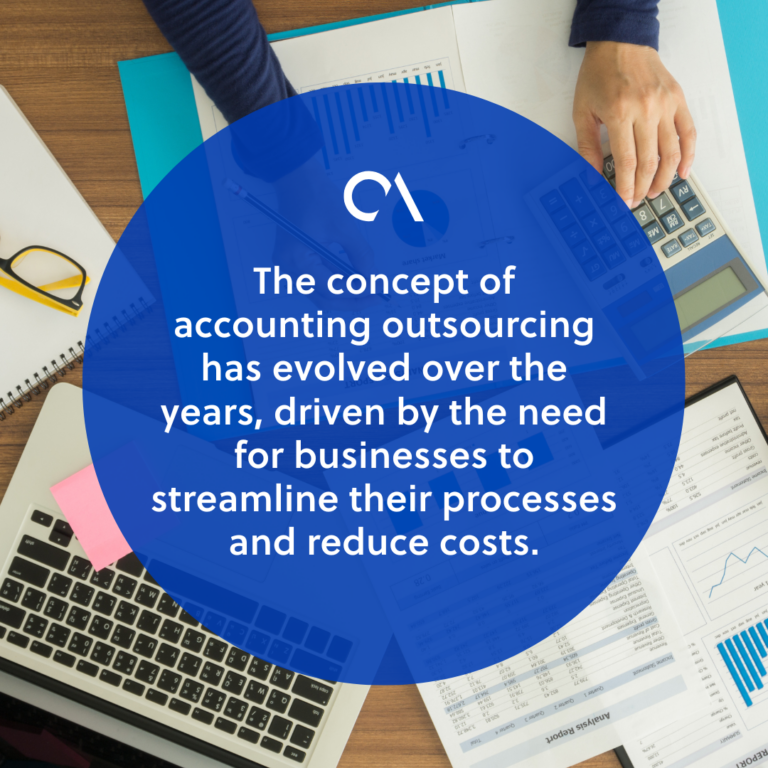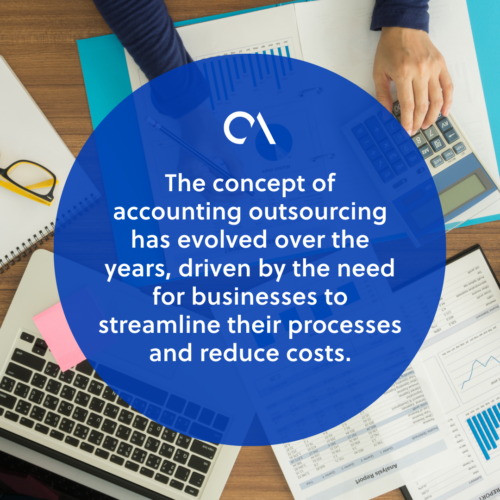 Previously, companies relied solely on in-house accountants to handle financial tasks. However, as technology advanced and the global market expanded, the demand for more efficient and cost-effective accounting solutions grew.
This led to the rise of accounting outsourcing providers who offered specialized services to handle various accounting processes remotely.
These providers have a team of highly skilled professionals who are well-versed in accounting practices and up-to-date with industry regulations.
Benefits of strategic accounting outsourcing:
Strategic accounting outsourcing greatly enhances a company's accounting operations and helps them improve the lives of local and global talents with better allocation.
Let's explore its other advantages:
Expertise in regulatory compliance
Adherence to data privacy, tax regulations, and other accounting-related compliances is paramount for legitimate businesses.
Accounting outsourcing providers understand international data privacy laws and global IT protocols. Moreover, they are well-versed in taxation in any country, as well as processing, and deadlines.
This expertise ensures organizations can file their paperwork on time, mitigating non-compliance risks and associated penalties.
Resource optimization
One of the reasons businesses opt to outsource accounting tasks is resource optimization. 
Outsourcing eliminates the need for additional in-house accountants, which can impact a growing company's finances. The cost of employee turnover when their work is done can further hurt their limited budget.
Outsourcing can significantly reduce operating expenses long-term and reallocate them to hiring higher-level roles locally.
Additionally, accounting outsourcing providers often offer flexible pricing models. This allows clients to pay for services according to their demands.
Access to global talent
Firms can access a vast global talent pool by outsourcing their accounting functions.
Through global talents, businesses can tap into specialized skills and expertise that may not be readily available within their local talent market.

Forming quality jobs
Outsourcing also gives firms the ability to invest in another destination by creating quality jobs for their local citizens.
In the Philippines, for instance, the outsourcing industry has been recognized as one of the drivers of the country's economic growth. It creates millions of jobs for Filipino workers, a good portion of them providing outsourcing accounting services.
Improved efficiency and accuracy
Outsourcing accounting to experts ensures that financial tasks are performed precisely and accurately.
These outsourcing providers have established processes and systems to streamline accounting operations, minimizing errors and inaccuracies.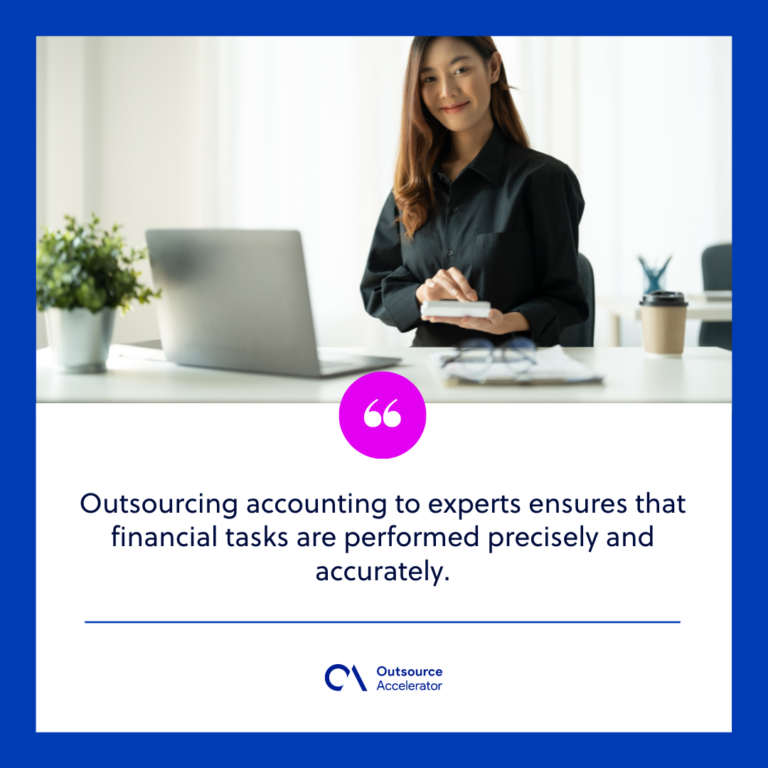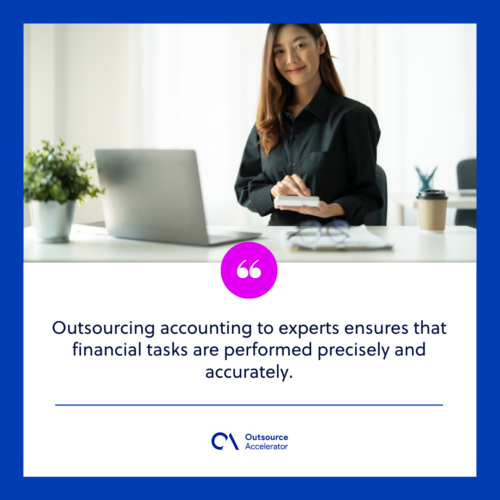 Emapta: Your partner in strategic accounting outsourcing
Emapta stands out as a leading provider in strategic accounting outsourcing. With a commitment to delivering enterprise-grade security and a team of experienced accounting professionals, Emapta offers top-notch services to businesses worldwide.
Its ability to meet strict compliance requirements and design mission-critical deployments provides peace of mind to businesses of all sizes.
By partnering with Emapta, companies can leverage Filipino talent, reduce costs, improve efficiency, and ensure compliance with accounting regulations.
Transform your accounting operations and achieve local impact by partnering with Emapta. Visit its website to get in touch.