Accent conversion technology set to revolutionize call centers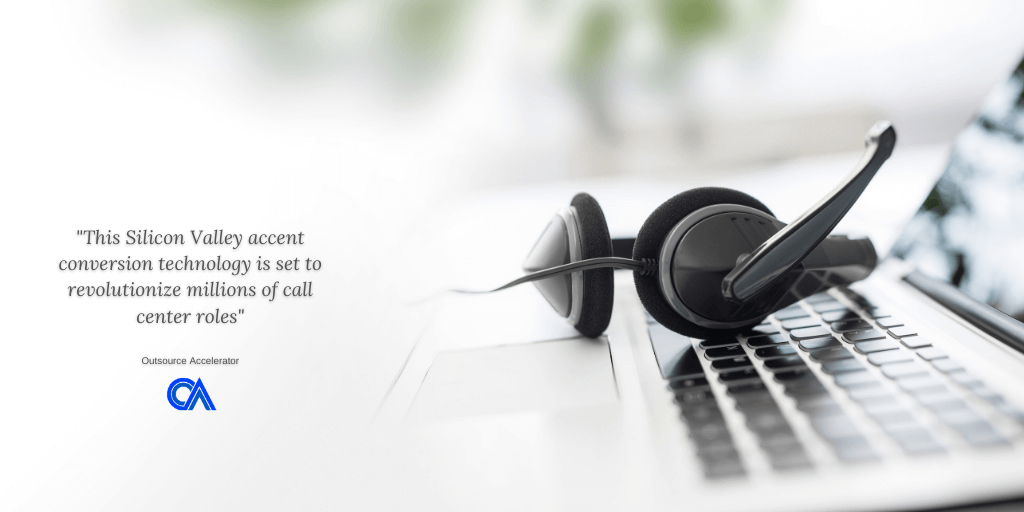 A Silicon Valley company, Sanas, has created an accent conversion technology that is set to revolutionise millions of Filipino and Indian call center jobs.
The software, requires no complex installation or hardware, can turn heavy Indian or Filipino accents into an American accent – and is activated with a simple on-off button. The technology works in real-time with zero audible lag and is compliant with all data security standards. 
The founders of Sanas.ai recently spun the company out of the Stanford Artificial Intelligence Lab (SAIL) and is funded by Village Global, which is itself is backed by technology luminaries such as Mark Zuckerberg, Jeff Bezos, and Bill Gates. Maxim Serebryakov, Sanas CEO, said that the technology "will add enormous value to call centers where 'accent matching' can effortlessly reduce communication friction and increase customer satisfaction".
>> Sanas podcast interview: Listen to the full interview with Sanas co-founder, Andrés Pérez Soderi.  Download (iTunes, Spotify, Stitcher) the Outsource Accelerator podcast (ep. 325) or access the episode and notes here.
While the area is still relatively new, Sanas has developed incredible proprietary technology, assisted by some of the leading minds in Silicon Valley audio and speech space, with a simple-to-use product that could absolutely revolutionize (in a positive way) millions of jobs across the global call centre industry.
What is an accent worth?
Sanas claims that accent mismatches can produce (or cost) over $37,000 of value annual per agent.  They calculate that the typical US-based agent costs $25/h compared to an Indian or Philippine call center agent at a typical price of $12/hr. While not all of the benefits could be attributed to just the accent, there is still a whopping difference of over $37,000 between the two options.  
US agent:

$25 per agent per hour

Offshore agent:

$12 per agent per hour (S.E. Asia)

Cost delta:

$37,440 per agent per year
If the accent mismatch – which is so commonly a red flag to weary customers – can be removed, then it opens up incredible opportunities to enhance customer interactions, increase CSAT (customer satisfaction) ratings whilst still utilising the more cost-effective resources.
The proof

is

the product
It's impossible to hide behind any fake results when it comes to accent conversion.  In the case of Sanas, the product definitely speaks for itself!
We got Sanas to share with us three quick recordings for you to listen to.  Let us know what you think…
Advantages of accent conversion
Sanas has shown that a matched accent can optimise a call center's deliverables in multiple ways.
Improve customer experience

Often, accent mismatches s cause customers to mistrust a representative, hang up or just be less happy with a call because they do not know where their query is being handled from.

Decrease average handling time

Increased understanding is shown to improve customer satisfaction and reduce overall call length.

Make your agents happy

Sanas allows agents to speak naturally, rather than trying to force an accent.

Have a competitive edge

American sounding agents for offshore/nearshore prices would be a first in the industry.

Use accents to your advantage

Working for a foreign company? Use an accent to match.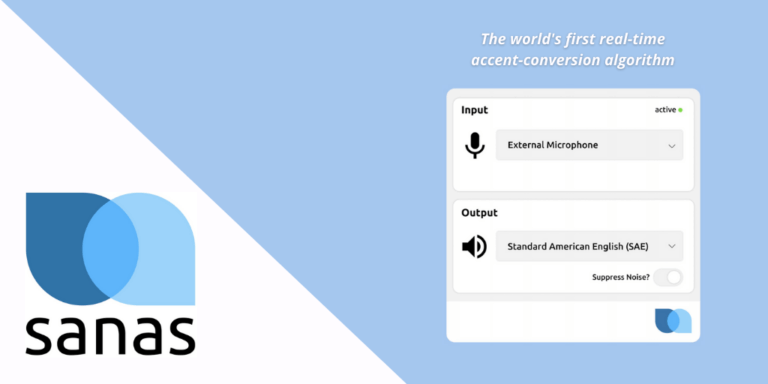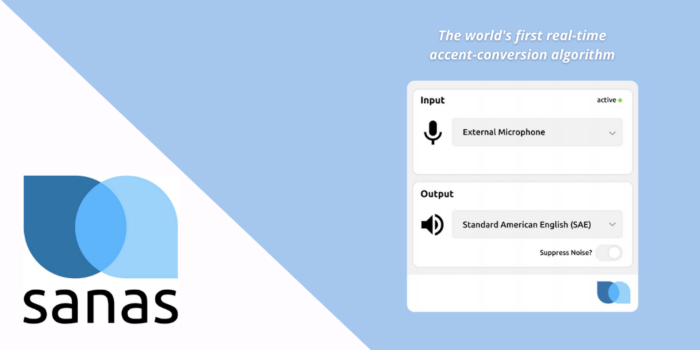 About Sanas
Sanas was founded by three Stanford students and spun out of the acclaimed Stanford Artificial Intelligence Lab (SAIL) with a mission to help the world understand and be understood, and an end goal of increasing job opportunities around the world and minimizing voice-based discrimination. 
The Sanas platform allows for accent conversion (for example, turning an Indian English accent to a Standard American English accent in real-time), resulting in radically enhanced understanding: over 40% increase in fluency. Sanas' real-time accent modulation solution is a world-first and has been developed in conjunction with the brightest minds in the audio tech space.
The next horizon of deployment for Sanas is focused on customer service centers, with a goal of increasing customer satisfaction and decreasing average-handling-time thanks to the elimination of mismatched accents.
Limited partner opportunity
Sanas is offering two BPOs (one in India and one in the Philippines) the opportunity to use their product for free. They are giving away 2 x 12-month trials, with zero tie-ins.  
They will be working in partnership with the just two successful call centers to publish co-branded case studies and white papers. 
If interested, reach out to Outsource Accelerator now to see if you qualify:
Email: [email protected] – Subject: SANAS