5 Effective sales edge of outsourcing telemarketing companies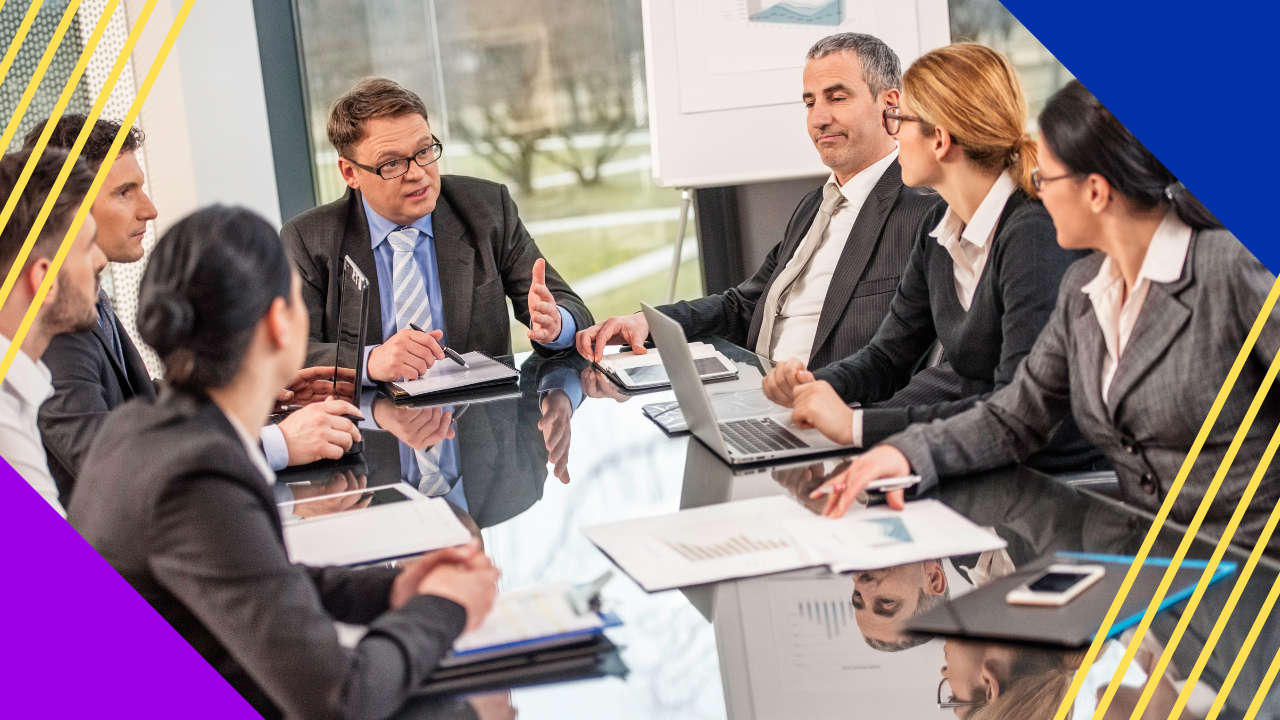 5 Effective sales edge of outsourcing telemarketing companies
The business environment was never as fierce as it is today. The challenge to retain existing customers alongside acquiring new ones requires the best efforts of the management team.
To increase market share, organizations adopt different strategies to reach out to the target segment. Amongst all the methodologies, telemarketing is known to be the most effective and result-oriented.
Telemarketing services ensure better communication with the customers and the personal nature of this approach is known to yield better results in comparison to any other available option.
Outsourcing telemarketing services is no longer a fad but a proven business strategy that yields better results. Years of experience and expertise of your outsourcing partner augment your marketing efforts like no other alternative can.
Let us explore the benefits that you can derive when you outsource telemarketing services.
Flexible outsource telemarketing solutions for small to medium companies
Did you know that more than 70% of business sales emerge out of activities that involve human interaction? Exactly, that is the power of telemarketing for you. Moreover, if you are a small or medium-scale enterprise, you will find telemarketing as the most useful source for leads and customer outreach.
Outsourcing call center telemarketing is a strategic decision with immense benefits. You can keep your regular customers informed about the product and individual updates and also reach out to the potential customer segment.  The cost-effective and result-oriented skills and experience of telemarketing agencies will leave you impressed when you go on to evaluate the results.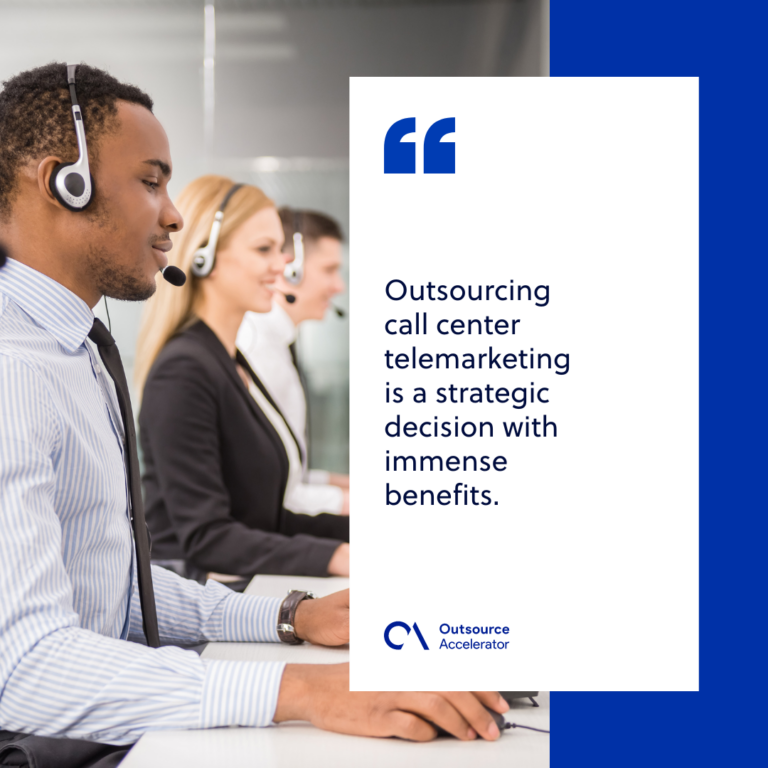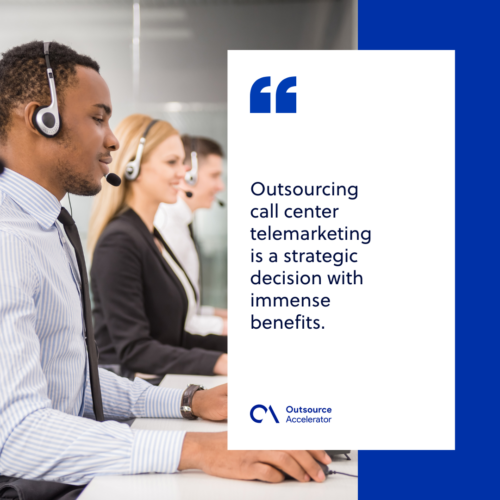 Tried and tested telemarketing services and strategies
You will be glad to learn that outsourcing telemarketing is the most effective strategy for growing your business and acquiring new customers. Your outsourcing partner will not experiment with ways and means of telemarketing; instead, those experts will implement strategies that are proven and deliver excellent results across industries.
They are apt at building effective telemarketing strategies that will help you leverage those hidden business avenues that were unnoticed for you till now.
Prepare yourself for business growth and new customers and clients that will add value to your business. Business growth through these means is sustainable and considerable in terms of revenue.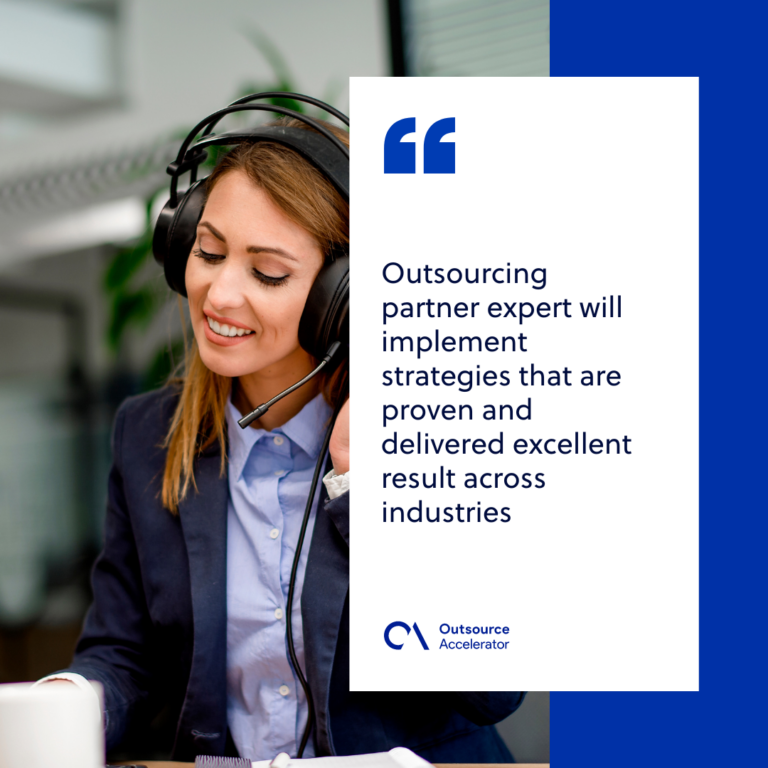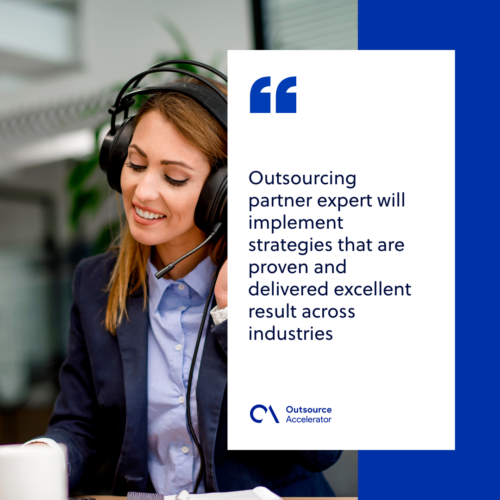 Telemarketing agencies utilize omnichannel technologies for quality leads
When you outsource telemarketing, you are benefiting from the expertise and experience of professionals that know how to identify and target high-value decision-makers.
The best feature of adopting omnichannel approaches and technologies is that you avail the benefits of 360-degree marketing wherein you exploit every possible source and an avenue for revenue generation.
Telemarketing agencies not only reduce telemarketing costs but also ensure that the strategy targets customer engagement, as well as the marketing campaigns, remain within specified budgets. Your outsourcing partners are well conversant with the latest technologies that deliver cost-effective results in omnichannel environments.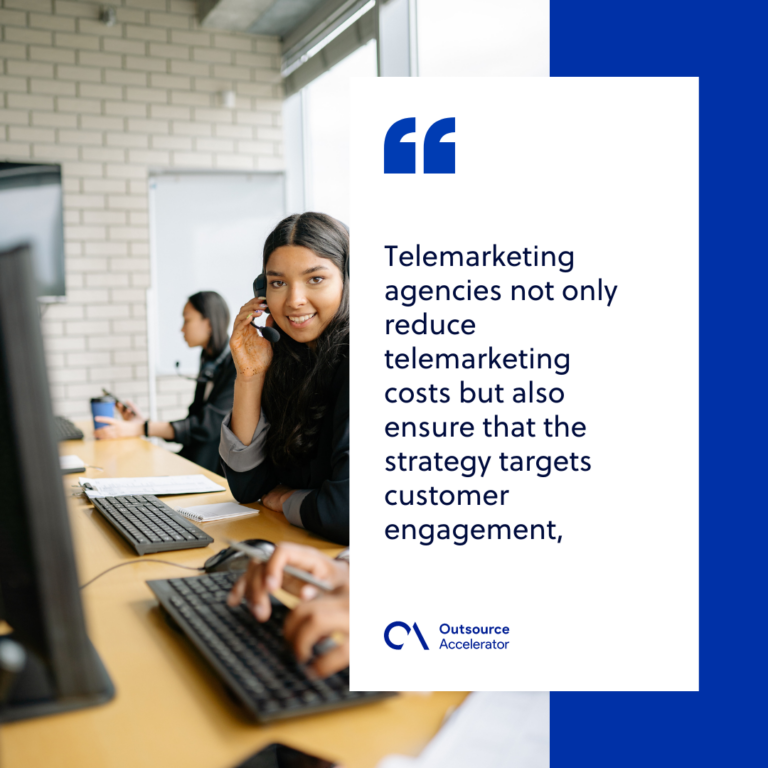 Efficient telemarketing costs by investing in experienced professionals
While outsourcing might seem to be the buzzword for many of us, however, call center telemarketing is a proven strategy for saving costs and extracting the maximum from almost every penny spent.
It is pertinent for us to understand that outsourcing does not merely mean letting a third party perform your business functions. It ideally refers to a strategic decision wherein you hire experienced professionals who have proven expertise by delivering value to customers across different parts of the world.
Therefore, when you outsource telemarketing, you are maximizing your business scalability alongside minimizing costs and increasing sales.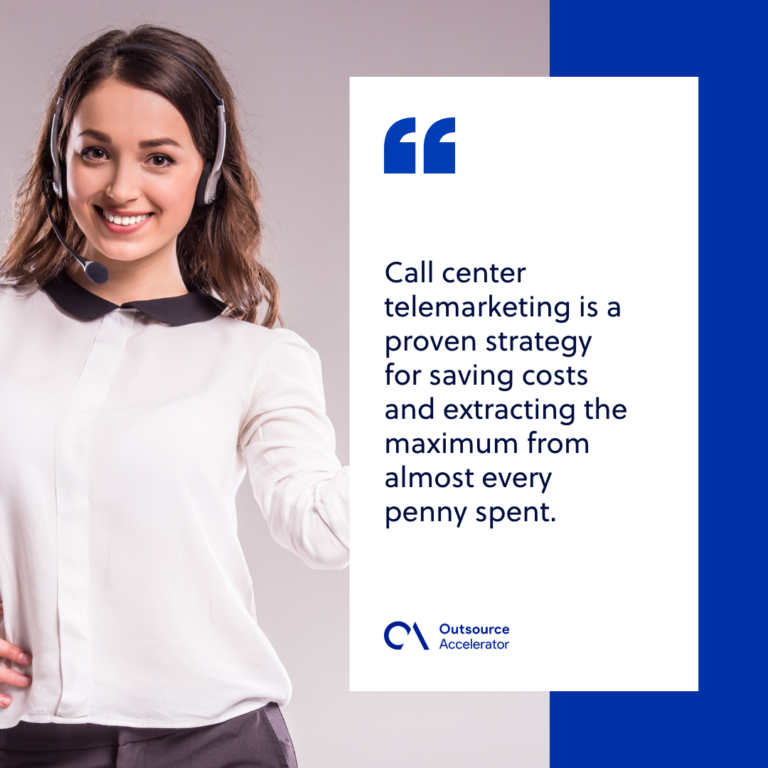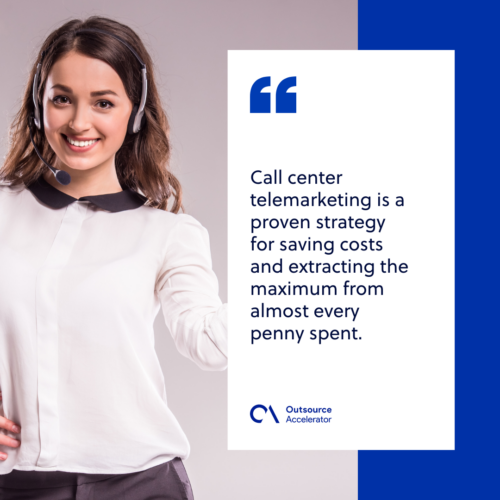 Get a dedicated call center telemarketing staff without the management hassle
It is the most significant reason why companies irrespective of their size and target market segment prefer to outsource their call center telemarketing function. You avail the competence and experience of the qualified workforce that excels in telemarketing.
Outsourcing makes you remain focused on your core management role while your outsourcing partner does the rest for you. Right from generating sales leads to the setting of appointments and market research-related activities, you can rely on all of these telemarketing agencies.
To summarize,  you need to consider outsourcing for your business to be able to grow and acquire more customers.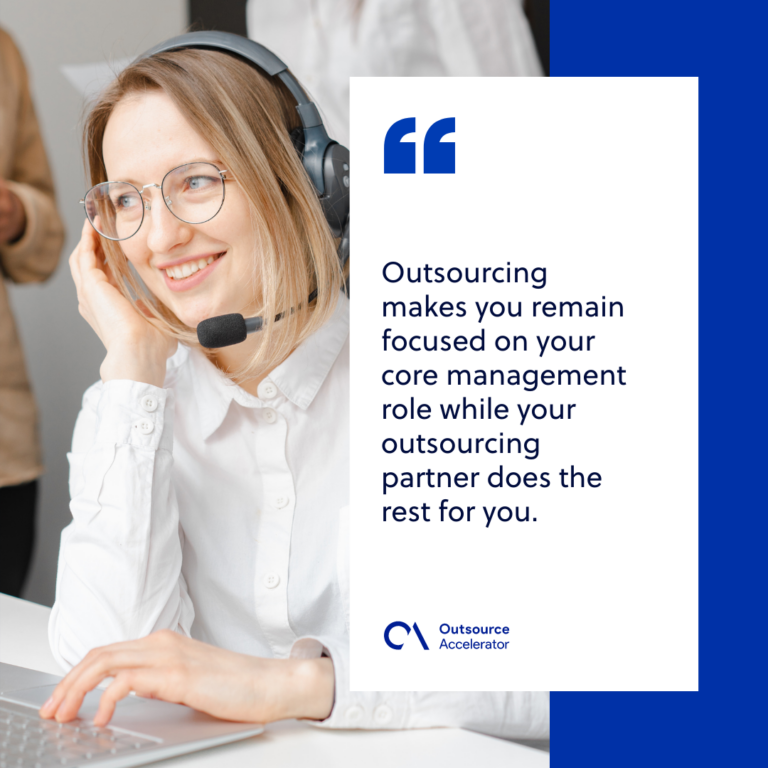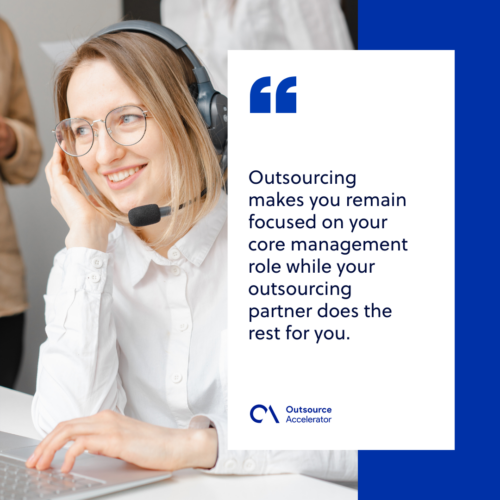 Things to consider when outsourcing telemarketing
There are various reasons to consider outsourcing telemarketing for your business. 
Flexibility and service scalability
If your company is quickly expanding, outsourcing telemarketing could be a good method to bring extra hands on deck in a responsible way. It's possible that your provider already has the infrastructure and highly trained personnel in place to deliver excellent customer service.
However, you may be concerned about your provider's capacity to grow with you. Your capacity to serve your clients on your own has already been exceeded.
Before you sign the contract, learn about flexibility and service scalability. A genuinely outstanding supplier will be able to assist you to handle any circumstance, whether it's growth or cutting back.
Technology
One of the main reasons companies outsource telemarketing services is to obtain access to cutting-edge call center technology. Outsourcing call centers telemarketing can be a cost-effective alternative for organizations to provide better customer service.
Inquire about the technology used by any possible provider. Some suppliers will keep up with technological advances, while others may lag behind.
Those that use outdated technology may be able to provide lower pricing, but it will come at a significant cost in terms of customer service.
If you want an outsourcing partner that can give you access to leading technology at a competitive price, consider outsourcing through Booth and Partners.