Why outsourcing is a win-win solution: white paper
Last updated: October 4, 2021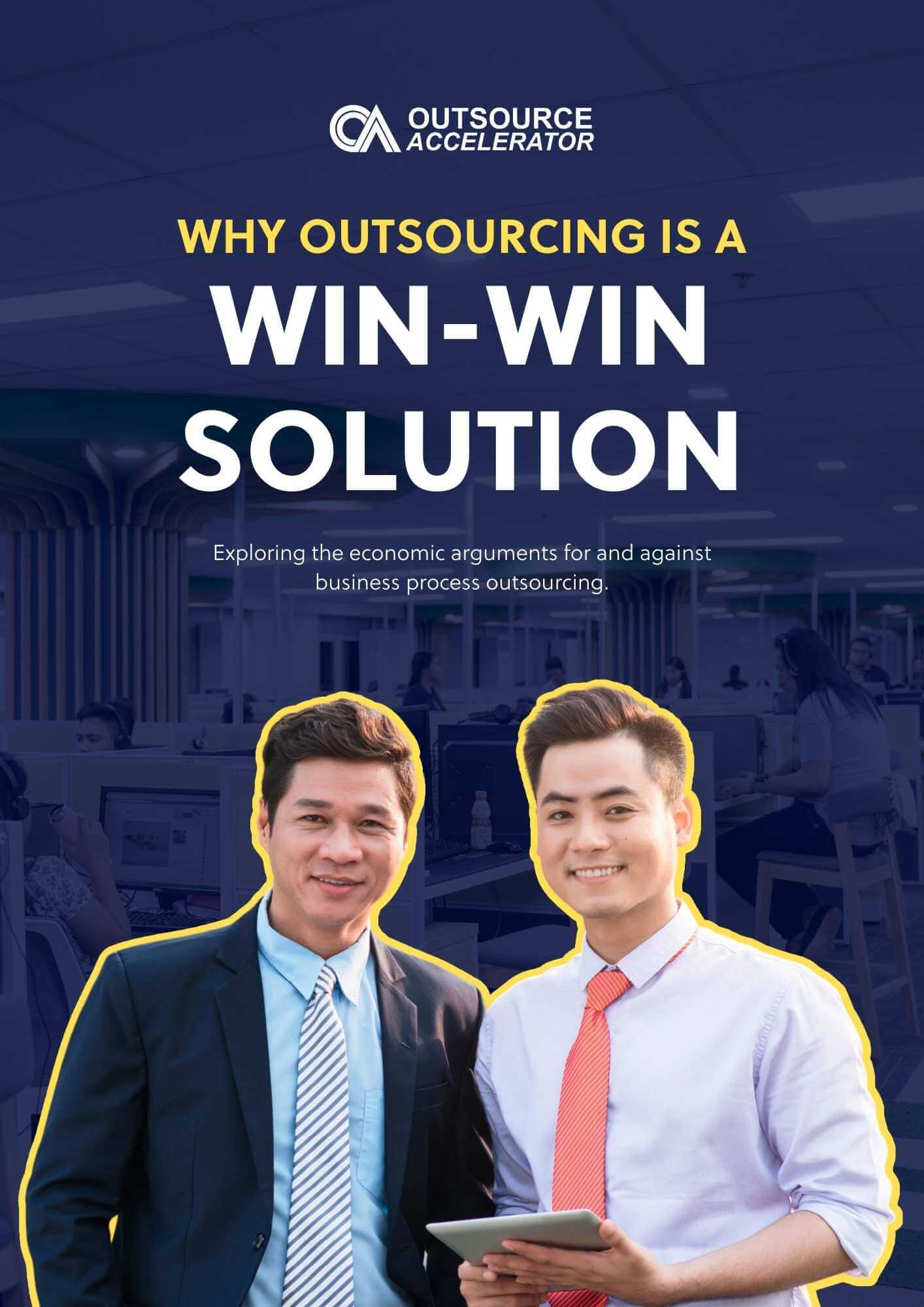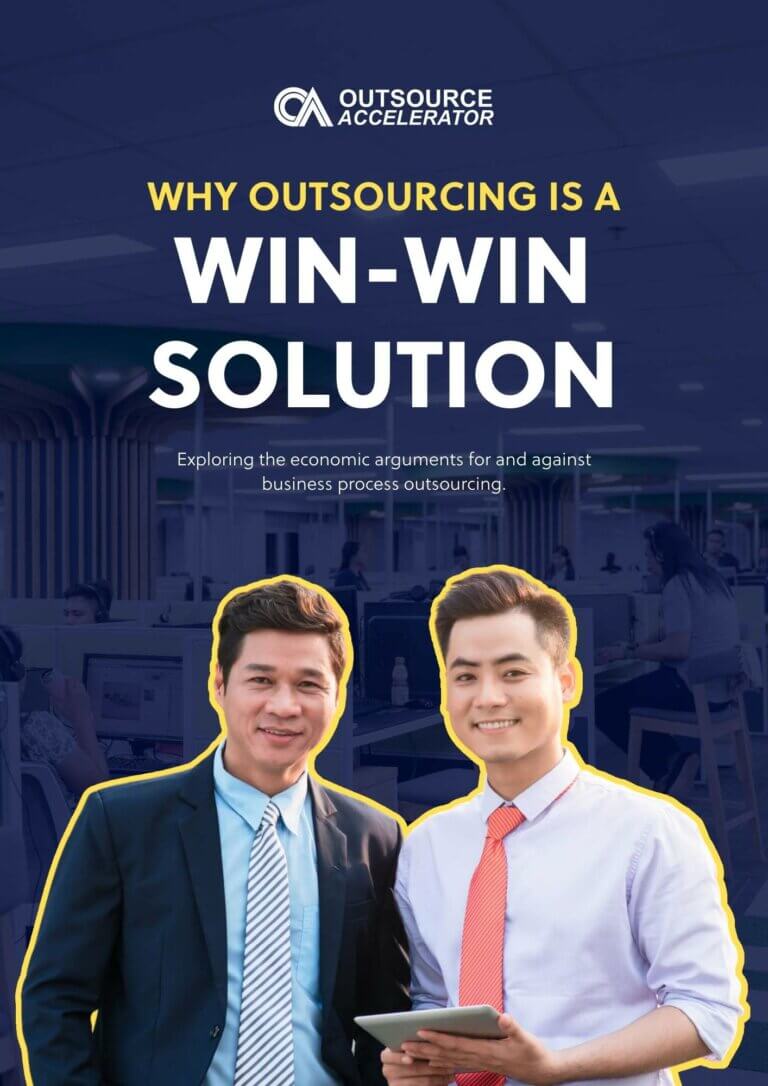 Get the easy-read PDF version to your inbox now
At this time, it can behoove businesses to consider just where outsourcing is increasing and what places are specializing in services that could impact your business. For instance, it was reported just last month that "Ukraine is the UK's offshoring destination of the year according to the Global Sourcing Association (GSA) UK." Ukraine is attempting to fulfill much of Europe's need for IT sector workers. The nation is working through regulatory issues and striving to provide its young workforce with relevant education in order to obtain these jobs. But depending on your business's specific needs, there may well be an ideal location in the Philippines or South Africa, for example, to best meet your company's needs.
Some form of globalization is surely knocking at your company's door. Whether or not your business chooses to investigate how outsourcing could enhance its operation is something all businesses will need to contend with. However, if you have been on the fence about contracting with another business to outsource some of your operations, it's important for you to keep the potent takeaways outlined in this paper in mind. They can help you decide if outsourcing is a viable option for you and how to avoid some of the obstacles that other companies faced in their transition process. By planning carefully and acknowledging the win-win that may be in store for your business, you can move your company forward in order to take advantage of the many benefits associated with outsourcing and offshoring.
Bibliography and references
Chron
The Advantages of Outsourcing Benefits
http://smallbusiness.chron.com/advantages-outsourcing-benefits-17806.html
CNN Money
The Case for Outsourcing Jobs
http://money.cnn.com/2012/09/14/news/economy/outsourcing-jobs/index.html
Deccan Chronicle
How Outsourcing Jobs Affects the US Economy
https://www.deccanchronicle.com/technology/in-other-news/291117/how-outsourcing-jobs-affects-the-us-economy.html
Dhaka Tribune
Why Do Some People Oppose Globalisation?
http://www.dhakatribune.com/business/2018/02/05/people-oppose-globalization/
Emerging Europe
GSA Names Ukraine as UK's Offshoring Destination of the Year
http://emerging-europe.com/in-brief/gsa-names-ukraine-uks-offshoring-destination-year/
Financial Times
The Collapse of Carillion is Not an Argument to End Outsourcing"
https://www.ft.com/content/3ef53b22-fc47-11e7-9bfc-052cbba03425
Forbes
The Pros and Cons of Outsourcing and the Effect on Company Culture
https://www.forbes.com/forbes/welcome/?toURL=https://www.forbes.com/sites/deeppatel/2017/07/17/the-pros-and-cons-of-outsourcing-and-the-effect-on-company-culture/&refURL=https://www.google.com/&referrer=https://www.google.com/
What Is Offshoring, What is Outsourcing and Are They Different?
https://www.forbes.com/sites/jwebb/2017/07/28/what-is-offshoring-what-is-outsourcing-are-they-different/#3d6212772a2e
Global English
Business English Index
http://static.globalenglish.com/files/case_studies/GlobEng_BEIreport%202013_EN_A4_FINAL.pdf
Global Trade Magazine
Outsourcing Destination: The Philippines
http://www.globaltrademag.com/global-trade-daily/outsourcing-destination-philippines
The Guardian
Robots Will Take Our Jobs. We Better Plan Now before It's Too Late
https://www.theguardian.com/commentisfree/2018/feb/01/robots-take-our-jobs-amazon-go-seattle
Huffington Post
https://www.huffingtonpost.com/larry-alton/how-american-businesses-a_b_7034164.html
The HR Director
Study Finds No Evidence that Offshoring Destroys Jobs
https://www.thehrdirector.com/business-news/globalisation/study-evidence-offshoring-destroys-jobs/
The Independent
Donald Trump's 'Made in America' Week Marred by Criticism of Company's Overseas Manufacturing Deals"
http://www.independent.co.uk/news/world/americas/donald-trump-made-in-america-week-overseas-manufacturing-products-outsourcing-a7844651.html
KPMG
State of the Outsourcing, Shared Services, and Operations Industry 2017
http://www.kpmg-institutes.com/content/dam/kpmg/sharedservicesoutsourcinginstitute/pdf/2017/business-operations-2017-hfs.pdf
LA Times
The Philippines Has Become the Call Center Capital of the World
http://www.latimes.com/business/la-fi-philippines-economy-20150202-story.html
Leverhulme Center
Offshoring and the UK Economy
http://www.nottingham.ac.uk/gep/documents/reports/gep-offshoring-report-06-08.pdf
NASA Glen Research Center
Outsourcing Decision Report: A Survey of Benefits, Risks, and Decision Factors
http://ankara.lti.cs.cmu.edu/11780/sites/default/files/Outsourcing-Survey.pdf
New York Times
The Benefits of Outsourcing for Small Businesses
http://www.nytimes.com/allbusiness/AB5221523_primary.html
National Public Radio (NPR)
Papa John's CEO Steps Down Following Controversial Remarks on NFL
https://www.npr.org/sections/thetwo-way/2017/12/22/572779230/papa-johns-ceo-steps-down-following-controversial-remarks-on-nfl
Philippine Software Industry Association
The Advantages of Outsourcing to The Philippines
Reason Foundation
Offshoring and Public Fear: Assessing the Real Threat to Jobs
https://reason.org/wp-content/uploads/files/4275b89640247336408d391422ad2c9a.pdf
SANS Institute
Offshore Outsourcing and Information Confidentiality
https://www.sans.org/reading-room/whitepapers/legal/offshore-outsourcing-information-confidentiality-1438
Shropshire Star
British Jobs to Be Sent Offshore and Automated after Brexit, Study Suggests
https://www.shropshirestar.com/news/uk-news/2017/09/12/british-jobs-to-be-sent-offshore-and-automated-after-brexit-study-suggests/
Small Business Trends
20 Advantages and Disadvantages of Outsourcing from Your Small Business
https://smallbiztrends.com/2017/02/advantages-and-disadvantages-of-outsourcing.html
Supply and Chain Quarterly
The 10 Hidden Costs of Outsourcing
http://www.supplychainquarterly.com/topics/Strategy/20130621-the-10-hidden-costs-of-outsourcing/
Washington Post
Outsourcing's Net Effect on US Jobs Still an Open-Ended Question
https://www.washingtonpost.com/business/economy/outsourcings-net-effect-on-us-jobs-still-an-open-ended-question/2012/07/01/gJQAs1szGW_story.html?utm_term=.33d9096ce7a4
World Bank
Complexities of Reputation Management and Policy Making in a Globalized World: Bangladesh after Rana Plaza
https://blogs.worldbank.org/category/tags/outsourcing