The $600bn outsourcing service-marketplace
Last updated: October 4, 2021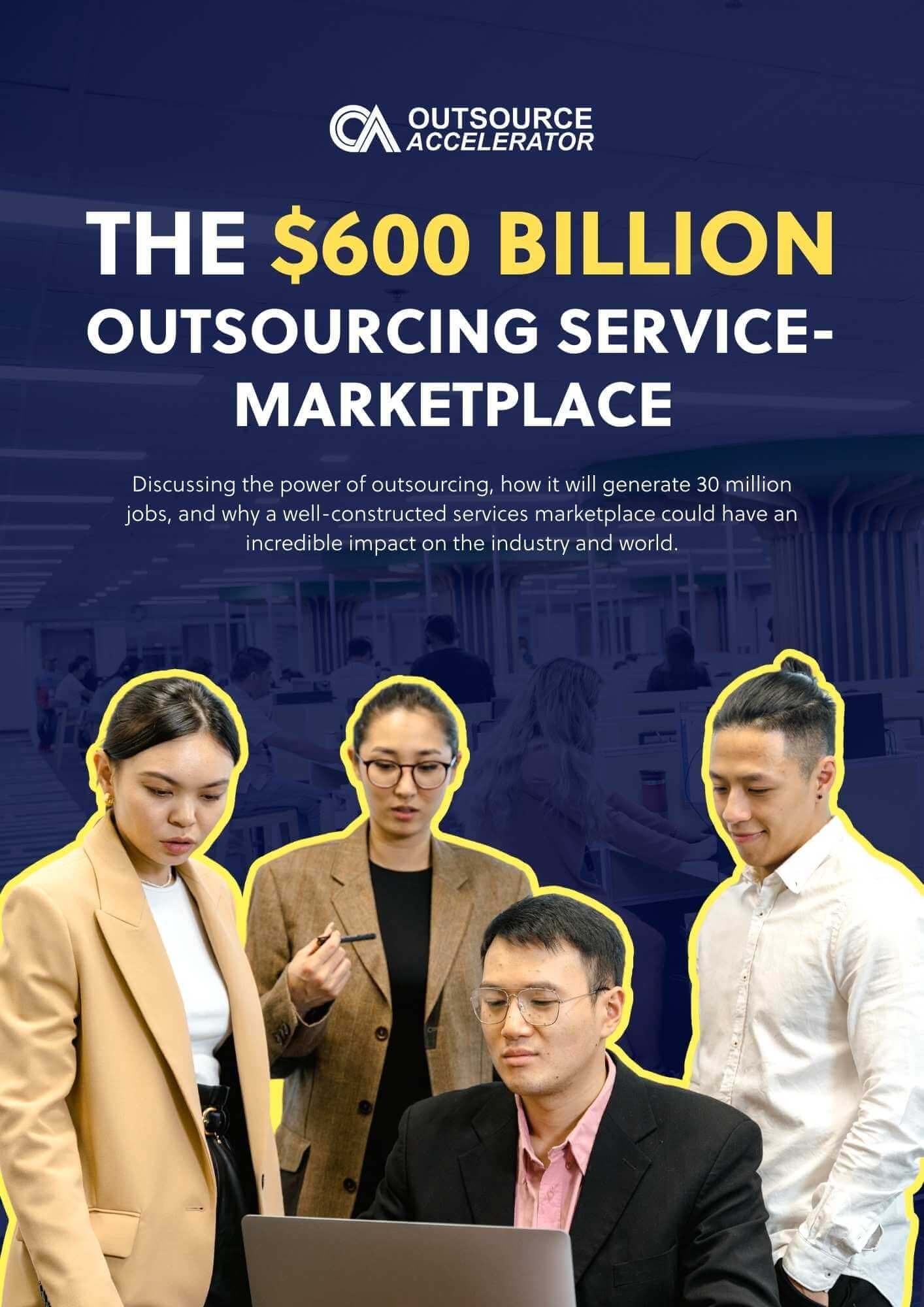 As globalisation, remote work and outsourcing become more normalised, then the outsourced workforce will expand from the current 4 million people to 34 million people.
Outsourcing is not new.  The benefits have been successfully proven for 25 years, by its continued adoption from the world's big corporations.  Yet, adoption rates are low amongst the SMEs.  I believe that this is simply because there isn't a proper marketplace in existence – until now – that helps catalyse the growth.  Without proper education, awareness, and curation – growth could remain low. However, with these things in place, growth could become exponential.
In that respect, it is the role of this managed marketplace to actually create the market demand, not just make it easier.  Some marketplaces just make transacting easier – whereas some marketplaces actually create the market. 
To refer back to the Uber example, there have always been taxis.  But Uber made the experience infinitely easier, and potentially cheaper. So much so that Uber has catalysed a major shift away from car ownership, to 'shared usage'.  Taxis alone didn't cause this shift, it was an efficient easy marketplace for taxis that created this.
Not creating a new market (that's hard), just heralding next phase
It can be perilous if you try to enter a market too early.  There are many examples of premature entrants losing their shirt.  They say the pioneers are the ones with the arrows in their back.
With outsourcing, the opportunity looks bright.  Outsourcing has existed and flourished for the last 25 years – and is heavily (95%) used by big corporations.  Equally, there are many thousands of SMEs that currently successfully outsource, which is just a drop in a bucket, but at least it is a successfully proven model.  
The recent $250m investment by Blackstone into TaskUs – showed the world that 'smart money' was investing in the outsourcing sector.
So the 'product' is not new, it has decades of proven efficacy.
In terms of building a marketplace representing a niche sector, this is nothing new.  There are marketplaces representing almost every sector by now – from hotels to flights, to insurance, to banking, software, housing, and employment, business services and personal finance.  As mentioned above, consumers and SMEs now almost expect, by default, to research and shop via online aggregators, comparison sites and marketplaces. 
So marketplaces are certainly not new.
What I find most surprising is that there hasn't yet been an outsourcing marketplace – it is about the only industry left that doesn't yet have one.
So Outsource Accelerator is taking the established outsourcing industry and is applying a proven marketplace approach to promote and propagate it.
Good support from outsourcing suppliers
For a marketplace to succeed, participation needs to be a win-win for both sides of the market.
Outsourcing suppliers are fragmented. They are based in a developing country very far from the consumer. They have a lot of friction in terms of distrust, because they are a long way away, have a different culture, and are based in a developing country.
Also, despite being in the IT-BPM (IT & Business Process Management) industry, outsourcing suppliers are, unfortunately, generally highly unsophisticated in terms of their website, online presence, content, digital marketing and sales processes.
The industry suffers from a lack of general promotion of outsourcing to the SMEs and the West.  Prospective customers generally don't know, or misunderstand, what outsourcing is.   If anything, the industry is marred by the customers' vague awareness of Upwork – which is really a disappointing misrepresentation of outsourcing. Some people explore and try Upwork outsourcing, but then give up after a while and resolve that 'outsourcing' generally is ineffective and unreliable.
These are all huge hurdles for individual outsourcing suppliers to overcome.  This is where a combined marketplace approach, offering 'strength in numbers', provides significant value to the individual players.

There are many similar comparisons between this and the hotel sector.   Small hotels in far-flung locations do not have the marketing budget or know-how to get their name 'out there'.  Equally, customers trust researching and buying from Booking.com more than directly from the small far-flung hotels. As a result, the hotels get great value from the 'aggregated' power of the online hotel marketplaces such as Booking.com.  And as a result, Booking.com has done extremely well.
No independent information for consumers
If people do research online for 'outsourcing' there is virtually zero independent information on the topic. Which is at odds with the fact that the topic is relatively esoteric, high value and complex.  
Again, this is probably the only sector in the world where there is no independent source of information and no aggregator. Outsourcing direly needs the educational 'stepping stones', due to the friction, misunderstanding and the fact that the suppliers and customers are in different countries.
All these factors, again, contribute to low uptake and low adoption by SME customers, and a firm justification for an outsourcing marketplace.
No industry support (in distribution)
The iBPAP (IT & Business Processing Association of the Philippines) is the official association representing the Philippine outsourcing industry.  Since outsourcing is the single biggest contributor to the Philippine economy, it is a highly powerful, respected and engaged association.  However, this body has demonstrated little interest in representing the small high-growth SME outsourcing sector. iBPAP had grown up in service to the 'big boys' and they simply can't see the opportunity in the 'smaller masses'.
As an organisation representing the national interests of the IT outsourcing industry, they have a woeful website. They have intentions to improve it, but it's too little too late.  If you want to inquire about outsourcing suppliers, they offer and outdated downloadable excel spreadsheet.
The outsourcing trade associations are very well-meaning, but they are generally 'internally facing'.  Generally traded associations the world overlook internally to their industry and concern themselves with things like regulation, standards, lobbying, and membership.  Very rarely do these associations concern themselves with addressing the industry's customer-facing needs: education, promotion, outreach, nurturing and funnels.
Examples of this can be seen with the world's old taxi and hotel associations.  These have all been made virtually irrelevant by the consumer-facing solutions of Booking.com and Uber etc.
A win-win for suppliers
These things demonstrate that the individual players within the market are in need of the services that an aggregated marketplace provides.  There is not only the prospect of making more sales, easier but the fact that a well-formed outsourcing marketplace can catalyse a further 30 million jobs – is an alluring prospect.
Other considerations
Regulated services marketplaces
They say there are strong oats and protective barriers if you manage to create a marketplace in regulated industries.  There is no such regulation, to speak of in outsourcing – but there are plenty of existing barriers in terms of complexity.  So I would consider an outsourcing marketplace as strategically strong as one within a regulated space.
Genuine expertise
Outsource Accelerator is truly an expert in outsourcing.  This is not a platform built by techies, who recently swooped into an industry.  The fact that the founder, Derek Gallimore, and the company is built around genuine knowledge and authority gives the platform extra credibility with both the customers and suppliers.
AI and automation
There is much talk of the outsourcing sector being decimated by AI and automation.  This truly is a concern for the bigger end of town, but it won't really touch the SME market.  
For the big clients, when you have 1000 people in a room doing the same process, then this is ripe for automation.  And this is, in fact, happening now. This is why big outsourcing suppliers are concerned.


However, the next wave of outsourcing deals with SMEs – and they have very variable dynamic needs.  The operations, processes and roles of SMEs are continually in flux and evolving. No part of SMEs operations are set in stone, and everything can, and usually does, change from one quarter to the next.  So SMEs are far more immune the threat of AI and automation (as explained in this article), as it's very hard to automate things that don't have the scale and are changing all the time. Thus, there is even more reason for the industry to support, and expect big things from SME outsourcing.
The below chart illustrates the industries move away from low skill, high-repetition roles towards higher-value 'digital' functions.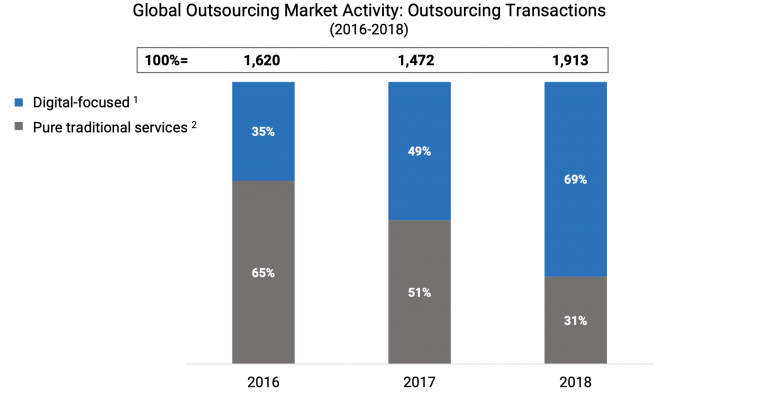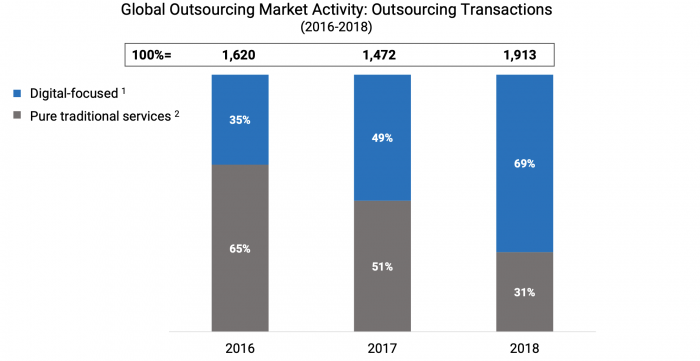 In summary
The internet, its technological interfaces, and the shift towards intellectual and computer-based work mean that globalisation of the employment landscape is having dramatic and sweeping effects.
The world is quickly becoming one grand marketplace instead of numerous fragmented ones.  As the markets merge, the opportunity to access cheaper salaries becomes increasingly apparent.
Outsourcing has been happening for 25 years now, but SMEs – who have been locked out until recently – have been slow on the uptake.  This is all about to change.  There are potentially 30 million more jobs to be outsourced over the coming 15-20 years, worth over $600bn.
Outsourcing is in effect, the means to which the SMEs of the world access more affordable human resources.
Until now, there has been no outsourcing marketplace, and this is desperately needed.  Service-based marketplaces are more complex, due to the nature of the services that they represent.  However, a well-conceived marketplace can serve to simplify the complexity of the services, and thus add value to the consumer, which can lead to significantly increasing consumption.
The outsourcing suppliers are disaggregated and are in need of an aggregated, sophisticated approach to marketing and promotion of their sector to the world market.
These factors are combing to create a perfect opportunity, which is a win-win for all market participants.
Outsourcing can, and will, dramatically change the way that employment and business are done. Outsource Accelerator is excited about making the marketplace that will make this happen.