Startup Founder to Outsourcing – with NeoWork CEO Joshua Eidelman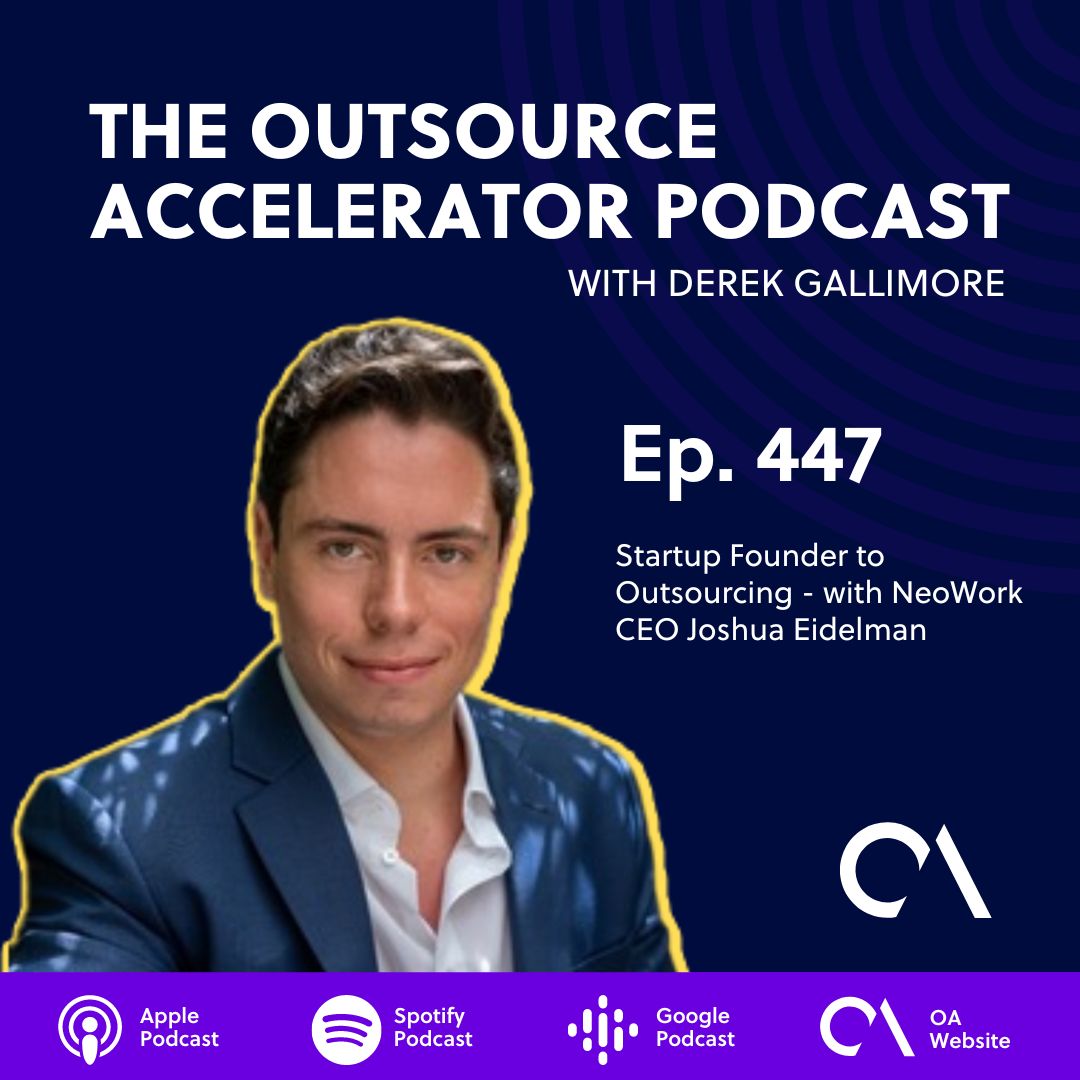 NeoWork
In this episode, Derek speaks with Joshua Eidelman, co-founder and CEO of NeoWork. The company provides outsourcing solutions for operations and animation.
They discuss how Joshua got into outsourcing, fostering a good workplace environment, outsourcing in the Philippines vs. Colombia, and NeoWork's future plans.
Joshua's outsourcing journey
Joshua shares that he grew up in an entrepreneurial family. He first worked at and founded tech startups in Silicon Valley and Colombia. Eventually, he was exposed to outsourcing.
At Bird, an electric scooter startup, the NeoWork founder helped set up their offshore operations team in the Philippines in 2018.
"I [actually] went over to the Philippines and got exposed to the whole BPO industry over there… and some of the best practices and things to look out for when partnering with other BPOs."
Joshua described outsourcing then as "a trial by fire". It was due to overvaluations being unavoidable at that time in the startup industry, no matter the cost.
He says running through with the team and going through many iterations counted as great exposure to outsourcing.
Following many years of learning experience in offshoring, the CEO then started NeoWork, an outsourcing firm based in Colombia. 
Now, his agency offshores from the Philippines as well. He says they mainly focus on helping startups scale their operations. 
"We primarily partner with high-growth companies. And the main difference between us and other BPOs is we really get involved in the weeds of setting up our partner client's operations for scale." 
Fostering a good work culture
On the topic of work culture, Joshua comments. "It's something that's still [on the] top of [my] mind… for us to keep our startup culture as we get bigger and keep our culture of prioritizing mental health." 
He explains the reason why it's important to have a healthy work environment.
"Employee retention is one of the most important KPIs we [track] at NeoWork. That's the stat I'm most proud of… we're at 92% employee retention rate. Whereas the industry average for the Philippines is around 60%."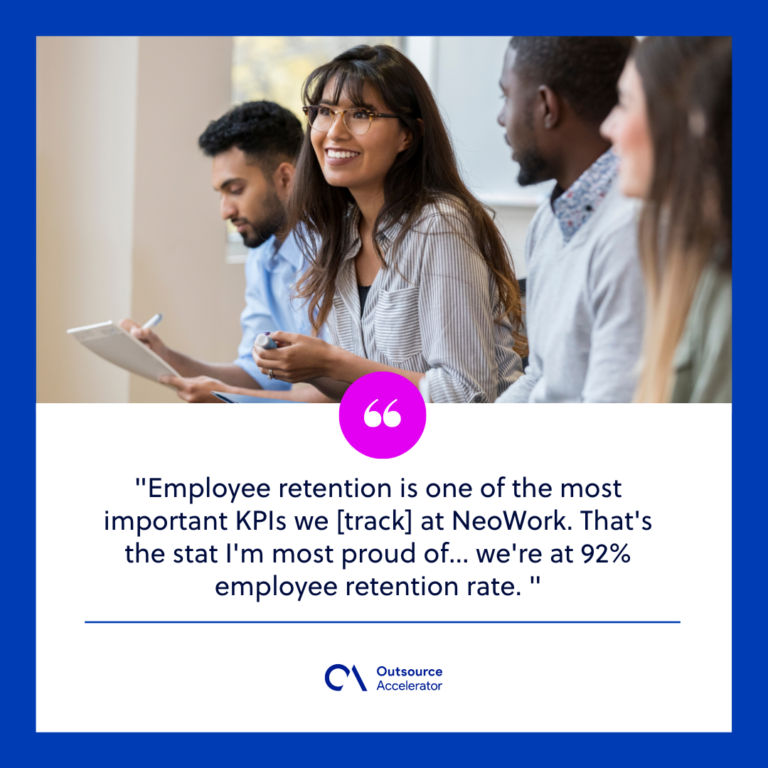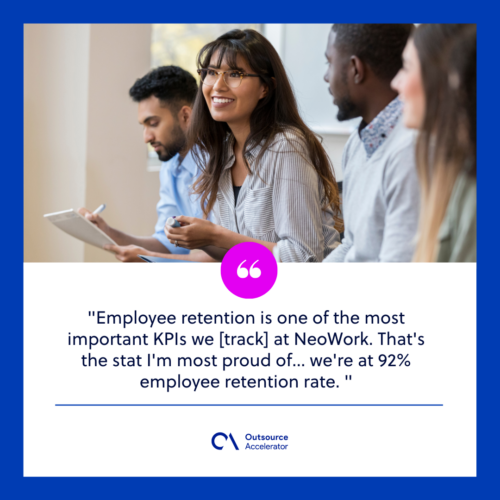 To foster a good work culture, the CEO shares they hold in-person events and engagement activities for team building and leadership development. 
"Keeping an in-person element is super important, especially for smaller accounts where [remote workers] are not working in a big team. Loneliness can creep in if they're just working remotely all the time."
Joshua emphasized another importance of company culture, commenting: 
"Something that constantly surprises me is how quickly my team is to make friends with people that work on other accounts. They're close friends with the people that they work with day to day."
Comparing outsourcing in the Philippines and Colombia
Since NeoWork operates in the Philippines and Colombia, Joshua noted some similarities and differences. He shares his comparisons of both countries when it comes to outsourcing.
He noticed resemblances in the language and culture, "It all comes down to just the similar cultures of being very family-oriented and [having] strong values in both countries."
He comments, "I find the Philippines to be stronger for voice-type accounts because of how neutral the accent is. And for a bilingual Spanish-English account, Colombia is a great place to outsource." 
Joshua says in some of the skills that can be outsourced, "I find [employees in] Colombia have that strong tact for sales-type closings. Whereas with support, nurturing customers, and being extra patient, [workers in the] Philippines really shine."
The former startup founder indicated that outsourcing in the South American nation costs 15-20% more compared to the country in Southeast Asia.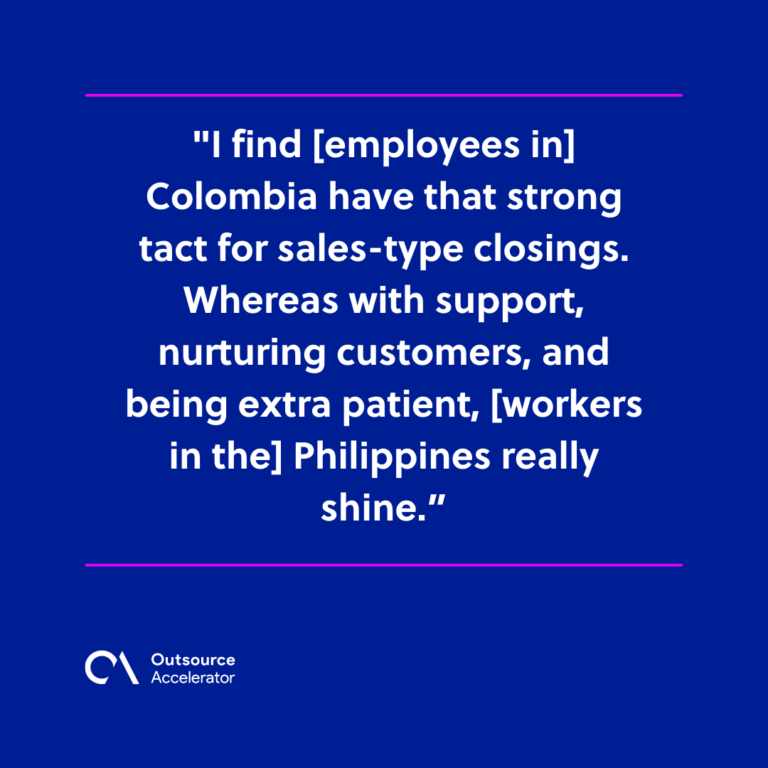 The future of NeoWork
Joshua shares their future plans at NeoWork. He mentions looking into other countries in Latin America and confirmed expanding to other nations is on their roadmap.
Also recognizing the increasing prominence of AI, Joshua notes:
"AI certainly is emerging and we're absolutely investing and exploring in ways [on] how to have more AI-assisted agents."
Additionally, NeoWork is looking into improving its "productizing" and offering more of a self-serve model. Especially for their individual virtual assistants. 
However, the BPO agency still wants to keep its roots and main value prop of being able to suffocate its clients with attention. The co-founder reasons, "Because [NeoWork is still] a smaller team and has a lower number of clients."
Learn more about NeoWork by visiting www.neowork.com. You can also reach out to Joshua directly through [email protected] or with his LinkedIn.