Impact Sourcing Up Close with Riya Jain of Namo Padmavati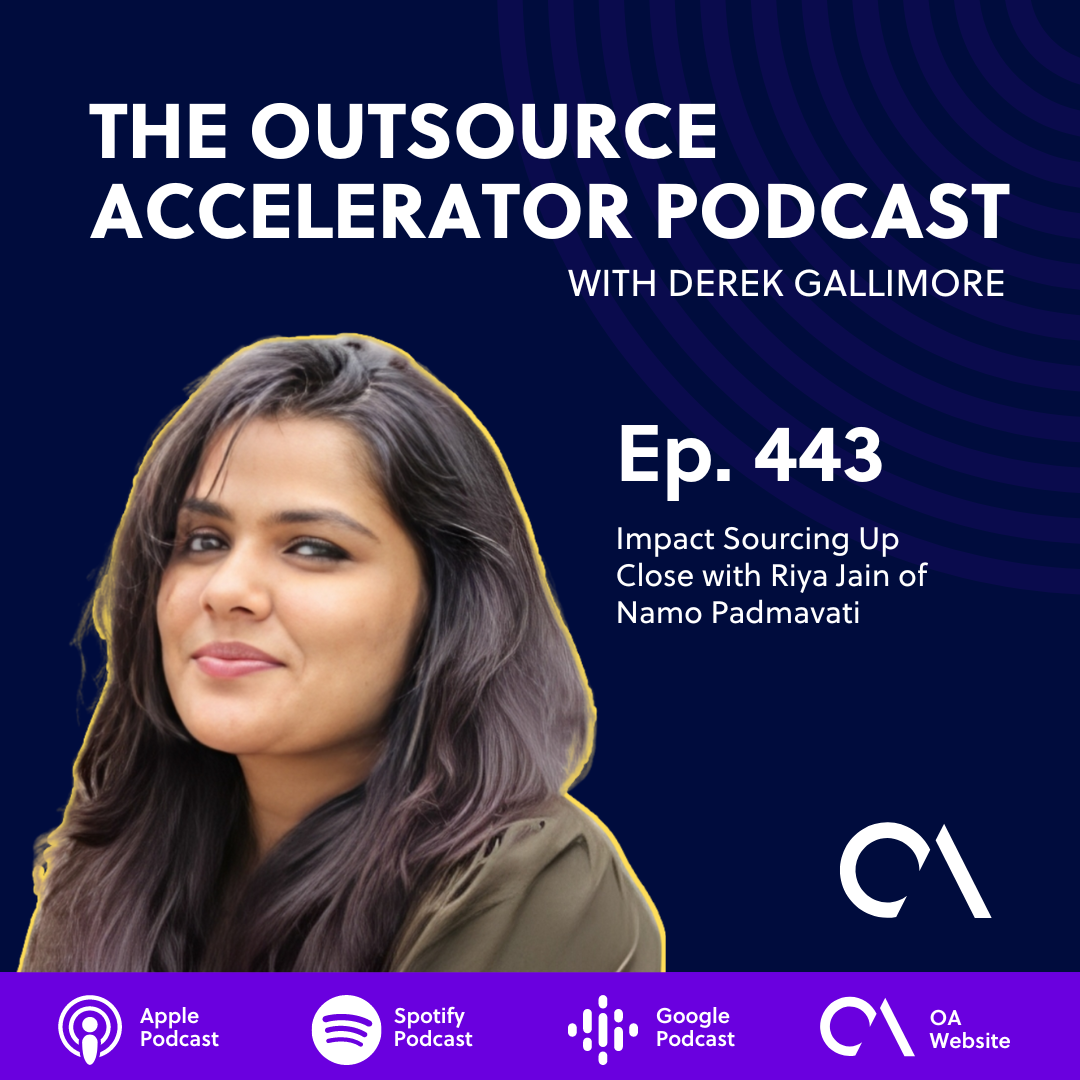 In this episode, Derek is joined by Riya Jain — founder of Namo Padmavati, a VA firm based in Hyderabad, India.
They discussed Riya's journey of establishing her own company, her views on being an outsourcing provider in India, and her experiences as a young female founder.
Riya's entrepreneurial journey
Before Riya Jain founded Namo Padmavati in 2018, she worked as an operations manager at an outsourcing company for about two years.
"I started working when I was 18. And all I used to do was client communication, hiring, firing, training the team… And then I was like, I think it's time that I start my own [company]."  
At just 20 years old, she established her own virtual assistant services provider. She says, "It's a one-stop shop for all the non-core solutions for a company."
Namo Padmavati provides an array of VA services — whether it be web designing, data entry, research, or anything clients can get at low cost and high quality.
At first, the firm's founder didn't even think about starting her own company. She said it just happened out of necessity because she ended up being the only breadwinner in her family.
"I never wanted to start a company. I was always a nine-to-five girl who just wanted to go to [a] job, come back, and have a very nice work-life balance. But life had its way."
Now that she's 25, Riya and her VA outsourcing business have around 20 staff and are tied up with companies that have acquired their services, full-time.
She aims to double her efforts to reach 70 employees by the end of this year. 
What it's like to be a small Indian outsourcing provider
According to Riya, being an outsourcing provider based in India faces some skepticism from clients who prefer to acquire services from other known offshore staffing nations.
"Everybody wants to hire somebody from the Philippines because their English is better, their quality is better, [and] they are not tagged as scammers."
To beat the misconception that India can't be as trusted and exceptional as other top outsourcing destinations, Riya took time and worked hard to build trust and credibility with their clients.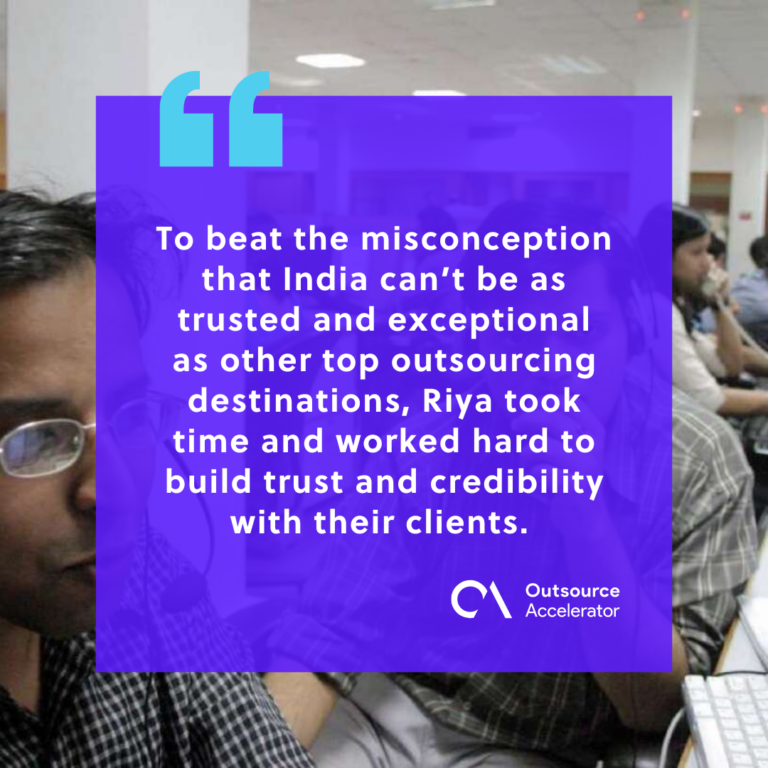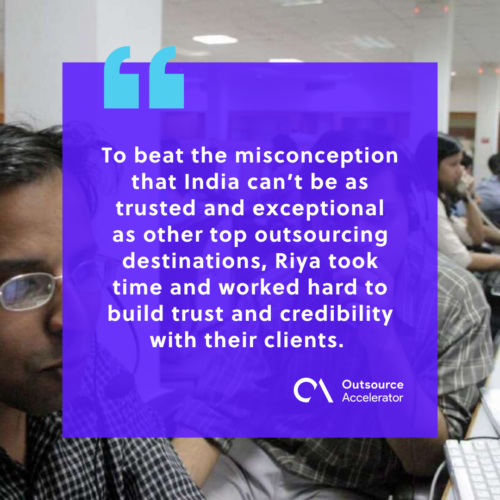 As a result, there wasn't a single month that Namo Padmavati didn't make a profit and most of its old clients always reach out again. If the firm cannot provide the services asked of them, it's established its reliability enough that clients are willing to take its suggestions from other providers.
The issue of staff shortages in other countries was also mentioned, to which Riya claimed there has been no problem with them hiring staff.
"When it comes to work, I think we are inheritedly tech-savvy… So there's no problem with hiring staff. Even tomorrow [for example], if a company is like, 'Can you please get me 300 people?' We can get that done."
Experiences of a young female founder
As a young female founder, running a business has not been easy for Riya. She noted that India is still in the process of improving its progressiveness, but it's getting better.
Despite being a company founder, Riya stated that she doesn't manage anything, deciding to delegate and outsource tasks to those who are more experienced.
Riya shared that in the beginning, she had no idea how to get into the B2B world and didn't know how to find clients. Through on-the-job training and learning from great leaders, Namo Padmavati's founder learned to focus on what she's good at.
"I manage nothing. My only job is to get leads… because I know what my skills are. I know what I'm good at. I know that I can go and get a client.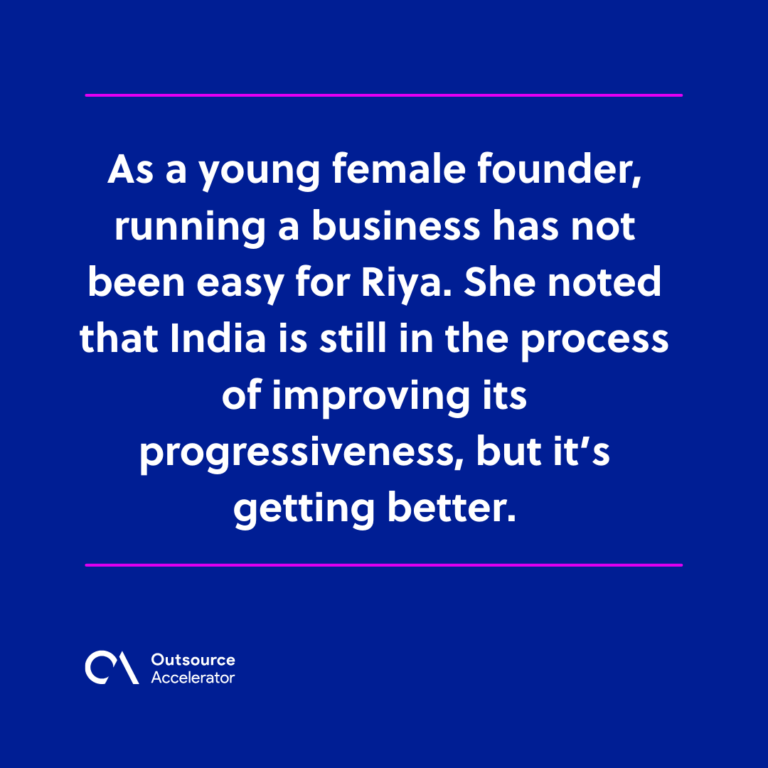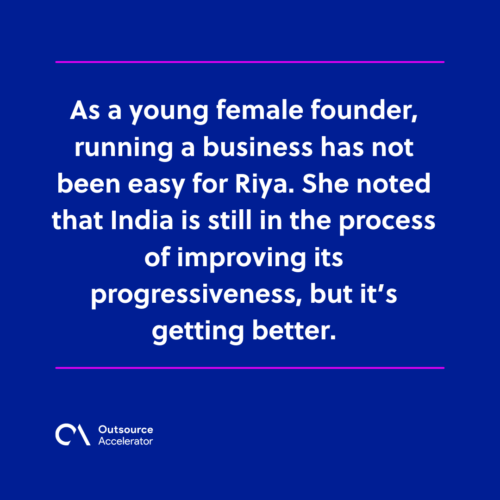 But I also know that if I sit and manage the client, I'm going to lose the client, because that's not my expertise."
The discussion proved that Namo Padmavati that it really believes in the benefits of outsourcing work, as the podcast discussion revealed that the firm offshores its own HR and financing services.
Riya commented, "I don't want to be [the] jack of all [trades] and master of none. I want to just focus on what I am really good at — which is B2B lead generation."
Visit www.namopadmavati.com to learn more. You can also contact Riya via her Linkedin page.