Exploring Nepal's Outsourcing Industry & Potential – with Ryan Shrestha of AppSkill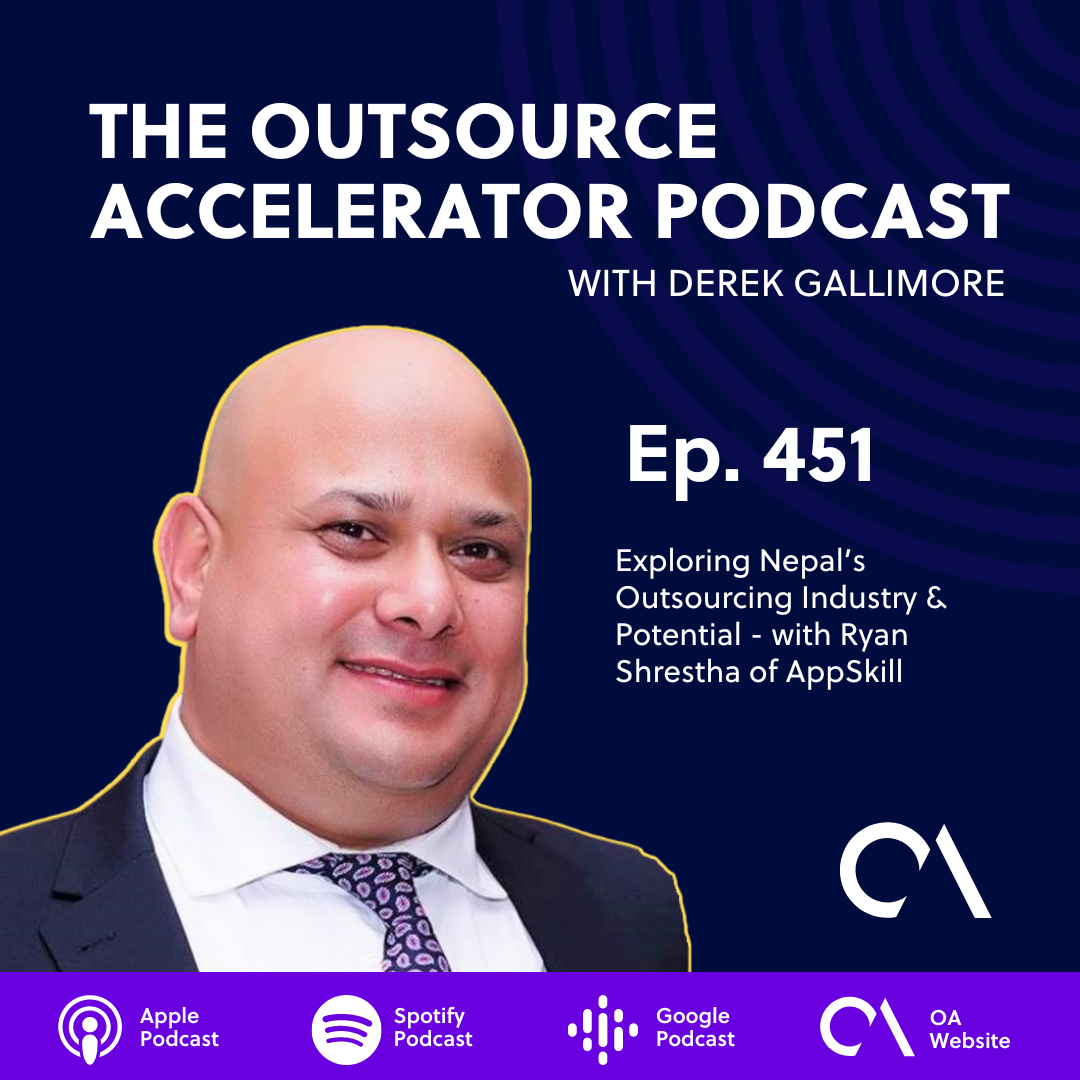 In this episode, Derek speaks with Ryan Shrestha, CEO and founder of AppSkill — a recruitment agency based in Australia.
They discuss what the economy, job market, and outsourcing in Nepal currently look like.
About Ryan Shrestha of AppSkill
Ryan shares that he's originally from Nepal, but has been living in Sydney, Australia for almost three decades.
"I came [to Australia] as a student when I was 19 years old, and then I studied at an Australian university… I decided to stay here because I love Australia so much."
He says in the last 16 years, he's been running STUDYANDWORK. It is Australia's first recruitment agency focusing on students, graduates, and skilled migrants. 
The firm specializes in internships, traineeships, graduate job placements, professional recruitment, and offshore talent acquisition.
"I've been using outsourcing for my business from the very beginning. And I've used companies in the Philippines, India, and Nepal mostly."
After living in Australia for many years, AppSkill's founder decided to do something to help his motherland.
"I thought outsourcing is an area where I can really help Nepal. And, at the same time, help businesses in Western countries like Australia reduce their cost and take advantage of the resources back home."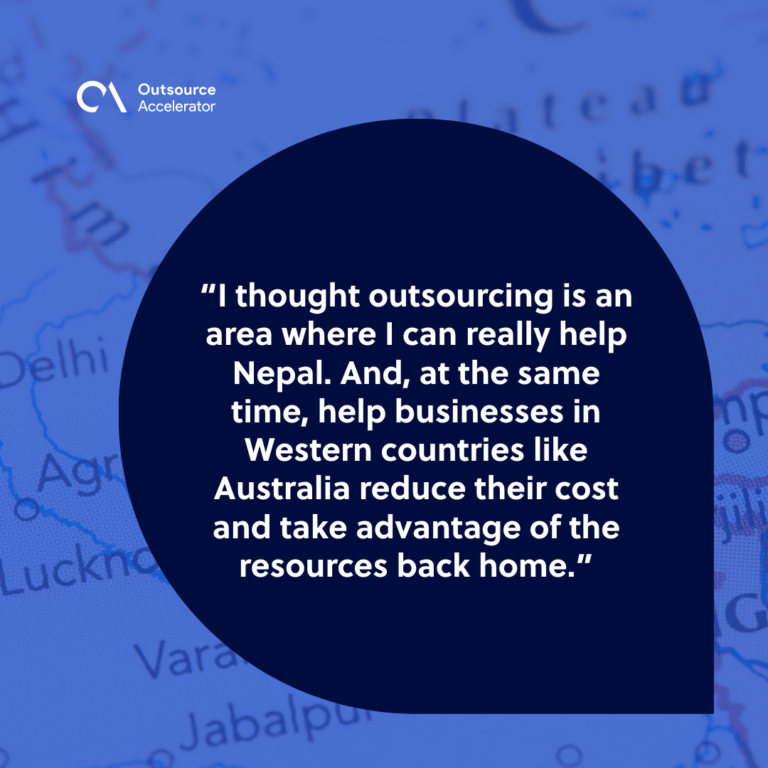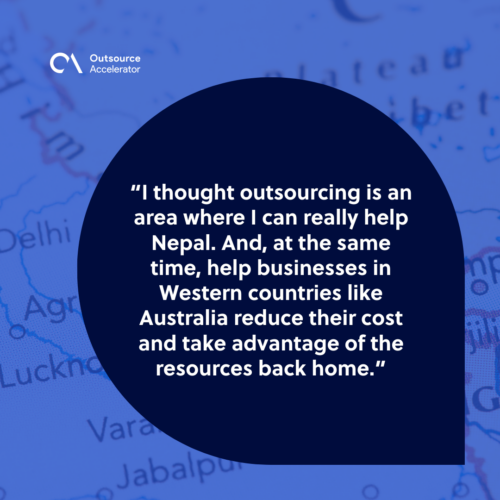 Nepal's growing economy
Derek asks about what the professional environment in Nepal looks like. Ryan comments,
"When you think about Nepal, a lot of people think about the mountains, the hustle and bustle, and Kathmandu Valley. 
But it's not just the country for tourism, for trekking. Recently, it's trying to grow economically."
The CEO says he sees great potential in Nepal because there are many young and emerging professionals.
"In Kathmandu Valley, universities are producing 6,000 plus graduates every year."
He notes many of those students go overseas for further studies or employment. However, there is still a chunk of these candidates who like to remain in Nepal, and they are highly talented.
Nepal's job market
On the topic of salary expectations, Ryan compares how offshoring to Nepal can compete with the cost of other popular outsourcing like India and the Philippines.
"The cost of outsourcing operations has gone up. So now, [companies] have started outsourcing to Nepal."
He adds that Nepalese talent is better now because the younger generation has better English skills.
"People in Nepal who speak good English don't actually have any Nepalese accent. I would say the Nepalese accent is more neutral. So that's one benefit that Nepal can offer."
Due to the rise of cost in offshoring talent from India and the Philippines, the AppSkill CEO notes many Nepalese workers expect to be paid around US $1,000-2,000 a month. 
"These candidates are highly-qualified. They have already worked in multiple projects. And they have experience in project management and business analysis."
Ryan adds all sorts of outsourcing are being done in Nepal. He says companies are offshoring for call centers, software development, and research and development in the country.
"It's not just IT, virtual assistance, and accounting. Some companies are [outsourcing] architecture, design work, and even animation for Disney."
The founder notes that the workforce is there, it's just a matter of resources. "A company trying to outsource might have to go [to Nepal] and train [Nepalese workers] as per their requirements."
Promoting Nepal as an outsourcing destination
Ryan says he founded AppSkill to help businesses outsource to Nepalese talent. 
"With AppSkill, I want to promote Nepal more because I think Nepal is an emerging destination for outsourcing and it's very cost-effective."
"Recently, the outsourcing sector in Nepal has been growing mainly because of subcontracting from India because [it] has become very successful in this area."
Currently, the recruitment firm has around 20 staff. The founder says they aim to expand their team and help clients tap into Nepal's talent pool.
"We want to help [AppSkill's] clients to expand their team to Nepal.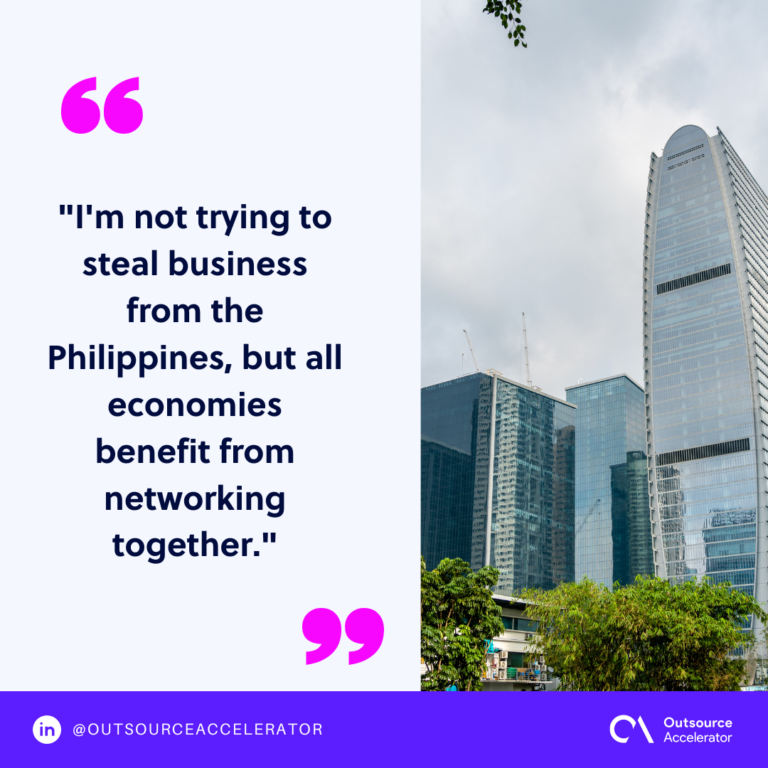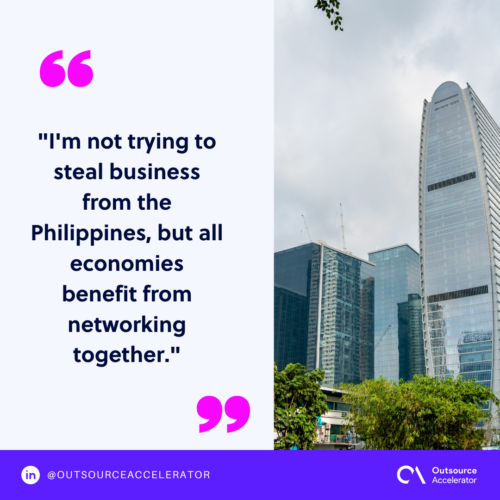 So, for example, if they want a full-stack developer, we will find a full-stack developer in Nepal and then we'll manage their payroll. 
If they need training, we'll train them and then the client pays only for the hours they work."
AppSkill's CEO recommends starting with "parts of projects" due to "challenges around project management." 
Ryan adds, "I'm not trying to steal business from the Philippines, but all economies benefit from networking together."
To learn more about AppSkill and its offerings, visit its official website.