Doing Business in South East Asia – with Tate Commodore of Bamboo Capitalist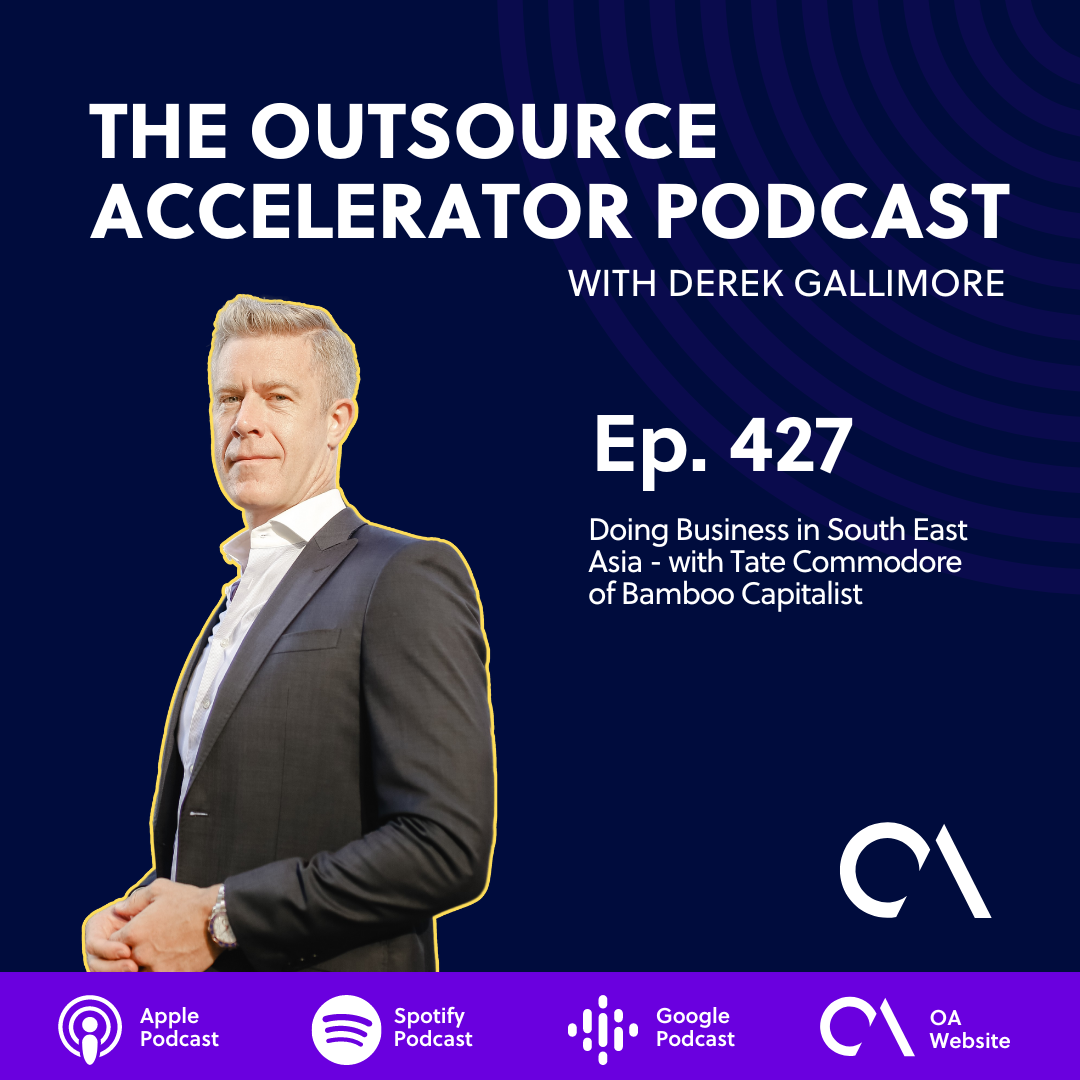 Doing Business in South East Asia – with Tate Commodore of Bamboo Capitalist
Outsource Accelerator
Tate Commodore, host of The Bamboo Capitalist Podcast, interviews Derek Gallimore of Outsource Accelerator.
In this episode, they talk about outsourcing, global employment, and Derek's lifestyle as one of the high-caliber Western entrepreneurs that spend significant time in South East Asia.
Derek Gallimore is the Chief Executive Officer (CEO) and founder of Outsource Accelerator "and is regarded as a leading expert on all things outsourcing."
Outsource Accelerator is Derek's "third business [that] bootstrapped all businesses." It's a marketplace representing a $250 billion offshore outsourcing market. This firm has been going for six years and is becoming successful in the offshoring industry.
Although Derek was born in the UK and raised in New Zealand, he has been living in the Philippines since 2014.
Derek implied that he is not "super pro-education" and he's always been an entrepreneur by character. Still, he attained a generalist degree and later pursued a master's degree in management studies.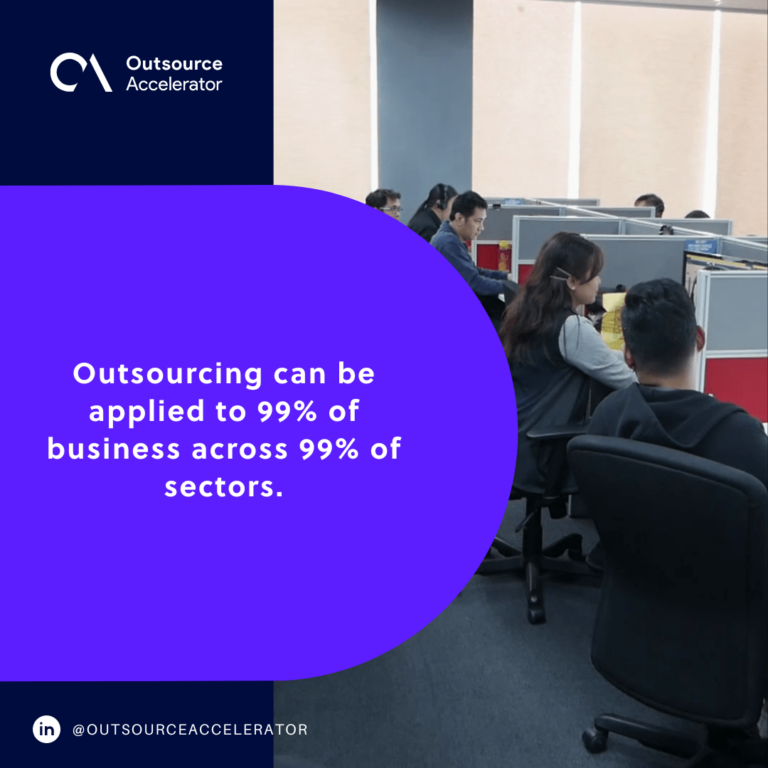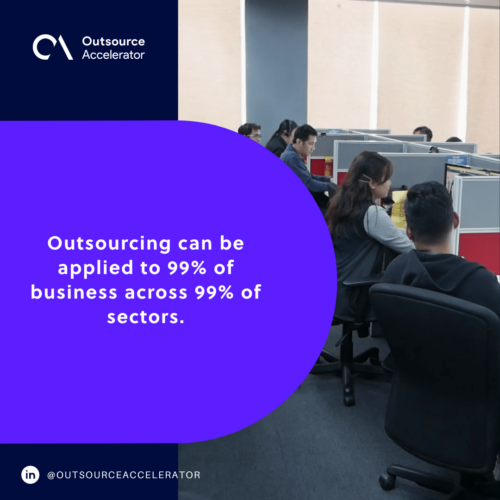 Economic opportunities in the Philippines
The Philippines is one of the emerging markets and the heart of the outsourcing industry.
Derek described living in the Philippines as "a great place to live," and "there's a lot of economic opportunity and great people and it's a great environment."
Derek recalled that it was in 2011 when they built an office in the Philippines, and it had grown significantly larger by 2014. It then had about three times the staff of his London office.
Because of this considerable growth, "it was a good move" for the Outsource Accelerator Founder to move to the Philippines.
Philippines' largest outsourcing sector
The largest outsourcing sector in the Philippines is still the customer service niche. 
Other prominent sectors in the Philippines and other countries are the niches originating from the "call centers."
Artificial intelligence (AI) annotation is also huge at the moment, with all sorts of growth in AI. For instance, self-driving cars and other [AI-driven technologies.] But beyond that, Derek mentioned that "the real growth you see is in staff augmentation."
Because of the rise of staff augmentation, call centers no longer do just one function. Typical small and medium-sized businesses need staff to work alongside their team.
Those staff might be one of the following:
Administrators

Accountants

Marketers

Digital marketers

Salespeople

Surgeons

Customer service representatives
However, Derek clarifies that "it's not necessarily one sector specifically. It's really across the board now. And that's where we've seen tremendous growth [in general].
An in-depth exploration of outsourcing
Tate began asking questions about the terms used in the industry. He wondered if BPO was an old-fashioned term or the acronym used for outsourcing.
Derek is generous with his answers. He acknowledges that "the industry is a little bit confused [really] with its identity. He noted that the term BPO is "more of a technical phrase for outsourcing — or as the name suggests — "business process outsourcing."
Unfortunately, the phrase BPO has been adopted by different industries, and generally, outsourcing firms are referred to as BPO. 
"So again, it's a little bit sort of complicated in nature and but the whole thing fits under this umbrella of outsourcing business process outsourcing or global employment staff augmentation offshoring. It's unfortunately got a lot of different monikers," Derek says.
Outsourcing is a very high-value, long-term relationship, and when people start outsourcing, they will continue to do so for many years to come.
What is distinct about offshore outsourcing is that the suppliers are in one country while the clients are in another country.
"And so they need to be connected."
Per Derek, "Outsourcing can be applied to 99% of business across 99% of sectors."
BPO services cost and fee structure
Tate asks about the cost and fee structure of the company's overall expenses, and Derek breaks down the following spending:
Salary –

"In the Philippines, majority of salaries for administrative staff and sort of low level professionals would be between about 500 USD per month and 1,000 USD per month."

Government contributions – 

"

You then have the government contributions, which can be about 20, 25% on top of the salary."

A-grade facilities –  

"[This] can be between about 300 USD per month and about a thousand USD per month in the Philippines, of course, depending on where you are."
South East Asia is an exciting emerging market
The amazing key takeaway from Tate and Derek's talk is that moving to South East Asian countries like The Philippines offers many opportunities —  one of which is outsourcing and the possibility of "remote work."
So if you're one of the Western business owners looking for ways to expand to South East Asian countries, Derek has this advice:
"Just do it. And don't overthink it. Just come out, buy a plane ticket. You know, it's not too hard to reverse that decision, and it shouldn't cost you that much. So just come out here.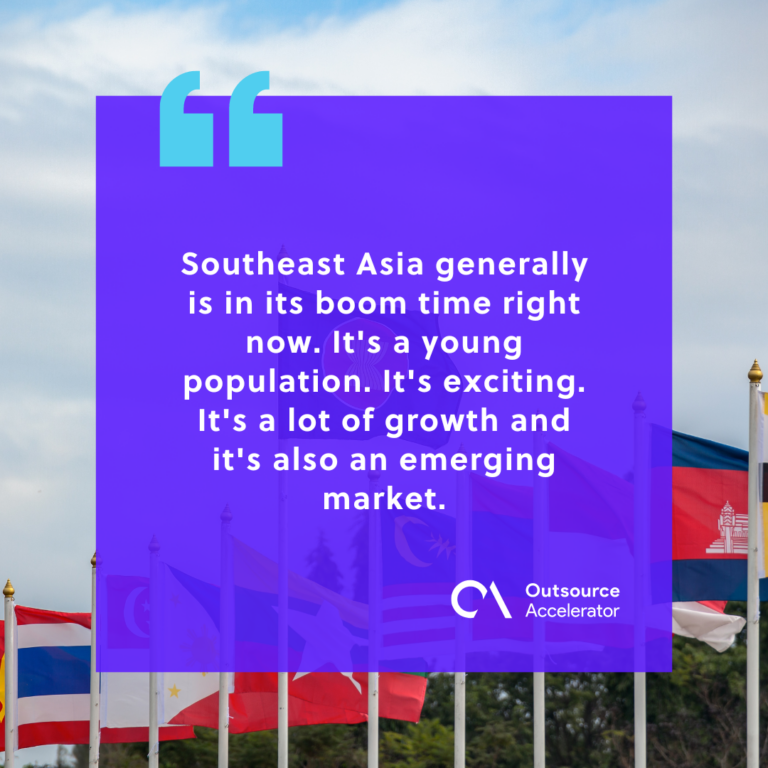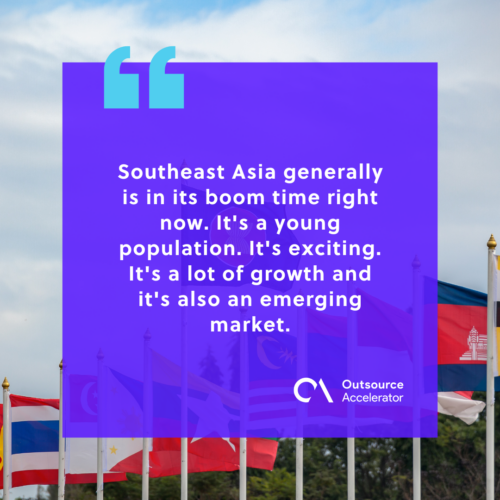 Southeast Asia generally is in its boom time right now. It's a young population. It's exciting. It's a lot of growth and it's also an emerging market."
If you want to listen to more fascinating stories about Western entrepreneurs who spend significant time in South East Asia, head over to Bamboo Capitalist's official website.
Follow Tate Commodore's The Bamboo Capitalist Podcast on Spotify or from wherever you listen to podcasts.
Further, if you want to learn more about outsourcing, head over to outsourceaccelerator.com 
Listen to more podcast episodes here: