Derek Gallimore – Centennial Episode's Big Announcements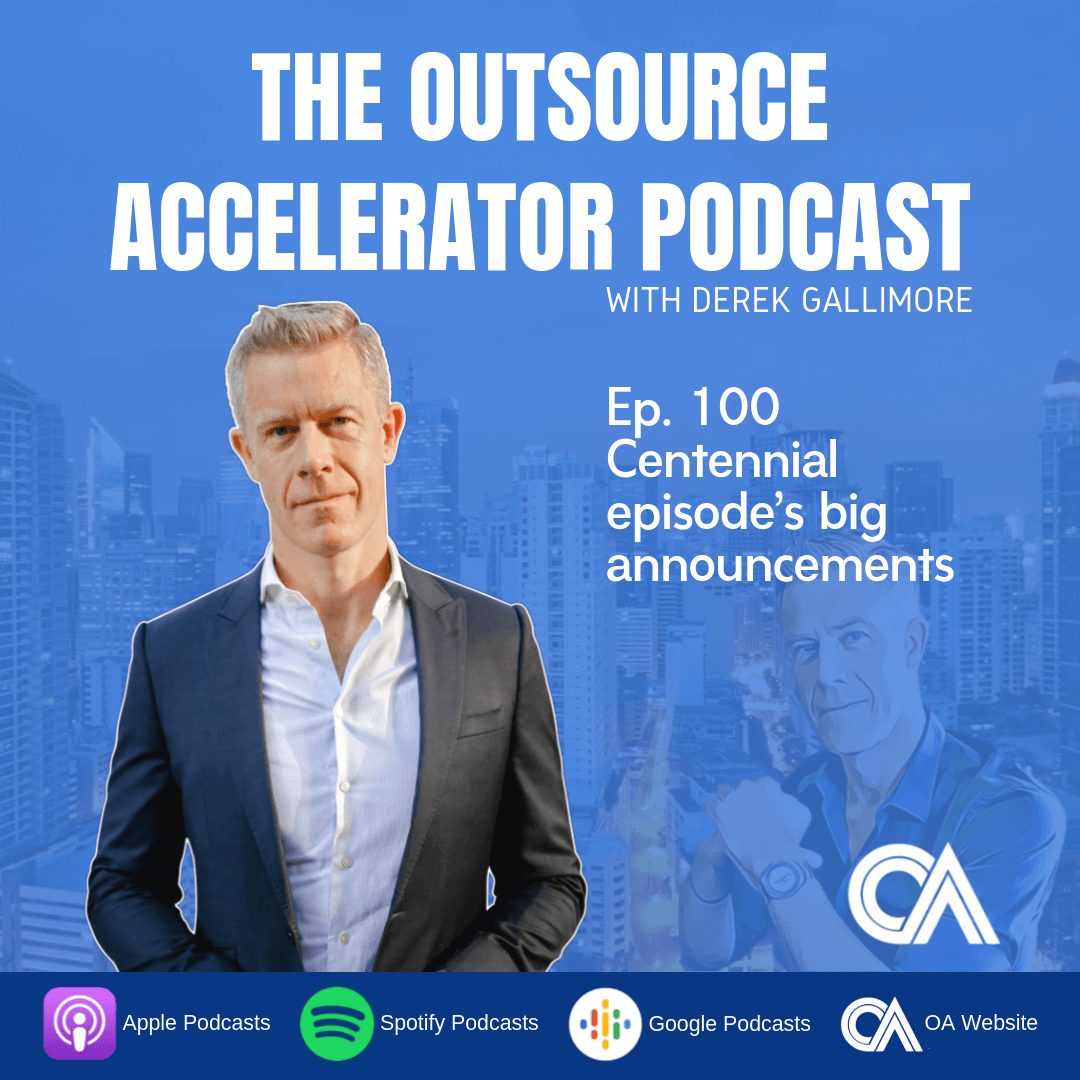 Ep 100 Derek Gallimore
This is the 100th episode of Outsource Accelerator Podcast.  Join us as Derek reviews what he has ve covered in the last 99 episodes and share what 2018 has in store for Outsource Accelerator.
Summary
Derek quickly reviews what Outsource Accelerator covered, from Business owners to huge amount of inspiring Filipinos on the podcast episodes.

Derek believes that outsourcing is a win-win for all and probably one of the most transformative business function that can be applied virtually to any business, any business model, and any business sector.

He also discussed the launch of the second iteration of the Outsource Accelerator activation program and new projects like Outsource Accelerator exchange and the Outsource Accelerator TV.
Key Points
The fully completed and the second iteration of the Outsource Accelerator activation program will be launch.

Youtube Channel will be launch in February 2018.

Outsource Accelerator Exchange will be launch in February 2018. A Philippine facing competition anyone working in the BPO sector and want to contribute articles of value.
Resources
outsourceaccelerator.com/100
Transcript
Hi and welcome to another episode of the Outsource Accelerator podcast. This is episode number 100 and of course, my name is Derek Gallimore and I am super pleased to be doing this episode to celebrate the 100th episode of this podcast, the Outsource Accelerator podcast.  
So of course, thank you for joining us this episode really is a quick review I don't want to get too self-congratulatory but basically we're just going to quickly review what we have covered in the last 100 episodes. And then more, I think, interestingly more relevant more pertinent, it's about what 2018 has in store for us as Outsource Accelerator; but then also knew who should also be a possibly a stakeholder or interested party in business or outsourcing. What our growth out development has in store for you in 2018, so we're going to be covering what we are going to be doing on this podcast, what we're going to be doing in media generally and also what the company is going to be doing to basically enhance your outsourcing and business journey.
So, that's where we are aimed it is a big yey for us because of 100th episodes at Outsource Accelerator but of course more so it's a big thank you to you out there because obviously without any audience; without any interested parties none of this is worth it so I really appreciate your listener-ship and of course if you have any question, comments if you do want to get in touch as always just email us that is at [email protected]. And if you want any of the show notes anything we mention in this podcast will be in the show notes, so you can find those at outsourceaccelerator.com/100. Enjoy.

Thank you for joining us today.  I first just want to review some of the incredible guests we've had and some of the incredible information insight we have had as result these 100 episodes.  We have covered a lot of things in Outsource Accelerator podcast you know and genuinely, of course, we're talking about outsourcing but it really extends into business and into life and times of people and people doing things in the Philippines but also how that really touches the world through business people in interacting here through expats through just business being business which is very interactive so really exciting.  
Of course, if we go right back to episode 1, this is sort of I suppose how we started we interviewed people in the outsourcing community episode 1 of course was David Prichard of The Nile, they have been outsourcing in the Philippines for I think now 4 or 5 years, that was a really good episode and we get a huge amount of insight from David Pritchard who is an expert in this field and pretty much has the sort of operation aspect of outsourcing nailed down or certainly is as nailed down as you possibly can, then of course we moved kind of topics and we evolved into people working in around the industry, Angela Mcdonald of deployed is an example of this in episode 4, Angela again is a Scottish expat she is has been in the Philippines for numerous years now worked as a recruiter and is now heading Deployed which is a outsourcing company so you can hear about that in episode 4 and of course we have a lot of we've had incredible conversations with really inspiring people within the community within Manila, within the Philippines. Pia Gladys Perey of episode 7, I think, is case and point of that and again you know if interested go and listen to her incredible story, she is a Filipina taking on the world in the fashion industry so super exciting then of course we've interviewed some people representing the BPOs themselves, we've got Sohan David of TBS global that is episode 76 and more recently Jamie McBrien of optiBPO that is episode 88 and Michelle Fiegehen of Yempo Solutions in episode 87.
These are really drilling into the people behind BPOs and the BPOs themselves and then also we explore these people their thought on business on the future development of BPOs.  I think if you listen to any of these people you realize that there's a huge amount of business insight and intelligent behind you know all of these people, most of these people are intrinsically entrepreneurial-minded business minded and then they head up an outsourcing company which is in essence of business support function so you know drilling to this BPOs and these BPO owners to really give you insight into the value that BPOs offer. We are not connected to any BPOs, we get no kick backs we are not running infomercials here we don't get paid for any of these but I really believe that there's a huge amount of value in the BPO interviews we have done and I've certainly really enjoyed doing all these podcasts.  

So we have of course in the 100th episodes we've had a huge amount of inspiring Filipinos Filipinas on the podcast and I really cherish this as I've mentioned a few times I'm representing outsourcing trying to take it to the world we're discussing business but also what I'm trying to do is demystify a little bit Manila and the Philippines. It's a huge country with a huge burgeoning young professional work force and I think huge potential ahead of it I really promote the Philippines as the Swiss banking of Outsourcing and I think it's got a huge future, but also significantly a future that you out there as a business owner should not ignore so super exciting.  So again some of the fabulous Filipinos that I have an honor to interview as I mentioned previously, Pia Gladys Perey.  We've also interviewed Eileen Juan, there's Sunshine De Leon, there's Vince Villamor really extends into sort of dozens so really do go and check them out all of them are doing incredible things with their respective lives and careers so super super inspiring stuff.

Going into the future we are going to be continuing these podcast, please give me feedback if you think if you have any opinions, if you have any preferences and please let me know what you think of these previous episodes as I mentioned we are trying to keep the format fairly punchy, fairly snappy I don't want to waste your time, I want to bring you a good bread of people and insight into outsourcing in the Philippines that is our mission here at Outsource Accelerator so please give me any feedback it certainly welcome and of course drop us a line at [email protected] if you have any comments.

So now, this is where we look to the future. The future is certainly exciting, I'm going to talk from the perspective of Outsource Accelerator which is obviously our parent company, the Outsource Accelerator podcast is an outreach of the outsource accelerator company, of course, Outsource Accelerator if your aren't aware is an independent authority in outsourcing it is our mission to take outsourcing to the world and I personally on a mission to try and encourage as many business owners, SME, business owner, entrepreneurs alike to consider outsourcing and involve it within the structure of their business.  I really do believe that outsourcing is a win win for all and it's probably one of the most transformative business function you can do to really add rocket fuel to your business the process is the learnings the aspect of outsourcing can really be a applied to virtually any business, any business model in any business sector so what are we doing going forward.  
I am so so proud to launch in 2018 the fully completed and the second iteration now of the Outsource Accelerator activation program, we have discussed this in the activation course launch you can those in previous episodes but it really is the most incredible consultation package for outsourcing it really does take you from zero to hero and you know it's not just for beginners it's also for people involved in outsourcing, people that are already outsourcing there is really so much value in this consultation that you could save tens of thousands every month but also you can out-strategize and out-compete your competitors with the information and gems of insight and processes that these consultation provides.  
So that the activation consultation program is the bread and butter for Outsource Accelerator but there is really so so much so so more else that's really bad grammar but out there for you that we are doing to help promote and propagate outsourcing to the world. So the first one is that I want to discuss is the launching of the BPO or the OA exchange ok, this is effectively we intend this to become the brains thrust for outsourcing, we are looking for this to be a kind of medium conquer, come linked in for outsourcing its basic going to be a repository for outsourcing information for users and stakeholders and anyone involved in the sector.  It will be a gold mine of information to help anyone on their outsourcing journey, so super exciting and this is about to launch in February 2018 and to celebrate this launch we are having a competition, this is a Philippine facing competition basically anyone working in the BPO sector we want them to contribute articles of value so that we really get a boost and we really get this OA exchange starting with a bang.  
Stay tuned for this because you will no doubt hear more about this and of course if you want to know more just check out our website and we are really committed to making the website a hub of high value and highly relevant information for you out there where respective wherever you are in your business an outsourcing journey.  So possibly this is a segway from the podcast, we have been doing this podcast now for 100th episodes which I'm super super proud of but we are now evolving as you probably all know the video format is big and growing and the channels such as Youtube and Facebook and maybe even Linkedin are really trying to promote video, video has it's pros and cons I personally prefer podcast in that you can walk and talk and do stuff while you're listening to podcast but you know without doubt video seems to be king, so we are launching a TV channel it is yet to be named so stay tuned and if you have any suggestions for our channel then please do let us know. But we are this is going to be hosted on Facebook and of course Youtube and of course our website and a lot of this content then would be re purpose into podcast so how ever you like to consume your media we will provide that for you.  The channel is super exciting and again this will be launched in February 2018 we are really excited about the content of these will produce, it's super important in this world were we are just getting drowned by content that whatever we provide is valuable and relevant to you out there and so I believe that with this OA outsource accelerator TV so OA TV we will really hit the an arrow on the head with that, just a sneak peak of course i will be doing interviews, I will be engaging with the same sort of people that I have done for the previous 100 episodes, we will of course it will be video footage so you'll get kind of extra insight into the people behind the microphone and we'll be discussing sort of broader range of topics but not only that it's not just going to be me we are going to get really fantastic people within the community that is specialist in their areas to also host programs that cater to specific niches
Ok all I can suggest you do is keep an eye out for this, keep an eye out on our Facebook page keep an eye out on our website and we will make announcements when this launches.  So super exciting we hope to have at least 1 episode per day and of course covering the whole range of aspects of business. Ok we're going to be doing business and outsourcing interviews, we're going to be doing skill sharing we're going to be doing mastermind but also we're going to be covering various aspects of business so that it take holistic view, those aspects might include like workplace health, inspirational things and stories and so it's going to be fun it's going to be interactive so I really am looking forwards to that and just encourage you to keep an eye out on our website on our facebook etc for updates on that.
So those are our 2 big announcements the BPO the OA exchange and the OA TV certainly super super exciting of course. Out there we do have vast amount of free information all of these is free, invaluable information we are in the next month or 2 releasing 3 white papers which are super interesting 1 of being on the fact that outsourcing is a win win and exploring a lot of academic literature in that respect and the other one is a white paper exploring the size of the potential outsourcing market and where that is going in the future so keep and eye on those and of course we have numerous guides and blogs scheduled for release in this 2018 so it's really going to be an exciting year again I would love your feedback and even if you just want to say hi drop us a line and looking forward to it.

Okay, hope you enjoyed that monologue from me.  That was episode 100 obviously if you want any of the show notes if you want any of the links to any of the people mentioned or any of the new project I've mentioned then of course just go the show notes that is at outsourceaccelerator.com/100 if you want to ask us anything at all of course just emails us at [email protected]. See you next time.
Listen to more podcast episodes here: