Birgit Hansl [1 of 2] – The Philippines' Economic Update by World Bank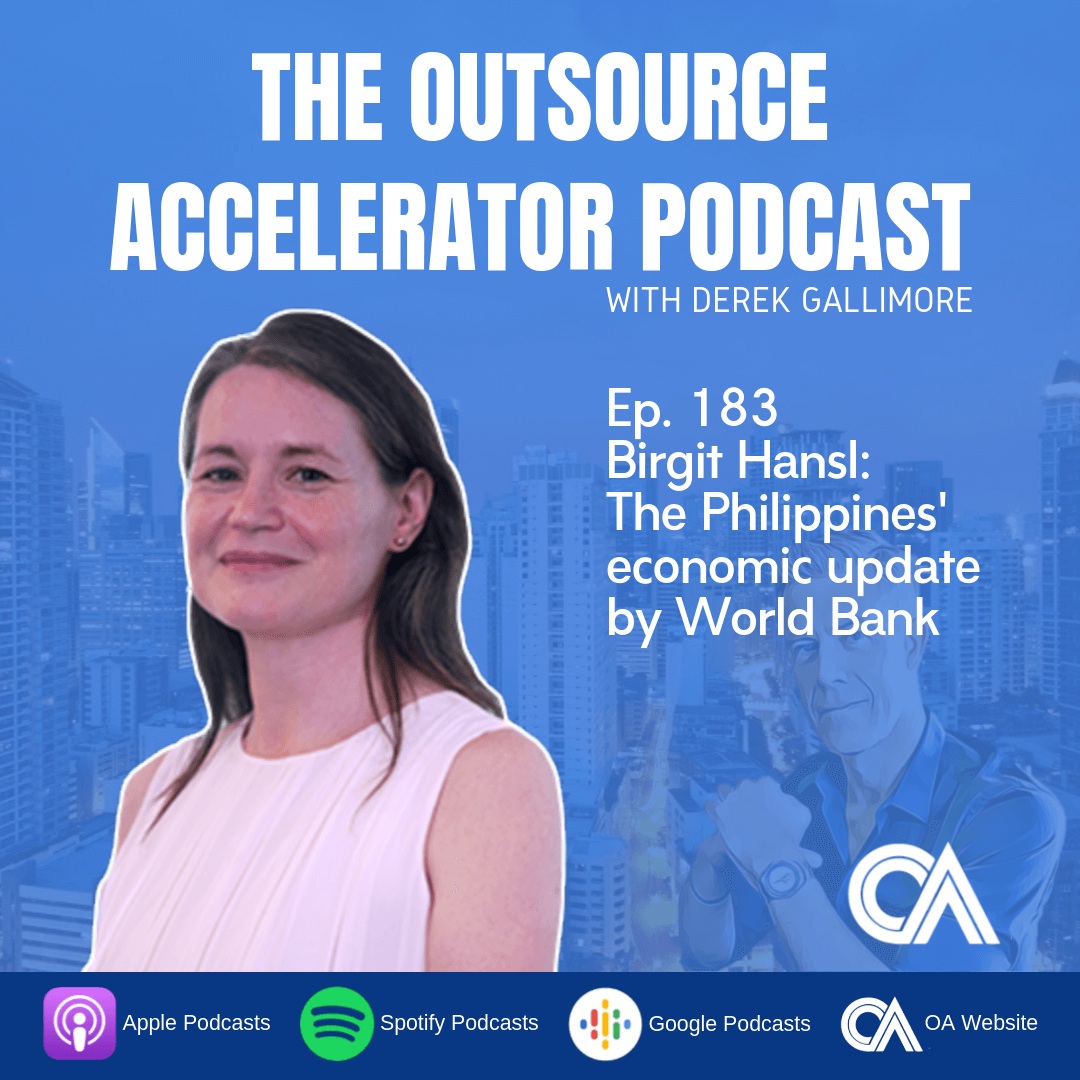 Ep 183 Birgit Hansl
Derek Gallimore's guest is lead economist Birgit Hansl of World Bank.
Birgit brings to the table the latest report from The Philippine Economic Update, and of course details about the most recent economic trends or outlook for the Philippines.
Summary:
Birgit works with the World Bank for 15 years. She oversees economic program in countries like the Philippines where she is based. In terms of growth and development, the country remains one of the top three performers in the region.

The Philippines growth rate for the last few years has been high and stable at 6% to 6.9% and is projected to remain at the 6% level or higher over a sustained period of time. This sustained growth poster a fertile environment for investors.

The new investment brings in more opportunities for new productive capacity, knowledge, technology, and innovation particularly in the services sector like the outsourcing or BPO industry in the Philippines.

According to Birgit, there is a strong growth in the services sector in general, like the BPO sector. Its big asset in this sector is the young and large English-speaking population who are ready to explore IT-related businesses.

She shares the fact that there are strong institutions in the Philippines, like the Central bank, which is very reliable and transparent in monetary policy. This is one assurance to investors that the Philippines is a good place to invest.
Key Points:
In terms of growth rate and development, the Philippines is one of the top three performers in the region.
The Philippines sustained the high growth rate of 6%-6.9 in many years attracts both foreign and local investment.
Its strong asset, particularly in the service sector, is its noticeably high English- speaking population who are ready to embrace new technology.
Reference:
Expand transcript