Activation Consultation 2.0 – Engaging the Right Provider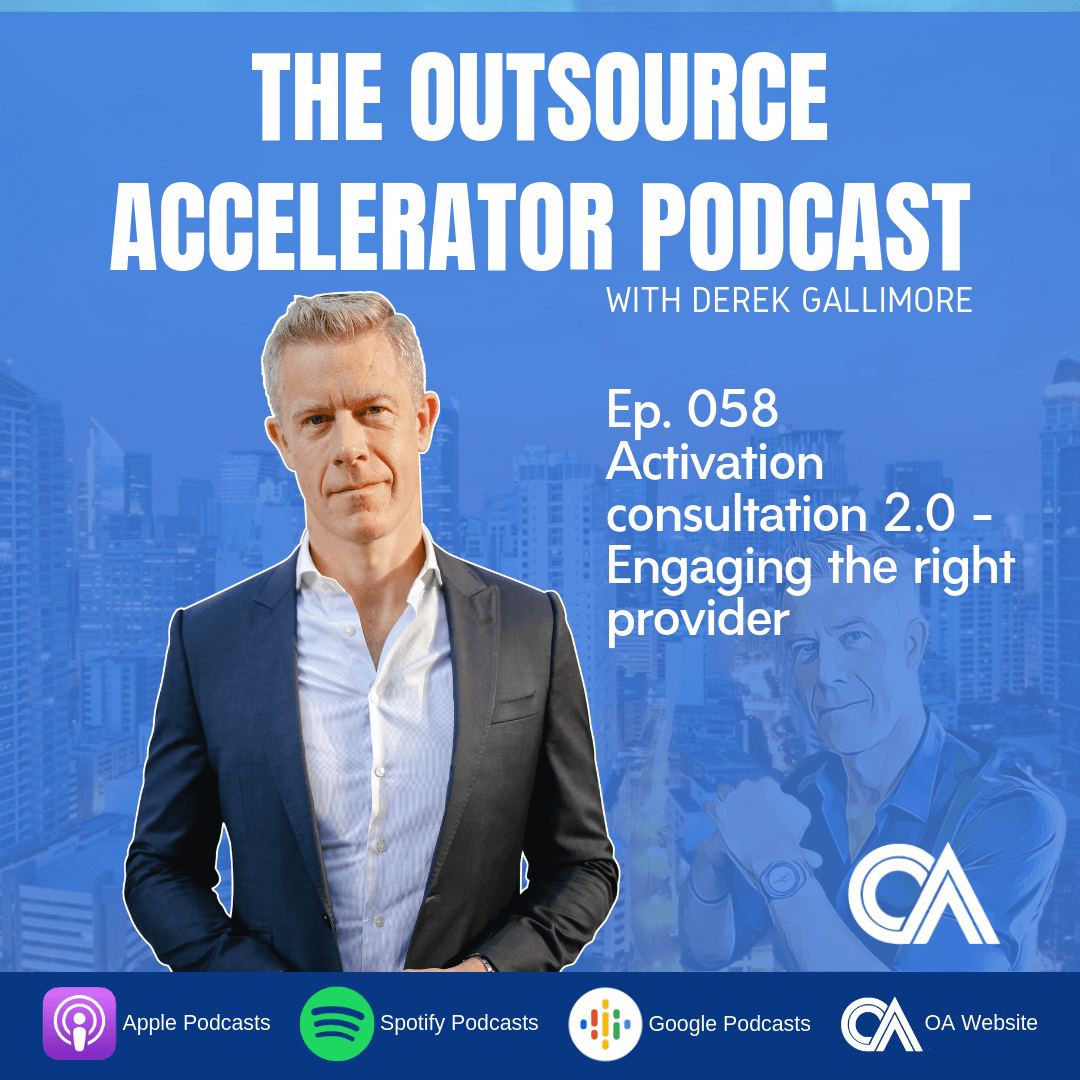 Ep58 – Derek Gallimore
In module number two Derek will discuss the nitty-gritty of engaging with the right outsourcing service provider.
Summary
One of the common questions that Derek gets a lot is "should you use a freelancer or a company structure?" This would depend on your company's need. So, Derek's advice is to start outsourcing now. Dip your toes a little bit to find out what will suit your company's needs.
It's also important to know also the difference in structure between freelancers and agencies and full-service BPOs. Upwork is on one end of the spectrum, the other end of the spectrum is full-service BPO which is Business process outsourcing service provider.
Four main models of outsourcing.
Freelancers and contract workers on Upwork and freelancer.
Seat leasing operation – finding an office space within the Philippines and they will rent you a seat and effectively then you can arrange the staffing and they are housed and they will provide some basic services for that.
Staff leasing – the service provider will help manage your staff they will help recruit your staff and they will house them within a good safe office environment.
Comprehensive outsourcing – this is where outsourcing started and this is business process outsourcing in its truest sense.
Derek encourages the listeners to create an outsourcing requirement template. Ask yourself if you want a minimalist service oversight which is cheaper but would hassle you more. Or do you want an automated approach, more expensive but lesser supervision from you?
Derek gave some examples of the contracts and service level agreements that you would find within outsource service providers.
Then Derek discussed inquire, negotiate and hire. As Derek mentioned, there are very standard approaches to outsourcing now and it's important that you know what you should be asking for within a contract.
Then the last part of the module is the 50-Dollar Exercise. Derek encourages listeners to try outsourcing either in Upwork or Freelancer.
Key Points
Finding a suitable partner for your outsourcing future is critical. It can make or break your experience so you have to choose wisely.
Make sure that you always have the right foundation because it could save you a lot of time in the future.
Whenever you are negotiating a contract, always try to make it as flexible as it can be. So, if ever you're planning to incorporate in the future, a contract from a BPO service provider will not hinder you from doing so.
It is good to test outsourcing first before you decide to outsource several functions of your company. Which is why Derek is encouraging the listeners to start with the 50-dollar exercise.
Resources
outsourceaccelerator.com/58
Transcript
Expand transcript
Listen to more podcast episodes here: