Top 30 UX design agencies in 2023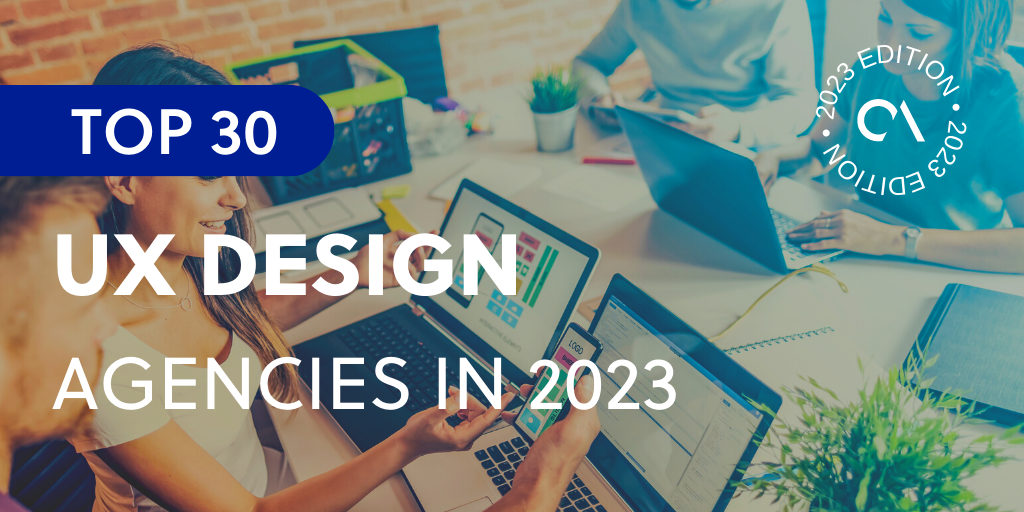 List of UX design agencies across the globe
UX design is essential for creating positive user experiences leading to customers' loyalty toward brands. Besides that, user experience also gives businesses insights into the customers' journey on their websites. 
To ensure excellent user experience, firms acquire third-party services to work with seasoned specialists and leverage their expertise. 
This article outlines 30 of the leading UX design agencies around the world businesses can partner with.
UI design vs. UX design
Products require a good balance of UI and UX expertise. UI ensures that applications look great and interactive to improve user experience. On the other hand, UX makes sure that the app is working in terms of functionality; delays and glitches are mitigated 
Hence, each has a specific function that they provide to make websites and mobile applications work.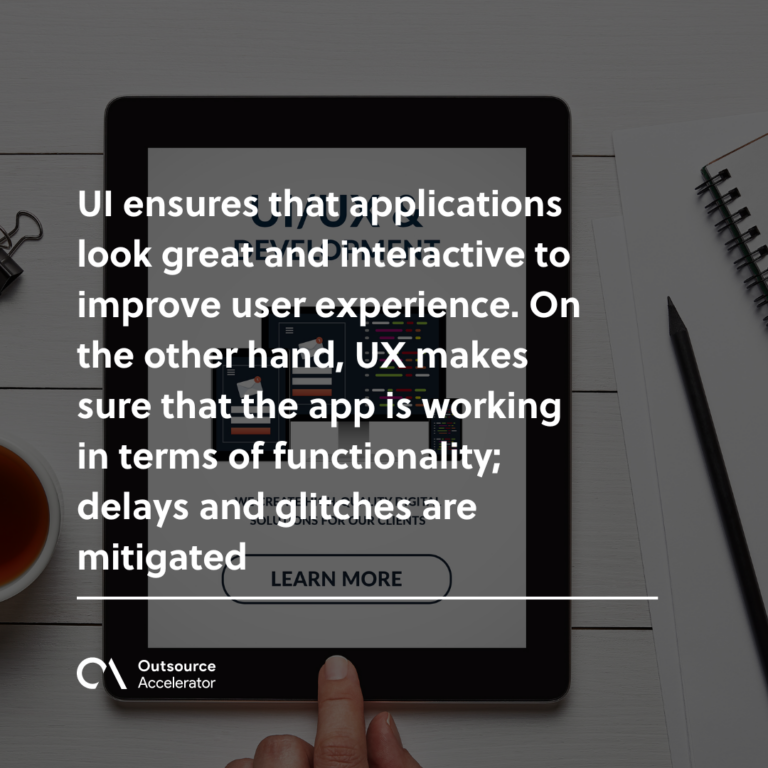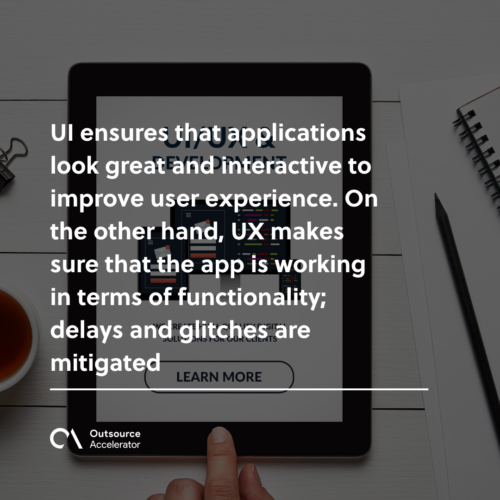 2 main benefits of UX design
Fundamentally, UX design ensures that websites and applications function better and seamlessly. But beyond this, the other benefits it offers are: 
Improved customer acquisition and retention
Well-curated UX design improves customer appreciation. It promotes better brand recall and customer retention. 
Nowadays, brands with more interactive interfaces and designs attract more customers. This makes it essential for businesses to invest in a well-functional website.  
Reduced development costs
UX design allows testing and troubleshooting. This helps designers to pinpoint issues and address them accordingly. This helps businesses reduce the cost of changing the platform and updating it.

Top Global Outsourcing List
Outsource Accelerator is the world's leading outsourcing marketplace and advisory. We list over 3,000 BPO firms located across the globe in our global directory, and we provide detailed information, price guides, and reviews.

Whether you're a solopreneur, SME owner, or corporate executive, we can help you find the most suitable outsourcing provider for your business. Explore our outsourcing directory now.
Top 30 UX design agencies
Listed below are the 30 of the leading UX design agencies we have at present:
Offices: New York, San Francisco, Miami, London, Tel Aviv
Moburst is a full-service agency that has won 32 awards in 2022 for its remarkable and engaging websites. It specializes in creating various UX related services including design and development. 
It caters to startups to high-end businesses offering the same type of service quality.  
Offices: London, New York, Vancouver
Conversion is a digital marketing agency. It has helped various businesses unlock the benefits and features of AI and self learning. 
Being experts in optimizing leads, they have built and created various web pages that increase the visibility and marketability of clients.
With a good handle of effective digital marketing and advertising techniques, they leverage this with their top-notch AI capacity to empower their clients.   
Offices: New York, London, Berlin, Hong Kong, Vilnius
Duck Design is a subscription firm offering creative digital services. It has a stable customer base which includes HSBC, P&G, and Burger King.
Being veterans in the industry, they understand how competitive customer attention and loyalty can become. This pushes them to innovate and create engaging landing pages and engagements through the websites they build. 
Offices: Broadway, San Francisco, CA
Clay is a UI/UX design company. It helps brands achieve world-class reach by ensuring all website visuals create total brand recall. It has worked with companies from the Fortune 100 and startups with successful visual and website strategies. 
Offices: Portugal, United Kingdom, United States
Imaginary Cloud has been in the industry for 12 years. It has delivered 300 projects worldwide and has garnered various accolades such as: Top 100 Fastest Growing Companies, Top 1000 Global Companies in 2020 & 2021, and Europe Best Workplace® 2022.
It banks on its fast, technical, and focused approach to helping its clients realize their unique digital needs. 
Offices: New Orleans, LA, and Washington, D.C.
Online Optimism is a full-service digital company that delivers various online marketing services. With its wide reach and network, it helps businesses reach their peak at the fastest and most affordable rates. 
Industries it has served include education, hospitality, and the government sector. 
Offices: San Francisco, New York, Boston, Los Angeles
Neuron is the go-to company of any company looking for a reliable B2B UX/UI design partner. It has experience in handling business intelligence research and operations. 
This has allowed them to scale and provide more engaging products geared at unlocking new products and services for their various clientele. .  
Offices: USA, Czech Republic
Specializing in product design, Humbleteam has helped its clients to scale up to $500M. By delivering the design and branding they want, they have helped them launch new products which have dominated the internet. 
It operates in 20 industries and has worked with companies from the Fortune 500. Some of these companies include Royal Caribbean, Deloitte, and NASA.
Offices: UA, Poltava
Clever Code Lab is a team of highly skilled professionals and digital designers focused on highlighting the digital vision of its partners.
They understand the science and art behind memorable online experiences that drive engagements. With this, they ensure that all websites and visual needs of clients are met. 
Some of the technologies they use include WordPress, ReactJS, and PHP. 
Offices: Austin, Texas
Iron Roots is the trusted partner of brands such as Netflix, Gillette, and Warner Bros. As a data-driven firm, it focuses on formulating digital strategies to reach maximum online visibility.  
Being a well-versed digital agency, it caters to clients from e-commerce, hospitality, and the banking sector. 
It has mastered the science behind dollar-in-dollar-out customer acquisition strategy, making it popular and trusted by various multinational companies and brands. 
Offices: Austin, Banglore, London, Paris, Milan, San Francisco 
Operating in various cities in the US, Frog has established itself as one of the leading global design and strategy firms. With 50 years of experience, it has enabled various industries and companies with its tried and tested UX solutions. 
Understanding the different requirements and complexities of clients, they have developed measurable and client-driven processes that highlight positive customer experiences.  
Offices: Ukraine, Canada
Founded in 2014 in Kyiv, Ukraine, Eleken has supported major enterprises from the US and Western Europe. They specialize in developing web and mobile applications. 
Eleken is known for being a people-centric company prioritizing its in-house employees' growth, development, and capabilities. Understanding the importance of dedicated talents in keeping clients happy, they have invested in honing them. 
Offices: Indonesia
Sculpt Visual is a firm specializing in motion branding. Working with brands for decades, they have mastered the BrandExistence methodology, which has worked well in transforming campaigns into viral ones. 
With good fundamentals in branding and marketing, they have helped various businesses excel locally and internationally.  
Offices: San Francisco, London, New York, and Miami
Fantasy Interactive is an established partner of Netflix, Master Class, and the Weather Channel. Being in the industry since 1999, they have understood the unique needs of various audiences and segments. 
Taking this mastery of marketing and advertising, they integrate digital capabilities and self-learning technologies to create better, more engaging user experiences. 
Offices: Budapest 
UX studio is an emerging agency in Europe founded in 2013. It has successfully produced monumental projects such as the redesigning of the UN food distribution platform, HBO Go's interface and a fresh look for a major brand in France. 
In 2019, Ux studioa was recognized by Clutch as one of the top UX agencies globally. 
Offices: New York, Portland, and São Paulo
Recognized by huge brands such as Apple, Google, and Ikea, Work & Co has successfully launched campaigns both below-the-line and digitally.
It has over 348 employees, all are masters of product strategy and engineering. 
Offices: London, Atlanta, New York, California, Denver
Established in 1999, Method has been leading the charge in launching and creating successful digital websites for 20 years. Other services they have include software development and project engineering. 
Some of the established companies they have served and partnered with are McDonalds, HItachi, and DAZN. 
Offices: New York, London
Momentum Design Lab, which was founded in 2002, has been operating in major cities in the US, Europe, and Australia. 
It takes pride in partnering with established companies in the Fortune 500. It combines technology-driven solutions and customer experience management services into a single package that will better resonate with its clients' brands.  
Offices: Austin, Texas
Praxent has established its presence in the financial sector. Recognized as one of the leading companies for three consecutive years: 2017, 2018, and 2019, it has cemented its expertise in web and mobile development as well as digital marketing strategies. 
Offices: US, Canada, Europe, Australia, and Singapore
Nielsen Norman Group is one of the oldest companies offering UX services. It had its fair share of partnership with established and startup brands. Some of which include American Express, Sony, and Google. 
To date, it was able to optimize over 2,000 interfaces globally.  
Offices: New York, London, Amsterdam, Skopje, and Podgorica
Infinum has been in the industry for 15 years. It started out as a small company offering UX services which gradually extended to software development.
Some of the largest brands it has worked with and optimized are Coca-Cola, Samsung, and Bayer. 
Offices: Lviv and Amsterdam
The Gradient is a digital design firm that has worked with various large and startup companies. Understanding the needs of both established and budding brands. Notable brands it has worked with are Starbucks, Walmart, and Amazon. 
Offices: Portland
Emerge was established in 1998 as a design firm. It has received several accolades and awards including Webby and Effie. Meanwhile, the brands it has worked with are Nike, Unilever, and Wacom. 
As a UX design firm, Emerge has established itself in properly identifying the unique interfaces and designs clients need in expressing their branding and core message. 
Offices: Austin, Texas
Slide UX is an emerging design and UX business. It has designed and worked on various iPaaS projects for brands such as Ticket City. 
Slide UX has helped a lot of end-users to conveniently purchase and improve their experience in purchases and managing personal data. 
Offices: Copenhagen, Madrid, New York, Melbourne, Oslo, and Bengaluru
Started in 1991, Designit has been helping businesses optimize their websites and app interfaces. Masters of software and app development, they continue to optimize products for their diverse clientele.  
Offices: London, England, Basel, Switzerland, and Berlin, Germany
Creative Navy specializes in web development, auditing, and prototyping. The industries it has worked with are education, healthcare, and technology. 
Understanding that design processes are short-lived, they make sure that the projects they work on make resounding memories and impress internet users.
Offices: Los Angeles, California
Established in 2016, WANDR is an emerging UX agency based in the US. It helps businesses create strategies that improve user experience. 
WANDR has partnered with both public and private sectors, including Samsung, Adobe, and the US Air Force. It supports companies by providing the services and solutions they need to scale. 
Offices: USA
Agente is a UX agency established in 2009, focusing on B2B services. It offers full-stack development and software solutions that help increase the level of user experience. 
It has amassed several awards and accolades, such as Top Mobile App Design Company Award for 2020 from Mobile App Daily. 
Agente has also developed a groundbreaking LMS application for the San Francisco Stock Exchange, which allows for better engagement and learning development process. 
Offices: Los Angeles, New York, and San Francisco
Since 2009, Remotion has been juggling UI/UX design and software development services along with digital marketing. Tapped by well-known brands such as Avast, Adobe, and Netflix, this shows the breadth of services and expertise it can provide for clients.  
With its successful launches, it has enabled the businesses it has supported to scale and earn $750 million. 
Offices: Cambridge, Chicago, Munich, San Francisco, London, Shanghai, and Tokyo
Ideo is a renowned design company that has worked with global brands. It is backed by over 600+ seasoned creative professionals from all over the world. 
Ideo helps growing businesses innovate by developing top-of-the-line platforms and tools they can utilize for daily operations.