Top 15 tech companies in New York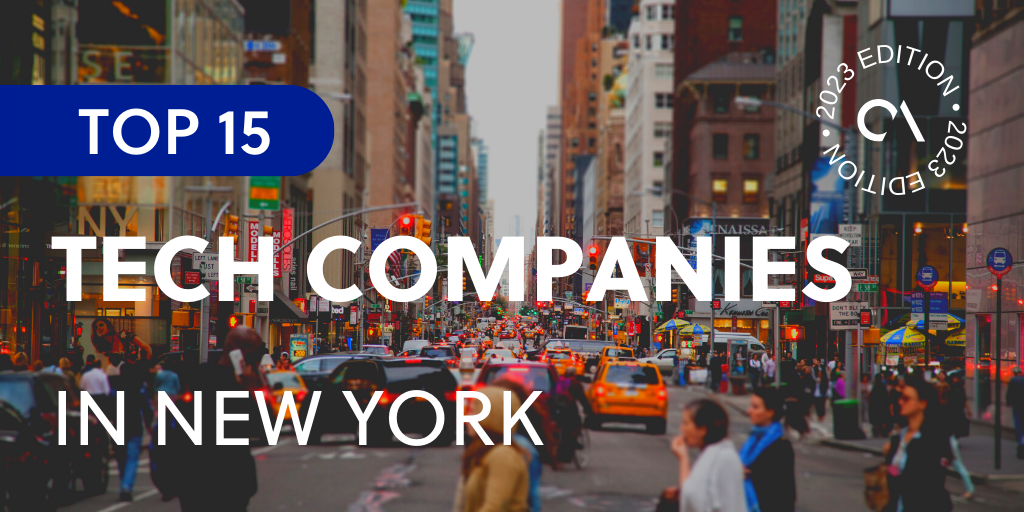 List of tech companies in New York
The Big Apple, now seen as Silicon Valley's main competitor, has recently challenged Silicon Valley's dominance as a hub for the tech industry. 
New York City is now one of the popular cities that serve as the home of renowned tech giants in the United States.
The attention that big businesses are now providing to technology has helped the tech industry in NYC grow. More technology businesses were founded as a result, which aided in the growth of the city.
In this article, we'll delve into the top tech companies in New York and elaborate on the technological landscape of the state. In addition, we'll also discuss the relevance of technology in the world of outsourcing. 
New York as a tech hub
While there is Silicon Valley in California, New York has also established a popular tech hub counterpart known as Silicon Alley in the 1990s. The tech hub, which became even more renowned in 2003, is located in the San Francisco Bay Area. 
The cultural richness of the Big Apple and its distinctive blend of innovation have helped the city attract commercial organizations and IT aficionados. 
In light of the pandemic, there has been a significant boom in the use of technology, particularly digital platforms such as telecommuting, online hiring, and video conferencing. Most tech companies providing these online platforms are in New York.
3 major tech company categories 
Tech companies can be categorized into three groups: 
Financial Technology (Fintech)
Fintech, also known as financial technology, is the counterpart of traditional banking in which technology is integrated into financial services. 
Computers and smartphones with specialized algorithms and software are often used in tech company operations. It also involves digital marketing, finance, and cryptocurrency.
HealthTech
These businesses are transforming healthcare as we know it, from telemedicine to cutting-edge biotech. They revolutionize the way traditional medical services are provided. 
By incorporating technology into the field of medicine, streamlining essential health services that aid in saving lives can be made easier.

EdTech
The union of advanced tech with education has proved itself to be a valuable tool in enhancing the process of teaching and learning. 
Technological advancements in the domain of education create opportunities for the efficient exchange of ideas and provoke a response from learners' senses. This leads to more meaningful knowledge acquisition. 
Top global outsourcing list 
The Outsource Accelerator is a major global marketplace and outsourcing advisory service. We display over 3,000 BPO firms globally in our large directory, providing complete insights, price information, and evaluations.
We know to help you identify the appropriate outsourcing partner for your specific company nee­ds, whether you're an independent entrepre­neur, a small to medium-sized business owner, or a corporate exe­cutive.
Take a look through our outsourcing directory. Explore our curated lists of the top IT service providers in India (Top 50), Europe (Top 20), and globally (Top 100).
15 leading tech companies in New York
New York is widely known as home to the biggest tech corporations in the US. Below are the top leading companies located in the Big Apple. 
One of the most illustrious corporations globally positioned itself right amidst Manhattan, New York City. 
This particular city was chosen to serve as a focal point for innovation and technology alongside being a commercial operations nerve center for this said company. 
The latest technology and products from Microsoft have been experienced by both locals and tourists alike at its flagship store on Fifth Avenue. This place has now been transformed into a well-known landmark.
One of IBM's Global Technology Services headquarters is located at Armonk, an energetic suburban vicinity nestled within Westchester County. 
The organization also maintains multiple research laboratories, data centers, and offices throughout various parts of New York City. 
Partnerships with regional institutes and universities further exemplify IBM's commitment to innovation. Furthermore, the status of New York City as a leading hub for technology and research is strengthened by the said tech company.
Located on 8th Avenue,  Google remains a major participant in the continuous growth of the tech ecosystem in New York City. 
With its concentration on areas like artificial intelligence, cloud computing, and software development, Google plays a crucial role through its offices and initiatives.
Apple's commitment to offering cutting-edge technology experiences is exemplified by its flagship store in NYC. 
The company located on 5th Avenue is closely associated with innovation and is expected to have an influential presence in the city's tech scene. Apple has an ongoing expansion and focus on hardware and software development.
Adobe is situated at 1540 Broadway, and the other office is located on 5th Avenue, NYC.  
Its solutions for creative software are vital for New York City's flourishing media and creative industries. 
As digital content creation expands at an unrelenting pace, products from Adobe will continue to have a lasting impact.

Located at 150 Varick St., Greenhouse's success serves as solid proof of the thriving startup culture in NYC. 
As a company specializing in recruiting and HR software, Greenhouse mirrors the rising significance of talent acquisition and management within the tech sector.
Amazon has substantial investments, including its second headquarters (HQ2) located in Long Island City. Its presence will undoubtedly mold e-commerce, cloud computing, as well as logistics in this region, giving it quite an edge.
NVIDIA's main office is located at 41 E 11th St, Suite 61, New York, NY.  It leads the way when it comes to graphics processing units (GPUs) as well as artificial intelligence (AI) hardware. 
NVIDIA's technological contributions are pivotal for the growth of AI and machine learning applications in various industries across NYC.
SeatGeek represents the rapidly expanding ticketing and event tech sector within the city. As live events make their comeback, SeatGeek's platform will serve as a crucial tool in linking consumers to immersive experiences.
One of its offices is located at 245 W 17th St, New York. Twitter continues to be a prominent force in social media, contributing significantly to NYC's standing in both digital advertising and content creation spheres.
Salesforce, located on 6th Avenue, specializes in customer relationship management (CRM) software. Such tools prove invaluable for NYC-based businesses seeking optimized customer interactions and increased growth prospects.
VMware's attention is firmly focused on virtualization alongside cloud infrastructure management offering efficient IT resource management quite crucial for enterprises located within the city, particularly in 636 Avenue, New York, NY.
The fintech sector benefits directly from Square's payment processing solutions & financial services. Its featured offerings align with PayPal's comprehensive financial transaction support systems suite, driving e-commerce & digital transactions' expansion within New York, NYC.
The company's physical office is located at 117 Barrow St, New York, NY. It performs a variety of services, such as customer service, sales, marketing, and business development. 
PayPal's presence in New York City represents the city's importance as a worldwide financial center and its attempts to engage with its regional customers and partners.
Dell's name resonates within NYC (85 Broad St, New York, NYC) business circles due to pragmatic expertise in hardware & software tools. These technologies are essential for building reliable, scalable IT infrastructures required by businesses operating here.
The future of the tech industry in NYC
The future of New York City's tech industry shows considerable promise and possibilities. 
An ever-changing landscape hosting prominent tech moguls, inventive startups, and a thriving talent pool positions NYC to forge ahead as an international tech powerhouse. 
Thanks to giants like Google, Apple, Amazon, and up-and-coming innovators, industries like finance tech, AI, media, and online commerce show promise.
Moreover, the city's strong commitment to tech education, infrastructure investment, and the convergence of finance and technology will shape its tech landscape.
With technology merging with various industries, NYC is ripe to be an epicenter for out-of-the-box solutions harnessing innovation to tackle contemporary world problems.