Top 20 tech companies in Maryland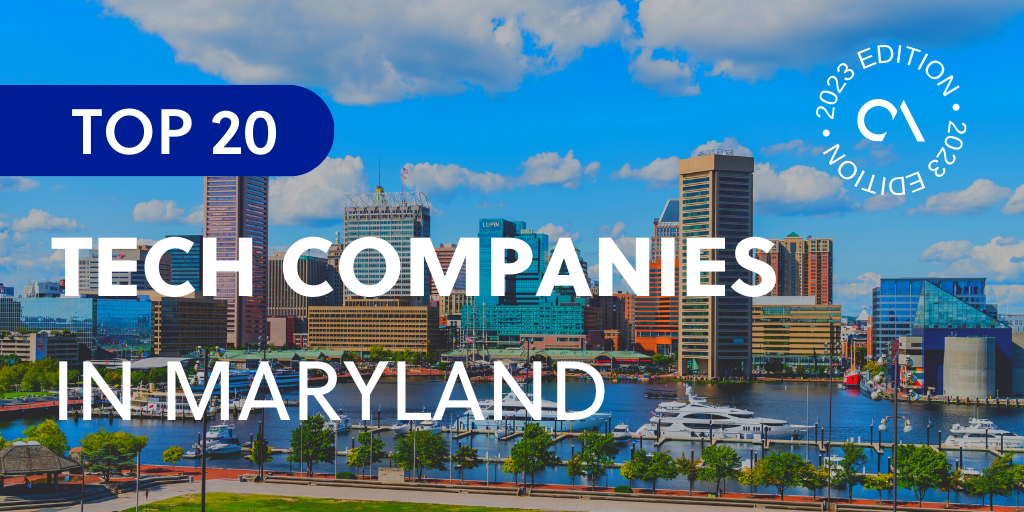 List of top tech companies in Maryland
Maryland, often referred to as the "Old Line State," is not only known for its rich history and stunning Chesapeake Bay but also for its booming tech industry.
Over the years, the state has evolved into a prominent player in the tech sector, drawing attention on both the national and global stages.
The Maryland Department of Commerce reports that Maryland's 12,060 IT enterprises are among the nation's leaders and a significant economic engine for the state.
These technological companies receive $12.1 billion in government contracts yearly, generating $45.01 billion in economic activity.
Furthermore, Maryland boasts a highly educated workforce, with many residents holding advanced science, technology,  and engineering degrees.
This well-educated talent pool has been instrumental in fueling innovation and driving the success of tech companies in the state.
In fact, Maryland ranks 11 among the top states in the US for the number of engineering graduates produced by its universities. This provides a continuous stream of skilled professionals to meet the demands of the tech industry.
In this guide, we'll explore Maryland's top 20 tech companies, shedding light on their contributions to the state's thriving tech ecosystem.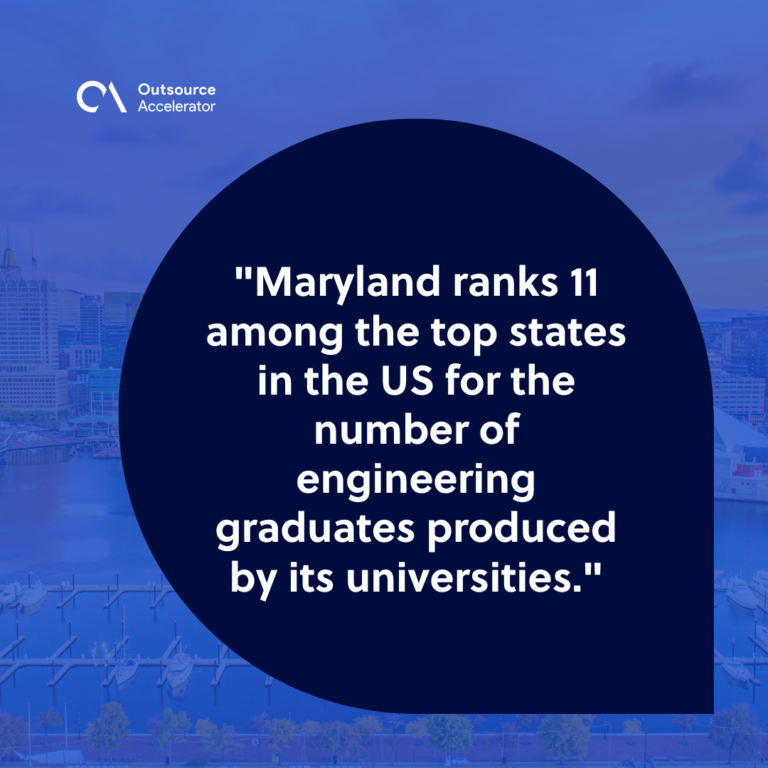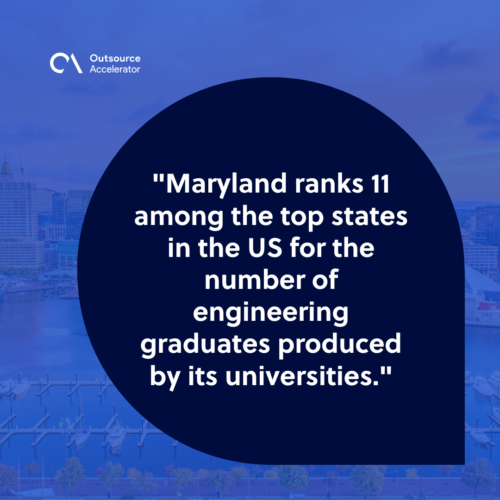 A brief history of Maryland's tech industry
Maryland has a long history of innovation, dating back to the late 19th century when inventors like Benjamin Banneker made significant contributions to science and technology. Benjamin was a self-taught mathematician and astronomer.
This tradition of innovation continued through the 20th century. Institutions like the Johns Hopkins University and the National Institutes of Health (NIH) led the way in research and development.
Tech companies started sprouting up, attracted by the state's proximity to Washington, D.C., highly educated workforce, and robust infrastructure.
The advent of the personal computer revolutionized the business landscape, and Maryland was quick to embrace this change.

Maryland's thriving tech sectors
A diverse range of sectors characterizes Maryland's tech ecosystem, each significantly contributing to the state's overall innovation and economic prosperity.
These thriving tech sectors have shaped the state's present and hold the promise of a dynamic and prosperous future. 
Cybersecurity
One of the standout sectors in Maryland's tech industry is cybersecurity. The state is home to a remarkable concentration of cybersecurity firms, earning it the moniker "Cybersecurity Capital of America."
This reputation can be traced back to the establishment the National Security Agency (NSA) at Fort Meade, which was a magnet for cybersecurity talent and innovation.
The NSA and other government agencies created a unique ecosystem, fostering collaboration between the public and private sectors.
As a result, Maryland became a breeding ground for cutting-edge cybersecurity solutions. 
Biotechnology and life sciences
Maryland boasts an impressive cluster of biotech companies and research institutions, making it a global leader in this field.
The state's history in biotechnology can be traced back to the establishment of the National Institute of Health (NIH) in Bethesda. NIH has been at the forefront of groundbreaking medical research.
Artificial intelligence and machine learning
Maryland's thriving AI and machine learning sector can be attributed to its robust educational institutions and research centers.
The presence of leading universities like the University of Maryland and Johns Hopkins University has created a talent pipeline of researchers and engineers. These professionals are eager to explore the potential of AI.
Education and research centers
One of Maryland's tech ecosystem's less-acknowledged but equally crucial components is its educational and research centers.
Institutions like the University of Maryland and Johns Hopkins University produce top-tier talent and conduct groundbreaking research that fuels innovation in various tech sectors.
The University of Maryland, for example, has established the Maryland Technology Enterprise Institute (Mtech), which provides resources and support to tech startups.
Similarly, Johns Hopkins University has been instrumental in advancing medical technology and healthcare innovation through its research initiatives.
These research centers and universities serve as catalysts for the growth of Maryland's tech industry.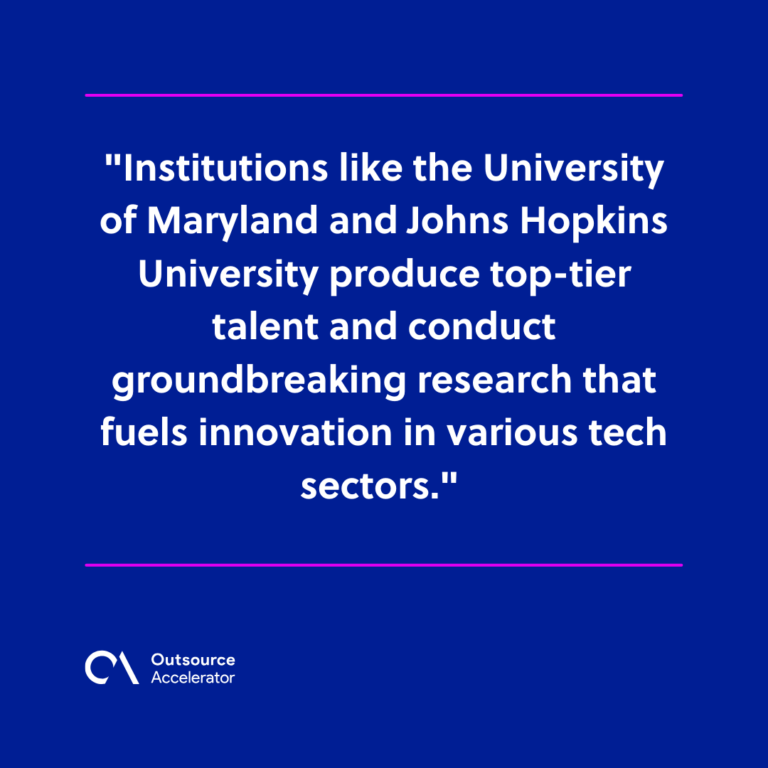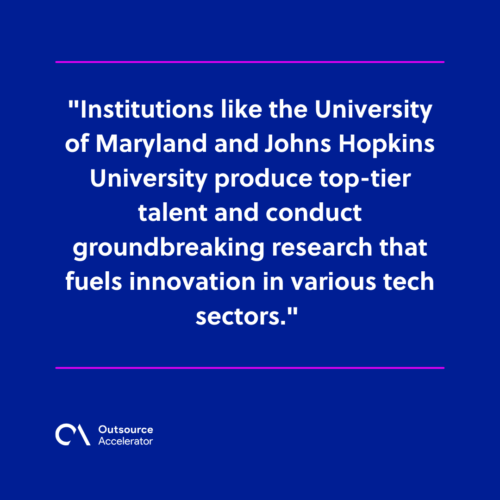 Top global outsourcing lists
Outsource Accelerator is the world's leading outsourcing marketplace and advisory. We list over 3,000 BPO firms located across the globe in our global directory, and we provide detailed information, price guides, and reviews.
Whether you're a solopreneur, SME owner, or corporate executive, we can help you find the most suitable outsourcing provider for your business.
Explore our outsourcing directory now. You may also check out our Top IT software/companies lists here:
Top 20 tech companies in Maryland
Let's now take a closer look at the top 20 tech companies in Maryland that are making a significant impact on the state's economy and the global tech landscape:
Founded in 2002, Digital Management, LLC. (DMI) has emerged as one of the trailblazing tech companies in Maryland. DMI specializes in guiding organizations through digital transformation by harnessing the power of technology.
As businesses grapple with the digital age's demands, this firm provides tailored solutions that enhance efficiency, customer engagement, and competitiveness.
It also helps clients stay at the forefront of technological advancements by creating cutting-edge mobile applications and implementing IoT strategies.
Additionally, their expertise in data analytics enables companies to extract valuable insights for informed decision-making.
Lockheed Martin, established in 1912, is a global aerospace and defense industry giant with a significant presence in Maryland.
The company's enduring relevance lies in its pioneering work across advanced technologies. It's aeronautics, space exploration, and cybersecurity contributions profoundly impact national security.
Lockheed Martin's innovations extend to cutting-edge aircraft, missile systems, space exploration solutions, and state-of-the-art cybersecurity technologies. These contributions safeguard the nation and maintain its technological supremacy on a global scale.
Lockheed Martin's presence in Maryland exemplifies the state's critical role in shaping the future of aerospace and defense industries.
Founded in 1997, AdvanTech is one of the tech companies in Maryland with a robust portfolio in cloud computing, cybersecurity, and software development. 
This tech company excels in providing scalable IT infrastructure, enabling organizations to meet evolving demands seamlessly.
Its expertise in cybersecurity ensures that clients' critical data remains secure in an era of increasing digital threats.
As businesses continue to digitize operations and rely on technology, AdvanTech's role becomes increasingly crucial. 
Furthermore, AdvanTech's solutions enable clients to harness the full potential of IT resources while ensuring the integrity and security of their data.

CNSI, established in 1994, has established itself as a leader in innovative healthcare technology solutions. 
This tech company primarily focuses on the following areas:
Medicaid management systems

Health insurance software

Health IT consulting

Healthcare IT compliance
CNSI's contributions are directed toward enhancing the efficiency of healthcare administration and elevating the patient experience.
By developing advanced Medicaid management systems, CNSI simplifies the complex processes associated with government healthcare programs, making them more accessible and cost-effective.
Inovalon is one of the tech companies in Maryland specializing in data analytics and cloud-based platforms tailored to the healthcare sector.
Its contributions profoundly impact healthcare organizations, helping them enhance patient outcomes and reduce costs through data-driven decision-making.
Inovalon's data analytics solutions enable healthcare providers and payers to extract valuable insights from vast datasets. This leads to more informed decisions and improved patient care. 
Moreover, its cloud-based platforms facilitate the secure exchange of critical healthcare information, promoting stakeholder efficiency and collaboration.
ASRC Federal, though relatively young compared to other tech giants, has rapidly become a significant player in Maryland's technology landscape.
The company operates across various sectors, including space, defense, and intelligence. ASRC Federal's contributions to these critical areas have earned them a reputation as a key partner in advancing national security and scientific achievements.
This tech company is also developing cutting-edge space exploration and satellite communication technologies.
In the defense sector, ASRC Federal supports the U.S. military with solutions ranging from cybersecurity to logistics. They are vital in enhancing the nation's defense capabilities and safeguarding sensitive data.
OpenText, formerly known as Micro Focus was established in 1976. It is a software company with a long-standing reputation for providing essential application modernization, cybersecurity, and analytics solutions. 
OpenText is one of the tech companies in Maryland that aids businesses in updating and optimizing their legacy systems. This ensures the systems remain relevant, efficient, and secure in the digital age. 
It also excels in analytics, enabling companies to extract meaningful insights from their data, driving informed decision-making and business growth.
Established in 2001, Infinite Computer Solutions specializes in IT consulting and services. This tech firm's offerings include the following:
Digital transformation solutions

Product engineering

Application management services
Infinite Computer Solutions helps organizations maintain and optimize their software applications.
Founded in 2006, DiscoverOrg is a data and analytics company that provides accurate, actionable insights to sales and marketing teams. 
This tech company's missions are centered around helping businesses make informed decisions and drive growth through data-driven strategies.
Its data and analytics platforms gather and analyze vast information, helping sales and marketing teams identify potential leads and market trends. This empowers businesses to allocate resources efficiently and target their efforts effectively.

In the healthcare sector, OSP Labs contributes significantly by integrating EHR systems. It enables healthcare providers to streamline patient data management and enhance care coordination.
This results in improved patient outcomes and more efficient healthcare delivery. OSP Labs' telemedicine platforms have also gained prominence, especially due to global healthcare challenges.
These platforms facilitate remote consultations, enabling patients to access healthcare services conveniently while reducing the burden on physical healthcare facilities.
OSP Labs' revenue cycle management solutions help healthcare organizations optimize their financial operations, ensuring timely reimbursement and financial sustainability.
Founded in 2005, Zenoss provides unified monitoring and analytics solutions that help organizations manage their IT infrastructure more efficiently. 
This tech company is one of the prominent tech companies in Maryland, constantly making strides in the IT monitoring and management sector. 
It has gained relevance by assisting enterprises in optimizing their IT operations, reducing downtime, and improving overall performance.
Zenozz services include network monitoring, cloud monitoring, and event management.
Established in 2004, Motionsoft stands out as one of the tech companies in Maryland, focusing on the fitness and wellness industry.
This firm has revolutionized the wellness sector by providing comprehensive software solutions. These solutions encompass membership management, billing, and marketing for fitness facilities.
Motionsoft's contributions extend beyond streamlining administrative processes; they enhance member experiences, making it easier for fitness enthusiasts to access and enjoy their facilities.

Valbin Corporation is significant in the language and intelligence services sector. This firm core offerings include language translation, interpretation, and intelligence analysis services.
Valbin's relevance lies in its invaluable support to government agencies, contributing to national security efforts through linguistic expertise.
Moreover, its significant contributions to many industries ensure that critical information is accurately conveyed and analyzed, safeguarding the nation's security.
a.i. solutions has solidified its position as one of the tech companies in Maryland specializing in aerospace engineering and mission assurance. 
This tech firm's contributions are instrumental in advancing space exploration, particularly through their work with NASA and other aerospace agencies.
a.i. solutions provide mission-critical systems engineering and analysis. These systems ensure the success and safety of space missions as space exploration continues to captivate humanity's imagination.
Planned Systems International (PSI) was established in 1988. It is a key player in the healthcare IT and information management sector.
Its services, particularly electronic health records (EHR) systems and health data analytics, significantly improve healthcare delivery through technology.
With the ever-increasing demand for efficient healthcare solutions, PSI enhances patient care, streamlines operations, and drives innovations in the healthcare industry.
OSIbeyond, founded in 2000, offers IT consulting and management services. Its cybersecurity and technology solutions expertise is crucial in an age where data protection is paramount.
OSIbeyond assists businesses in safeguarding their digital assets and optimizing their IT operations, making them more resilient and secure.
This tech company's services are essential for organizations that navigate the complex and evolving landscape of cybersecurity threats and technology challenges.

Since its establishment in 1980, The MIL Corporation has provided financial and program management solutions primarily for government agencies.

As public funds must be managed effectively and transparently, The MIL Corporation's services ensure accountability and fiscal responsibility.
Science Systems and Applications (SSAI) is one of Maryland's highly influential tech companies, with a remarkable focus on scientific research and development.
One of SSAI's primary strengths lies in its ability to push the boundaries of scientific knowledge and technology. 
This tech firm has played a vital role in developing advanced technologies and conducting advanced scientific research. SSAI collaborates with space agencies like NASA, contributing to missions that expand our understanding of the universe.
CloudBolt Software is a tech company established in 2011 that specializes in hybrid cloud management and automation. It enables businesses to manage their cloud infrastructure, enhancing agility and cost-effectiveness efficiently.
CloudBolt Software's contributions align with the evolving demands of the digital landscape, where flexibility and scalability are paramount.
PEAKE, founded in 2005, is a technology consulting firm offering various IT services, including cybersecurity and infrastructure management. It helps organizations secure digital assets and maintain robust IT systems. 
This tech consulting firm's expertise is crucial for businesses seeking to navigate the complexities of the digital realm securely and effectively.