Top 30 tech companies in Austin, Texas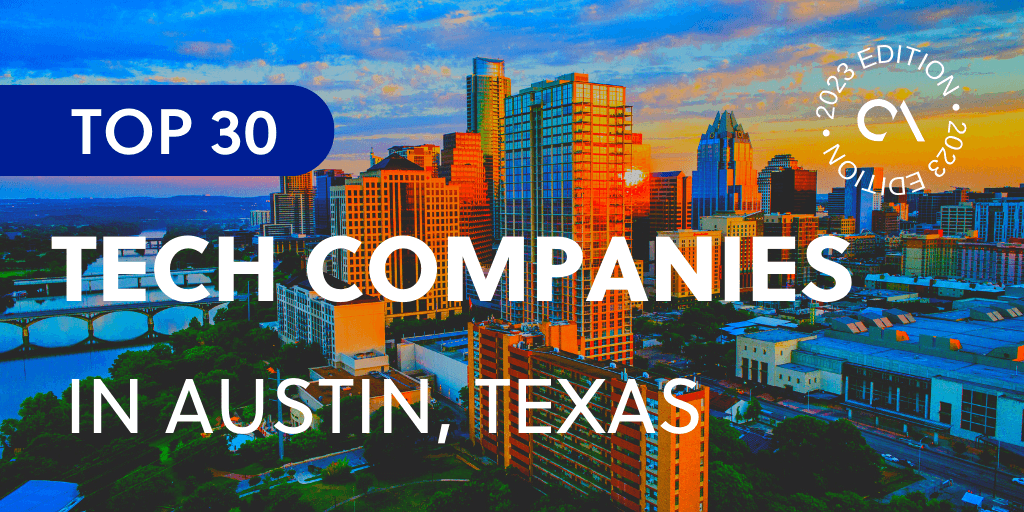 List of tech companies in Austin, Texas
The cost of living is a top consideration for many tech companies and workers when relocating and expanding operations. 
Most tech experts are encouraged to seek opportunities in more affordable state cities, and Austin is among the top choices next to Miami. 
Some leading brands have expanded operations and hired physical and remote staff, including Apple, which reportedly shed a billion to build a new campus in North Austin, Texas. 
However, affordable living is not the sole factor why the place is positioned to become the newest hub for the tech industry. It is also reflected in the number of tech companies operating in Austin, Texas.
These companies offer a wide range of products and services that revolutionized the State's economy. From software solutions to e-commerce websites and digital marketing, more job opportunities are laid down for IT experts to explore.
Austin, Texas: A new destination for tech professionals     
Many IT professionals aim to advance their careers by working in big companies around the globe. With Austin offering many advantages, the city is one of the top choices for job seekers, including remote workers. 
Another contributing factor is the inclusivity. Many businesses, not only in the tech sector, are challenged with policies governing diversity and equity. 
It led Austin to take inclusivity seriously and stands out as one of the most friendly cities worldwide for the LGTBTQ+ community and even ranks third in the best LGTBTQ+ city in the United States.
It is no wonder top tech companies are thriving to explore new horizons and challenges in Austin, Texas. 
The city's potential and welcoming government support makes it one of the best candidates to be the next technology hub in the country.
Why do tech companies choose to expand operations in Austin, Texas?
The City adapted to the requirement of technological advancement, making it ideal for top tech companies who plan to expand operations globally. 
With an affordable cost of living, the tech industry in Austin provides services in almost all sectors, including healthcare, fintech, and digital marketing.
Because of this, collaboration and support mechanisms for companies are strong despite the market competition. 

3 major impacts of technology in Austin, Texas
As the tech industry in Austin continuously emerged, its impacts led the place to garner a  positive curve to its overall economic development.
Job opportunities 
The Austin Chamber of Commerce reported in 2020 that over 8,300 companies operating in the Austin metro area are part of the tech sector and have impacted its economic performance. 
It provides many job opportunities for IT professionals, not limited to residents, but includes remote talents who wish to work in big companies headquartered in the city.  
Economic stability
Aside from job opportunities, the tech industry in Austin directly contributes to its economic stability and market movement. 
Investors have the power to create a competitive ecosystem for the tech sector. The trade and transactions of businesses at local and international scales influenced the city in terms of overall growth in national income.
Modernization and accessibility 
Today, the development of a city is attributed to its modernization and accessibility. It is how tech companies make it possible for Austin to be the next Silicon Valley.
Austin adapted to the work of technological advancement, making it ideal for many companies to station their satellite offices in various parts of the city. 
Top global outsourcing list
Outsource Accelerator is the world's leading outsourcing marketplace and advisory. We list over 3,000 BPO firms located across the globe in our global directory, and we provide detailed information, price guides, and reviews.
Whether a solopreneur, SME owner, or corporate executive, we can help you find the most suitable outsourcing provider for your business.
Explore our outsourcing directory now. You may also check out our Top IT software/companies lists here:
Top 30 tech companies in Austin, Texas
Let us take a quick overview on the services offered by these top tech companies in Austin, Texas:
Since its establishment in 1993, EPAMS Systems has continuously evolved and earned expertise in software engineering. It is  one of the top tech companies in Austin, Texas, and a leader in product development and digital services.
The company combines its software engineering knowledge with strategic business, innovations, and digital capabilities. EPAM Systems promotes a human-centric approach for higher customer value.
Zello revolutionized voice communication as a leader of push-to-talk technology, assisting mobile workers in addressing priority challenges promptly. 
The firm recorded the highest rating for its walkie-talkie app, with over 170 million users in various industries, including healthcare, hospitality, and transportation, among others. It also played a role in serving frontlines during certain crisis. 
Realtor.com is a prime company for digital real estate for over 25 years. It is one of the trusted guides of many customers in their homes through its user-friendly website and mobile application. It provides information and insights that help them in making sound decisions. 
Realtor.com also acts as a trusted partner for its customers for business growth. It offers consumer connection and branding capabilities that equip firms to promote their services to the global market.
The company runs a product life cycle approach through its Professional Services as a Product Company (PSAAP). It utilizes the work of tech to create unique products and invest heavily in human capital.
This family-owned company has over 650 professional staff working nationwide and services millions of active business partners with a 95% retention rate.
WP Engine is on the list of the top tech companies in Austin, Texas, and a top-rated platform for WordPress. It creates solutions to make remarkable websites and applications for clients, helping businesses to go beyond limits. 
The organization consists of high-capable and well-trained staff guided by a values-based approach to innovation, building excellent digital experience.
GoGuardian is the company behind a unified suite that offers services to help learners unleash their full potential and schools implement technology-based programs.
The team works with experts who continuously study and conduct research to understand the impacts of digital learning. The company also received its certification by iKeepSafe in compliance with the Family Educational Rights and Privacy Act.
The firm has a world-class team of IT professionals and engineers who collaborates in delivering globally competitive IT products and services. 
LogicMonitor has worked with Vista Equity Partners and Providence Strategic Growth in providing service excellence for over 13 years. Its services include Software as a Service (SaaS) solutions for automated monitoring with advanced features.
Wise has been one of the fastest-growing companies in the Fintech industry since its launch in 2011. It makes money transfer simple, even in international transactions.
The organization assists millions of its customers with its multi-currency services that operate across different countries with convenience and affordability.
Starburst is one of the leading tech companies in Austin, Texas, in terms of providing data analytics for businesses. It is a trusted analytics engine that uses data to make accurate and reliable decisions.
It utilizes data to help data-driven companies in making absolute actions. It also assists its partners in coming up with solutions that are accessible and cost-effective. 
Starburst services international companies, including Conde Nast, FINRA, and Comcast.
Cox Enterprises empowers many cities with innovative services that eliminate global waste and core approaches that focus on mobility, sustainability, and advanced connectivity. 
The organization collaborates to establish forward-thinking solutions with its main divisions, Cox Automotive and Cox Communications, which offer the following services:
Powerhouse broadband communications

Green modes of transportation

New technologies ousting global waste



ActiveProspect envisions making content-based marketing a go-to practice for customer lead generation through its SaaS software solutions. 
It has a product suite that helps companies establish their presence in a highly competitive market industry. Its services include lead generation strategies, security measures, and cost-effective ways to acquire data insights and monitoring mechanisms.
Bazaarvoice is one of the well-recognized tech companies in Austin, Texas, promoting a people-first approach in its services towards advancing technology. It binds brands and retailers to its customers through the voice of their insights online.
The firm uses billions of shoppers' views every month and shares reliable user-generated content with its clients using ratings, comments, and reviews. It caters to more than 12,000 brands and retail websites under its network.
Snow software has a unique offer for unified cloud-native solutions that deliver authentic insights to businesses in the IT environment. It combines the following solutions to optimize business spending, avoid risk, and elevate the value of technology:
SaaS management

Software asset management 

Cloud cost management
This company enhances the ways businesses utilize technology consumption. The services and products of Snow Software allow IT leaders to innovate performances and operational capability in a hybrid industry.
NVIDIA is a leader in accelerated computing with the power of AI and digital twins that transform the world's tech industry. It architects advanced chips, software, and systems that help companies acquire their own AI factories.
Witnessing the high demand for computing platforms, the firm structures system-on-a-chip (SOC) units and graphics processing units, making a positive impact on the following fields:
AI and gaming 

Robotics and climate sciences

Autonomous vehicle 

Creative design
This cloud computing company activates digital workflow with partner enterprises performing operations in information technology. Over the years, ServiceNow has continuously progressed, reflecting its subscription revenue.
The work of digitization and automation of business processes improves the deliverables of its partner client through its platform. Its services optimize processes that make work more competitive and valuable.
Dell Technologies is one of the top tech companies in Austin, Texas, for industry expanding to hardware, software, and IT services in the State. The products manufactured by Dell are among the best quality in the market. 
Aside from laptops to servers, the company also ventures into cloud computing, data, cyber security, and data storage product solutions. Dell still dominates the market for computer hardware and software products.
Microsoft has been best tech companies in Austin, Texas, for over 40 years. Its office software, video games, and operating systems have continuously dominated the professional and corporate world. 
This company contributed many advancements in the tech industry, especially in innovations and user experience. Microsoft's Windows, Office, and Xbox are among its top products.
Salesforce has carved a name in producing customer relationship management (CRM) software since its inception in 1999. It creates standard tools in various enterprises to assist in client relationships and profit generation. 
With a commitment to new technologies, Salesforce stays on top of the IT sector. It provides support with the help of its two main product categories, the company's marketing and analytics cloud.
Electronic Arts is a top developer of video games. It is the company behind the big titles, including FIFA, Madden NFL, and The Sims. The determination of the organization to link gameplay, visuals, and story produced exceptional games. 
EA has been a leader in the gaming business for many years and has expanded its products to address the emerging demands of esports and online games worldwide.
IBM is listed among the top tech companies in Austin, Texas, catering to its client partners in various industries through its software, hardware, and consulting services. 
It is also a frontrunner company for creating cloud, AI, and blockchain tech products and services. The highly competent offers of the company aided many businesses to level up efficiency, elevate customer satisfaction, and transform overall performance.
AMD is a company that centers on semiconductors on a multinational level with a corporate campus in Austin, Texas. 
The firm is committed to creating durable semiconductor technology that serves clients worldwide and has acquired other companies since its establishment. Its products include the following:
Microprocessors 

Embedded and graphics processors

Motherboard chipsets

central processing units

personal computers
Founded in 2006, Cisco specializes in creating forward-thinking products and services. Its offerings encompass innovative software networking, cloud, and security systems that reinvent business potential and transform an inclusive future.
As part of the information technology industry and one of the best-performing tech companies in Austin, Texas, Cisco also established a name with the following product offers:
Routers and switches

Security systems

Interfaces and modules

Wireless networks and servers 

Analytics systems and data management

Storage and virtual networking



Texas Instruments is a leading technology company with a physical office in Austin, Texas. It has expertise in architecting and conceptualizing analog and embedded semiconductors for various products, which include: 
Digital calculators

Integrated circuits

Digital light processors

Digital signal processors
Over the years, it has worked with more than 100,000 companies in different countries. Texas Instruments caters to various markets, such as electronics, communication equipment, and enterprise systems, to name a few.
VMware is a virtualization and cloud computing provider with a branch office in Austin, Texas. It is known for multi-cloud application services that hand control to various enterprises in the market.
The company also expands its offers with data networking, cloud computing, and application modernization. It has an ecosystem of more than 75,000 partners for technology innovation. 
Luminex is one of the leading tech companies in Austin, Texas, for biotechnology and technology, founded in 1995. It develops and engineers proprietary biological testing platforms applied to life sciences. 
The firm has a parent organization called DiaSorin that caters globally to provide customers with products and services in the following sectors: 
Pharmaceutical drug discovery

Clinical diagnostics

Genomic and proteomic research

Food safety sector
Tropic plays a vital role in SaaS software solutions that service all types of businesses, from startups to Fortune 500s. Companies utilize the capability of Tropic to acquire software, contract management, and cost-effective solutions.
It uses data and innovative tools that enable companies to save on buying software. Tropic recorded an intelligent move by managing over a billion dollars in spending for companies, including Plaid, Notion, and Intercom, to name a few.
Digital Turbine delivered an excellent customer journey that resulted in many of its partners becoming the world's best-performing advertisers, telecoms, and publishers.
This one-stop-shop platform uniquely designs the capability to connect with clients by strategizing acquisition, awareness, and profit generation, comprising more devices.
NinjaOne provides IT solutions that simplify the systems and processes for the IT teams of organizations.
This firm allows IT leaders to modernize and automate task management within a unified platform that improves technician efficiency and user experience. 
NinjaOne supports over 10,000 clients and earned various recognition as best-rated software for the past three years.
BigCommerce has been a certified partner of many firms in expanding and developing their operations, from startups to large enterprises, and helping them achieve success. 
It has been a well-recognized commerce platform since 2009 and is dedicated to empowering businesses to envision, design, and grow operations in digital space. It offers unique launch and success services, including:
Solutions architecting and data migration

Implementation project management

Enterprise launch and growth coach

Technical account and customer success management

BigCommerce University
Striveworks is highly recognized by Fortune 500 companies and industry leaders. It provides primary solutions for managing model designs and governance and monitors real business operations challenges.
The company uses data analytics to address challenges in interpreting data effectively and provide impactful decisions for the organization. It simplifies Machine Learning Operations (MLOps) to a shared platform that turns data analytic processes into high-level code.