Top 30 social media companies in India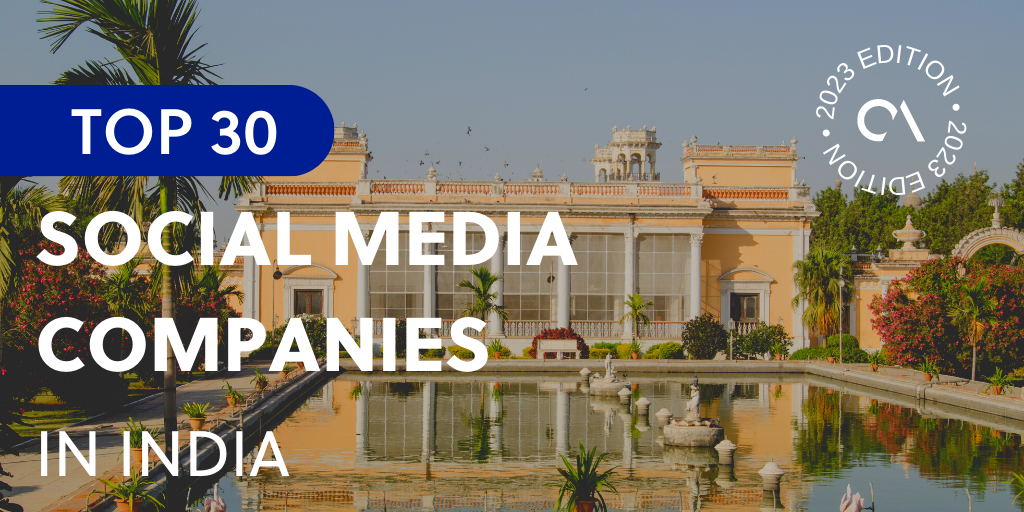 Social media marketing refers to the use of social media platforms to reach customers. Since a good chunk of people spends time on social media, companies putting their brands in the same space increases the odds of attracting customers.
To help brands capitalize on this shift, social media companies can help you.
Second only to China in terms of presence, India has over 755 million social media users in 2022. Unsurprisingly, tech visionaries and creatives in the subcontinent have set up social media companies catering to local and international clients.
With their presence and acuity in navigating cyberspace, businesses everywhere are flocking to work with social media companies in India. If you're among those companies, this article will help you get started.
The social media landscape in India
India has skyrocketed into the online space, thanks to a number of factors. The tight-knit Indian communities, the COVID-19 pandemic, and the ongoing Digital India campaign has made the perfect storm for the subcontinent.
Analysts around the world view India as a rising economic and technological superpower.
One study reported that almost half of Indians (43%) have access to the internet, and an average social media user spends 2.45 hours on a daily basis.
The most popular social media platforms in India, based on user base, are as follows:
Whatsapp

Instagram

Facebook

Telegram

Facebook Messenger
Social media marketing is becoming increasingly popular since it promises high returns on investment (ROI) with little capital required. It requires, however, various specialized skill sets and access to a large user base—something never in short supply in the Indian subcontinent.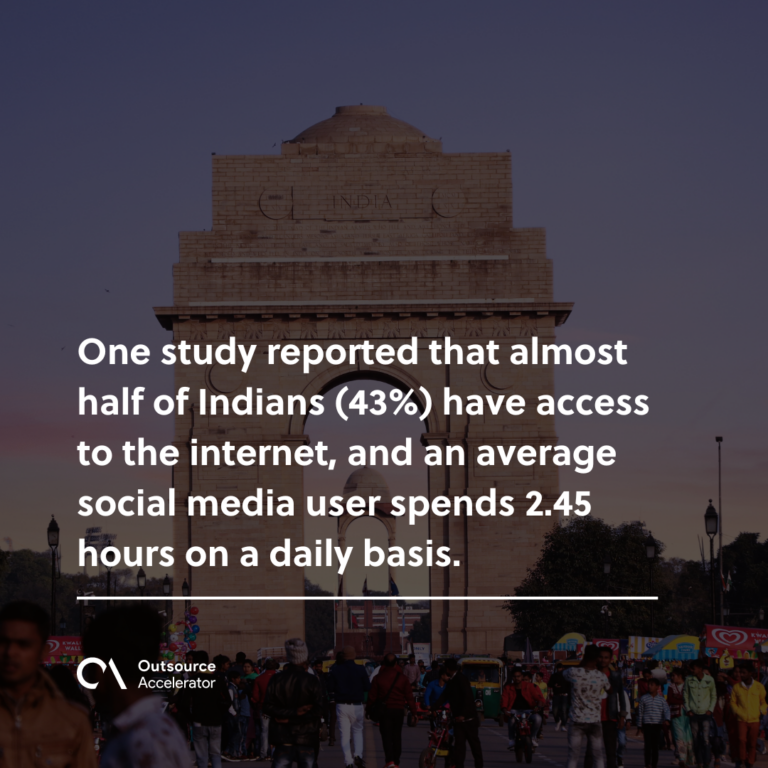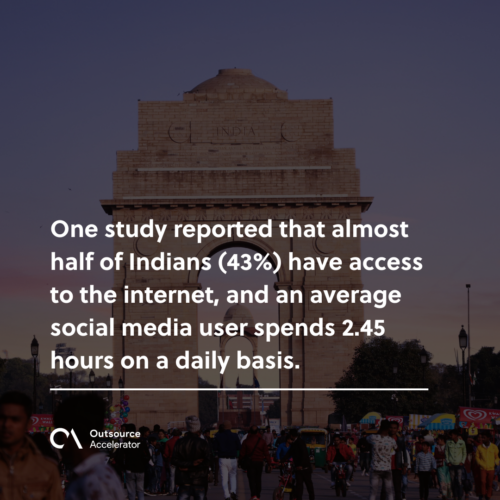 Top 30 social media companies in India

Outsourcing your social media processes in India
Since social media marketing is becoming an essential part of driving growth among companies, you need a partner you can trust. 
Outsource Accelerator remains the global leader in business process outsourcing. With updated information on over 3,000 service providers, you can find the perfect partner for your business.
Start by browsing through our outsourcing directory. Also, you can check out the following articles to help you navigate the social media marketing space.
Top 30 social media firms in India
Below are the leading social media companies in India, offering a range of services designed to increase your reach and engagement. These firms cater to local and international clients, making them perfect for your offshore social media marketing needs.
Pinstorm has grown into an industry veteran, being an overall marketing agency. Founded in 2004, this social media company in India has expanded from its Mumbai headquarters to New Delhi and Bangalore. It even has overseas branches in Singapore, Malaysia, and Switzerland.
This company is best known for multi-platform digital marketing and its pay-for-performance advertising.
Another Mumbai-based digital marketing firm, Gozoop boasts over 300 marketing experts across India and the Middle East. Branding itself as an "independent integrated marketing group," this marketing firm is well-known for driving engagement for startups.
Their social media marketing portfolio covers Facebook fan building, social media management and consulting, and social commerce development.
Poised Media is an award-winning digital firm with a strong presence in India and the Middle East. They specialize in cross-platform creative campaigns, earning them renown as one of the leading social media companies in India.
They've led social media campaigns for major brands in India and the United States.
As an international digital marketing brand, Infosys has multiple offices in India. It has offices in Bangalore, Hyderabad, Mumbai, Mangaluru, and more.
Its digital marketing umbrella includes specialized social media marketing strategies for different industries. Infosys caters to retail, entertainment, and even healthcare sectors.
Wipro is well known as one of the global Big Tech companies, tracing its origins in manufacturing refined edible oils in Amalner, India. It has since grown and diversified, with significant holdings in various tech spaces, including social media consultancy.
As a massive company, they have top-tier social media management services. They give clients unprecedented visibility across all platforms, leveraging predictive behavioral modeling and intent profiling to accelerate brand awareness and conversion.
Tech Mahindra is also an Indian multinational firm, initially focusing on IT services. Now, it has an entire digital marketing arm that offers analytics and campaigns, making it one of India's top social media companies.
It offers end-to-end social media integration capabilities. Offshore brands can tap into Tech Mahindra for social media listening and analytics.
Promising innovative social media services, HCL Technologies offers complete social media marketing services for onshore and offshore clients. It has various locations across Bangalore.
HCL Technologies offer predictive analytics, unifying your digital marketing efforts and providing real-time social analytics.
BCWebWise is a full-service marketing firm covering above-the-line (ATL), below-the-line (BTL), and digital services.
Headquartered in Mumbai, this leading social media firm in India offers social media marketing, media planning, and buying, content creation, and even search marketing.
Based in Mumbai, WATConsult is a hybrid marketing agency specializing in social media marketing, search engine marketing (SEM), and cross-platform digital marketing campaigns.
WATConsult also has locations in Delhi and Bangalore and has worked with over 600 clients in India alone. It is also a part of the international media conglomerate Dentsu International.
Mindtree, also known as LTIMindtree, is an IT services company offering a wide range of services. They have a separate arm for social media marketing, digital marketing, and e-commerce solutions.
Focusing on intelligent marketing, Mindtree specializes in driving consumer engagement across different social media platforms.
New Media Guru (NMG) Technologies offer full services in the fields of IT, web design, and social media marketing.
Their on-demand agile teams, based in New Delhi, work on social media marketing needs revolving around search engine optimization (SEO) to increase retention and conversion.
As an IT outsourcing services provider, Mphasis has recently delved into the digital marketing space. As one of the top social media companies in India, their marketing campaigns are always centered around brand growth.
Their Front2Back transformation is a patented approach to accelerating brands' digital transformation. From social media management to website building, they can help you out.
Based in Kolkata, West Bengal, Kreative Machinez offers a full suite of digital marketing services. It caters to startups and small businesses looking to break into cyberspace.
Their end-to-end social media optimization (SMO) ensures your growth, whether it's on Facebook, LinkedIn, Twitter, or Instagram.
Dentsu Webchutney is also a member of the Dentsu International umbrella. Still, before joining dentsuMB, this ad agency from New Delhi has been a mainstay in both traditional and digital marketing spaces.
Among the leading social media companies, Webchutney stands out with its expertise in cross-platform marketing.
If you're looking for an offshore firm that covers web development to social media marketing, Brainwork Technologies might fit your bill.
With over 1,400 clients served, they have a wide portfolio of launching social media campaigns and managing your brand's accounts.
Beyond the catchy name, FoxyMoron prides itself on its equally creative digital marketing campaigns. It has helped funnel local and international leads to clients, including L'Oreal, Netflix, Colgate, Amazon India, and more.
FoxyMoron is a part of the ZooMedia network with The Rabbit Hole and DoyenOink Consulting.
Formerly known as Resultrix, Performics India is India's most prominent digital marketing agency. Whether paid media or organic content, they can generate social media marketing strategies that will fit your brand.
Aside from helming social media campaigns, Performics can also facilitate your paid ads so you can focus on building and running your company.
sunSTRATEGIC is a marketing agency led by creatives, with an office in Mumbai. They've worked with major brands such as Microsoft, the ACG Group, Bayer, and MAC Cosmetics.
As a popular social media firm in India, sunSTRATEGIC's services vary from content strategy development to social listening, keeping your brand fresh and relevant.
Its ROI-driven approach makes iCubesWire a strong offshore marketing partner in Singapore, Dubai, and Jakarta, among others.
iCubesWire offers a 360-degree social media marketing approach. They have experience working with brands in the e-commerce, tech, finance, hospitality, and automotive industries.
Beyond managing your social media presence, Webmaffia has a whole content-creation team. This Mumbai-based firm can cover all your needs, from media buyers and web developers to video creators.
Webmaffia has worked with local and international brands, guaranteeing growth across different social media platforms.
Sparrow Solution is an ITO services provider based in Calicut, Kerala, India. Their business mainly includes web development, software solutions, digital marketing, ITO, and SEO services.
As one of India's rising social media companies, Sparrow Solution also offers full-service social media marketing services that even smaller brands can avail of.
Mind & Matter is Kolkata's leading digital marketing company. One of their proudest achievement is in growing the online presence of Hughes Global Education, a satellite education provider.
Their industry linkages can help you accelerate the growth of your page followers. Beyond media buying, they can help you regain control of your online branding through their consultancy services.
Mirum India is a team with over 300 digital experts, marketers, and creatives with a strong presence in communication, advertising, and technology.
If you're looking to outsource your social media marketing needs to a firm constantly updated with the latest trends, Mirum is an excellent choice.
Adsyndicate is an all-around communications provider with various locations across the Indian subcontinent. 
Aside from full social media marketing management, you can also tap them for traditional and on-site marketing efforts.
For brands looking to team up with an SMO firm that's cost-efficient and can deliver out-of-the-world ideas, Creative Monkeys is here to help.
Based in Kerala, Kochi, and Calicut, Creative Monkeys offer full packages to build your digital brand from the ground up.
Social Pulsar started in the US before expanding to India. It focuses on various forms of online marketing, giving them an edge in social media platforms.
Globally, Social Pulsar generates over 6 million qualified leads, helping their client companies reach and retain larger market shares.
As an app and game development company, The NineHertz team has expanded into digital marketing, specifically SMO.
They leverage gamified and creative solutions in delivering SEO, PPC advertising, and social media marketing.
Based in Ludhiana, Punjab, Digital Kangaroos focuses on web development and social media marketing to provide value for its customers.
Engaging content and scalable social media campaign packages are some of the advantages offered by this firm. They are also experienced in funneling social media traffic to websites or e-commerce platforms.
ShootOrder is an internet marketing agency located in Hyderabad. One unique offer they have is that their experts provide you with free SEO and social media audits.
Should you continue with ShootOrder, they assign professionals to handle your account.
Labeling itself as a "digital management and consulting firm," DoyenOink Consulting also provides full-service solutions for your brand's online presence.
DoyenOink Consulting is a part of the ZooMedia network, together with FoxyMoron and The Rabbit Hole.
Find the social media marketing team for your business
Establishing itself as a powerhouse in the social media space, it's no wonder social media companies in India are among the world's top picks for growing their online presence.
Consider these established social media marketing firms if you're a business owner or a decision-maker looking to expand your digital footprint.
However, the list doesn't end there. If you know other promising social media marketers open for outsourcing, reach out to us at [email protected]