Definition
What is a web developer?
A web developer is someone who is tasked to handle the inner workings of a website or a web application. They work within a team of programmers and coders to create a framework for a website or a web app.
While they're trained in various programming languages, they are pretty specific to one branch only. Web developers often work with Javascript, Python, PHP, and Ruby. 
On a larger scale, they develop software (or write code) that runs well enough so clients won't have issues when their products make it into production.
They also do code reviews for customers after every change made by them or others while still within their department's scope. Web devs also spend time ensuring that features never fall behind schedule. 
Like other client-facing techs, they also utilize customer feedback about what worked and what should have been done during development. 
Oftentimes, technology changes require new approaches or services built around particular features. This is when they see patterns emerge like AngularJS + React Native from Facebook and Apple, along with other companies.  
Web devs also provide easy building blocks for integrating apps based on JavaScript APIs such as the Bootstrap JS framework.
Web devs provide technical support and business advice not only on how to meet client expectations but on how to be consistent with implementation plans.
Web developers can either work freelance, full-time or by contract.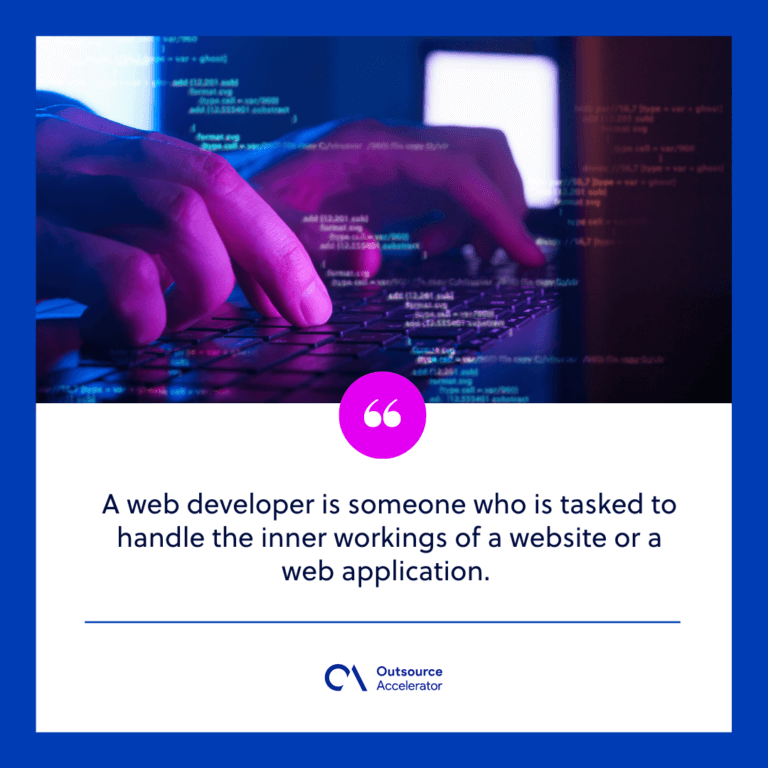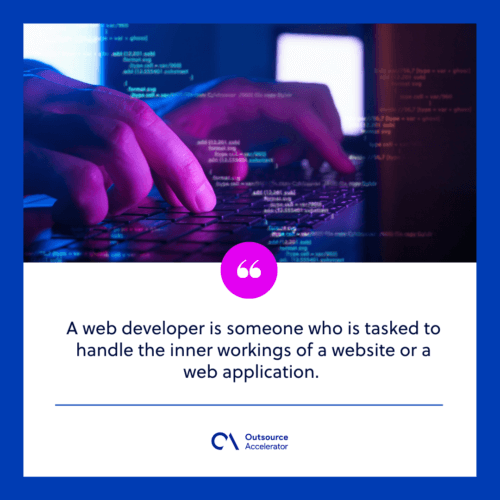 Web developer salary 
Web developers are often well-paid, no matter how they work. Be it in a traditional office setup, an on-call position, or freelancing, web devs are some of the best-paid developers on the list.
Compared with salaries from those in major tech firms, the national average of a web dev's salary are often higher. It's substantially higher and better than those who are not in the tech industry.
These big companies offer so high that their hourly wage goes up very quickly in accordance with one's experience and skills.
According to Talent.com and Payscale, these annual figures are the average for each country. Of course, these are highly malleable as some devs work out of the country as freelancers.
It's safe to say that remote workers and distributed employees may earn more than their local counterparts.
Web developer salary: US vs PH
Annual web developer salary

Junior developer

Mid developer

Senior developer

United States

US$47,500 

US$65,000 

US$87,750

Philippines

₱283,316

(US$5,648.53)

₱483,314

(US$9,635.93)

₱573,913 (US$11,442.22) 
By looking at these figures, we're able to discern how much developers get paid in these two countries.
For instance, in the United States, a junior dev with one to five years of experience can be paid up to US$47,500 yearly, while their Philippines-based counterparts only get ₱283,316 (US$5,648.53).
Meanwhile, US-based mid-level developers with five to seven years of experience get paid US$65,000 for a year of service. In the Philippines, they get ₱483,314 (US$9,635.93) in the same period of time.
For devs who have eight or more years of experience, they get compensated $87,750 if they're based in the US. Their counterparts in the Philippines get around ₱573,913 (US$11,442.22).