Definition
What is a staffing agency?
A staffing agency provides the connection between employers and employees, assisting in matching competent individuals with open positions. Staffing agencies are also known as temp agencies or recruitment firms. 
By enlisting with a staffing agency, you can connect with many hiring managers looking for the ideal people for their open positions. If your firm requires additional labor, engaging with a staffing agency can save you time while providing other advantages, such as flexibility and cost-effective employment costs.
Staffing agencies also help people locate employment that is a good fit for them. Because the customer has seasonal demands, the agency usually only offers temporary jobs.
How do staffing agencies work?
Staffing agencies help individuals find suitable jobs and recruit personnel on behalf of employers trying to fill openings. They find and offer temporary opportunities, whether it is a part-time or full-time job.
Employees who want to start working in a new industry might use staffing firms to get expertise and try various jobs before committing to them.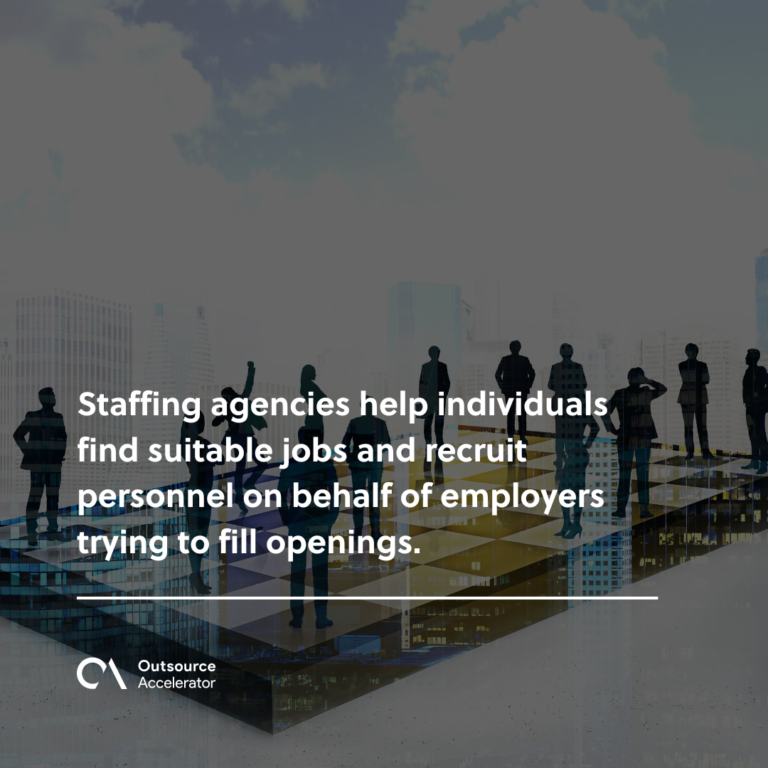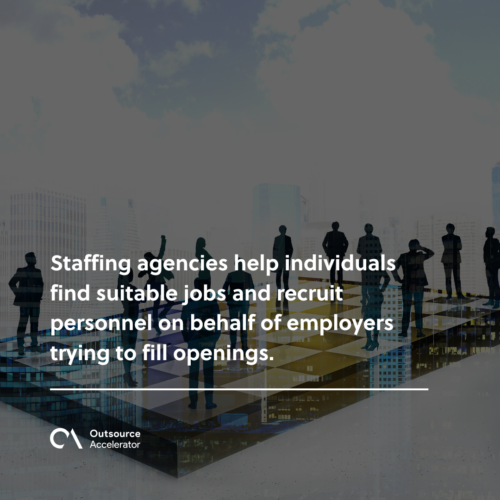 Here's how staffing firms operate:
Employers contact the agency
Employers consult a staffing agency that specializes in their field when they need to acquire new employees. The employer determines the job criteria, the number of employees required, the pay rate, and the length of time employees must labor.
In addition, the agency creates job requirements and posts them on its website or other job sites. Recruiters may also use digital platforms to reach out to candidates.
Application and interview
Applicants can search for employment openings on the agency's website. Recruiters can meet with them to discuss their qualifications.
Candidates register with the agency, which is in charge of the entire recruitment and hiring process. Candidates are given comments to increase their chances of being selected.
The agency conducts screening interviews after locating potential candidates for openings. Employers may or may not participate in the interview process, depending on the position. 
Employers choose who they wish to hire one staffing company to present them with qualified prospects.
Contracts and compensation
The agencies handle the majority of the paperwork. They oversee payroll and taxes so that companies can save time and money by utilizing the services of staffing firms.
Benefits of working with staffing agencies
Staffing firms can offer benefits such as expert guidance and counsel on hiring procedures. Here are the other advantages of working with a staffing agency:
Time-saving
Staffing agencies offer access to many positions that are not available through a traditional job search.
From the perspective of the candidate, the majority of the work is done by the recruitment agency. Therefore, the candidate is not required to do much work.
Cost-efficient
Most businesses benefit from using staffing agencies since they don't have to pay extra money on employee recruitment and support other processes.
They also save money by generating payroll databases and give additional administrative benefits.
Help with employee retention
Using a staffing agency for temporary employment allows you to see the new employee in action without risking your job.
Using staffing firms for high-volume placements can considerably minimize the pressure on your business by reducing the likelihood of employee fatigue during rapid expansion.