Social media customer service
Definition
Social media customer service definition
Social media customer service is the technique of using social media platforms to address customer queries or complaints. It enables businesses to meet customers where they are and immediately respond to their inquiries. 
Social media platforms have grown into more than just marketing and advertising tools. Nowadays, with the growth of the conversational business, social media has become a significant channel for customers to obtain customer care.
On the other hand, offering omnichannel support through social networking sites may be difficult for both large and small B2B and B2C businesses. 
Smaller businesses may struggle to keep up with consumer demands due to a staffing shortage. Likewise, large organizations with high levels of engagement may also struggle to keep up with every interaction. 
In any case, customer expectations are increasing every year, and your business must adapt to meet them.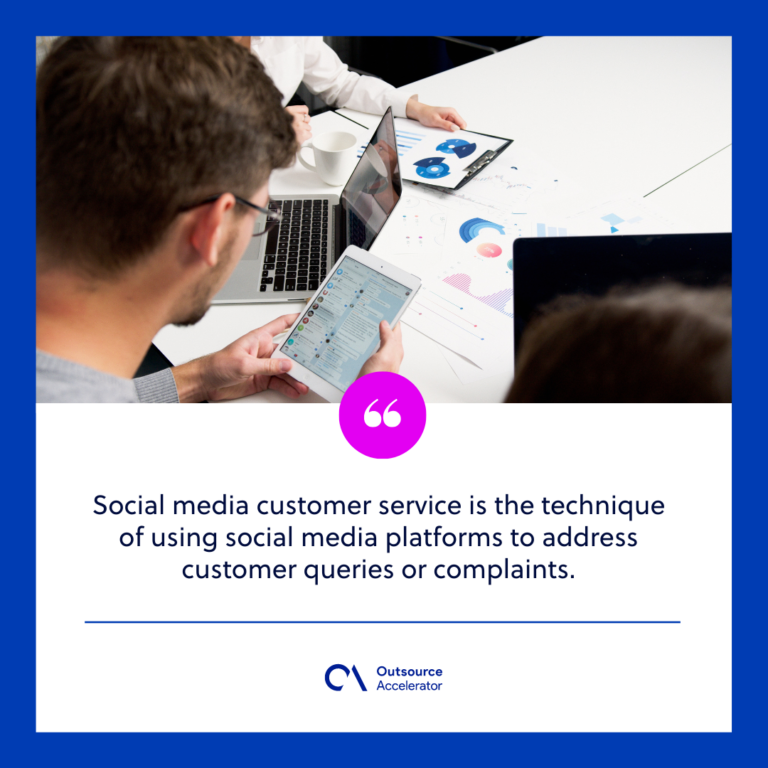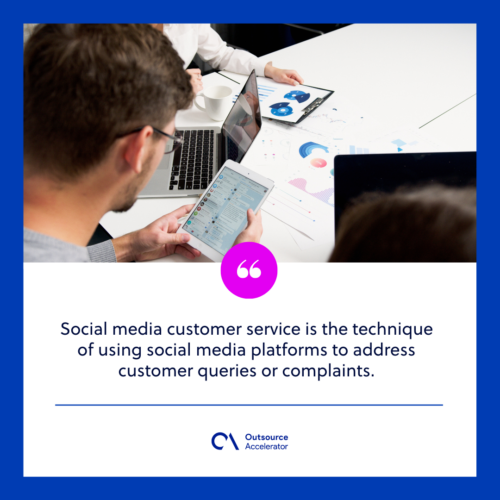 Social media customer service best practices
In order to stay competitive, here are the best practices to maintain an overall excellent customer experience.
Create a separate account for social media customer service
It's a good idea for businesses to provide social media customer support through a dedicated account. 
Include the handle of your brand's dedicated social channel for customer service in the descriptions of your other social profiles. This instructs customers on how to contact you if they require assistance.
Respond quickly
Have you ever asked a question but did not receive a quick response? Consider yourself a disappointed online customer who expects 24/7 support. Everybody wants swift answers.
The importance of quick response can't be underestimated. Clients always want an immediate response through social media. Only a dedicated social customer care team and an efficient customer service plan can enable your business to achieve this.
Be transparent
A quick response doesn't mean you can resolve all customers' issues and complaints just as fast. Explain to consumers why it will take a while to address their concerns, even if the customer service team doesn't know how long it will take.
In addition, provide brief descriptions of what you're doing to help them understand why fixing their concerns takes longer. 
Consider stating that you will submit a report with the product team or escalate the problem to higher-level staff. Customers will be more confident in your dedication to solving their concerns if you are transparent.
Know which concerns require private conversation
Specific difficulties must be handled in private, depending on the information involved. If the process of addressing the problem requires personal information, you may easily recognize it as requiring a private conversation.
As a result, your staff should constantly keep such circumstances in mind and ask consumers to provide essential personal information through direct message or email.
Conversations normally conducted openly can become intense in various cases. To prevent public conflicts, direct the consumer to a private conversation.
Since clients require privacy to present all of the specifics of their issue, a private chat can be settled definitively.
Always respond positively
Customers who have questions may be confused or frustrated. Maintaining a light and optimistic tone in your replies helps drive discussions toward a satisfying resolution rather than frustration.
Remember that you are not just dealing with the intellectual concerns of your clients but also with their emotional conditions. 
The tone of your replies is determined by the tone of your clients' inquiries. If they express themselves in a casual tone, mirror it in your response. If the tone of the customer is formal, your safest choice is to respond in a similar manner.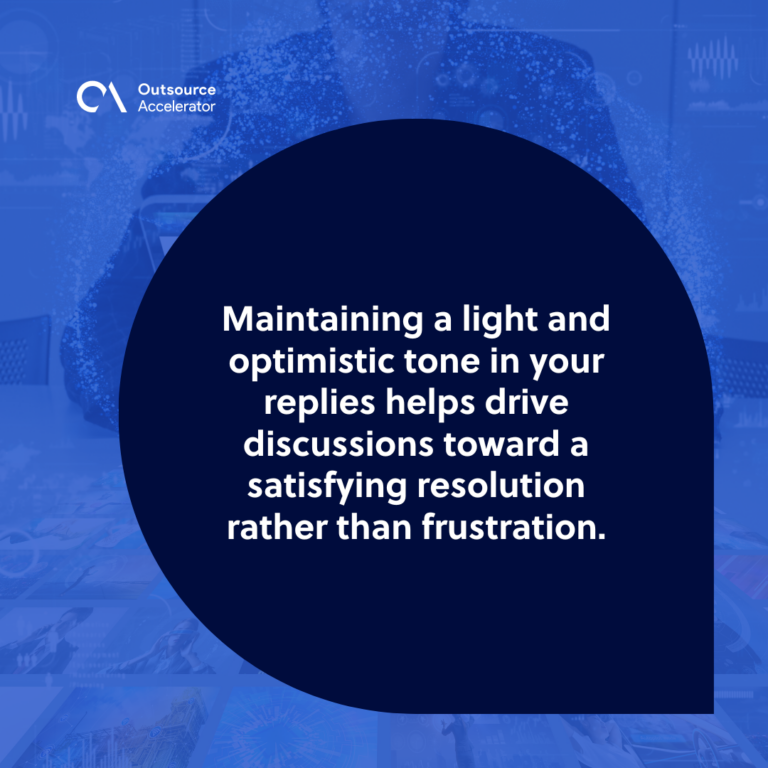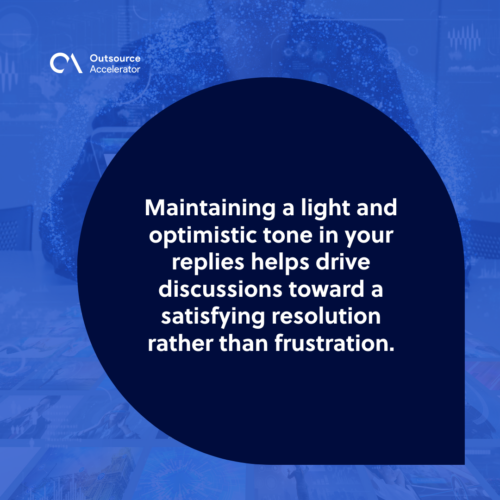 Enhance your customer service perspective
Consider what defines a customer service issue in reasonable detail. Businesses utilize social media for customer care in various ways. It does not have to be limited to dealing with concerns and complaints.
Anything that makes your consumers feel a connection to your brand qualifies as customer service. It should help consumers feel more at ease purchasing, using, and promoting your items.
Importance of social media customer service
Customers these days connect through different social media platforms. Therefore, businesses of all sizes should expand their customer service operations to social networks. 
Further, engaging in online conversations can help you establish a loyal consumer base. Responding promptly to customer issues on social media will make a good impression.