Definition
What is a Smart Autodialer?
A smart autodialer is a digital device or program that dials phone numbers automatically. Once the agent receives the call, the auto-dialer usually shows a stored message or connects the call to an agent. A smart autodialer that performs a pre-recorded message is voice broadcasting or robocalling. On the other hand, when an answered call connects to a live agent, it is called a predictive dialer or power dialer.
The smart auto dialer software has all the features and functionality to process multiple simultaneous automated calls. It can also play captured message prompts and pass calls to agents if the receiver wishes to transfer by pressing a DTMF (Dual-Tone Multi-Frequency) key.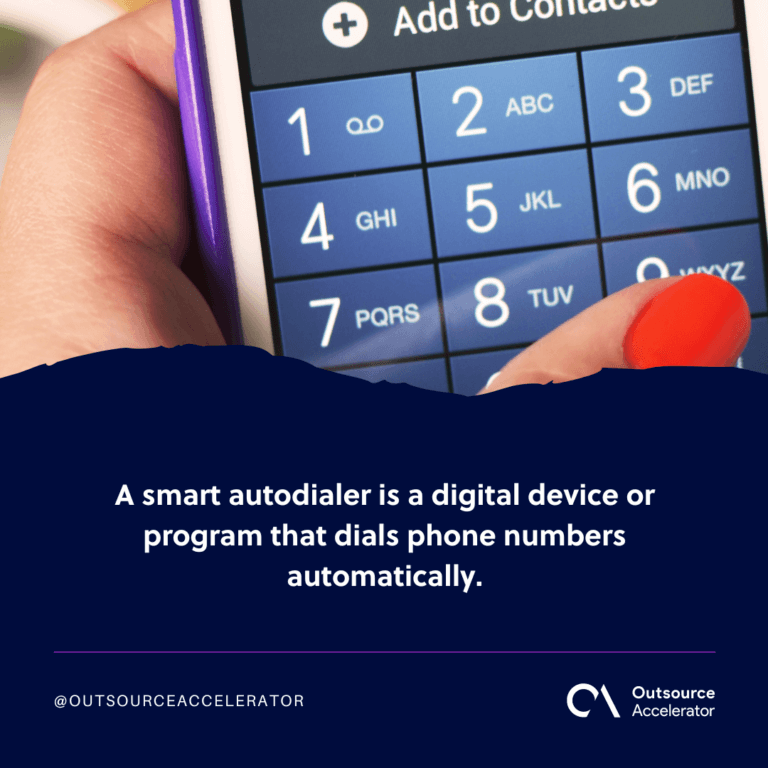 Importance of a smart autodialer
Smart autodialer technology is operationally and economically feasible for a call center as it improves agent efficiency while reducing idle time and increasing talk time per hour.
Here are some of the best benefits of a smart auto dialer:
Enhance Operational Efficiency

. Smart autodialer software system removes multiple call constraints, such as misdialing, unnecessary waiting time, and call declines, which impair operating performance.

Answer machine detection

. The ability to differentiate live human pick-ups from answering machines is an essential feature for smart autodialers.

Better ratio of lead conversion. The smart autodialer is the solution for complicated in-house sales processes involving high-profit leads. Also, it adds strength to the outsourced call process.