Definition
What is SEO software?
SEO software is a digital website that allows you to track, analyze, and interpret information about your website's search engine performance. Everything from keyword rankings, backlinks, and website speed is possible to explore using this software.
In addition, SEO software allows you to organize keywords to create tactics to enhance your organic search ranks.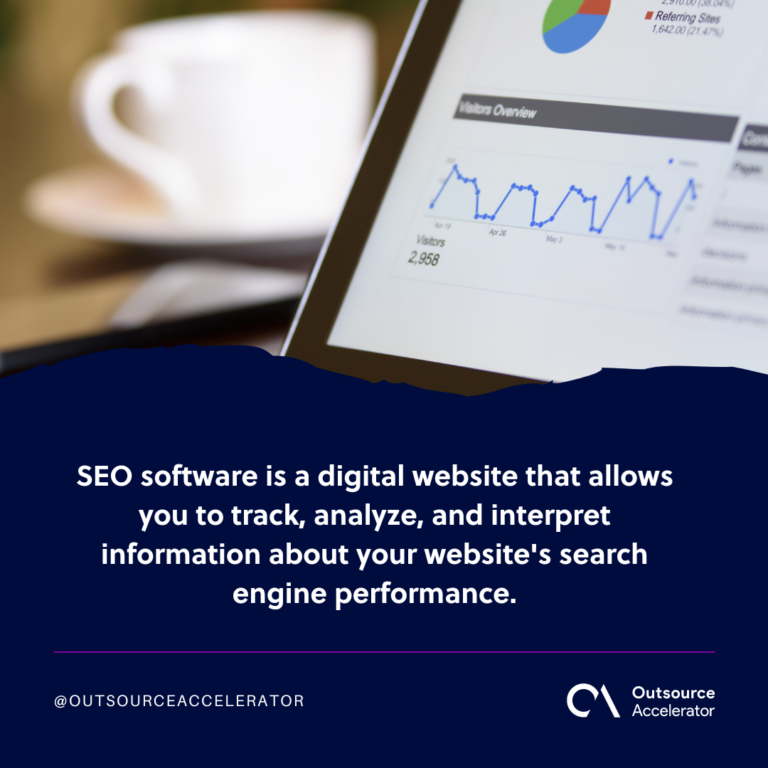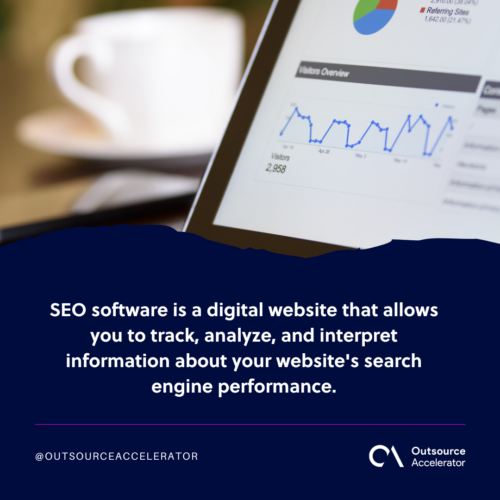 Types of SEO software
Professionals like SEO virtual assistants use various SEO software to get real-time keyword ranking, ROI priority, and keyword density. As a result, you'll have more time to focus on high-level planning, such as content marketing tactics based on your keywords.
Keyword software
Keyword software is the most fundamental use of SEO. Keyword software keeps track of keyword volume and potential. 
These keywords are usually concepts or topics that define the subject of your article. In terms of SEO, these are the words and phrases that people type into search engines.
Examples of keyword software:
Local SEO software 
Local SEO software keeps track of and analyzes data on local and map listing ranking criteria.
Local SEO software helps you increase the exposure of local companies in search engines, particularly those having physical locations. Businesses may boost organic traffic from searches conducted by consumers in surrounding regions by adopting local SEO best practices.
Website audit software 
Website audit software examines all of your website's technical aspects. It includes site speed, mobile-friendliness, and robot.txt files. It also generates a report that might help you discover areas where your SEO approach is failing.
Examples of website audit software:
Benefits of utilizing SEO software
SEO software eliminates the need for time-consuming keyword research and provides faster, more accurate results.
Here are the other advantages of using SEO software:
More effective management
Built-in diagnostics in enterprise SEO solutions may be quite helpful for identifying site-wide problems across languages, countries, and regions on a worldwide scale. These tools find issues with pages, templates, and infrastructure on a macro and micro level.
Enhanced website speed
Optimizing your content will enhance your rank in organic search and speed up your website. Modifying your websites provides a pleasant experience for your visitors, minimizes bounce rates, and potentially increases sales.
Improve visibility
Improving your organic search exposure means that more people will become aware of you, and if your material is strong, they will see you as an authority in your industry.
Maintaining social interactions and connecting with your consumers may enhance website traffic, brand trust and improve your overall SEO and rating.
Gain market share
SEO allows you to stand at the top of the search results. It indicates that there's a good chance that potential consumers will find your website. They may become leads and, eventually, clients after seeing the information they need on your website.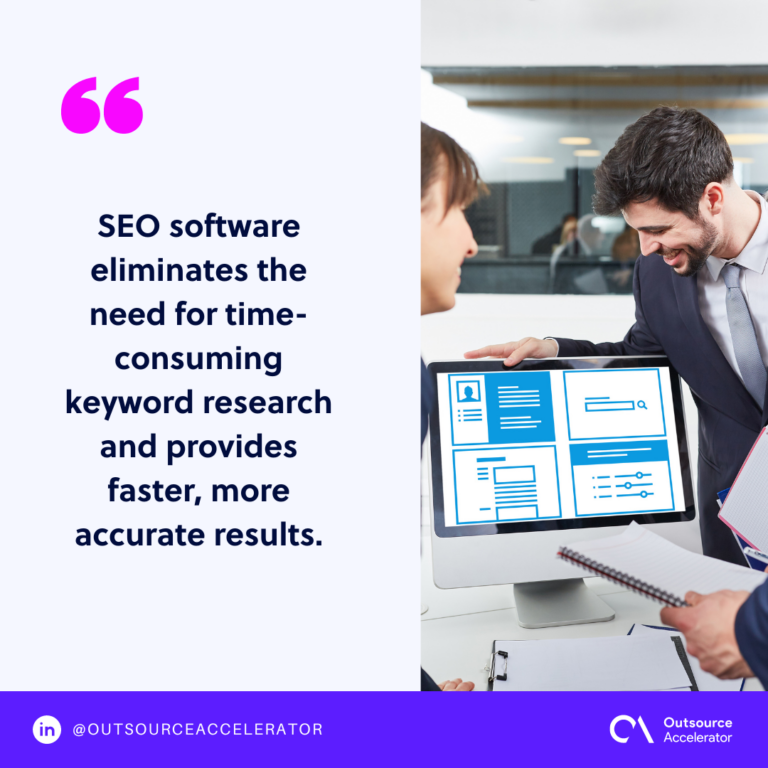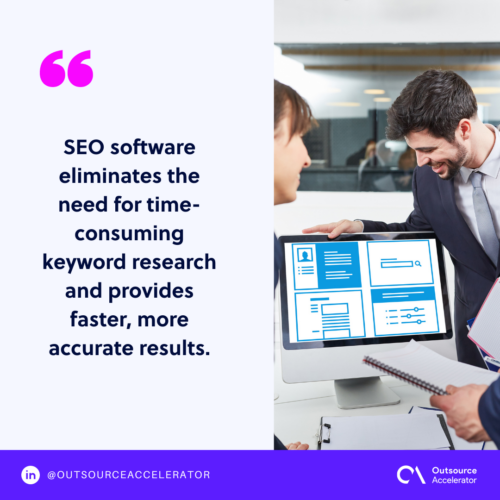 Paid SEO software vs free SEO software
The best tool for an internet marketer is SEO software. Whether they are paid, or for free, it provides data to optimize your website. It will soon result in increased customer satisfaction and market sales.
Paid SEO software
To have access to top-notch statistics and services, you may need to pay for them. 
If money isn't a problem and time is essential, a paid alternative may be the best option. Paid SEO software is the best choice for companies because they provide all-in-one toolkits.
Examples of paid SEO software:
Ahrefs.

When you purchase a subscription to Ahrefs, you have full access to all of their SEO tools. It includes the site explorer, keywords explorer, rank tracker, and site audit.

SEMrush.

SEMrush is the product to buy if you want loads of SEO data at your fingertips or an easy all-in-one tool.

Moz Pro.

Keywords, links, site audits, rank tracking, and on-page optimization are all covered in this all-in-one solution.

Yoast.

Yoast is a staple tool in most marketers' toolkits. It helps with the optimization of all of your WordPress content posts and pages.
Free SEO software
Free SEO tools can help you improve your organic search engine rankings without having to pay for any of the services they provide. These free tools can help you improve your marketing immediately.
Although, free SEO software usually has limited usage. Some tools have trial versions, and you can upgrade to paid or full versions to use its optimum usability.
Examples of free SEO software:
Google PageSpeed Insights.

This SEO tool will test the loading time and performance of a website on both desktop and mobile devices.

Answer the Public.

Answer the Public will give a comprehensive list of long-tail keyword opportunities as well as frequently requested queries.

Google Analytics.

Google Analytics monitors almost every aspect of your website's traffic, including where it comes from and which pages get it.

Ahrefs' Backlink Checker.

The free Ahrefs Backlink Checker displays the top 100 backlinks to any website or URL, as well as the overall number of backlinks and referring domains.