Definition
Quoting software definition
Quoting software is a configure-price-quote (CPQ) software that streamlines the sales process by automating the process for requests for proposal (RFP) and proposals.
Instead of manually managing documentation and proposals, quoting software helps firms focus more time on clients, resulting in faster quotes and a better sales process.
Quotes and proposals are created in various file formats and can be transmitted over various channels using the software.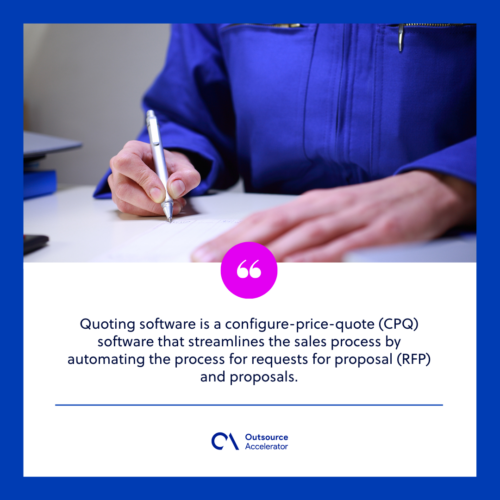 PandaDoc's CPQ solution allows sales teams to quickly generate quotes and proposals by configuring products, pricing, and discounting rules based on specific customer needs.
The solution integrates with popular CRM (Customer Relationship Management) systems and offers analytics and reporting features to help businesses optimize their sales processes.
Common features of quoting software
The best-quoting software for your business should have these features:
Quote Creation
Good quoting software allows users to develop and distribute quotes and proposals by connecting with other applications, where they can access data such as contact lists, inventory, and sales prices.
Custom quotes
Pre-built designs can be filled with client details, branded logos, and other particular information. This customization feature helps produce a professional and accurate quotation that represents your organization.
Status updates for quotes
The software should be able to update you on which quotations have been received, examined, and approved.
Some suppliers also allow clients to accept or decline and remark on quotes, eliminating the need for email follow-ups.
E-signatures and online payments
This improves the volume in which purchases are handled by allowing actions such as online acceptance and payment to be completed within the quotation.
What are the benefits of quoting software?
There are several benefits to adopting a specialized quoting software application. However, here are some of the most important benefits:
Improve sales team performance
Sales representatives can go through more proposals and bills quicker by eliminating errors and reducing response times. This gives them more time for customer service and other critical company operations.
Increase accessibility
Users of cloud-based quoting software can make quotations from any location, whether they are in the office or working remotely. Increased accessibility guarantees more flexibility, which accelerates the sales cycle and results in increased income.
Brand building
The customized quotation templates enable you to establish your brand by allowing users to add logos, unique colors, or any other imagery that helps clients distinguish a business.
This is useful for established firms and startups looking to increase brand recognition.
What is the importance of quoting software?
There are many ways a business can benefit from quoting software:
It enhances communication using email and CRM
While social media is now more popular, email will remain valuable to businesses for years to come. Entrepreneurs prefer email for business communications over other methods. 
However, while email is effective for day-to-day communication, it does not increase sales. Your email software will often interact with your customer relationship management (CRM) software. 
CRM integration in quoting software enables the management of customers and leads, including daily communications, follow-up reminders, emails, and tracking of marketing email campaigns.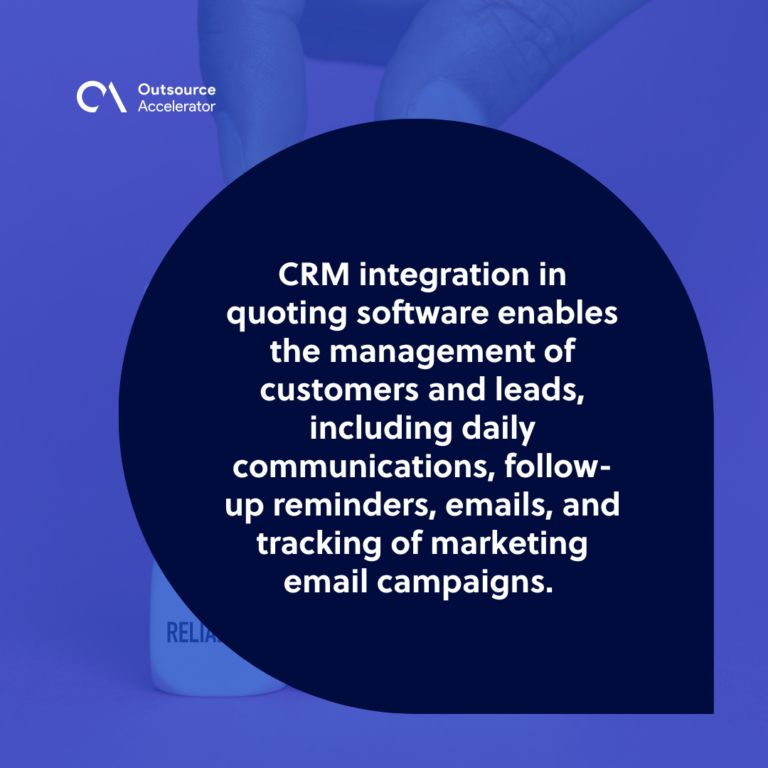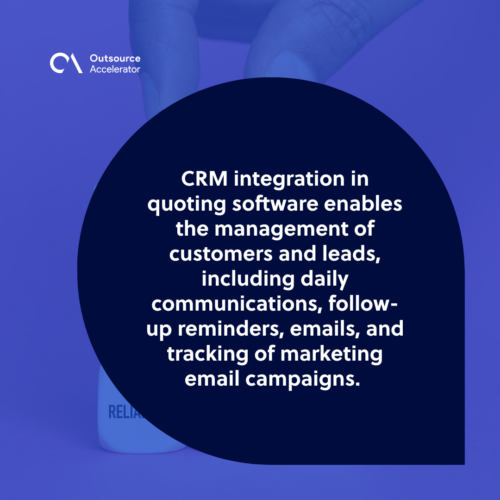 It improves your quoting system
Your quoting system must be configurable, allowing quotations to be produced for each of your company's needs. 
It should be anywhere and accessible from any device. The quoting software is connected with your inventory management system so that salespeople may get data from the same system. 
Further, if you want to enhance your speed and sales, you can utilize shared quoting software where everyone has everything in one place.
Its automation boosts productivity
Quoting software gives sales representatives direct access to the most up-to-date price and inventory information for their organization. 
The software's automation capabilities gather information about jobs and activities and autofill afterward, so you don't have to waste time manually inputting data in sales proposal templates again.
Without quoting software, the company might end up spending hours just reformatting the document to make it suitable for sending to a client.
A quoting software's automation features can arrange the document into a presentable quotation and then deliver it to the clients, saving your company's productive working hours each year.