Definition
What is process mapping?
Process mapping is the practice of using a visual representation to design and manage a business process. A process map may include a process flowchart, workflow diagram, and business flow diagram.
A process map shows the flow of data as well as the tasks and decisions that must be made as the chain or workflow progresses. It specifies the steps of a job activity as well as the person who performs them.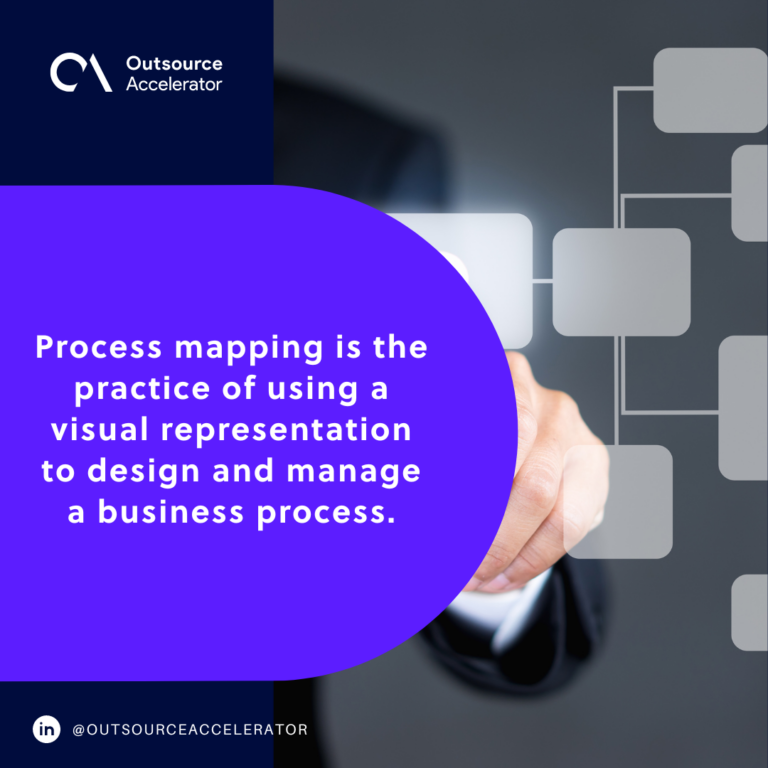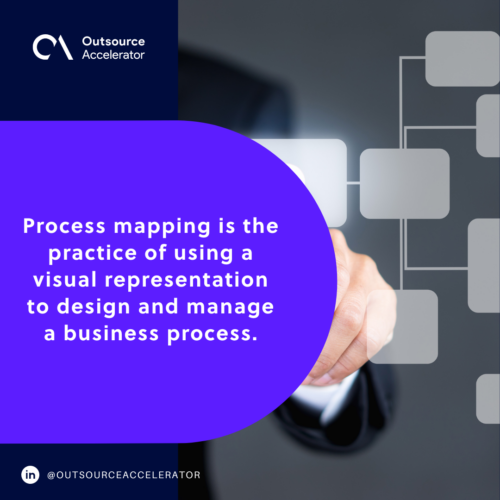 Types of process mapping
In designing any process map, a flowchart is a basic way. There are three user types of process mapping.:
Top-down flowcharts
A flowchart in the most basic form. It shows the major categories of activities and those that are needed for any process.
The top-down flowchart can be used to both plan new processes and analyze existing ones.
It helps in keeping the employee engagement in the entire process.  The team members having control of that part of the process can sort out the details.
Deployment flowchart
A deployment flowchart is a kind of process mapping that stakeholders use.
It explains how the procedure is carried. These maps don't have to include all the process knowledge, but they can make it with the help of a process manager.
A flowchart for deployment keeps track of what each person or organization handles. It might be as simple as the major phases or as complex as you need.
Detailed process map
A detailed workflow diagram can become a useful tool for examining a process that has become complicated. However, it requires a bit more effort to create this process map.
This type of map provides more information about where the problems are occurring, as well as what happens at each stage.
Value stream mapping
Value stream mapping is used to determine what adds value to the process and what does not.
This is a management strategy for analyzing and improving processes that need to produce a product or offer a service to a consumer.
Why do businesses need process mapping?
Process mapping provides a visual glimpse of the process of the business. Some of the reasons for the need for a process map are:
The use of graphs, charts, tables, and images guides is better than compiled words. It gives a better representation of information.

Using process maps, it traces the improvements made in the organization.

It is likely to commit mistakes when the organization moves on making the changes without understanding the current working process. Process maps provide a detailed outlook of the current process and guide the effective management of change.

Process mapping serves as a measurement tool for a process that is very much necessary to manage and finally improve.

Process mapping helps address questions related to employee and team performance, quality of work-life, and work design. 

For training, the visual illustration would be much more effective than any other oral tool. The visual examples register faster in human brains and help them understand things better and in a faster way.