Definition
What is prescriptive analytics? 
Prescriptive analytics refers to the activity of analyzing figures to come up with new business strategies based on multiple predicted outcomes. 
With this kind of analytics, company leaders can plan, strategize, and act accordingly. It is used to plan out decisions, whether they will be made on short notice or not.
Along with descriptive and predictive analytics, this process equips business analysts with the necessary data and tools to gain meaningful business insights.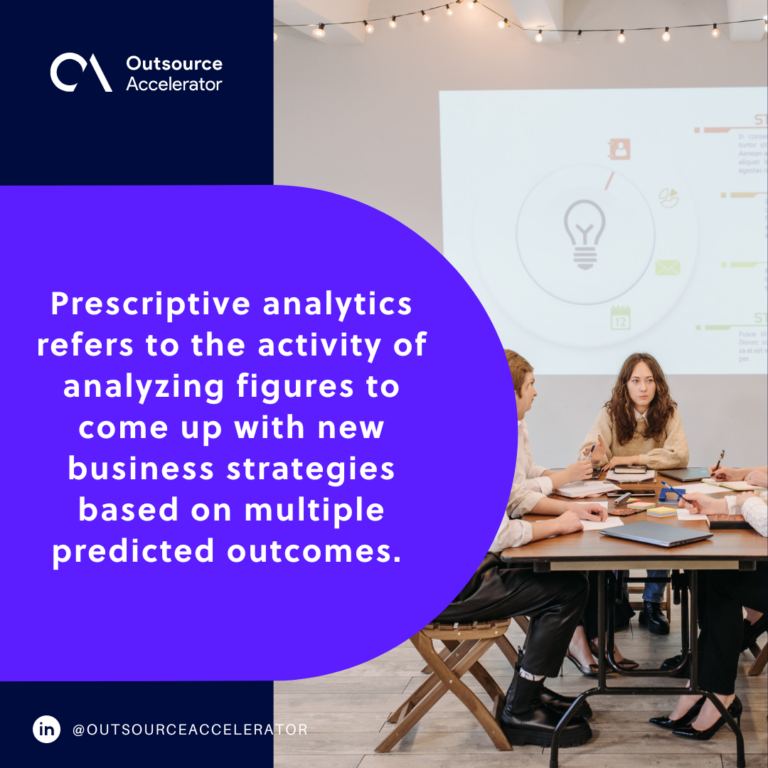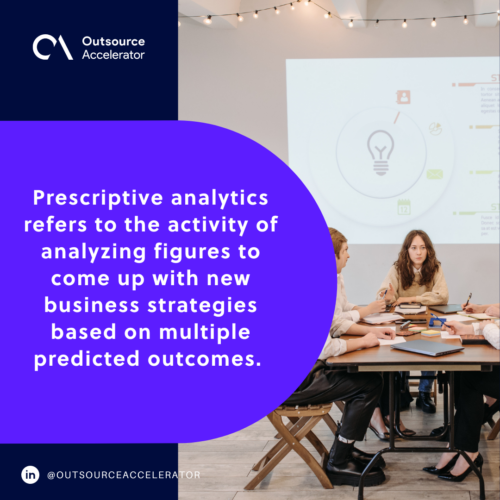 The purpose of prescriptive analytics
Prescriptive analysis has three general purposes that strengthen its role in business analytics.
To determine a course of action
With present figures and historical data, the process focuses on providing solutions and providing the necessary information as to what the company should do next.
Business intelligence (BI) specialists who are experts in this kind of analytics often have several ways to conceive solutions that will benefit the company in the long run.
To maximize available resources
Prescriptive analytics allows companies to come up with solutions that maximize their available resources. By doing so, they are not only being cost-effective but also ensuring that they exhaust all possible options. Incremental analysis also comes into play here.
To facilitate and stimulate growth
With proper analysis, BI specialists and analysts are able to stimulate growth by showcasing what could happen if the business were to take the options they were presented with.
Using the tools and the figures they have, they are able to explore various choices and different approaches. 
Industries that utilize prescriptive analytics
Most companies use prescriptive analytics to get the most out of their options. But there are certain industries that use this kind of data analysis more than others. 
Retail
With the retail industry, data study is a normal yet important part of their business stratification. Each target market has different subsets that need to be analyzed; otherwise, the company may miss a whole demographic of customers.
Finance
Investment banks, fintech companies, and traditional financial institutions utilize every kind of data analysis out there. Given that they handle sensitive information and generally serve as the backbone of corporations, they need to address areas of improvement as soon as possible.
Technology and telecommunications
The tech industry is a sprawling sector that often sets trends for others to follow. With that massive play of power, they need to be on top of the movement. This is one of the reasons why they utilize prescriptive and predictive analytics to its fruition.