Definition
What is predictive hang-up?
Predictive hang-up refers to the event wherein a call center automatically disconnects a caller to control the surge of inbound calls. This allows contact centers to focus on the volume of the calls they're handling at the moment.
While the system detects incoming calls and deters them from connecting to the main line, it also sends them to a queue. However, there are cases when it may be overwhelming for the agents to respond to every call. In that case, predictive hang-up is a viable solution.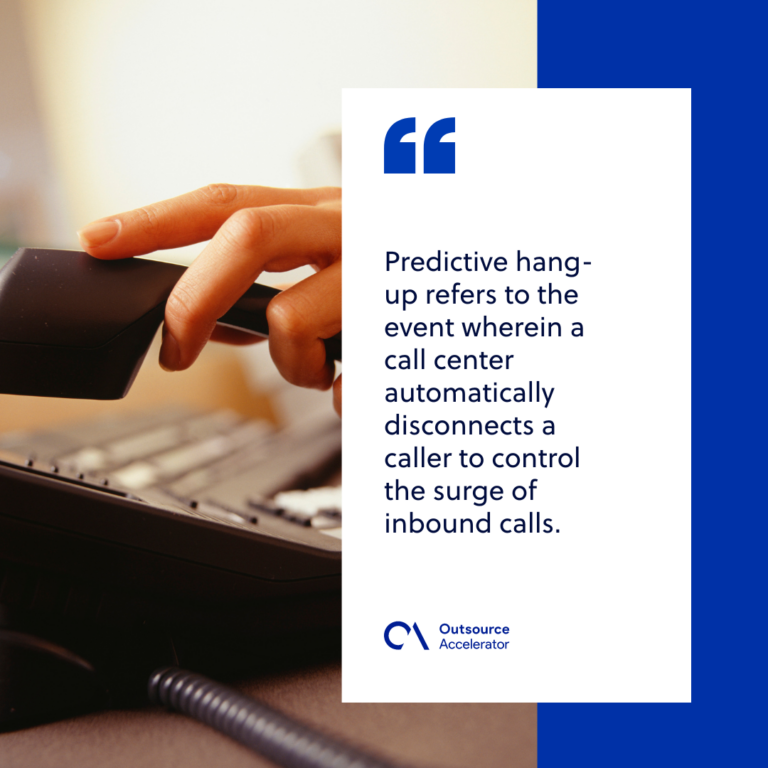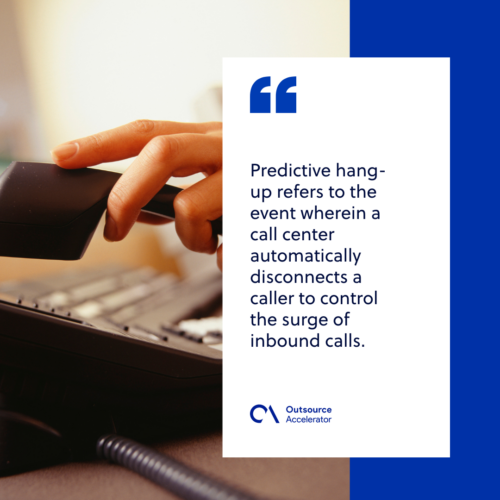 3 ways to avoid the need for predictive hang-ups
Call surges cannot be avoided, especially during peak season and busy hours. In practice, predictive hang-ups are helpful when it comes to managing the volume of calls, much like call metering. 
However, there are times when these occurrences can have a negative impact on contact hubs. Here's how to avoid having to disconnect callers in the queue.
Acquire more agents
By hiring more people, more calls will be handled. Although a big adjustment for the company, sometimes expansion is the better option.
The more agents are available, the more likely it is to lessen the queue and the call load each agent gets during their shift. This leads to a much more bearable workload for them.
Install a call metering system
A call metering system allows call centers to manage the large volume of calls that the system gets during peak hours. By installing this software, callers could either get queued or disconnected.
Adopt omni-channels
By expanding your customer service to multiple channels, inbound call rates would drop to a more manageable level as customers and clients could find other ways to contact your center.
Here are some common customer support channels you can implement other than the phone.
Chat
Some customers prefer having a correspondence over chat. It could be because they don't want to talk over the phone or they want to keep a reference for the future. Nevertheless, having a chat channel can help out manage inbound requests.
Email
Having a conversation over email is one of the most popular ways to talk to customers and clients asynchronously. One of the advantages of having an email support channel is that the external party can send attachments for the representative to go over.
Online knowledge bases
Knowledge bases are a self-service kind of customer support that can run by itself. It's a database with information that customers can access to gain knowledge about a product or service. Frequently Asked Questions (FAQs) can be found here.
How predictive hang-ups affect call centers
The system undoubtedly affects call centers and their numbers in the following ways.
While some of these effects aren't as ideal as others, call center systems aren't perfect, and most of the time, they need agents to complement their features and benefits. This is one of the reasons why AI-run contact hubs are still a far-fetched concept.