Definition
What is Poisson distribution?
A Poisson distribution is used to indicate how many times an event is expected to occur in a given timeframe. It is frequently used to comprehend separate events that occur at a consistent pace within a certain period. 
A Poisson distribution is also a discrete function as the variable can only accept certain values from a possibly infinite list.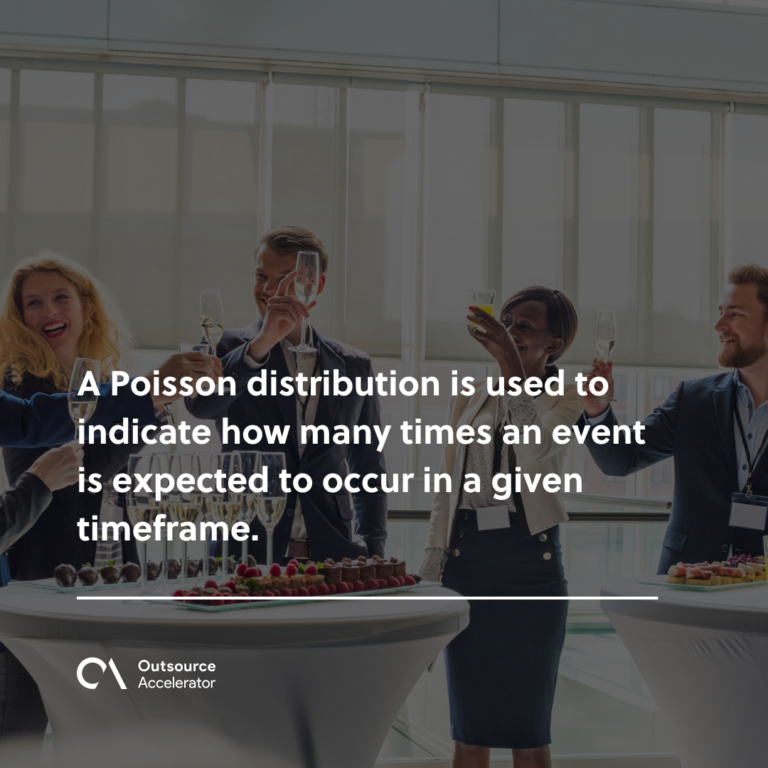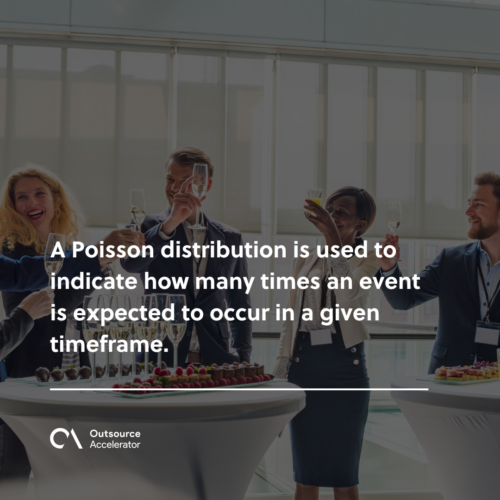 What are the uses of Poisson distribution?
Here are some of the uses of Poisson distribution in various fields, including:
Forecast the number of clients 
In business, overstocking can result in losses if the products are unsold. Similarly, having too few stocks would still represent a missed business opportunity since you're unable to maximize your sales owing to the absence of stock. 
To forecast the number of clients or sales on specific days or seasons of the year, companies use Poisson distributions. Using this technique allows entrepreneurs to forecast when demand will be extraordinary, allowing them to acquire additional supplies. 
Adapt supply to demand in hotels 
Hotels can prepare for an increase in customers by hiring additional employees ahead of time, purchasing more supplies, or making contingency plans in case they are unable to serve their guests.
Companies may use the Poisson distribution to adapt the supply to the demand and make their firm profitable.
Predict the number of visitors to restaurants
To forecast the number of customers each day, restaurants use a Poisson distribution. 
This provides restaurant managers with an indication of the possibility of receiving more than a particular number of clients on a given day.
Measure expected calls in call centers
Call centers use the Poisson distribution to forecast the number of calls they will receive every hour, allowing them to choose how many call center representatives to keep on duty.
This enables call center managers to estimate how many calls to expect every hour and plan workforce timetables depending on the number of expected calls.
Predict the number of visitors to a website
The Poisson distribution is used by internet hosting firms to predict the number of visitors per hour that a website would get.
This provides hosting providers with an estimate of how much traffic to supply to various websites they own to guarantee that they can manage the website visits per hour.
Forecast bankruptcies
The Poisson distribution is used by banks to forecast the number of probable client bankruptcies every month. This can help banks to be alert of any circumstances that might occur during the operation.
Estimate network failures in technology companies
The Poisson distribution is used by technology businesses to estimate the number of expected network failures each week. This helps them prepare for dealing with the expected network issues and avoid further disruptions to operations.
Determine business insurance coverage
Poisson distribution can determine the annual average losses or claims that will be filed in a year. It helps insurance providers determine the appropriate amount of premium in a way that would not result to losses in the company.