Definition
What is mind mapping?
Mind mapping is a method for brainstorming and generating new ideas in an organized and systematic format. Creating a mind map traditionally starts by writing a primary concept or topic on a piece of paper. However, mind mapping on paper has limitations. 
There's no easy way to digitize, and you can't change errors or readily make adjustments. Further, if you don't have a backup, you'll lose your mind map and have to do it again. 
That said, businesses that rely a lot on mind mapping now turn to digital means such as a mind mapping tool.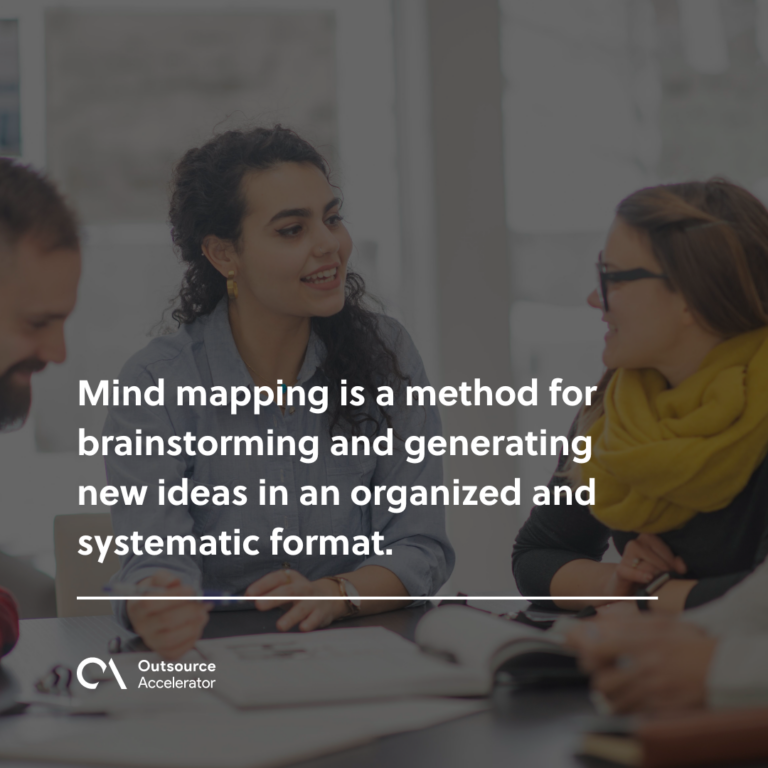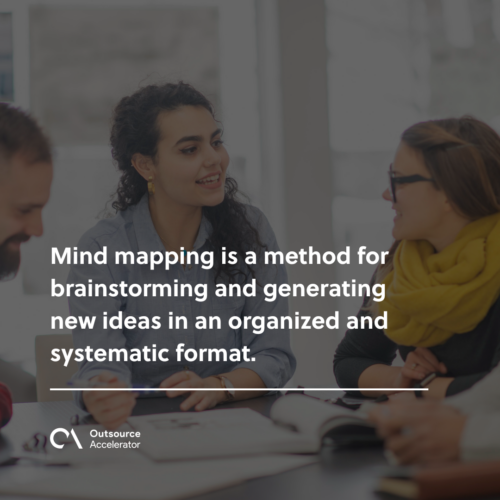 What is a mind-mapping tool?
A mind mapping tool is used to generate visual diagrams of your ideas. This tool lets you make a conceptual map that displays the hierarchy and relationship between various concepts.
A mind mapping tool combines everything from simple brainstorming tools to advanced data visualization and drawing solutions. It can also help you create mind maps that graphically organize and convey ideas.
Why do businesses need mind-mapping tools?
Since teams process visual information quickly, mind maps are great tools for understanding and interpreting ideas. There are various advantages to using mind map tools:
Effective project management
Project managers can use mind-mapping tools to design a visual representation of their objectives, activities, and resources. They especially make the brainstorming aspect of project management more efficient and organized.
Strategic planning
Companies can use mind mapping tools to design a creative strategy plan incorporating vision and mission statements, SWOT analysis, and PESTLE analysis. 
You can also use mind-mapping tools to gather and simplify critical data and develop a clearer roadmap to the objective.
Time management
Business executives can create a hierarchical and radial chart of their monthly or quarterly schedules. They can also create a framework that helps recognize time management demands by mapping priority tasks, secondary works, work in progress, and deadlines.
Cost-saving
While traditional mind mapping may seem to be a solution, it is not practical for established organizations. Manual mapping on paper would not only take more time. 
It will also be challenging to store the papers for the long term as they can easily be misplaced and damaged. Further, purchasing paper will cost you more than implementing a mind-mapping tool.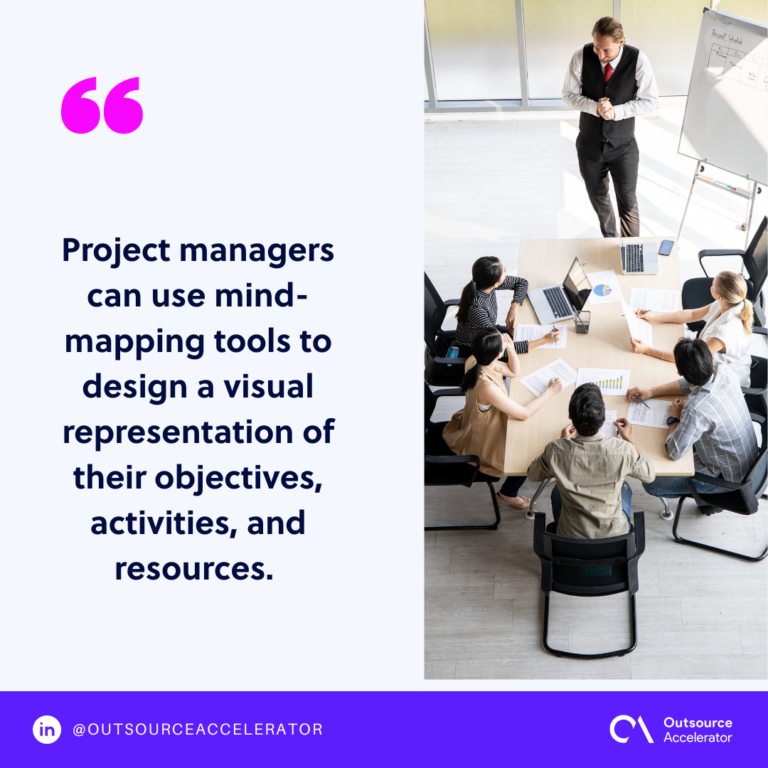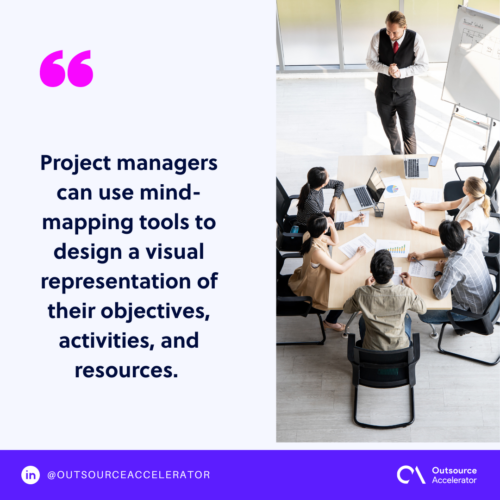 What are the best mind-mapping tools?
Here are some of the top mind-mapping tools available:
MindMeister
As a cloud-based mind-mapping tool, MindMeister allows you to visually capture, develop, and share ideas. With this, you can also communicate, share, and discuss with the team from any place.
It also has an intuitive design that allows you to submit ideas instantly, connect photographs, videos, files, and links, and swiftly sketch out a concept using the sketching tool.
The built-in connection between MindMeister and MeisterTask, a task management platform, lets you convert your mind map into a project and assign tasks.
It supports Microsoft Teams, GSuite, Confluence, and Dropbox, among other applications.
ClickUp
ClickUp allows you to plan and organize your projects and thoughts. It enables you to establish connections between projects and tasks and visualize operations and project or task structures.
You can establish a solid free-form diagram, apply nodes as reference points for finished work, and then transform nodes into tasks. This mind mapping tool also lets you share your mind maps in real-time collaboration since it offers direct links with Slack, G Suite, and Dropbox.
Ayoa
Ayoa lets you create mind maps, monitor projects, and to-do lists as it performs as an all-in-one mind mapping tool. 
It is suitable for individuals who want to unleash their most creative ideas and collaborate in real time by inviting colleagues and friends. 
In addition, you can set your map to public and share the link with multiple people. To hide the clutter for professional presentations and focus on selected branches only, Aoya has an auto-hide feature, making it one of the best mind mapping tools.
Miro
Best for customization and flexibility, Miro allows users to create storyboards, roadmap, or sprint planning. Its broad collection of widgets, pre-built templates, toolkits for user stories, and customer journey maps makes Miro one of the best mind mapping tools.
This solution assists you in engaging distant teams across formats, technologies, and channels by providing digital workspaces that enable asynchronous and synchronous collaboration. 
It provides connectors such as Dropbox, Google Suite, and Sketch on its website.
Coggle
Coggle allows online real-time collaborative drawing, allowing various team members to co-create mind maps and flowcharts, auto-arrange branches, view a comprehensive change history, and collaborate on sketching.
This tool not only provides mind map templates. It also allows you to create more technical diagrams such as network, engineering, and architectural diagrams. 
Put Coggle at the top of your list if you're searching for a mind map maker that's straightforward, attractively designed, and simple to use.
MindGenius
MindGenius combines a concept map maker with a project management application. It is intended for use in educational settings and by freelancers, small businesses, and government agencies.
It's also a great brainstorming tool that may help you turn your mind maps into project and business management tools.
The platform is always adding new tools to let you share information with others, including connections with MindGenius Online, Dropbox, and Google Drive.